100 Stories
Celebrating 100 years of The Phillips Collection with 100 stories
We asked 100 Phillips friends to share a snapshot of a significant Phillips experience with us.
Come back often for new stories added throughout the year!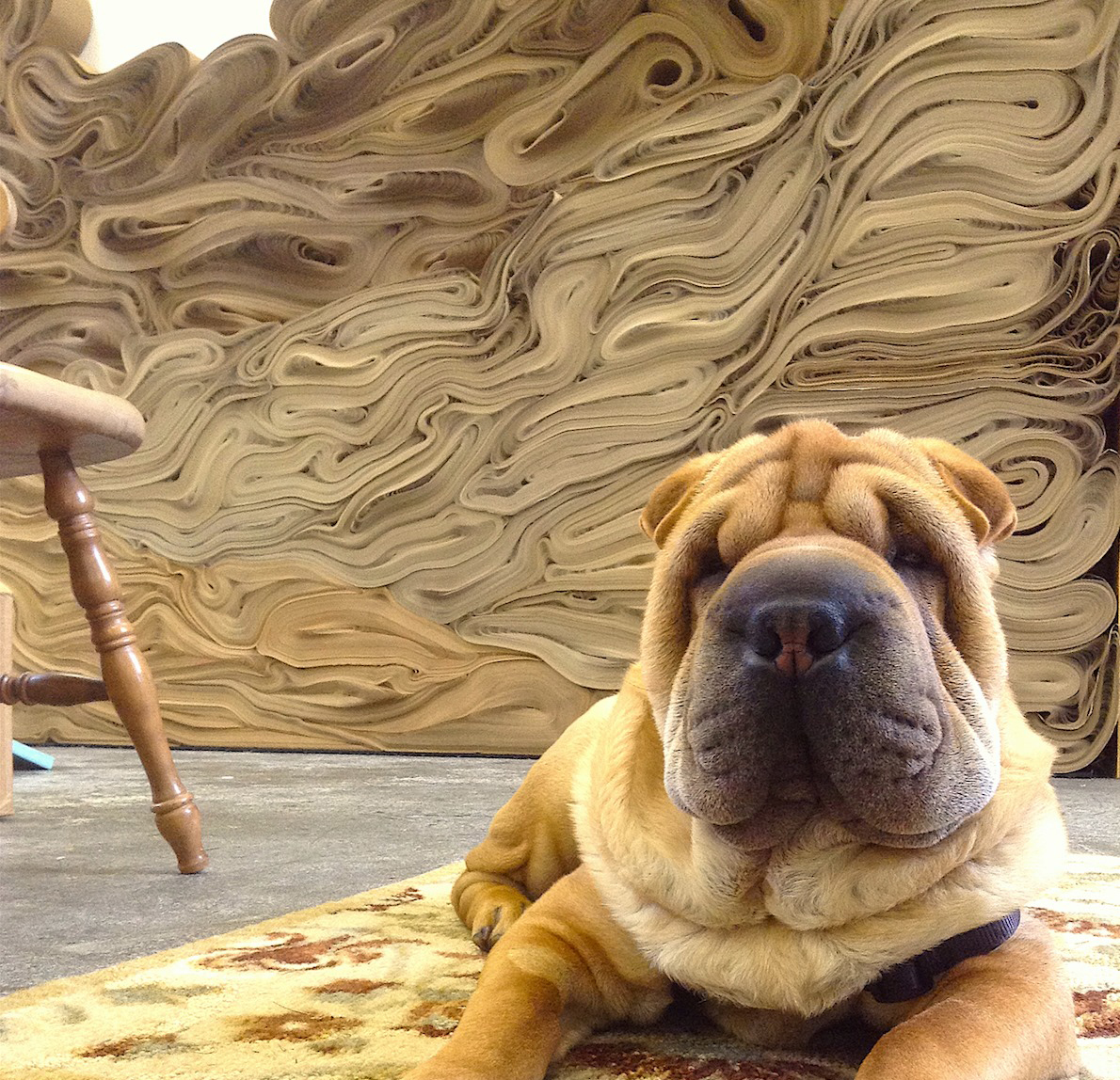 We are pacing back and forth at an airport cargo arrival area waiting for our brave four-month-old puppy who took an airplane across the country by himself to arrive. Creamy wrinkled skin and beautiful eyes looked at us. That was almost six years ago. Ever since, he is our family member, studio mate, and our soul. When I installed my installation at The Phillips Collection I realized that the color and shape of my work is pretty much like a Moxie! We named him Moxie and he is a force of nature. He always gives us great joy and has guided us through this extremely difficult time.
Jae Ko, artist
Many years ago I visited the Phillips with a good friend. My friend, an infrequent museum visitor, told me he could not recall an aesthetic experience and held a general under appreciation for the visual arts. I remember walking into the gallery where Renior's Luncheon of the Boating Party was hanging. My friend was transfixed. I stood next to him. After a pause he said to me that this painting was amazing—everyone seemed alive, he could speculate on who knew who, the smells in the air. He was having an aesthetic moment! One painting can change a life.
David Cronrath, Associate Provost, University of Maryland
Cezanne's Jardin at Les Lauves. Bonnard's Open Window. De Kooning's Asheville. Dove's pepper grinder of some sort. Klee's Arab Song. Davis's Egg Beater. Pollock's painting with tissue paper. Mondrian's painting with a little red bar crossing three black lines. Rouault's clowns (in the music room). Braque's landscape with a bit of rain. Matisse's Egyptian Curtain. Van Gogh's public garden. Diebenkorn's big blue window. Picasso's blue room with a poster. Soutine's two kids on a windy road. Gauguin's steak. Courbet's cliff. Ryder's moon. Rothko's room. I apologize to the ones I am forgetting.
Harry Cooper, Senior Curator and Head of Modern Art, National Gallery of Art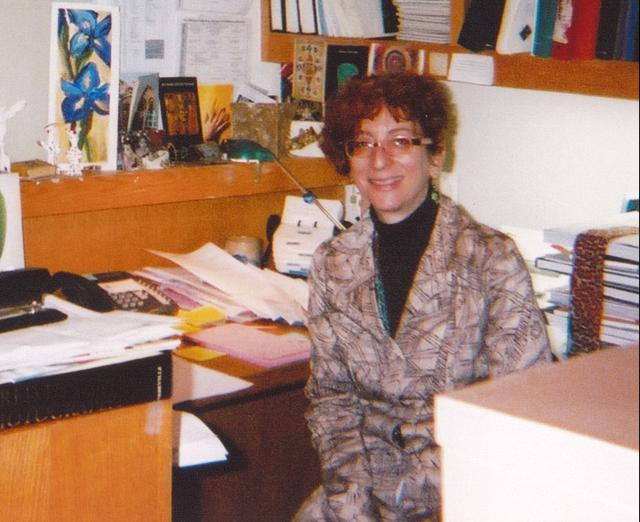 In the 1980s, the small staff was permitted to watch the uncrating of works of art, something that is forbidden today, when only the curators, preparators, and conservators are allowed that privilege. The paintings must have a day or two to acclimate to the conditions (temperature and humidity) of their new environment, and conservators inspect the paintings to make sure that they have not been harmed during the shipping process. I will never forget the joy experienced by all of us as a stunning Bonnard from a French museum was unpacked/liberated from its enormous crate. It was included in a major exhibition of Bonnard's paintings in 1984.
Karen Schneider, Head Librarian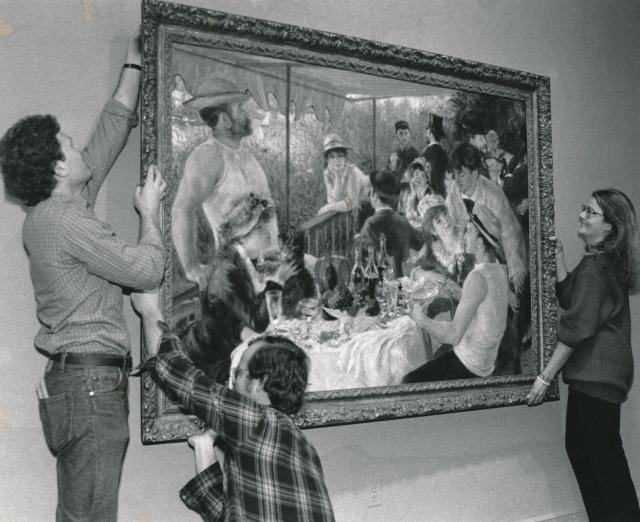 Artist Richard Diebenkorn used to visit The Phillips Collection when he was a young Marine stationed in Quantico, Virginia. His favorite painting there, and a great influence on his own painting, was Matisse's Studio, Quai Saint-Michel. Decades later, an elderly Diebenkorn walked into the Phillips. Exhibitions Manager Bill Koberg recognized him, and walked up and said that the painting he was looking for was not on view, but would he like to go up to the storeroom to see it? I happened to walk into the storeroom and found Diebenkorn and Bill quietly pondering the Matisse. A true Duncan Phillips moment of the appreciation of a great painting with "no fanfare."
Shelly Wischhusen, former Chief Preparator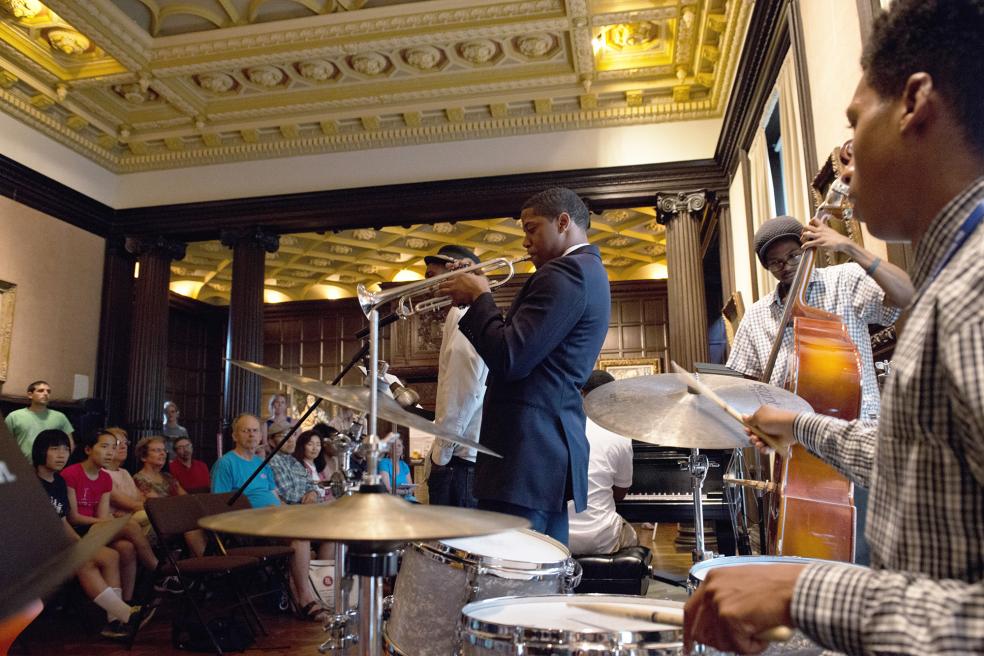 The Phillips Collection is my favorite museum since my days at Howard University. As a mom, I wanted to merge jazz with activities the whole family could enjoy. I called Dorothy Kosinski in 2009 and Jazz 'n' Families Fun Days was born, an annual celebration of jazz and the visual arts including performances in the music room, kids making art, gallery talks revealing new installations, and a lively instrument petting zoo. It's a perfect partnership between DC Jazz Festival and The Phillips Collection. My kids now 18 and 15 return each year, Jacob Lawrence's Migrations Series is a favorite.
Sunny Sumter, DC Jazz Festival
One of my fondest and most enduring memories of The Phillips Collection is also one of my earliest. I was there as a high school student, around 1992, when Jacob Lawrence's Migration Series was first united. We were going through the museum's archives, when Mr. Lawrence and his wife Gwendolyn Knight walked in. To be learning about this work and have the artist himself stroll in unplanned was a deeply awe inspiring moment, and one that couldn't have happened in that way at any other museum.
Hank Willis Thomas, artist

I just love the Phillips! Since the 1930s, they actively supported the work of Washington area artists through purchase and exhibition. Many of them are women and artists of color. In this centennial year the tradition continues and many works by local artists are once again―or always have been―on display. What a great and wondrous museum.
Beverly With, collector
For my exhibition From Here On Now, I chose and installed paintings from the Phillips alongside my own sculptures. What a dream it was to think about Guston's finger-pointing hand and Madam Cézanne's folded fingers and then to hang them close. To discover newly arrived Forrest Bess paintings, and then to install those jewels with Arthur Dove, Kenneth Noland, Morris Louis, and others that struck me as Bess' likely and unlikely spiritual relatives. To paint a wall in vibrant blue worthy of floating a Matisse, and then play hide and seek with my paper sculptures. I was forever changed by my time spent with this stellar collection.
Arlene Shechet, artist

My husband and I attended a GoGo concert at the museum and it was one of our favorite experiences at the museum. We both thought it was unexpected but exactly the kind of event we would like to attend. And who would have thought you could eat Ben's Chili Bowl in the museum!
Shakira Pollard, Contemporaries Steering Committee member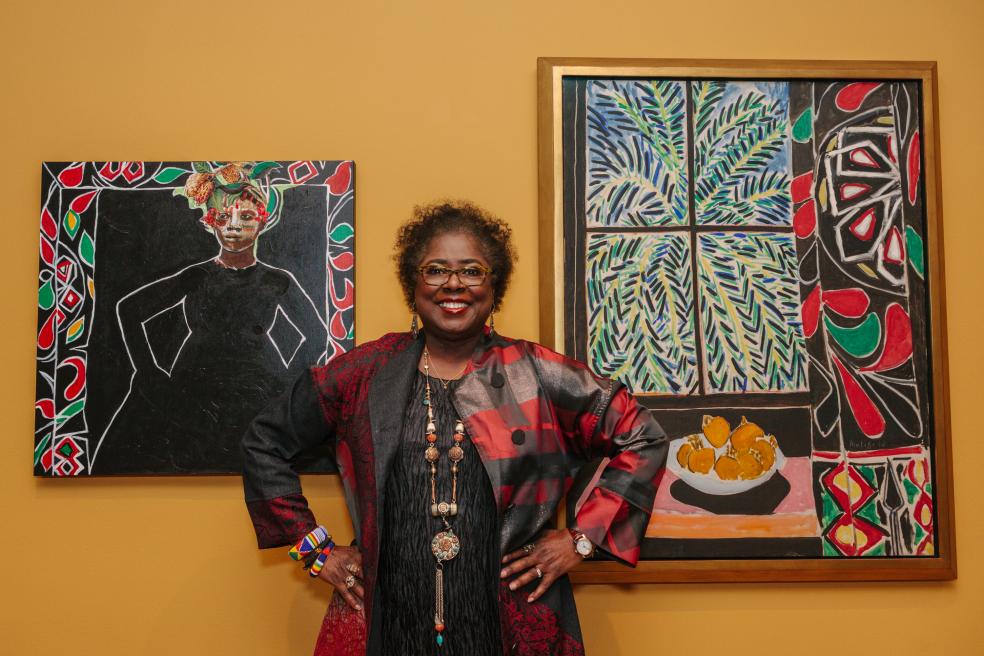 An extraordinary memory was having my work, And She Was Born, hang next to the work that inspired it―Henri Matisse's Interior With Egyptian Curtain. A recalled memory doesn't even match the feeling in the moment, and to have the presence of mind to actually BE present. It was such an honor for the Phillips to purchase And She Was Born to become part of their permanent collection. I feel so very fortunate, happy and proud to have had these moments of late February 2020 to look back upon while being sequestered at home for the next nine months plus.
Janet Taylor Pickett, artist