Intersections: Linn Meyers
at the time being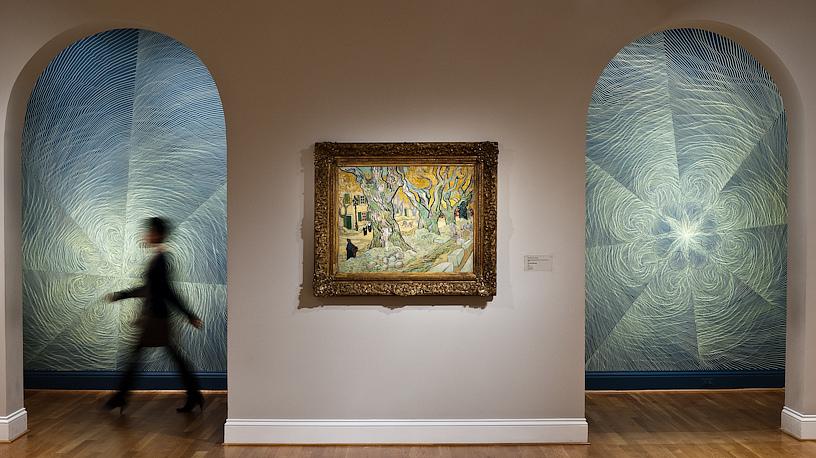 Drawn directly on the walls in The Phillips Collection's Goh Annex, at the time being is a dense field of thin lines that swirl toward each other from either side of an archway and meet above it. The line, color, and energy of the drawing relate to The Road Menders (1889), a painting by Vincent van Gogh in the collection.
Linn Meyers spent two weeks working steadily on this project. She started by painting the walls a dark blue that evokes Van Gogh's Starry Night. Then she laid out circular shapes around intersecting horizontal and vertical lines that generate the overall composition, or what she calls, the matrix. Thin lines followed, twisting and turning, connecting and disconnecting, looping around it and filling in the central blanks, resulting in a dazzling field of optical sensations.
Drawn in pale yellow ink on its dark background, Meyers's drawing is ordered disorder and perfect imperfection. "My work relies on the beauty of imperfection. I often use the word slippage to describe this," the artist says. Indeed, her drawing is full of slippage: her line is less continuous and more fugitive than it appears; at times, it breaks, creating gaps that form visual constellations of their own. Moreover, Meyers's circular forms are completely off-center. Like lovers, they embrace and drift apart. At once intense and loose, systematic and improvisational, controlled and impulsive, Meyer's drawing sucks us in, simultaneously inducing vertigo and offering solace.
"The wall drawings are created with an awareness of their ultimate impermanence. They are tailored to the space in which they briefly reside." In other words, they are specific to a moment and place in time; they expand the present. At the core of Meyers's work is her relationship to time: learning how to move back and forth between natural time, measured time, and subjective time. Emphasizing time's psychological dimension, her choice of title–at the time being–may evoke Martin Heidegger's Being and Time (1927), in which the German philosopher explores the notion of Being (defined as human existence and consciousness) through temporality. However, Heidegger and Meyers understand the temporal quite differently. Where the philosopher dwells on theoretical knowledge and the concept of da-sein or "being-there," existence, and the subject's engagement with the surrounding, or "being-in-the world," the artist approaches her work intuitively rather than conceptually. Van Gogh favored this approach, writing: "A weaver who has to direct and interweave a great deal many little threads has no time to philosophize about it, rather, he is so absorbed in his work that he doesn't think; he acts: and it is nothing that he can explain, he just feels how things should go."
Intersections artist Linn Meyers presents at the time being
A Closer Look: Linn Meyers
Linn Meyers lives and works in Washington, DC. She received her BFA at the Cooper Union in New York and her M.F.A. at the California College of the Arts in San Francisco. Her work has been featured in numerous solo and group exhibitions at the following: University of Maryland, College Park; San Jose Institute of Contemporary Art, California; Mattress Factory, Pittsburgh, Pennsylvania; Margaret Thatcher, New York City; Gallery Joe, Philadelphia, Pennsylvania; Corcoran Gallery of Art, and G Fine Art, both in Washington, DC., among others. Meyers's art is in public collections, including the Hirshhorn Museum and Sculpture Garden, the National Museum of Women in the Arts, and the Smithsonian American Art Museum, all in Washington, DC; Pittsburgh Center for the Arts, Pennsylvania; and New Britain Museum of American Art, Connecticut, among others. She has been the recipient of many awards and fellowships; in 2007–08 she was artist in residence at the Hirshhorn, and in 2009 she received a Smithsonian Artist Research Fellowship.
---
Intersections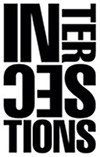 Intersections is a new series of contemporary art projects that explores—as the title suggests—the intriguing intersections between old and new traditions, modern and contemporary art practices, and museum spaces and artistic interventions. Whether engaging with the permanent collection or diverse spaces in the museum, the projects suggest new relationships with their own surprises.

Many of the projects also riff on the nontraditional nature of the museum's galleries, sometimes activating spaces that are not typical exhibition areas with art produced specifically for those locations.