The Phillips Collection Presents Its Final of Three Centennial Commissions—All by DC-based Artists
May 16, 2022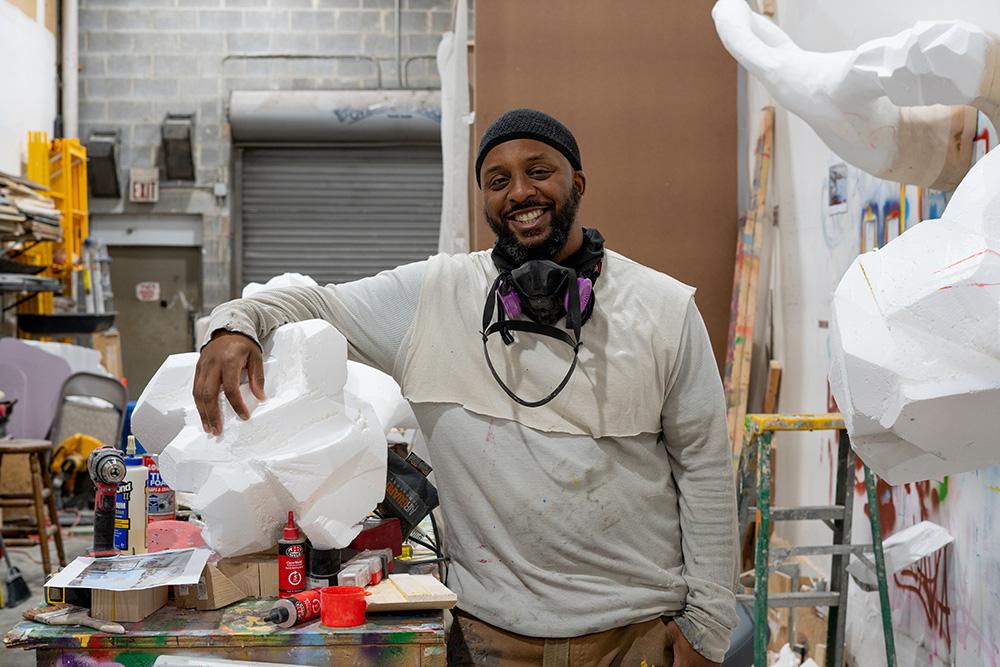 The new installation by Wesley Clark speaks to the energy and transformation east of the District's Anacostia River  

WASHINGTON, DC—The Phillips Collection presents a new commissioned installation by DC-based artist Wesley Clark, the final of three commissions by DC-based artists in celebration of the museum's centennial. The site-specific installation titled New Beginning consists of geometric forms that represent the ways in which creative spaces can generate new ideas and will be unveiled on June 18, 2022, at Phillips@THEARC, the museum's satellite campus at Town Hall Education Arts Recreation Campus in Southeast DC (1801 Mississippi Ave SE, Washington, DC, 20020).
"Transformation as a concept is a series of creative choices," explains Clark. "These many individual decisions reflect the various changes that are occurring in Southeast DC, i.e., the increase in health and family services and the investment in community beautification. Collectively, these changes can lead to a unified renaissance taking place East of the River. The work mirrors the ability for the community to exercise transformative and creative change, defining its direction forward."

As part of its centennial celebrations in 2021, The Phillips Collection commissioned works by three DC-based artists: Wesley Clark, Nekisha Durrett, and Victor Ekpuk. All three centennial commissions were conceived with the specific site in mind, and they all reference the past and speak to the future. Prior to the unveiling of Clark's commission, the artists will be featured in a panel discussion to speak about their works:
Centennial Commissions Artists Talk
June 2, 2022, 6:30 pm, The Phillips Collection
1600 21st Street NW, Washington, DC 20009
Free / Online / In-Person / Register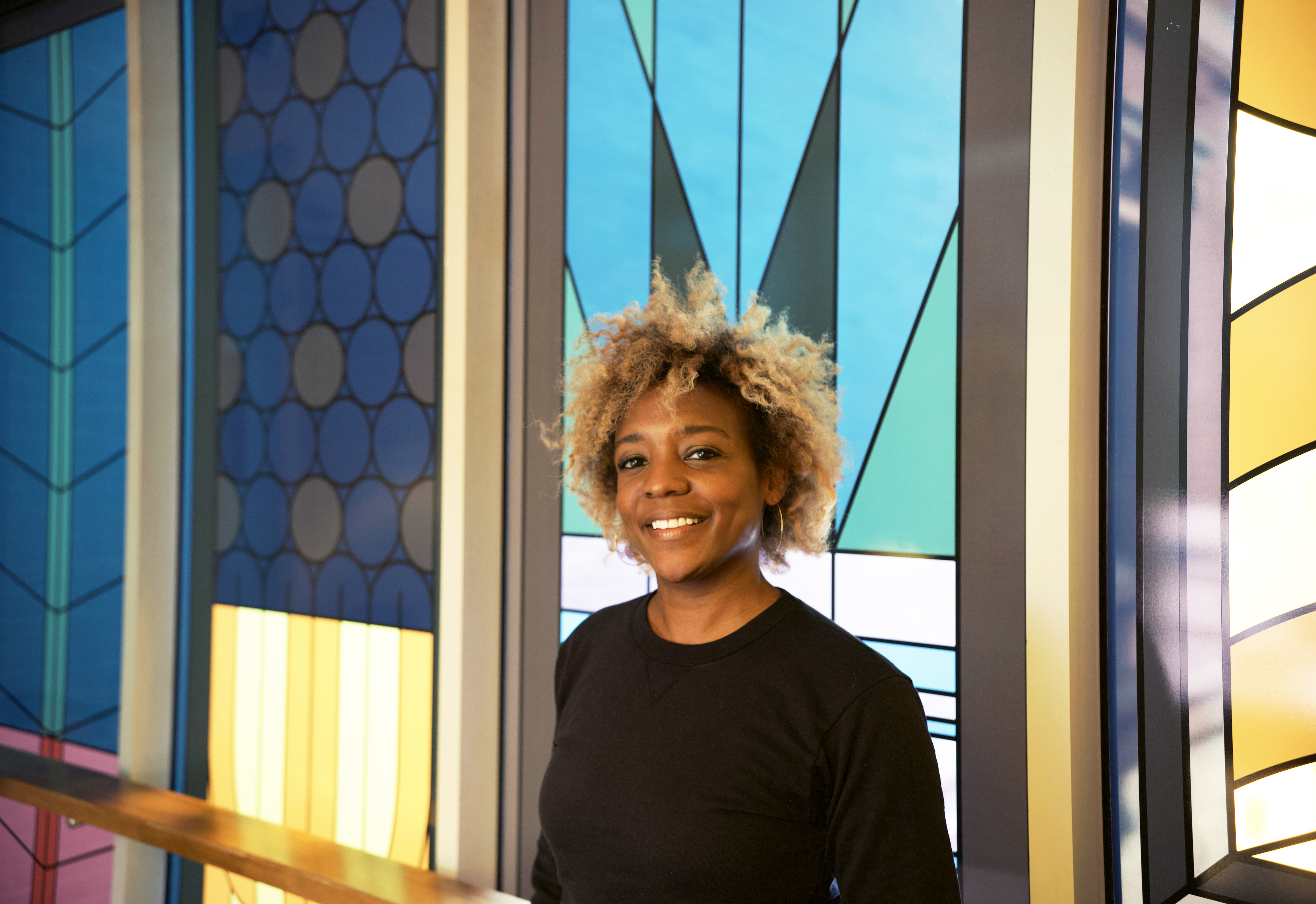 Since August 2021, Nekisha Durrett's Art Deco-inspired "stained glass" design Airshaft (2021), made of translucent window film, has been on view on the two bridges of The Phillips Collection. Durrett draws inspiration from the Phillips's treasured Migration Series (1940-41) by Jacob Lawrence, the epic series that chronicles American history.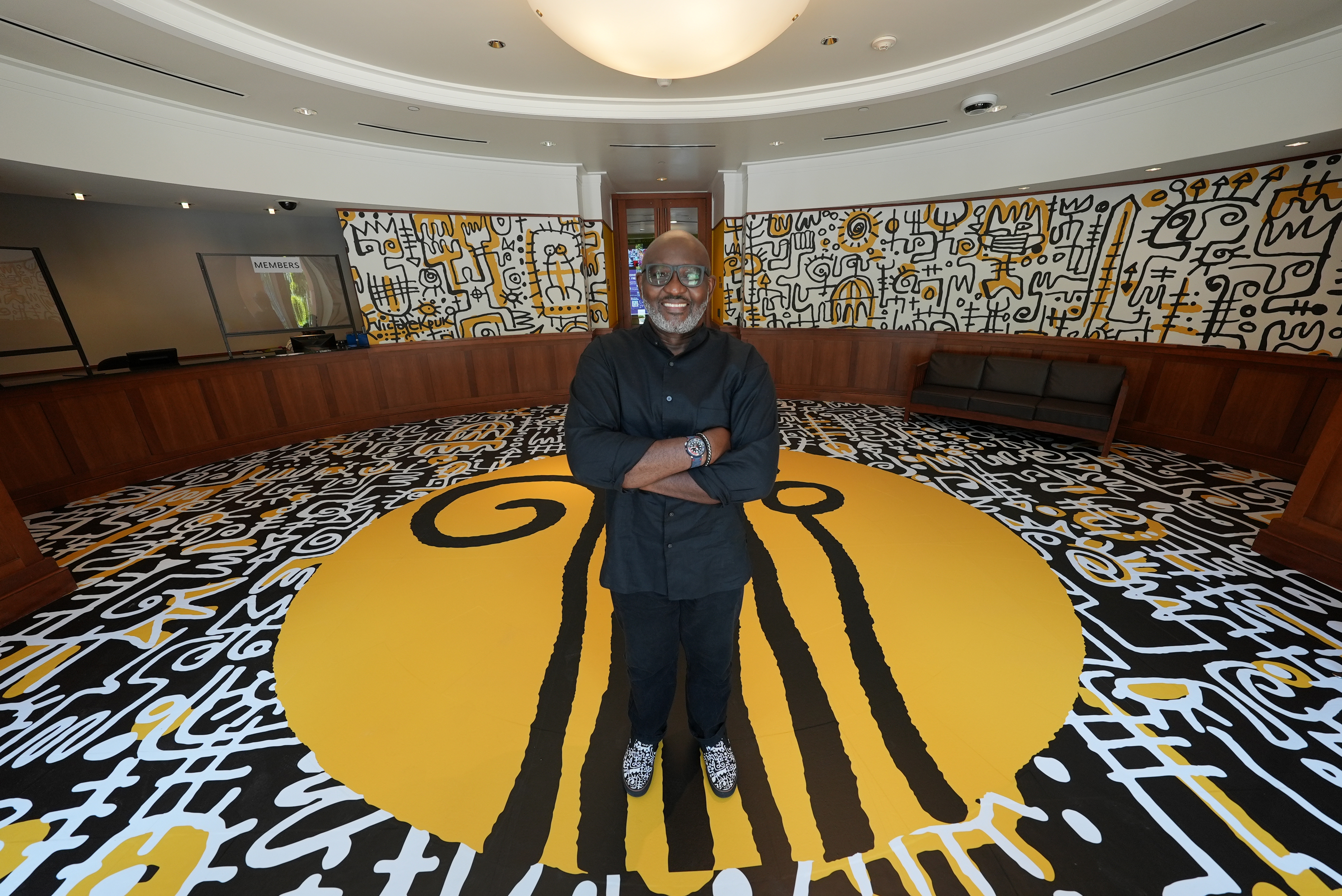 Since July 2021, Victor Ekpuk's immersive installation State of the Union: Things have fallen apart, can the center still hold? (2021), made of adhesive vinyl, has occupied the entrance vestibule. Ekpuk, a Nigerian-American artist, creates paintings and drawings that are based on the ancient Nigerian communication system, Nsibidi.
 
ABOUT THE ARTISTS
Wesley Clark (b. 1979, Washington, DC; lives in Hyattsville, MD): Phillips@THEARC
Wesley Clark is the lead artist of Wesley Clark Art (WCA). His practice includes painting, printmaking, and sculpture. He received his BFA from Syracuse University and his MFA from The George Washington University. He has exhibited works at institutions such as the Katzen Arts Center, American University, Washington DC; Columbia College Glass Curtain Gallery, Chicago, Illinois; Fisk University, Nashville, Tennessee; as well as Scope and Prizm Art Fair, Miami, Florida, during Art Basel. Clark's work is in notable collections such as the Asheville Art Museum, North Carolina, and The Studio Museum in Harlem.  

Comprising a team of mixed media artists, teachers, and art professionals, WCA aims to inspire, motivate, move the mind, and beautify spaces. WCA entered the public art realm in 2016 when invited by the American Alliance of Museums to create a temporary public artwork at the site of President Lincoln's Cottage. Since then WCA has produced several permanent site specific works ranging from installations to free standing sculpture to wall reliefs for several DC Public Schools, Kenilworth Recreation Center, Baltimore City, and for The Hotel at the University of Maryland.

Nekisha Durrett (b. 1976, Washington, DC; lives in Washington, DC): The bridges of the museum on 21st Street, NW
Nekisha Durrett's large scale public art and installations reflect her interest in the visual language of mass media and advertising; the layered meanings that objects can hold; and the space where fantasy, imagination, and history can converge. She earned her BFA at The Cooper Union in New York City and MFA from The University of Michigan School of Art and Design. Durrett has exhibited her work throughout the Washington, DC, area and beyond, including the US Botanic Garden, West End Library, Flashpoint and Hillyer Art Galleries, and Arlington Arts Center, and the Arizona State University Art Museum, Tempe. Durrett has received multiple project grants from the DC Commission on the Arts and Humanities, and was an Artist-in-Residence at the Vermont Studio Center in Johnson, Vermont. Durrett was a finalist in the National Portrait Gallery's Outwin Boochever Portrait Competition in 2019. Her recent installations include Up 'til Now, a freestanding, solar powered sculpture in the Dupont Circle neighborhood that evokes the history of DC's landscape and architecture, and a permanent installation on the vestibule of the newly renovated Martin Luther King, Jr. Library in DC.

Victor Ekpuk (b. 1964, Akwa Ibom, Nigeria; lives in Washington, DC): The vestibule of the museum on 21st Street, NW
Victor Ekpuk is internationally renowned for his paintings, drawings, and sculptures, which reimagine the ancient Nigerian communication system, Nsibidi, to create his own unique language of abstraction. Ekpuk draws from African and global contemporary art discourse to explore the human condition. In recent years, Ekpuk has focused on large-scale murals, installations, and public art projects, including a 30 x 18-foot mural for the North Carolina Museum of Art in 2017, and a 20-foot metal sculpture Hope and Dream Under Glory housed at Boone Elementary School in Southeast DC in 2019.

Ekpuk is a Smithsonian Fellow and holds a BFA from Obafemi Awolowo University. His work has been featured in national and international exhibitions, including Dakar Biennial, Senegal; Institut du Monde Arabe, Paris; Museum of Arts and Design, New York; Smithsonian National Museum of African Art, Washington, DC; Somerset House, London; New Museum of Contemporary Art, New York; and the 12th Havana Biennial, Havana, Cuba. Ekpuk's work is included in numerous collections including the Bank ABC International Headquarters in the Kingdom of Bahrain; Hood Museum, Hanover, New Hampshire; Newark Museum of Art, New Jersey; and in Washington, DC, at the Smithsonian National Museum of African American History and Culture, The World Bank, United States Art in Embassies Art Collection, and Smithsonian National Museum of African Art.

COMMISSIONS CREDIT LINE
The Phillips Collection's Centennial Artist Commissions are supported generously by the DC Commission on the Arts and Humanities, the Frauke de Looper Trust, and the Sherman Fairchild Foundation.

IMAGES
IMAGES: (1) Wesley Clark in his studio, installation in process April 2022, Photo: AK Blythe (2) Nekisha Durrett with her installation Airshaft (2021) at The Phillips Collection, Photo: Shiloah Coley (3) Victor Ekpuk with his installation State of the Union: Things have fallen apart, can the center still hold? (2021) at The Phillips Collection, Photo: Robin Bell

High-resolution press images are available upon request. Please contact jmitchell@phillipscollection.org.

ABOUT THE PHILLIPS COLLECTION
The Phillips Collection, America's first museum of modern art, was founded in 1921. The museum houses one of the world's most celebrated Impressionist and American modern art collections, and continues to grow its collection with important contemporary voices. Its distinctive building combines extensive new galleries with the former home of its founder, Duncan Phillips. The Phillips's impact spreads nationally and internationally through its diverse and experimental special exhibitions and events, including its award-winning education programs for educators, students, and adults; renowned Phillips Music series; and dynamic art and wellness and Phillips after 5 events. The museum contributes to global dialogues with events like Conversations with Artists and Artists of Conscience. The Phillips Collection values its community partnership with THEARC—the museum's satellite campus in Southeast DC. The Phillips Collection is a private, non-government museum, supported primarily by donations.

THE PHILLIPS AT HOME
Download the free Bloomberg Connects app to learn more about artworks and hear from artists.