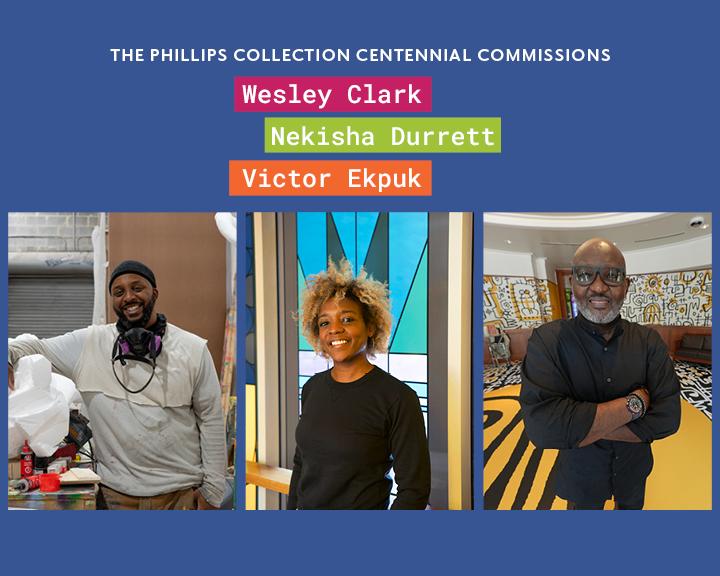 As part of its centennial celebrations, The Phillips Collection commissioned DC-based artists Wesley Clark, Nekisha Durrett, and Victor Ekpuk to create bold, site-specific artworks. Join the artists for a conversation about their artwork and creative process.
---
Wesley Clark
Wesley Clark is the lead artist of Wesley Clark Art (WCA). His practice includes painting, printmaking, and sculpture. He received his BFA from Syracuse University and his MFA from The George Washington University. He has exhibited works at institutions such as the Katzen Arts Center, American University, Washington DC; Fisk University, Nashville, Tennessee; as well as Scope and Prizm Art Fair, Miami, Florida, during Art Basel. Comprising a team of mixed media artists, teachers, and art professionals, WCA aims to inspire, motivate, move the mind, and beautify spaces. WCA has produced several permanent site specific works, including for President Lincoln's Cottage and several DC Public Schools.
His site-specific installation New Beginning consists of geometric forms that represent the ways in which creative spaces can generate new ideas. It will be unveiled on June 18 at Phillips@THEARC, the museum's satellite campus in Southeast DC (1801 Mississippi Ave SE).
Nekisha Durrett
Nekisha Durrett's large scale public art and installations reflect her interest in the visual language of mass media and advertising. She earned her BFA at The Cooper Union in New York City and MFA from the University of Michigan School of Art and Design. Durrett has exhibited her work throughout the Washington, DC, area and beyond, including the US Botanic Garden, West End Library, Flashpoint and Hillyer Art Galleries, and Arlington Arts Center, and the Arizona State University Art Museum, Tempe. Durrett was a finalist in the National Portrait Gallery's Outwin Boochever Portrait Competition in 2019. Her recent installations include a permanent installation at the Martin Luther King, Jr. Memorial Library in DC. Her work was included in The Phillips Collection's 2021 juried invitational, Inside Outside, Upside Down.
Titled Airshaft (2021), the modernist, geometric work is influenced by Jacob Lawrence's Migration Series and Duke Ellington's instrumental Harlem Airshaft, written in the same era, which speaks to the city noise heard all around Harlem apartments. Durrett contrasts this by incorporating elements of panel 31 in the Migration Series, which she sees as a cathedral for migrant residents. The two-story installation connects the museum's Goh Annex to the original Phillips House.
Victor Ekpuk
Victor Ekpuk is internationally renowned for his paintings, drawings, and sculptures, which reimagine the ancient Nigerian communication system, Nsibidi, to create his own unique language of abstraction. In recent years, Ekpuk has focused on large-scale projects, including a 30 x 18-foot mural for the North Carolina Museum of Art in 2017, and a 20-foot metal sculpture Hope and Dream Under Glory housed at Boone Elementary School in Southeast DC in 2019. Ekpuk is a Smithsonian Fellow and holds a BFA from Obafemi Awolowo University. 
"In the vestibule of The Phillips Collection, I want to welcome visitors to a sense of a spiritual sacred space through an immersive experience. Through my 'script' drawings, the distinction between writing and visual art, legibility and illegibility are all dissolved. This process encourages viewers to experience my work in a holistic manner, allowing the abstraction rooted in ancestral knowledge and indigenous power symbols to build intuitive meaning. In the vestibule, I wish to create a collective experience across cultures and space to connect the ancient past and the contemporary moment."