Local artist Victor Ekpuk's graphic installation, inspired by ancient Nigerian script, transforms the main visitor entrance to The Phillips Collection
July 1, 2021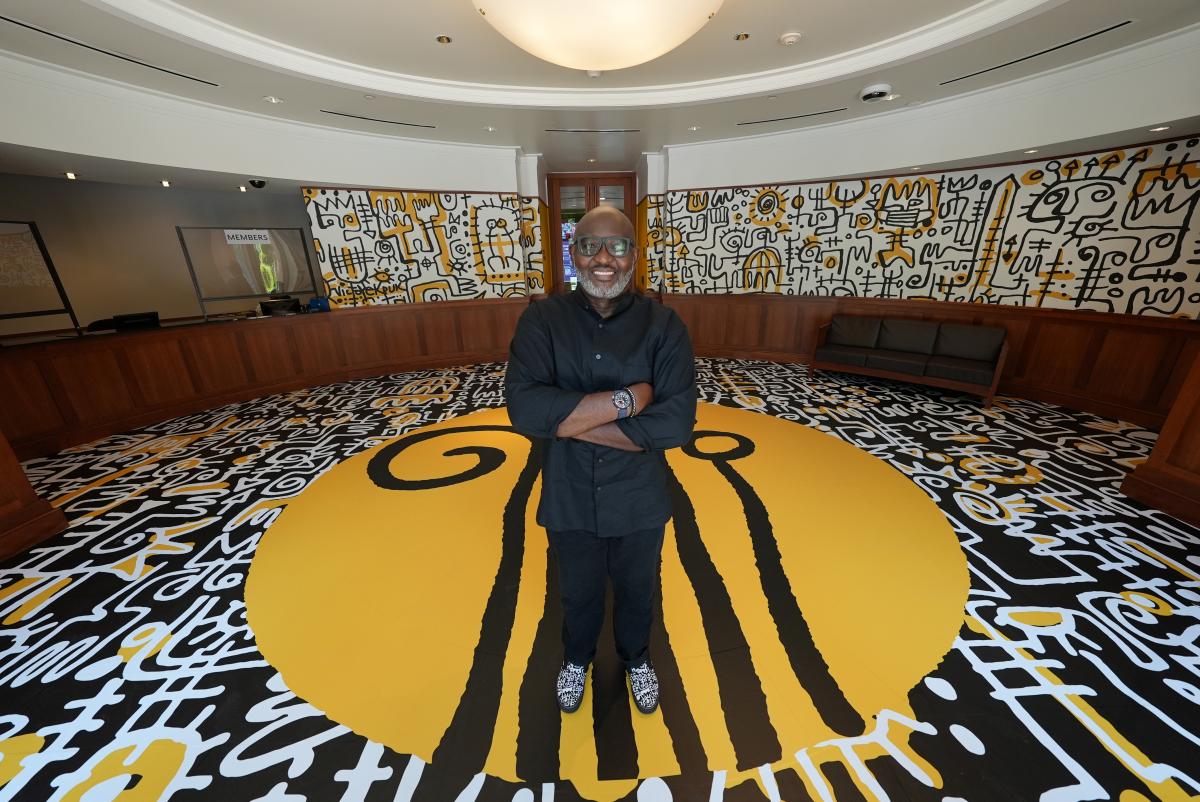 Titled State of the Union: Things have fallen apart, can the center still hold?, the installation is made of adhesive vinyl that covers the museum's vestibule, and is one of three commissions, all by DC-based artists, that celebrate the Phillips's 100th anniversary this year.
THE ARTIST:
Victor Ekpuk (b. 1964, Akwa Ibom, Nigeria; lives in Washington, DC)
Victor Ekpuk is internationally renowned for his paintings, drawings, and sculptures, which reimagine the ancient Nigerian communication system, Nsibidi, to create his own unique language of abstraction. Ekpuk draws from African and global contemporary art discourse to explore the human condition. In recent years, Ekpuk has focused on large-scale murals, installations, and public art projects, including a 30 x 18-foot mural for the North Carolina Museum of Art in 2017, and a 20-foot metal sculpture Hope and Dream Under Glory housed at Boone Elementary School in Southeast DC in 2019.
Ekpuk holds a BFA from Obafemi Awolowo University in Ile-Ife, Nigeria. His awards include a Smithsonian Fellowship. His work has been featured in national and international exhibitions, including Dakar Biennial, Senegal; Institut du Monde Arabe, Paris; Museum of Arts and Design, New York; Smithsonian National Museum of African Art, Washington, DC; Somerset House, London; New Museum of Contemporary Art, New York; and the 12th Havana Biennial, Havana, Cuba. Ekpuk's work is included in numerous collections including the Bank ABC International Headquarters in the Kingdom of Bahrain; Hood Museum, Hanover, New Hampshire; Newark Museum of Art, New Jersey; and in Washington, DC, at the Smithsonian National Museum of African American History and Culture, The World Bank, United States Art in Embassies Art Collection, and Smithsonian National Museum of African Art.
"In the vestibule of The Phillips Collection, I want to welcome visitors to a sense of a spiritual sacred space through an immersive experience. Through my 'script' drawings, the distinction between writing and visual art, legibility and illegibility are all dissolved. This process encourages viewers to experience my work in a holistic manner, allowing the abstraction rooted in ancestral knowledge and indigenous power symbols to build intuitive meaning. In the vestibule, I wish to create a collective experience across cultures and space to connect the ancient past and the contemporary moment," Ekpuk says.
COMMISSIONS CREDIT LINE
The Phillips Collection's Centennial Artist Commissions are supported generously by the DC Commission on the Arts and Humanities, the Frauke de Looper Trust, and the Sherman Fairchild Foundation.

IMAGES
IMAGE: Victor Ekpuk in front of his artwork State of the Union: Things have fallen apart, can the center still hold?, Photo by Robin Bell
High resolution images of the artists available upon request. Images of the installations will be shared upon completion of the projects.

ABOUT THE PHILLIPS COLLECTION
The Phillips Collection, America's first museum of modern art, was founded in 1921. The museum houses one of the world's most celebrated Impressionist and American modern art collections, and continues to grow its collection with important contemporary voices. Its distinctive building combines extensive new galleries with the former home of its founder, Duncan Phillips. The Phillips's impact spreads nationally and internationally through its diverse and experimental special exhibitions and events, including its award-winning education programs for educators, students, and adults; renowned Phillips Music series; and dynamic art and wellness and Phillips after 5 events. The museum contributes to global dialogues with events like Conversations with Artists and Artists of Conscience. The Phillips Collection values its community partnerships with the University of Maryland—the museum's nexus for scholarly exchange and interdisciplinary collaborations—and THEARC—the museum's satellite campus in Southeast DC. The Phillips Collection is a private, non-government museum, supported primarily by donations.