Centennial Art Commissions
The Phillips Collection presents commissions by Wesley Clark, Nekisha Durrett, and Victor Ekpuk
The Phillips Collection presents bold, contemporary site-specific commissions by DC-based artists Wesley Clark, Nekisha Durrett, and Victor Ekpuk.
The Phillips Collection's Centennial Artist Commissions are supported generously by the DC Commission on the Arts and Humanities, the Frauke de Looper Trust, and the Sherman Fairchild Foundation.
Wesley Clark
Artwork site: Phillips@THEARC, summer 2022
Wesley Clark (b. 1979, Washington, DC; lives in Hyattsville, MD) is the lead artist of Wesley Clark Art (WCA). His practice includes painting, printmaking, and sculpture. He received his BFA from Syracuse University and his MFA from The George Washington University. He has exhibited works at institutions such as the Katzen Arts Center, American University, Washington DC; Fisk University, Nashville, Tennessee; as well as Scope and Prizm Art Fair, Miami, Florida, during Art Basel. Comprising a team of mixed media artists, teachers, and art professionals, WCA aims to inspire, motivate, move the mind, and beautify spaces. WCA has produced several permanent site-specific works for President Lincoln's Cottage, several DC Public Schools, Kenilworth Recreation Center, Baltimore City, and for The Hotel at the University of Maryland.
Wesley Clark's multidisciplinary practice includes painting, printmaking, and sculpture. genesis is a site-specific installation commissioned for Phillips@THEARC. It is comprised of abstract, meandering forms—the piece starts with the geometric seedlings in the lobby whose roots grow through the wall into the workshop, suggesting organic flow and constant transformation. "Morphing dimensions, bending time and space—these geometric forms represent the beginning stages of the creation process—something new being birthed. It's a representation of a creative space always on the verge of bringing forth new ideas. New ideas bring new ways of thinking. And new ways of thinking are new beginnings. My aim is for these forms to bring that energy and concept into a space to further fuel the creative process taking place."
Watch Wesley talk about his work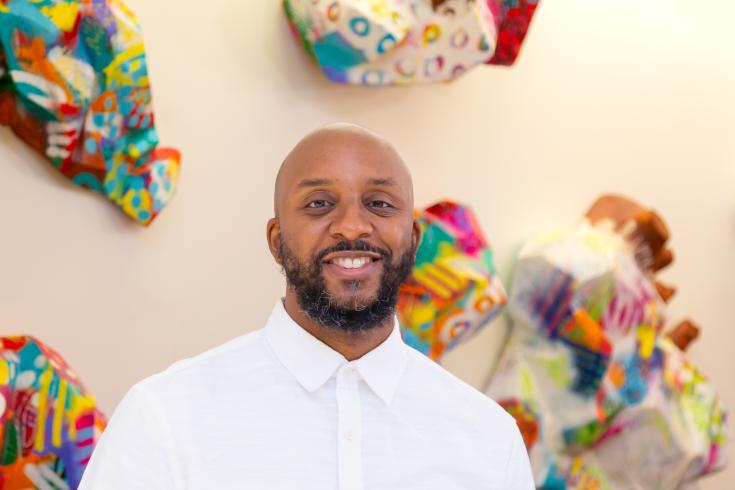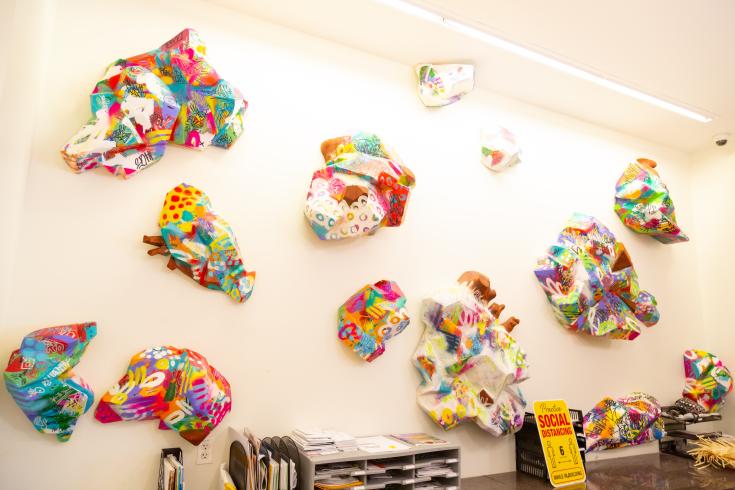 Nekisha Durrett
Artwork site: The Phillips Collection bridges connecting Goh Annex and Phillips House, summer 2021
Nekisha Durrett (b. 1976, Washington, DC; lives in Washington, DC) creates large scale public art and installations that reflect her interest in the visual language of mass media and the layered meanings that objects can hold. She earned her BFA at The Cooper Union in New York City and MFA from The University of Michigan School of Art and Design. Durrett has exhibited her work throughout the DC area, including at the US Botanic Garden, West End Library, and Arlington Arts Center. Durrett was a finalist in the National Portrait Gallery's Outwin Boochever Portrait Competition in 2019. Her recent installations include Up 'til Now in the Dupont Circle neighborhood and a permanent installation at the Martin Luther King, Jr. Memorial Library in DC.
Durrett recalls a 1993 chance meeting with artist Jacob Lawrence in the Phillips galleries. "This was one of many trips to the Phillips, but my first time seeing the experiences of Black people lifted up and amplified on museum walls and meeting an art hero in the flesh. Drawing upon my own biography and Lawrence's Migration Series, I re-imagine the façade of The Phillips Collection with translucent window film that echoes the modernist, geometric presentation of this masterful series that told of the exodus of Black people from the rural South and their migration to the urban North. The façade at once celebrates this seminal artist and amplifies a moment in time that forever altered the shape of American culture here, there, and everywhere."
Watch Nekisha talk about her work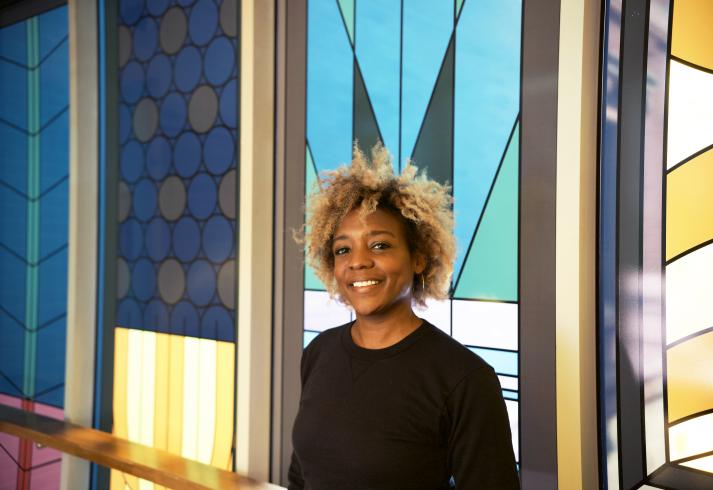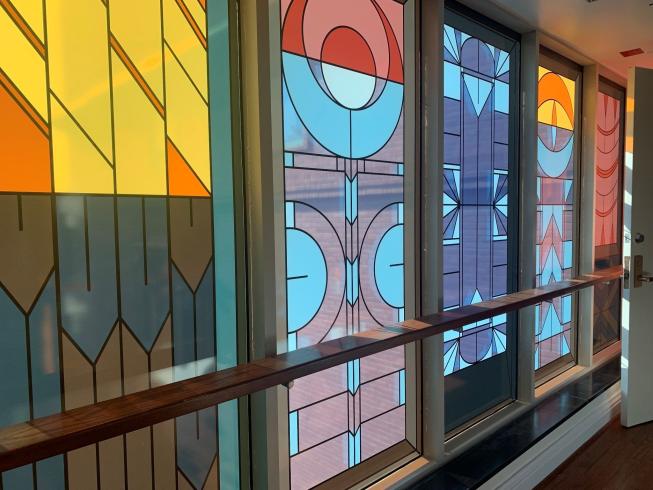 Victor Ekpuk
Artwork site: The Phillips Collection entrance vestibule, summer 2021
Victor Ekpuk (b. 1964, Akwa Ibom, Nigeria; lives in Washington, DC) is internationally renowned for his paintings, drawings, and sculptures, which reimagine the ancient Nigerian communication system, Nsibidi, to create his own unique language of abstraction. Ekpuk's recent large-scale projects include a 30 x 18-foot mural for the North Carolina Museum of Art in 2017, and a 20-foot metal sculpture Hope and Dream Under Glory at Boone Elementary School in Southeast DC in 2019. Ekpuk is a Smithsonian Fellow and holds a BFA from Obafemi Awolowo University. His work has been featured at the Dakar Biennial, Senegal; Institut du Monde Arabe, Paris; Museum of Arts and Design, New York; Somerset House, London; New Museum of Contemporary Art, New York; and the 12th Havana Biennial, Cuba. Ekpuk's work is in collections including the Hood Museum, Hanover, New Hampshire; Newark Museum of Art, New Jersey; and the Smithsonian National Museum of African American History and Culture, DC.
"In the vestibule of The Phillips Collection, I want to welcome visitors to a sense of a spiritual sacred space through an immersive experience. Through my 'script' drawings, the distinction between writing and visual art, legibility and illegibility are all dissolved. This process encourages viewers to experience my work in a holistic manner, allowing the abstraction rooted in ancestral knowledge and indigenous power symbols to build intuitive meaning. In the vestibule, I wish to create a collective experience across cultures and space to connect the ancient past and the contemporary moment."
Watch Victor talk about his work