Programs
The Center for Art & Knowledge organizes events including Conversations with Artists, the Artists of Conscience Forum, Duncan Phillips Lectures, and Creative Voices DC.

Conversations with Artists
The lively Conversations with Artists series provides an opportunity to hear from and speak with leading contemporary artists in an informal setting. Nearly three dozen artists working in various media have participated since the inception of the program in 2006, including Vito Acconci, Nikki S. Lee, Mel Chin, Walid Raad, Amy Sherald, and Wangechi Mutu, among others. The conversations are cosponsored by the University of Maryland.
---
Conversations with Artists Playlist on YouTube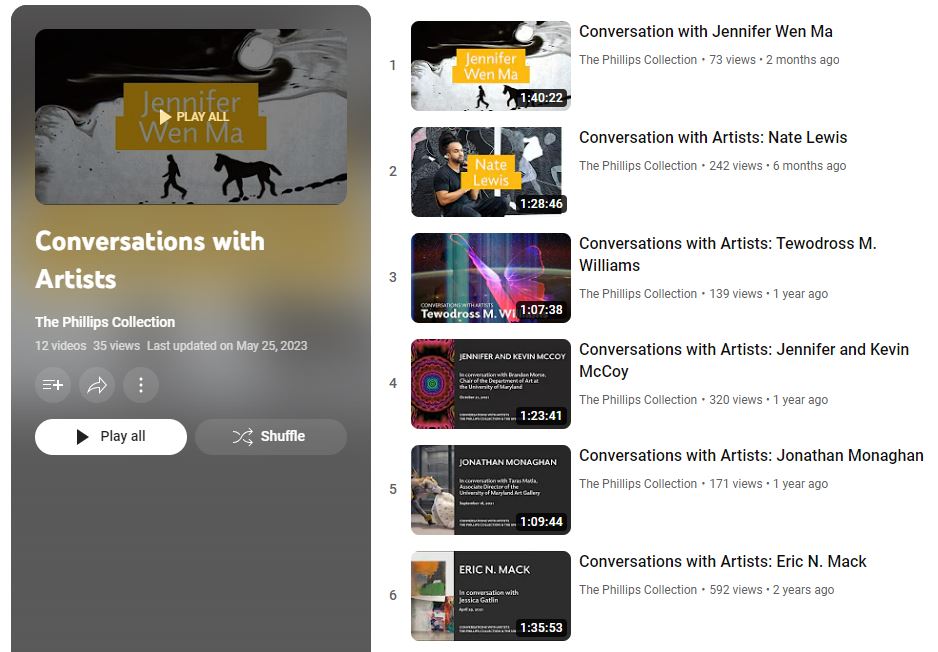 Artists of Conscience Forum
The Phillips Collection's annual Artists of Conscience Symposium stems from the institution's aim to catalyze global conversations through the language of modern art, a central unifying theme of the museum's programming and exhibitions. Formerly called International Forum, this series of conversations deliberately stretches beyond the walls of the museum to consider urgent issues of our time—from racial identity, philanthropic impact, and climate change.
Artists of Conscience playlist on YouTube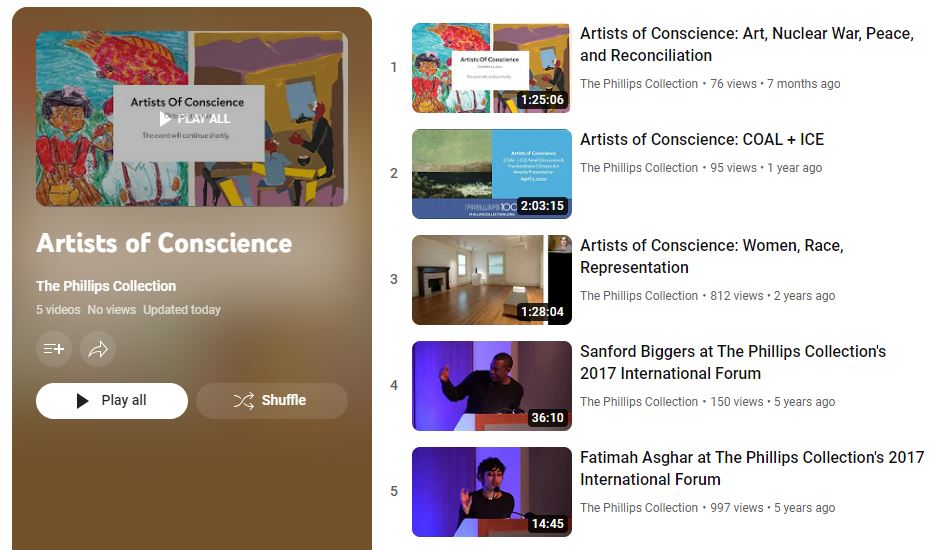 Duncan Phillips Lectures
The Duncan Phillips Lectures are given by distinguished artists, historians, and critics, whose presentations cover a broad range of aesthetic concerns. The lecture series was started in 1987 by Laughlin Phillips (director of the museum from 1972 to 1992) in honor of his father, Duncan Phillips, the founder of The Phillips Collection.
Creative Voices DC
Inaugurated in 2011, Creative Voices DC brings together the local creative community of Washington, DC, through panel discussions that include artists, collectors, curators, writers, and performers. Participants are encouraged to discuss works and projects in progress, exchange ideas, and share experiences.
The idea for Creative Voices DC aligns closely with what museum founder Duncan Phillips felt to be an important part of his own work as a museum director and the Phillips as an institution: the unwavering appreciation and support of living artists. Phillips believed that "artists speak not only for themselves but for those of us who are intensely interested in other ways of seeing than our own."