Remembering Sam Gilliam (1933-2022)
The Phillips Collection expresses its deepest condolences to the family and friends of Sam Gilliam. We mourn the passing of the legendary person and artist whose work in abstraction energized the contemporary art movement and the Washington, DC, art scene. The Phillips Collection cherishes our special relationship with Sam Gilliam, hosting his first museum exhibition in 1967 at the invitation of Marjorie Phillips. That same year, we became the first museum to acquire a Gilliam painting, Red Petals, from his solo show, and we are honored to be home to a dozen of his paintings and works on paper.
We have been proud to feature his work throughout the years and at important moments, including our 50th anniversary, in a special installation during our 90th anniversary, and most recently in the 2021 centennial exhibition, Seeing Differently: The Phillips Collection for New Century. Gilliam's powerful painting April, inspired by the DC riots following the assassination of Martin Luther King Jr., served as a centerpiece of our 100th anniversary exhibition, embodying the museum's founding mission that art is a unifying force for change. We will again feature his work in our upcoming exhibition on another DC artistic icon, Lou Stovall: The Museum Workshop.
At the heart of Gilliam's work was experimentation and adventure, pushing the boundaries of his artistic process. His ardent support of the DC art scene contributed to a vibrant and thriving art community that continues today. His impact and artwork are felt and experienced daily throughout the world and impossible to measure. We are all forever changed and enriched for having the inspirational Sam Gilliam in our lives and in Washington, DC.
-Vradenburg Director and CEO Dorothy Kosinski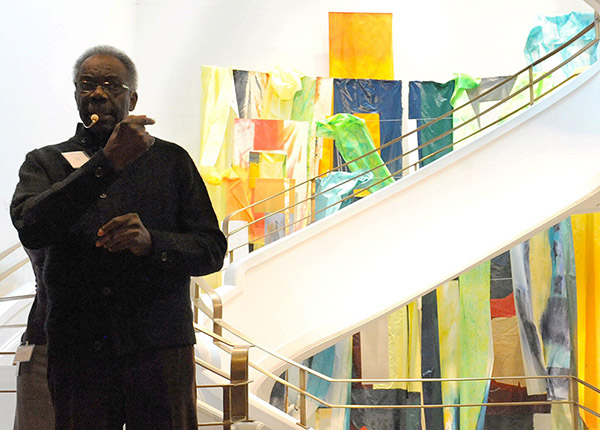 Sam Gilliam giving a talk in front of his special installation Flour Mill in 2011 at The Phillips Collection