Purple Antelope Space Squeeze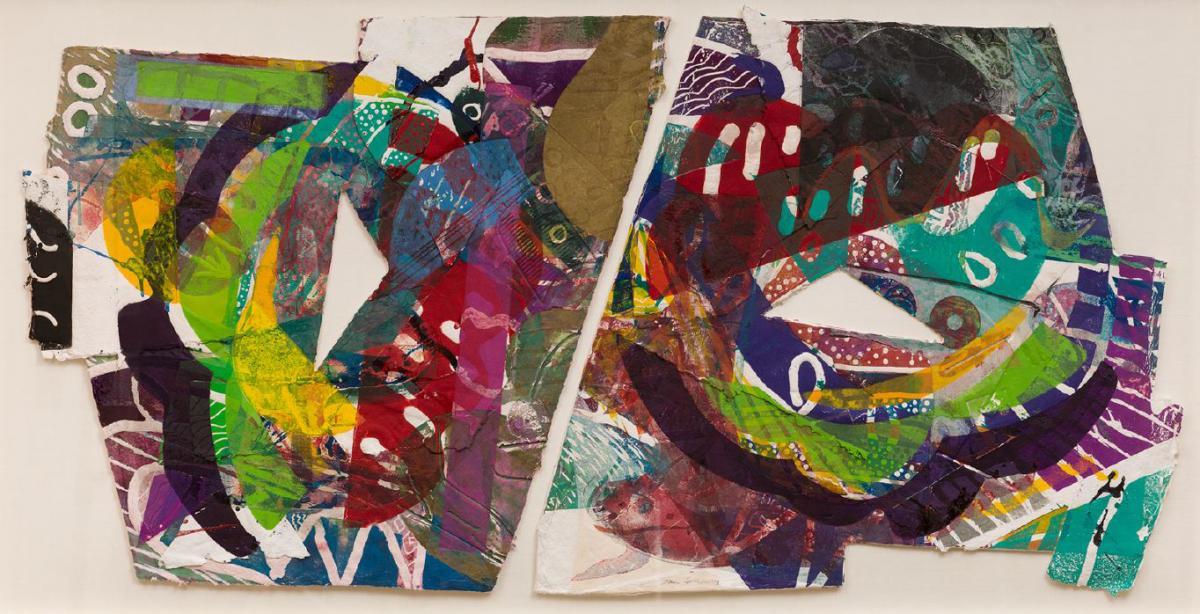 After graduating from the University of Louisville, Sam Gilliam moved to Washington, DC, in 1962, where he discovered a flourishing art scene and the large stained abstractions of the Washington Color school, led by Gene Davis, Thomas Downing, Morris Louis, and Kenneth Noland. Gilliam frequented the galleries of The Phillips Collection and was inspired by the art of Pierre Bonnard, Georges Braque, and Arthur Dove.[1] In late 1966, Marjorie Phillips offered Gilliam his first museum solo exhibition, having seen his hard-edge geometric designs and early abstractions. Motivated by this opportunity, Gilliam searched for a new direction and reconsidered his poured and stained surfaces.[2] He discovered that by creasing, bunching, or crumpling paper, still wet with watercolor, he could create a structure and a type of drawing for his color combinations on canvas. In 1967, the Phillips purchased Gilliam's Red Petals and hosted his show, which was well received. Gilliam explained, "I think that Red Petals in a sense and the Phillips show were like the start of confidence."[3]
During this pivotal time, Gilliam's experimentations influenced his production of prints. As a visiting artist at the University of Wisconsin, Madison, in the early 1970s, Gilliam worked with William Weege, who encouraged him to be technically inventive. Later, in 1987, when Weege founded Tandem Press, Gilliam became the first artist to print there, and Purple Antelope Space Squeeze was Tandem's first editioned work. With its collage elements that shift in and out of relief, it embodies Gilliam's improvisational approach, where "the surface is no longer the final plane of the work. It is instead the beginning of an advance into the theater of life."[4]
To start this project, Gilliam sent Weege a drawing, and assistants cast a mold for the shape of the paper, which was printed with dense lithography inks transferred from carved woodblocks. According to Tandem Press, Gilliam then collaged and painted the paper pieces and produced prints using inked and un-inked metal relief plates, welded found objects, and steel and zinc etched and aquatinted plates.[5] Gilliam manipulated these elements on each sheet, altering colors as he went along, adding hand-painted details while the inks were still wet so that they mixed as the piece went through the press.[6] Each impression bears a unique pattern because the artist placed the printing elements in different positions and inked them in a variety of colors. Gilliam's innovative Purple Antelope Space Squeeze is a strong addition that enhances the twelve other works by the artist in the collection.
1. He created Flour Mill (2011), a stunning installation in the Goh Annex, a response to Dove's Flour Mill II (1939), which he remembered seeing on early visits to the museum.
2. Jonathan P. Binstock, Sam Gilliam (Washington, DC: Corcoran Gallery of Art, 2005), 26.
3. Conversation with the author in December 2010.
4. Sam Gilliam and Annie Gawlak, "Solids and Veils," Art Journal 50, no. 1 (Spring 1991): 10.
5. Tandem Press: 25 Years of Printmaking (Madison, WI: Chazen Museum of Art, 2013), xxi.
6. Tandem Press: 25 Years of Printmaking, xxi
Text by Renée Maurer, adapted from Seeing Differently: The Phillips Collects for a New Century (The Phillips Collection in association with Giles, 2021)