Recent Acquisitions
The Phillips Collection has continued to build on its unique collecting legacy launched in 1921, and has deliberately sought to enhance diversity and inclusion within the collection.

The Phillips Collection is proud to share new acquisitions which reflect the museum's efforts to enhance and diversify the collection by embracing works that reflect a narrative of modern and contemporary art beyond the traditional focus on European and American art, and also speak to the communities we hope to serve.
Daniel Canogar
The Phillips Collection has acquired a work by Daniel Canogar in celebration of the museum's 100th anniversary. Visit The Phillips Collection to see the site-specific projection at The Phillips Collection (September 14, 2021-January 2, 2022). Amalgama Phillips uses 550 images of artworks from the museum's permanent collection to create a generative digital artwork that liquefies all the works in a seamless blend of melted imagery. The piece is constantly evolving, producing new visual configurations driven by an algorithm and exploring how digital media is shifting our experience and understanding of art. 
John Akomfrah
Transfigured Night (2013), an immersive two-screen video installation by John Akomfrah (Ghanaian, b. 1957), filmed partially in Washington, DC, investigates the aspirations and tragic disappointments as African nations struggled for independence from colonial rule. Akomfrah frequently juxtaposes anachronous periods of social turmoil to comment on the trauma of postcolonial history. His work Vertigo Sea (2015) was part of our major exhibition The Warmth of Other Suns: Stories of Global Displacement.
Aimé Mpane
Currently on view is Maman Calcule (2013) by Aimé Mpane (Congolese, b. 1968). Working primarily with wood and an adze—a traditional African woodworking tool—the Belgium-based Congolese artist creates sculptures, mosaic-like wall hangings, and portraits carved on ordinary plywood that explore the fundamental connection between place and personal identity. Mpane's sculptures and installations often address the aftermath of Belgian colonialism and the Mobutu regime in Congo. In 2012, The Phillips Collection acquired its first work by Mpane, Mapasa (2012), from the (e)merge art fair in Washington, DC. The Phillips will also acquire Mpane's Untitled (2010) as a promised gift from Leslie Tonkonow and Klaus Ottmann.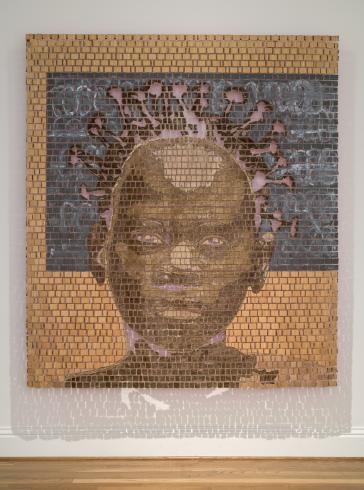 Benny Andrews
Trail of Tears (2006) by Benny Andrews (American, 1930–2006), is a gift of nationally known arts and social justice philanthropist Agnes Gund. It is part of a series from 2004-2006 in which Andrews retraced the Trail of Tears, recalling the genocidal forced displacement of Native Americans from their southeastern homelands. Andrews's work depicts an event often left out of history books and popular narratives about American expansion and migration. Trail of Tears was included in the exhibition The Warmth of Other Suns, where it was installed vis-à-vis Jacob Lawrence's Migration Series (1940–41), a cornerstone of the Phillips's collection which similarly traces a fraught mass migration in American history.
Janet Taylor Pickett
Since the early 1970s, Janet Taylor Pickett (American, b. 1948) has had a creative conversation with Henri Matisse that has not only expanded and enhanced her own visual vocabulary, but has also become integral to her voice as an African American female artist. And She Was Born (2017), purchased through the Dreier Acquisition Fund, responds to an iconic work in The Phillips Collection, Matisse's Interior with Egyptian Curtain (1948), and was created especially for the exhibition Riffs and Relations: African American Artists and the European Modernist Tradition. Pickett combines a collaged image of an East African woman wearing a botanical headdress with the border design borrowed from Matisse's work.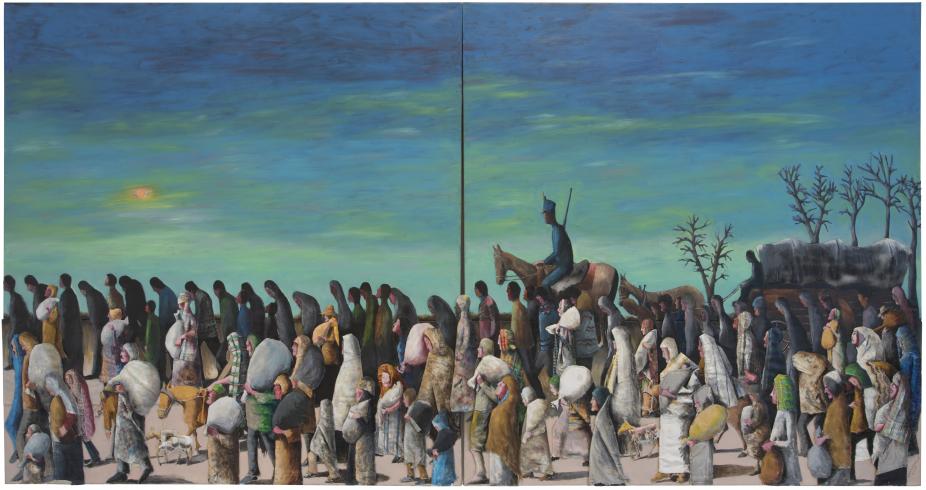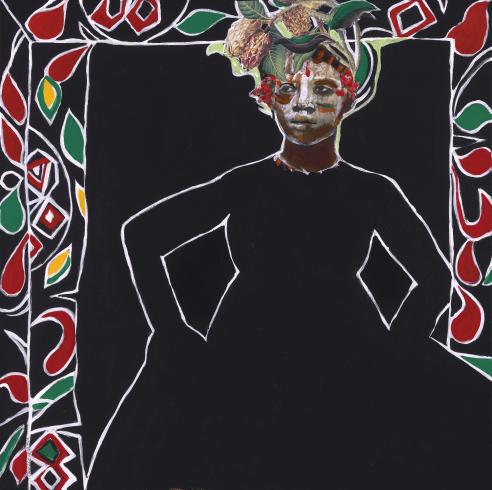 Ranjani Shettar
Drawing from her landscape in rural India—with changing skies, monsoon rains, and lavish vegetation—Ranjani Shettar (Indian, b. 1977) explores environmental concerns. Mohana (2019), a gift of the artist and Talwar Gallery, is made of thread and hand-molded beeswax that extends across space much like a constellation. It was conceived specifically for Shettar's Intersections project Earth Songs for a Night Sky, in which she was in dialogue with works in the permanent collection by Wassily Kandinsky and Paul Klee, questioning form, color, space, and design, but also the psyche. Mohana speaks to the tension between the physical world and spiritual aspirations, between observation and introspection.
Los Carpinteros
Cachita is the first sculptural portrait by the Cuban collective Los Carpinteros, preceding a series of other portraits of elderly Cuban revolutionaries done in a style that mixes social realism and pop-art. Made of back-lit aluminum, it is a highly stylized portrait of the mother of one of the artists, Dagoberto Rodríguez; a rendering that riffs on the iconic portraits of Che Guevara and Camilo Cienfuegos from the Plaza de la Revolucion in Havana. Los Carpinteros (The Carpenters) was an artist collective (Rodríguez, Marco Castillo, and previously Alexande Arrechea) formed in Havana in the early 1990s and dissolved in 2019. Cachita was included in the 2019 Intersections project at the Phillips, Cuba Va!, the artists' final collaboration. Cachita is a generous gift of Aaron and Barbara Levine.
Federico Solmi
A gift of the artist, The Great Farce: Portable Theater (2019) by Federico Solmi (Italian, b. 1973) is a portable video theater where reality has been transformed into an eternal amusement theme park. The piece is based on a multichannel projection Solmi created for the 2017 Biennial of the Moving Image in Frankfurt, Germany. The Great Farce is a place where the world's leaders rewrite, fabricate, or travel to any event of the past, present, or future. Through the leaders' mania, carnival rides transform into historic monuments, carousel horses become a charging cavalry, rocking ships turn into an armada, and Ferris wheels spin like helicopters.