The Phillips Collection Presents African Modernism in America, 1947–67
August 17, 2023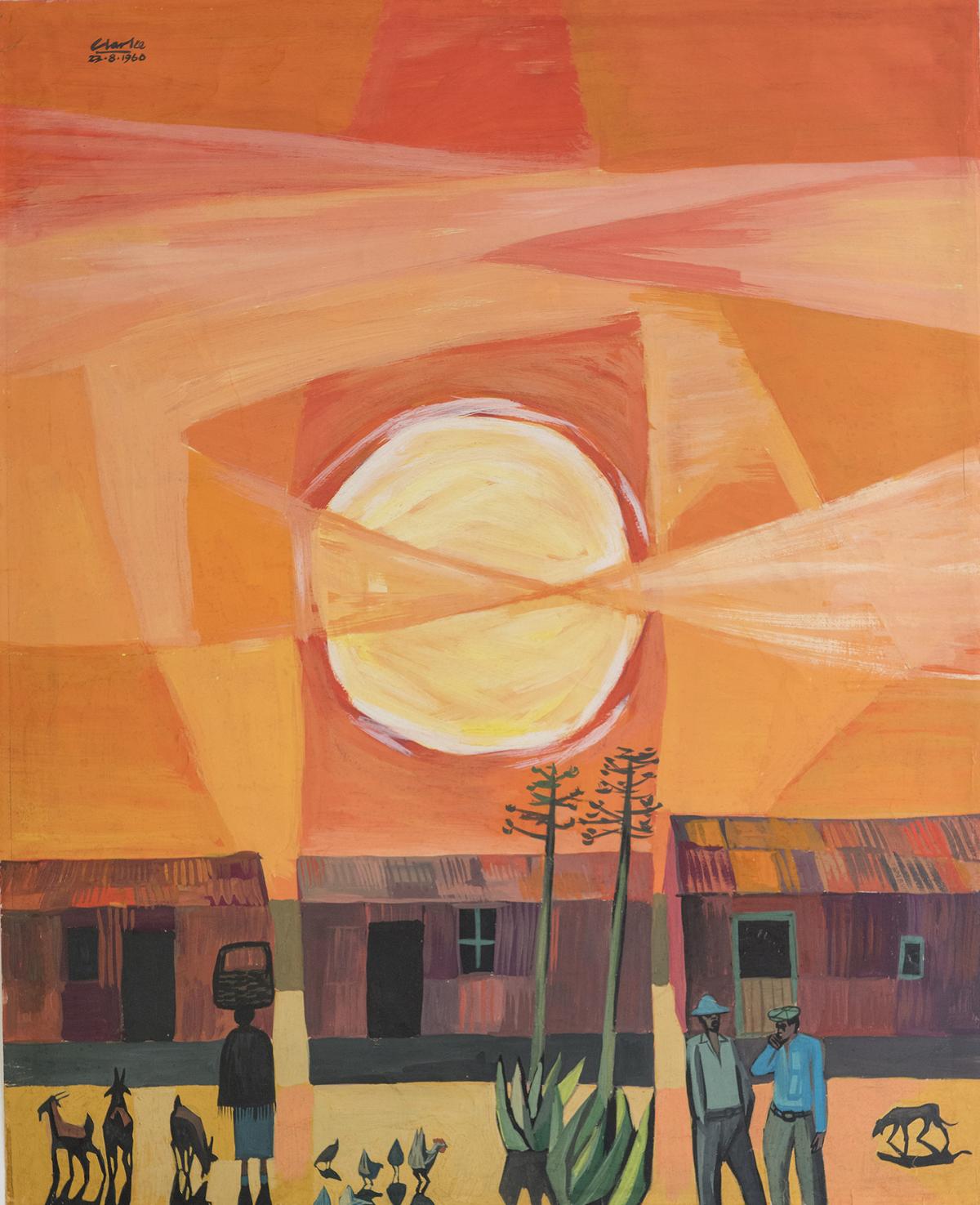 Featuring more than 70 artworks by 50 artists, the exhibition explores cross-cultural artistic networks and exchanges between Africa and the US during the postwar period.
WASHINGTON, DC—The Phillips Collection presents African Modernism in America, 1947–67, the first major traveling exhibition to examine the connections between modern African artists and American patrons, artists, and cultural organizations amid the interlocking histories of civil rights, decolonization, and the Cold War. The show reveals the transcontinental networks that challenged academic assumptions about African art in the United States and thereby encouraged American engagement with African artists as contemporaries. The exhibition will be on view from October 7, 2023–January 7, 2024.
"The Phillips Collection is pleased to host this important exhibition, which provides a contextualized look into meaningful exchanges among artists who were united by shared aesthetic and political concerns," says Vradenburg Director and CEO Jonathan P. Binstock. "Its presentation in Washington, DC has added significance given the pivotal role of Howard University, and other HBCUs, in providing early institutional support to African artists in the US. Ultimately, it is an important opportunity to learn about the contributions of a variety of African and African American artists to the history and lexicon of modernism, from those who have long been celebrated by the Phillips to those deserving greater recognition."
Ranging from paintings and sculptures to works on paper, the exhibited artworks exemplify the experimentation and diverse artistic practices that emerged in Africa from the 1940s through the 1960s. The exhibition draws primarily from Fisk University's remarkable collection of gifts from the Harmon Foundation, an American organization devoted to the cross-continental support and promotion of African and African American artists. In 1961, the Harmon Foundation organized its landmark exhibition Art from Africa of Our Time. That same year, the Museum of Modern Art, New York, exhibited its first acquisition of contemporary African art, Men Taking Banana Beer to Bride by Night (1956) by Sam Joseph Ntiro (Tanzania), which is also featured in African Modernism in America, 1947–67. Such early exchanges introduced American audiences to modern African artists and defied preconceived Western narratives that diminished African art.
"The simultaneity of the Harmon Foundation show and the MoMA purchase was crucially important, drawing attention to African artists' modernity in the US," says Perrin M. Lathrop, Assistant Curator of African art at the Princeton University Art Museum and co-curator of the exhibition, who was previously the Postdoctoral Fellow in Modern and Contemporary Art History at the University of Maryland and The Phillips Collection (2021–22). "Owing to the leading role of the Harmon Foundation, HBCUs, and other cultural organizations in supporting these artists in the US, the postwar period is one of the first times there is a concentrated opportunity for them to share the same physical space and collaborate together and alongside Black American artists."
"The exhibition considers the historical and contemporary socio-political contexts during a transformative moment that have shaped the collecting and exhibiting of postcolonial African art in the United States," says Camille Brown, Assistant Curator at The Phillips Collection and lead curator for the presentation in Washington.
African Modernism in America, 1947–67 is organized into four sections beginning with "Art from Africa of Our Time," which foregrounds the places and people who supported the display and promotion of modern African artists in the US. Showcasing works by artists who were included in the seminal 1961 Harmon Foundation exhibition, this restaging considers the multitude of institutions where modern art from Africa was exhibited, such as the Harmon Foundation, the Museum of Modern Art, and Historically Black Colleges and Universities (HBCUs).
The second section of the exhibition, "Modernism Within Africa," highlights the continent-wide networks of artists, galleries, literary journals, and art education programs instrumental in the development of new, forward-thinking spaces for the display and discussion of postcolonial modern art. These collaborative workshops were influential in fostering creativity among African diasporic networks, which leads into the third section, "Modernism Between Africa and America." The establishment of meaningful connections between African and African American artists resulted in transcontinental travel and art that embraced these cultural exchanges. Artist and art historian David C. Driskell (United States), Professor of Art and Chairman of the Department of Art at Fisk University from 1966 to 1977, made numerous trips to Africa and was inspired to establish a residency for international artists at Fisk University, which played an influential role.
Concluding with "The Politics of Selection," the exhibition features a new commission of the same name by Nigeria-based artist Ndidi Dike. Incorporating archival research from the Harmon Foundation Records in Washington, DC, and Fisk University, Dike constructed an immersive mixed media installation that examines the multiplicity of viewpoints, biases, prejudices, allegiances, and omissions found in the archives. Dike's paneled photo collage includes archival photography and documents to revise a complex history, investigating the presence and absence of women in the story of African modernity and the inequities inherent to white patronage.
ARTISTS
Jacob Afolabi
Justus D. Akeredolu
Jimo Akolo
John Biggers
Skunder Boghossian
Rene Bokoko
Miranda Burney-Nicol
Peter Clarke
Leon Damas
Emmanuel Owusu Dartey
Ndidi Dike
Aaron Douglas
David C. Driskell
Afi Ekong
Ibrahim El-Salahi
Ben Enwonwu
Làmídì Olónàdé Fákéyę
Elton C. Fax
Yusuf Grillo
William Henry Johnson
Mohammad Omer Khalil
Ladi Kwali
Grace Salome Kwami
Akinola Lasekan
Jacob Lawrence
Jean Nakadulu Luvwezo
Manyolo Estella Betty
Mohammad Melehi
Thomas Mukarobgwa
Pilipili Mulongoya 
Selby Mvusi
Iba N'Diaye 
Malangatana Ngwenya
Rekyaelimoo Njau
D.L.K. Nnachy
Sam Joseph Ntiro
Demas Nwoko
Buluma Mordecai Ochungo
Rufus Ogundele
Suzanna Ogunjami
Simon Okeke
Uche Okeke
Bruce Onobrakpeya
James A. Porter
Gerard Sekoto
George Talabi
Papa Ibra Tall
Mamo Tessema
Etso Clara Ugbodaga-Ngu
Solomon Wangboje
Viola Mariethia Wood
EXHIBITION SUPPORT
The exhibition is co-organized by the American Federation of Arts and Fisk University Galleries and curated by Perrin M. Lathrop, Assistant Curator of African Art at Princeton University Art Museum; Nikoo Paydar, former Associate Curator at Fisk University Galleries; and Jamaal B. Sheats, Curator and Director of the Fisk University Galleries and Associate Provost of Art and Culture.  

Major support for the exhibition is provided by Monique Schoen Warshaw. Additional support is provided by grants from the Marlene and Spencer Hays Foundation, the Mellon Foundation, and the Andy Warhol Foundation for the Visual Arts. This project is supported in part by the National Endowment for the Arts.

The coordinating curator for the presentation at The Phillips Collection is Camille Brown, Assistant Curator at the museum.
 The exhibition is accompanied by a landmark publication published by the American Federation of Arts and distributed by Yale University, which received an award for Curatorial Excellence from The Association of Art Museum Curators. Contributions include leading scholars Kate Cowcher, Ozioma Onuzulike, Paul C. Taylor, Chika Okeke-Agulu, Perrin M. Lathrop, and Nikoo Paydar, as well as an interview by Jamaal B. Sheats with the late David C. Driskell. Ndidi Dike details a digital collage based on her exhibition installation, with a written introduction by artist María Magdalena Campos-Pons.
Following The Phillips Collection, the exhibition travels to the Taft Museum of Art in Cincinnati in February 2024.
Phillips Music 
In the upcoming 2023/24 season of Phillips Music's Sunday Concert series, the museum's long-standing international chamber music program, three performances highlight African composers and musicians: Andile Khumalo and Ensemble Dal Niente (November 12) as part of the program's Leading International Composers series, solo pianist Rebeca Omordia (November 26), and jazz superstar Richard Bona with the Asante Trio (December 14).
Curator Tour
October 19 at 6:30 pm 
Co-curator Perrin M. Lathrop leads an in-gallery tour of the exhibition.
Phillips after 5: Afrobeat
November 2 at 5 pm
Enjoy an evening of Afrobeat-inspired music, art activities, and more.
Films Screening
November 16 at 6:30 pm
Join us for a rare screening of acclaimed director William Greaves's documentary film The First World Festival of Negro Arts (1966) and prolific painter Aaron Douglas's film A Thing of Beauty (1966) about Fisk University. A reception featuring cuisine inspired by the African Diaspora follows.
Guided Meditation  
December 13 at 12:45 pm
A free, 30-minute virtual meditation led by local yoga teacher Aparna Sadananda and a spotlight talk led by a Phillips Educator highlighting a work from the exhibition.
Panel Discussion
January 7 at 2 pm
To mark the end of the exhibition, join us for a conversation between esteemed African art historians.
IMAGE GALLERY:
High-resolution press images are available upon request. Please contact Lauryn Cantrell, lcantrell@phillipscollection.org. 
IMAGES: Peter Clarke (1929–2014, South Africa), That Evening Sun Goes Down, 1960, Gouache on paper, 22 x 17 7/8 in., Fisk University Galleries, Fisk University, Nashville, TN, Gift of the Harmon Foundation, © 2022 Peter Edward Clarke / DALRO, Johannesburg / Artists Rights Society (ARS), New York, NY, Courtesy American Federation of Arts. Funding for the conservation of this artwork was generously provided through a grant from the Bank of America Conservation Project
ABOUT THE PHILLIPS COLLECTION 
The Phillips Collection, America's first museum of modern art, was founded in 1921. The museum houses one of the world's most celebrated Impressionist and American modern art collections and continues to grow its collection with important contemporary voices. Its distinctive building combines extensive new galleries with the former home of its founder, Duncan Phillips. The Phillips's impact spreads nationally and internationally through its diverse and experimental special exhibitions and events, including its award-winning education programs for educators, students, and adults; renowned Phillips Music series; and dynamic art and wellness and Phillips after 5 events. The museum contributes to global dialogues with events like Conversations with Artists and Artists of Conscience. The Phillips Collection values its community partnership with THEARC—the museum's satellite campus in Southeast DC. The Phillips Collection is a private, non-governmental museum, supported primarily by donations.