The Phillips Collection Announces 2021/22 Concert Season that Balances Tradition with Experimental and Genre-defying Music
September 22, 2021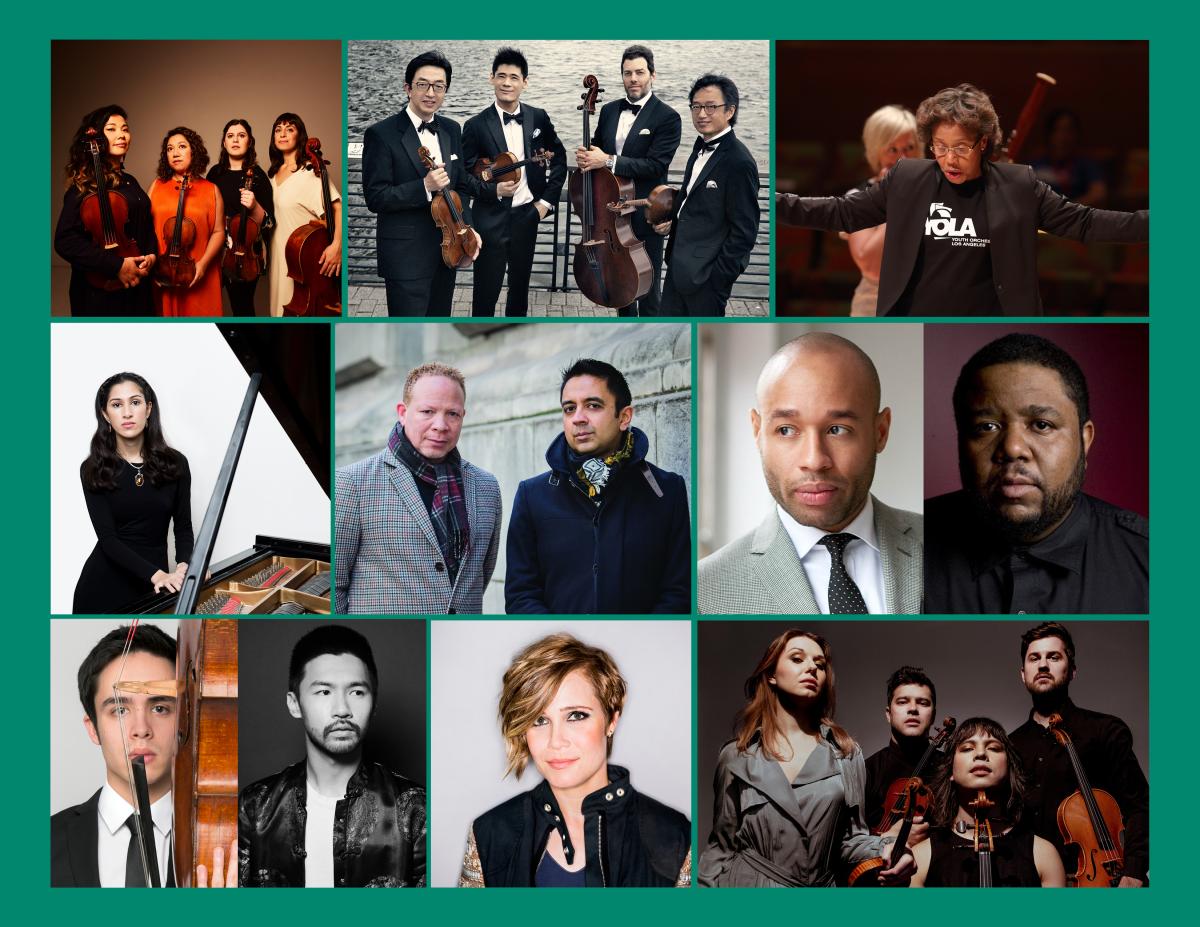 Washington, DC—The Phillips Collection announces a return to live concerts for the 2021/22 season of Phillips Music, which marks the 81st year of the acclaimed concert series. For the first time in the history of music at the Phillips, all concerts will be livestreamed, bringing the storied intimacy of performances from the Music Room into your home. The upcoming season is characteristically eclectic, welcoming a broad range of musical styles, DC-debut performances, and special new commissions exploring the connections between visual art and music.
"Our 100th anniversary year would not be complete without a celebration of the long tradition of music at the Phillips," explains Vradenburg Director and CEO Dorothy Kosinski. "The centennial music commissions and vibrant schedule of performances throughout the 2021/22 season bring to life our founder Duncan Phillips's multidimensional appreciation for the arts."
Highlights of the 81st Season include Phillips debut-performances of renowned pianists Kit Armstrong (October 24, 2021), Mishka Rushdie Momen (March 13, 2022), and a special duo collaboration between two leading artists in American experimental practice, pianists Vijay Iyer and Craig Taborn (April 3, 2022). Solo violinists Johnny Gandelsman (November 7, 2021) and Leila Josefowicz (April 17, 2022) present intimate programs of music by J. S. Bach and German composer Matthias Pintshcer, respectively. In a rescheduled performance, the Phillips welcomes back pianist and composer Aaron Diehl for a genre-defying duo performance with multi-instrumentalist and fellow composer-performer Tyshawn Sorey (October 31, 2021). Phillips debuts balance innovative new styles with tradition: early music group Ensemble Jupiter will present an all-Vivaldi program with star mezzo-soprano Lea Desandre (March 6, 2022), and harpist Parker Ramsey will present his re-imagination of J. S. Bach's Goldberg Variations, coupled with the world premiere of a new piece for solo harp by composer Marcos Balter (December 5, 2021).
"We are absolutely delighted to be returning to a full season of diverse performances at the Phillips," says Director of Music Jeremy Ney. "This year we continue to embrace technology that creates new pathways for musical engagement through rich livestreaming experiences available to everyone. Audiences will encounter a season full of musical exploration that expands ideas of what 'classical' music is, including world premieres of new commissions that activate artworks from the permanent collection in exciting new ways. We sincerely thank Dr. Sachiko Kuno and the Sachiko Kuno Foundation for their generosity in supporting these ambitious commissioning plans in celebration of the Phillips's centennial year."
New Music Commissions
Continuing founder Duncan Phillips's exploration of the dialogues between visual art and music, the 81st season of Phillips Music includes four world premieres of newly commissioned musical works that respond to visual art through music and sound. Commissions are generously supported by Dr. Sachiko Kuno and the Sachiko Kuno Foundation.
October 10, 2021
The opening concert of the season is the Phillips debut of the acclaimed Aizuri Quartet who will present two new commissions by composers Lembit Beecher and Paul Wiancko inspired by the art of Alma Thomas and Sam Gilliam.
November 14, 2021
The Attacca Quartet returns to the Phillips for the world premiere commission by composer Gabriel Kahane. Kahane explores themes of technology and surveillance capitalism in a new work for string quartet titled Walter Benjamin Non-Fungible Token.
January 30, 2022
Pianist Conrad Tao returns to the Phillips with cellist of the JACK Quartet, Jay Campbell, for the DC-debut of a new work co-commissioned by the Phillips from composer Catherine Lamb. The Additive Arrow, for synthesizer and cello, is a meditative exploration of space between instruments, ears, and open space.
March 20, 2022
Rescheduled from the 2020/21 season is the world premiere of a new work by Brazilian/American composer Marcos Balter, written for countertenor Anthony Roth Costanzo and the Shanghai Quartet, and co-commissioned by Chamber Music America and The Phillips Collection. The new work, titled "Therapy," explores concepts of catharsis and the healing potential of creativity, anchored with text from Gertrude Stein's "Tender Buttons" and inspired by Alfonso Ossorio's Recovery Drawings from the permanent collection. 
Leading International Composers
For its Leading International Composers series in the 2021/22 season, the Phillips assembles a world-class group of performers to celebrate the music of Cuban-born composer Tania León. León received the Pulitzer Prize in 2021 for her composition Stride—richly deserved recognition for her unique contribution to contemporary music over many decades. Pianist Conrad Tao, cellist Tom Kraines, and singers from the Cafritz Young Artists of Washington National Opera join us for solo and chamber works from León's catalogue, and the U.S. premiere of selections from her 1994 Opera, Scourge of Hyacinths.
Concert Schedule
Sunday, September 19: John Holiday, countertenor
Sunday, October 10: The Aizuri Quartet
Sunday, October 17: Min Kwon, solo piano
Sunday, October 24: Kit Armstrong, solo piano
Sunday, October 31: Aaron Diehl and Tyshawn Sorey, piano and percussion
Sunday, November 7, Johnny Gandelsman, solo violin
Sunday, November 14: Attacca Quartet
Sunday, November 21: Washington National Opera Cafritz Young Artists
Sunday, December 5: Parker Ramsey, solo harp
Sunday, January 9: Tabea Debus and Paul Morton, recorder, theorbo and guitar
Sunday, January 16: Zoie Reams, mezzo-soprano
Thursday, January 20: Leading International Composers: Tania León
Sunday, January 30: Conrad Tao and Jay Campbell, piano, synthesizer and cello
Sunday, February 6: David Greilsammer, solo piano
Sunday, February 20: Stella Chen and friends, violin and ensemble
Sunday, February 27: Maki Namekawa, solo piano
Sunday, March 6: Ensemble Jupiter
Sunday, March 13: Mishka Rushdie Momen
Sunday, March 20: Shanghai Quartet and Anthony Roth Costanzo, string quartet and countertenor
Sunday, March 27: Ensemble Variances
Sunday, April 3: Vijay Iyer and Craig Taborn, two pianos
Sunday, April 10: Sebastian Knauer, solo piano
Sunday, April 17: Leila Josefowicz, solo violin
Sunday, April 24: Vision Duo, violin and marimba
Sunday, May 1: Jonathan Biss, solo piano
Sunday, May 8: Karim Sulayman, tenor and piano
Concert Information and Ticketing
Virtual tickets for the full season are currently on sale.
During the 81st Season, all concerts will be livestreamed from the Music Room. Virtual tickets are available for $15, and $10 for members. All registered ticket holders will be able to watch performances "on demand" for 48 hours following each livestream.
Out of concern for the safety of audiences, artists, and staff, The Phillips Collection has developed health and safety guidelines. The museum has very limited in-person seating capacity for the 2021/22 season, in line with the DC government guidance. Each performance will take place with a limited in-person audience of supporters.
As the pandemic conditions in the region continue to evolve, the Phillips will update its in-person ticket availability when it is safe to do so, and hopes to expand this availability and bring more of its audiences back to the Music Room.
ABOUT PHILLIPS MUSIC
For more than 80 years, Phillips Music has presented exceptional young musicians alongside an international roster of recognized performers in the intimate, art-filled setting of the museum's Music Room. The Sunday Concerts series at The Phillips Collection is one of the longest running music series in Washington, DC, originally managed by Duncan Phillips's assistant, Elmira Bier, who served as the first Director of Music at The Phillips Collection. Now a renowned space for international chamber music, the Sunday Concerts series is expanding beyond the walls of the Music Room to embrace livestreaming, bringing the connection between art and music in its unique space and its world-class performers into your home. Sunday Concerts offer imaginative programming of the classics, while the Leading International Composers series presents the best of new music.
IMAGE GALLERY
High-resolution press images are available upon request. Please contact jmitchell@phillipscollection.org.
IMAGES: (left to right, courtesy of the artists) Aizuri Quartet, Photo: Shevrin Lainez; Shanghai Quartet, Photo: Sophie Zhai; Tania León conducting Youth Orchestra LA, Disney Hall Philharmonic; Mishka Rushdie Momen, Photo: B. Ealovega; Craig Taborn and Vijay Iyer, Photo: Monica Jane Frisell; Aaron Diehl; Tyshawn Sorey, Photo: John Rogers; Jay Campbell, Photo: Beowulf Sheehan; Conrad Tao, Photo: Shervin Lainez; Leila Josefowicz, Photo: Chris Lee; Attacca Quartet, Photo: David Goddard
ABOUT THE PHILLIPS COLLECTION
The Phillips Collection, America's first museum of modern art, was founded in 1921. The museum houses one of the world's most celebrated Impressionist and American modern art collections, and continues to grow its collection with important contemporary voices. Its distinctive building combines extensive new galleries with the former home of its founder, Duncan Phillips. The Phillips's impact spreads nationally and internationally through its diverse and experimental special exhibitions and events, including its award-winning education programs for educators, students, and adults; renowned Phillips Music series; and dynamic art and wellness and Phillips after 5 events. The museum contributes to global dialogues with events like Conversations with Artists and Artists of Conscience. The Phillips Collection values its community partnership with THEARC—the museum's satellite campus in Southeast DC. The Phillips Collection is a private, non-government museum, supported primarily by donations.