Health and Safety Guidelines
For the health and safety of our visitors, staff, and community
Proof of Vaccination
As of November 2, 2021, The Phillips Collection requires that visitors 12 years of age and over show proof of vaccination or a same-day negative COVID-19 test upon entry, along with a government-issued photo ID for visitors 16 and over. Proof of a negative same-day COVID-19 test must come from a health care provider. Results from a self-administered COVID-19 test will not be accepted. All safety COVID-19 protocols including mask-wearing and physical distancing will be followed.
The Phillips Collection will review and verify such documentation but will not retain the information. Acceptable proof of vaccination includes a presentation of an individual's vaccine card (which includes the name of person vaccinated, type of COVID-19 vaccine provided, and date of last dose administered), a photograph (including on an electronic device) or copy of such card, or other documentation from a healthcare provider confirming full vaccination. Individuals are considered fully vaccinated for COVID-19 two weeks after they have received the second dose in a two-dose series (Pfizer-BioNTech or Moderna) or two weeks after they have received a single-dose vaccine (Johnson and Johnson/Janssen).   
Children under 12 are welcome; they must wear a mask at all times. Individuals 12 and over accompanying children must show proof of vaccination or negative COVID-19 test.
Patrons who do not or cannot comply with the policy will not be allowed into the museum. For those who are unable to visit us in person, or who prefer to enjoy the Phillips from home, we continue to offer numerous online options.
The Phillips Collection's protocols may change as we continue to follow local and national recommendations. Thank you for abiding by these guidelines as we work toward a healthier future together.
---
Health and Safety Protocols
Following DC government, DC Health, and the Centers for Disease Control and Prevention (CDC) guidelines, The Phillips Collection has developed new cleaning, safety, and operational protocols.
Reduced Visitor Capacity: Visitor capacity in the galleries is controlled and reduced.
Contactless Check-in & Transactions: Plexiglass partitions are installed at all transactional areas. Ticketing is by advance reservation for non-members, and tickets are emailed to guests and are scanned for entry at a safe distance. 
Enhanced Cleaning Procedures: There is regular disinfection of high-touch surfaces, and bathrooms are cleaned frequently throughout the day.
Hand Sanitizer Stations: We have placed hand sanitizer stations through the museum, and encourage frequent hand-washing with soap and water.
Staff Health Checks: Phillips Collection staff are required to wear masks at all times and are subject to the same health checks and requirements as visitors.
Enhanced Ventilation: Our ventilation and climate control systems are circulating outside air using enhanced filtration.
No food services: The café remains closed, and outside food or drink are prohibited unless for medical reasons. 
An inherent risk of exposure to covid-19 exists in any public space where people are present. We cannot guarantee that you will not be exposed to covid-19 during your visit to The Phillips Collection. Those visiting the Phillips do so at their own risk of such exposure.
---
Visitor Experience
Stay at home if you are feeling sick. Please do not visit the Museum if you have a fever or any covid-19 symptoms, have tested positive for covid-19 within the past 14 days, or have had close contact with anyone who is confirmed or is suspected of having covid-19.
Face masks are required: All visitors over the age of two are required to wear face masks, regardless of vaccination status, unless an individual is unable to wear a face covering due to a medical condition. Masks must cover both your mouth and nose, without gaps between your mask and face.
Masks with valves: Masks with valves are not allowed; visitors who arrive wearing these coverings will be required to use a mask provided by the Phillips to gain entry.
Phillips Collection Staff: Please follow instructions from Phillips Collection staff during your visit.
The Phillips Collection's protocols may change as we continue to follow local and national recommendations.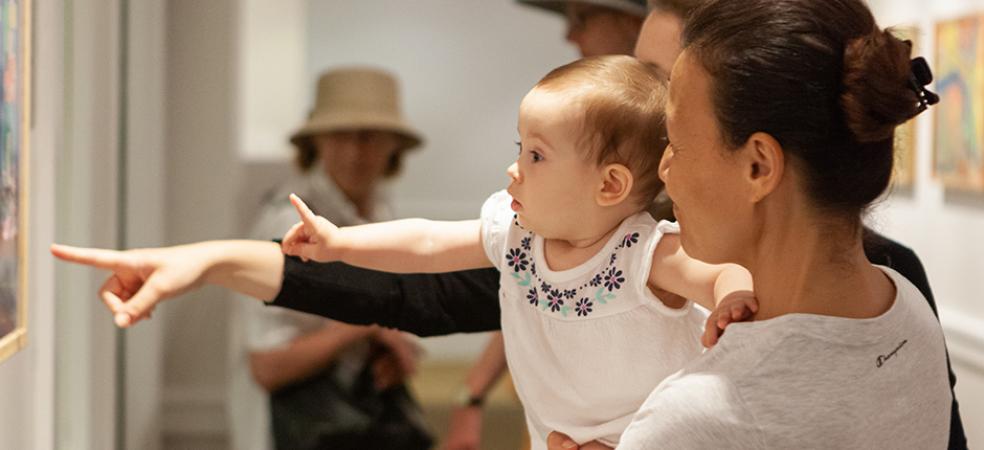 Support the Phillips
Help America's first museum of modern art make a difference in your community and beyond.