The Phillips Collection Acquires Work by DC-based Artist Hedieh Javanshir Ilchi from the Contemporaries Fund
March 17, 2022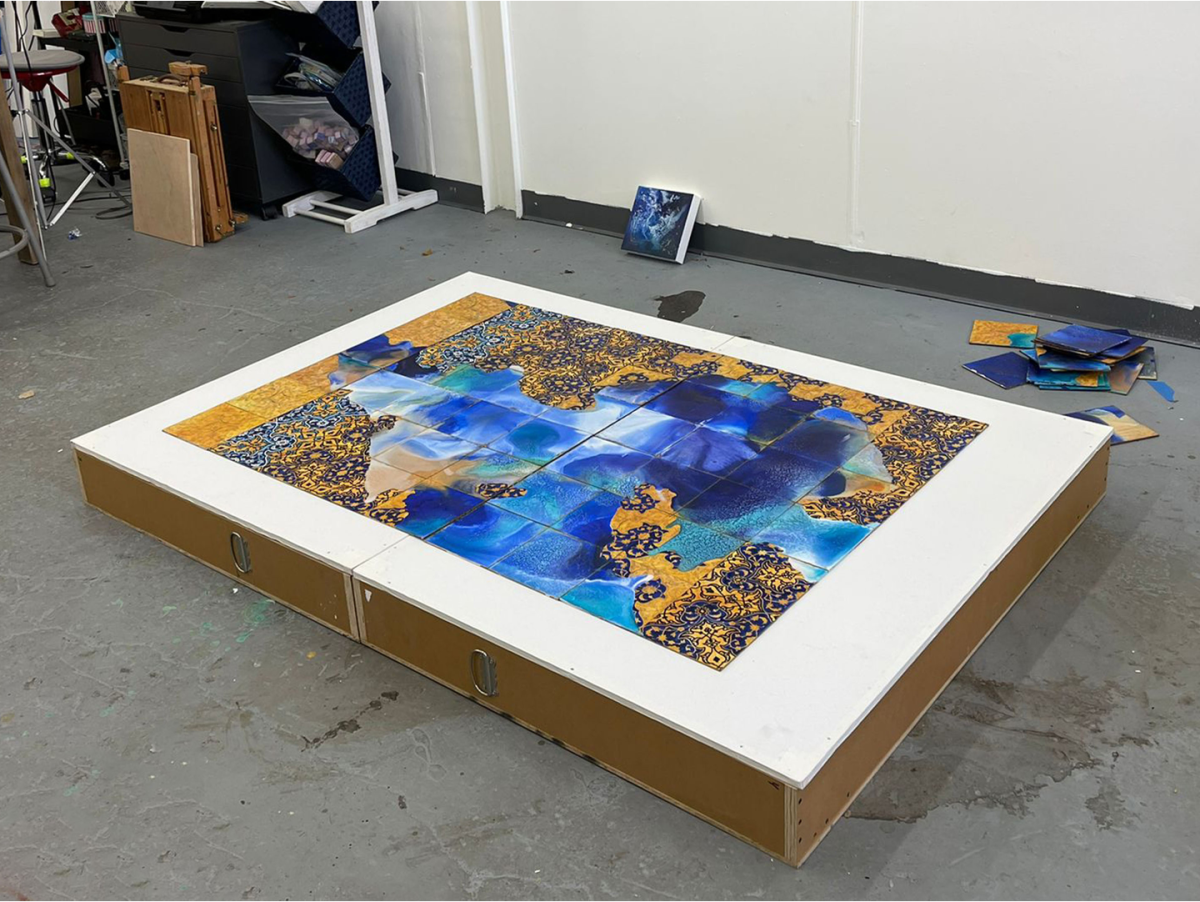 WASHINGTON, DC—Through its 2020–2022 Contemporaries Acquisition Fund, The Phillips Collection has recently acquired a work by DC-based artist Hedieh Javanshir Ilchi (b. 1981, Tehran, Iran). Created with acrylic on individual Masonite panels and incased together as a floor-piece, Ilchi's work (to be completed in spring 2022) fluctuates between abstraction and representation, depth and flatness, evoking unknown landscapes and inner psychological spaces. "While her paintings merge fluid layers of poured paint with imagery derived from old Persian paintings and illuminated manuscripts, Ilchi's intricately executed tile works—including the Phillips piece—join geometric patterns taken from Islamic architecture with the modernist grid, bridging distinct cultural traditions," explains Vesela Sretenović, Cross-departmental Director for Contemporary Art Initiatives and Partnerships.
The artist describes her work as "the product of my multifaceted experience as an Iranian-American immigrant. It provides a space where my two disparate histories come together to reflect on cultural traditions and notions of belonging. By combining conventions of Western abstraction with conventions of Persian art, I explore contradictory painting processes and the ways in which they can be melded into a hybrid visual language."  
"Hedieh Javanshir Ilchi's artwork eloquently speaks to the environment and honoring diverse cultures. Moreover, the selection of her work demonstrates our commitment to acquiring art by female artists," says Vradenburg Director and CEO Dorothy Kosinski. "These are all issues that The Phillips Collection has been engaging with for many years and especially during our 100th anniversary."
Ilchi's artwork was selected by the Phillips's Contemporaries Steering Committee (CSC), a young professionals membership group invited to deepen their connection to the Phillips through cultural and social events, including the Art Acquisition. The group has previously acquired works by Nara Park and Ellington Robinson in 2018, and Zoë Charlton in 2019. 
Led by Vesela Sretenović and with close participation of CSC members, the program enriches the museum's permanent collection with annual acquisitions by emerging artists of diverse backgrounds and practices.

ABOUT HEDIEH JAVANSHIR ILCHI
Born in Tehran, Iran, in 1981, Hedieh Javanshir Ilchi moved to the US when she was 18 and studied art first at the Corcoran College of Art + Design in 2006 and then at American University, where she received an MFA. Her work embraces the notion of duality, formally and conceptually. It stands in-between abstraction and representation, geometric patterns and gestural expression, depth and flatness, as well as in-between different histories, cultures, and art traditions. The resulting images echo unknown topographic and cosmic spaces, mixing galaxies with land, earth with dark matter.
Ilchi's work has been exhibited in New York, Switzerland, Washington, DC, and Winston-Salem, North Carolina, and is included in several private and public collections. She has been awarded numerous residencies, including the Ucross Foundation, Vermont Studio Center, The Jentel Foundation, and the Kimmel Harding Nelson Center for the Arts. Her work has been featured in Hyperallergic, Blouin ArtInfo, The Washington Post, Washington City Paper, and DC Modern Luxury. She is represented by Hemphill Artworks in Washington, DC.

ABOUT THE CONTEMPORARIES
The Contemporaries program provides a unique opportunity for younger members to infuse their lives with art and connect with the Phillips. Contemporaries are invited to participate in an engaging schedule of cultural and social events throughout the year, including the Art Acquisition Project, special exhibition openings, artist studio visits, social gatherings, and other activities, in addition to special offers from our partners.

SUPPORT
Made possible by The Phillips Collection's Contemporaries Acquisition Fund.

IMAGE GALLERY
High-resolution press images are available upon request. Please contact jmitchell@phillipscollection.org.
IMAGE: Work in progress in Hedieh Javanshir Ilchi's studio, 2022

ABOUT THE PHILLIPS COLLECTION
The Phillips Collection, America's first museum of modern art, was founded in 1921. The museum houses one of the world's most celebrated Impressionist and American modern art collections, and continues to grow its collection with important contemporary voices. Its distinctive building combines extensive new galleries with the former home of its founder, Duncan Phillips. The Phillips's impact spreads nationally and internationally through its diverse and experimental special exhibitions and events, including its award-winning education programs for educators, students, and adults; renowned Phillips Music series; and dynamic art and wellness and Phillips after 5 events. The museum contributes to global dialogues with events like Conversations with Artists and Artists of Conscience. The Phillips Collection values its community partnership with THEARC—the museum's satellite campus in Southeast DC. The Phillips Collection is a private, non-government museum, supported primarily by donations.