Laib Wax Room to Open March 2, 2013, New Permanent Installation at The Phillips Collection
January 13, 2013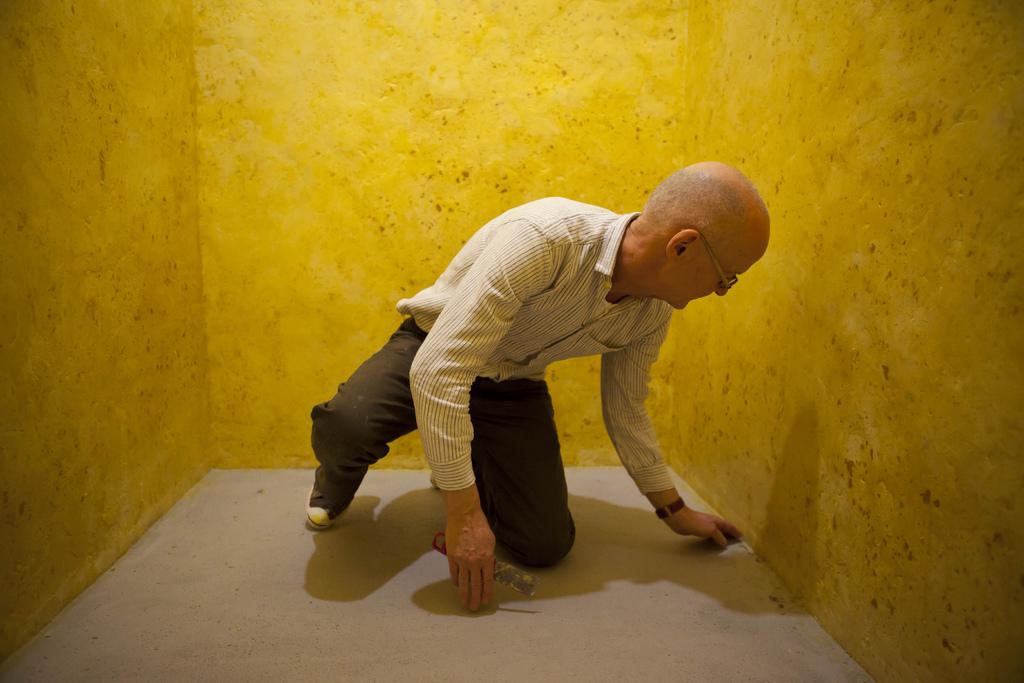 First site-specific, permanent wax room in a museum
Washington, D.C.—The wax room commissioned in summer 2012 from acclaimed German artist Wolfgang Laib (b. 1950) opens March 2, 2013. Lined with fragrant beeswax and illuminated by a single bare light bulb, the chamber accommodating one to two people will be the first permanent installation at the Phillips since the Rothko Room in 1960. The artist will install the work in a space he helped select in the original Phillips house.
The Phillips Laib Wax Room is the first the artist has conceived of and created for a specific museum. With walls and ceiling coated in beeswax and a concrete floor, this echoing, cocoon-like chamber will offer a personal, meditative encounter that is expected to be immediate and intense.
"This commission is a bold and lasting statement about the Phillips's strong commitment to exhibiting and collecting contemporary art," says Director Dorothy Kosinski. "The Laib Wax Room is very much in harmony with our founder Duncan Phillips's vision of sharing art's spiritual, life-enhancing benefits."
To install the work, Laib will melt 20 blocks of beeswax—totaling approximately 882 pounds—at a constant temperature to achieve a uniform golden hue. He will then use tools such as a spatula, spackle knife, electric heating gun, and warm iron to apply the wax methodically, an inch thick or less, onto the walls and ceiling of the 6-by-7-by-10-foot space.
For Laib, The Phillips Collection is a logical choice for his first site-specific, permanent wax room because of its intimate and experiential character. While at the Phillips to participate in the Conversations with Artists series in October 2011, Laib visited the Rothko Room for the first time, and it left a profound impression. "A wax chamber has a very deep and open relationship to Rothko's paintings," explains the artist, because to enter a wax room is to be "in another world, maybe on another planet and in another body." Laib says, "For me it is a great honor to realize a wax chamber at The Phillips Collection—it is a very unique museum with a room dedicated to Rothko."
The artist began working in beeswax in 1988. He used removable wax plates to create wax rooms for exhibitions at the Museum of Modern Art, New York (1988), Kunstmuseum Stuttgart, Germany (1989), De Pont Museum, Tilburg, The Netherlands (1990), and Kunstmuseum Bonn, Germany (1992). All four wax rooms entered the museums' collections and remain on display in Stuttgart and Tilburg.
Wolfgang Laib installing a wax room on his property in southern Germany. Courtesy of the artist.
Laib went on to create beeswax chambers in nature, fulfilling a lifelong dream. His first, La chambre des Certitudes (2000), is situated in a granite cave of the French Pyrenees, accessible only by footpath. His most recent, on his own property in southern Germany, is an insulated shaft of golden beeswax that extends more than 40 feet into the earth. For these outdoor rooms, Laib initiated the process of heating wax and applying it directly to the walls with an iron, a method that he will use at the Phillips.
Over four decades, Laib has used organic substances associated with life-giving sustenance—milk, pollen, beeswax, rice—to create art of extreme simplicity and meditative power. In 1975, he created his first Milkstone, an ongoing series in which the slight concavity of a polished white marble slab is filled daily with fresh milk. Phillips Curator at Large Klaus Ottmann (who organized Laib's international retrospective that originated at the Hirshhorn Museum and Sculpture Garden in 2000) performed the ritual every morning during a brief installation at the Phillips in 2011.
Laib's pollen pieces are also highly ritualistic—in spring and summer the artist collects dandelion, hazelnut, pine, buttercup, and moss pollens from fields surrounding his home and then displays the delicate material in simple jars or sifted directly onto the gallery floor. Wolfgang Laib's Pollen from Hazelnut, his largest pollen piece to date at roughly 18-by-21 feet, will be installed by the artist in the atrium of the Museum of Modern Art in New York and on view Jan. 23–March 11, 2013.
Wolfgang Laib lives and works in Germany and India. Born in Metzingen in 1950, the artist studied medicine and in 1972 began making artwork after a three-month stay in India where he was inspired by the simple shapes of objects used in everyday life as well as in religious ceremonies. A decade later, Laib participated in Documenta (7) in Kassel, Germany, and in 1986 had his first solo exhibition at Musée d'art moderne de la ville de Paris in France. His work has been the focus of major exhibitions in Europe at the Kunstmuseum Bonn, Germany; Kunsthaus Bregenz, Austria; Haus der Kunst, Munich, Germany; Fondation Beyeler Riehen, Basel, Switzerland; Museo Nacional Centro de Arte Reina Sofia, Madrid, Spain; Musée de Grenoble, France; and Fondazione Merz, Turin, Italy. The Museum of Contemporary Art, Los Angeles, and the Hirshhorn Museum and Sculpture Garden, Washington, D.C., have hosted major exhibitions of his work, as have the Museo Universitario Arte Contemporáneo, Mexico City, Mexico, and Museo Nacional de Arte de La Paz, Bolivia. His work is in numerous private and public collections, including the Hirshhorn Museum and Sculpture Garden, Washington, D.C., Museum of Contemporary Art, Los Angeles, CA; Museum of Modern Art, NY; Centre Georges Pompidou, Paris, France; De Pont Foundation, Tilburg, The Netherlands; Kunstmuseum Bonn, Germany; and Museum of Contemporary Art, Helsinki, Finland.