Melissa White and Pallavi Mahidhara
violin and piano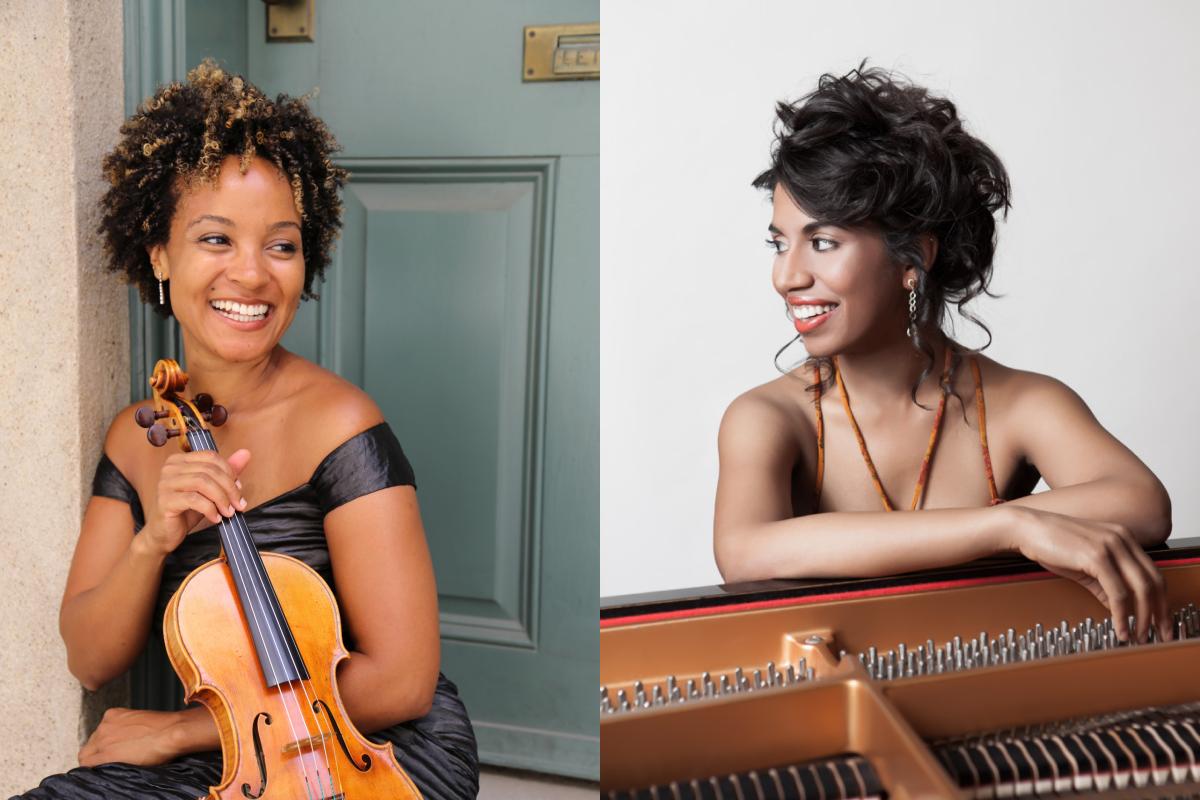 American violinist Melissa White has enchanted audiences and critics around the world as both a soloist and a chamber musician. Her February 2020 performance with the National Philharmonic was deemed "absolutely breathtaking" by Maryland Theatre Guide critic Katie Gaab, who cited the "grace, precision, and warmth" of her playing in Florence Price's Violin Concerto No. 1; reviewing the same concert for The Washington Post, Matthew Guerrieri called her "an excellent advocate, prioritizing ease and fluency over intensity, suiting the music's lyric and episodic nature."
Ms. White's recent orchestral activity includes return engagements with the National Philharmonic and the Chicago Sinfonietta, and debut performances with the Richmond, Cincinnati, and Midland Symphony Orchestras, the Brevard Music Center and Heartland Festival Orchestras, as well as The Juilliard Orchestra, whom she joined with only 3 days' notice to perform Florence Price's Concerto No.1 in January 2022. Ms. White will make her Aspen Music Festival debut in August 2022, appearing as featured soloist and conductor for a performance of Vivaldi's Four Seasons.
A first-prize laureate in the Sphinx Competition, she has performed with such leading U.S. ensembles as the Cleveland Orchestra, the Boston Pops, the Louisville Orchestra, and the Atlanta, Baltimore, Colorado, Detroit, and Pittsburgh symphony orchestras. Internationally, she has appeared as soloist with Poland's Fillharmonia Dolnoslaska; with the Colombian Youth Orchestra in a tour of that country; with the Czech National Philharmonic; and as a recitalist in Baku, Azerbaijan, and Jelenia Gora, Poland. Her film credits include a violin solo in the soundtrack to Jordan Peele's 2019 psychological thriller Us. Beyond the classical realm, she has performed alongside pop artists including Pharrell Williams, Bruno Mars, Alicia Keys, and Lauryn Hill.
Ms. White is a founding member of New York-based Harlem Quartet, where since 2006 her passion and artistry have contributed to performances hailed for "bringing a new attitude to classical music, one that is fresh, bracing and intelligent" (Cincinnati Enquirer). Together with Harlem Quartet, she has worked with such classical-music luminaries as Itzhak Perlman, Ida Kavakian, Paul Katz, and Anthony McGill; appeared in many of the country's most prestigious venues, including Carnegie Hall, the White House, and the Kennedy Center; and performed throughout the U.S., as well as in Europe, Africa, Japan, and the United Kingdom. Harlem Quartet was named quartet-in-residence at Montclair State University in the fall of 2021, and has served as the visiting quartet-in-residence at the Royal College of Music in London since 2016.
Ms. White currently serves as Music Artist Faculty at New York University's Steinhardt School of Culture, Education, and Human Development.
A native of Michigan, she holds performance degrees from the Curtis Institute of Music and New England Conservatory, where her teachers included Jaime Laredo, Ida Kavafian, Donald Weilerstein, and Miriam Fried. Her current instrument, "Matilda," was commissioned as part of a Sphinx MPower Artist Grant in 2014 by the American violin maker Ryan Soltis.
In addition to her musical career, Ms. White has enjoyed practicing various styles of yoga for more than a decade, and completed training in both Vinyasa and Ashtanga at Sampoorna Yoga School in Goa, India. She is the co-founder of Intermission, a groundbreaking program that unites body, mind, breath, and music-making through yoga and meditation. Intermission comprises sessions for students, retreats for professionals, and an app for everyone.
Melissa White is represented worldwide by New York-based Sciolino Artist Management.
Indian-American pianist Pallavi Mahidhara made her orchestral debut at the age of 10, performing at the Ravinia Festival in Chicago. She is the Second Prize winner and Young Audience Award winner of the 69th Geneva International Piano Competition, and of the VI International Prokofiev Competition in Saint Petersburg, Russia. Awards include the Olivier Berggruen Prize at the Gstaad Menuhin Festival, the Steinway Förderpreis in Germany, the Astral Artists National Auditions in the US, and on multiple occasions, the "Sobresaliente" Award from the hands of Queen Sofía of Spain.
Praised for her unique artistry and charismatic stage presence, she has appeared in solo and orchestral concerts across five continents, performing at the Konzerthaus in Berlin, the Auditorio Nacional in Madrid, the Kennedy Center in Washington, DC, and the Grand Hall of the Dimitri Shostakovich Philharmonia in Saint Petersburg, Russia.
Upcoming performances in 2023 include performances in Europe and the US, and recitals with renowned chamber music colleagues. 2022 highlights include a solo recital at the Gstaad Menuhin Festival, a recital with renowned cellist Gary Hoffman, chamber music performances at Lincoln Center with members of the New York Philharmonic, and appearances with Symphony Tacoma under the leadership of conductor Sarah Ioannides. The Klavier-Festival Ruhr in Essen released a live performance recording of her recital from October 2021.
Pallavi was selected by Sir András Schiff for his concert series, Building Bridges, a platform to support and promote young pianists. Performances included solo recitals in Germany at the Konzerthaus in Berlin, the Beethoven Haus in Bonn, the Classeek Showroom in Aubonne, Switzerland, and the Centro Cultural de Belem in Lisbon, Portugal.
Pallavi has performed at important festivals such as Marlboro Music, Verbier Festival, and Gstaad Menuhin Festival. She has given chamber music performances with renowned artists such as Diemut Poppen, Wolfram Christ, Wolfgang Emanuel Schmidt, Arnold Steinhardt, Peter Wiley, and Michael Rusinek, István Várdai, Pablo Ferrández, Josef Spacek, and Theo Fouchennert. She has performed under the direction of Arjan Tien, Thomas Sanderling, Daniel Boico, Róbert Farkas, Daniel Abad Casanova, and Pablo Gonzalez, amongst others.
Pallavi is the executive producer, writer, and host of the "The Conscious Artist", a new podcast designed to promote Mental Health Awareness for musicians, artists, and all human beings. She received her Bachelor's Degree from the Curtis Institute of Music, and her Master's Degree at the Hochschule für Musik Hanns Eisler. She studied for several years with Dimitri Bashkirov at the Escuela Superior de Música Reina Sofía. Aside from her private studio, Pallavi has served as the Artistic Advisor and a Piano Professor for Young Artists Program at the Reina Sofia School in Madrid, Spain since 2019, and is regularly invited to teach for Curtis's Mentor Alumni Program.