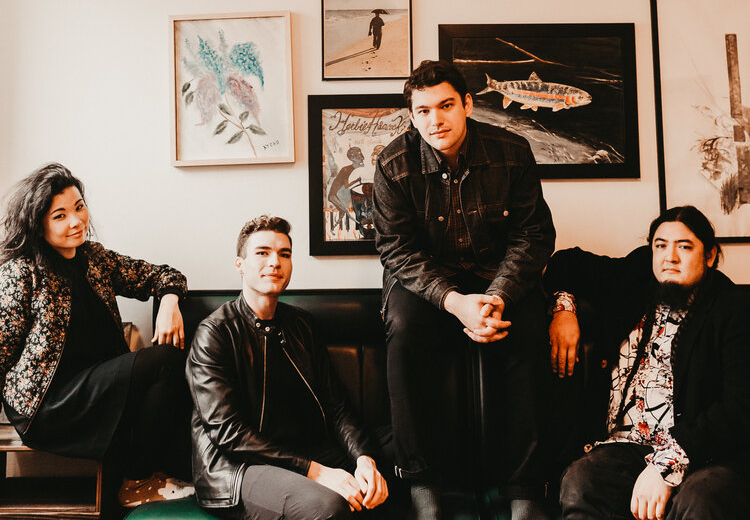 Drawing from a deep well of musical passions and backgrounds, Owls is a quartet collective that defies expectations and labels with original, visceral, and personal performances. Each an artistic force in their own right, violinist Alexi Kenney, violist Ayane Kozasa, cellist Gabriel Cabezas and cellist-composer Paul Wiancko share an uncommonly fierce creative spirit which drives the quartet to challenge the way meaningful concert experiences are conceived. While weaving together new compositions with original arrangements of music ranging from the 1600s to the present, Owls' distinctive instrumentation allows them access to beautiful and exhilarating new sound worlds—effectively guaranteeing that each performance is uniquely them and without limits.
The recipient of a 2016 Avery Fisher Career Grant and a 2020 Borletti-Buitoni Trust Award, Alexi Kenney is building a career that defies categorization, following his interests, intuition, and heart. He is equally at home creating experimental programs and commissioning new works, soloing with major orchestras in the USA and abroad, and collaborating with some of the most celebrated musicians of our time.
Recent and upcoming concerts include performances as soloist with the Pittsburgh Symphony, Orchestre de la Suisse Romande, Detroit Symphony, St. Paul Chamber Orchestra, Indianapolis Symphony, Sarasota Orchestra, Orchestre de Chambre de Lausanne, and in a play-conduct role as guest leader of the Mahler Chamber Orchestra. He has played recitals at Wigmore Hall, on Carnegie Hall's 'Distinctive Debuts' series, at Lincoln Center's Mostly Mozart Festival, the Philadelphia Chamber Music Society, Phillips Collection, 92nd Street Y, Mecklenberg-Vorpommern Festival, and the Isabella Stewart Gardner Museum. Winner of the 2013 Concert Artists Guild Competition and laureate of the 2012 Menuhin Competition, Alexi has been profiled by Musical America, Strings Magazine, and The New York Times, and has written for The Strad.
In April 2021, Alexi released his first recording, Paul Wiancko's X Suite for Solo Violin, accompanied by a visual album that paired each of the seven movements of X Suite with seven contemporary sculptures, filmed on location at the Donum Estate in Sonoma, California.
Chamber music continues to be a major focus of Alexi's life, performing at festivals including Marlboro, Ojai, La Jolla, Bridgehampton, Caramoor, ChamberFest Cleveland, Festival Napa Valley, Kronberg, the Lake Champlain Chamber Music Festival, Music@Menlo, and Ravinia, as well as with the Chamber Music Society of Lincoln Center in New York.
Born in Palo Alto, California in 1994, Alexi is a graduate of the New England Conservatory in Boston, where he received his Artist Diploma as a student of Miriam Fried and Donald Weilerstein. Previous teachers include Wei He, Jenny Rudin, and Natasha Fong. He plays a violin made in London by Stefan-Peter Greiner in 2009 and a bow by François-Nicolas Voirin.
Outside of music, Alexi enjoys hojicha, bauhaus interiors, baking for friends (his specialty is this lumberjack cake), and walking for miles on end in whichever city he finds himself, listening to podcasts and Bach on repeat.
Hailed for her "magnetic, wide-ranging tone" and her "rock solid technique" (Philadelphia Inquirer), violist Ayane Kozasa is a sought-after chamber musician, collaborator, and educator. Since winning the 2011 Primrose International Viola Competition—where she also captured awards for best chamber music and commissioned work performances—Ayane has appeared on stages across the world, from Carnegie, Wigmore, and Suntory Hall to Ravinia, Aspen, and the Marlboro Music Festival. She is a passionate advocate for the expansion of viola repertoire, and has commissioned multiple new works featuring the viola, including "American Haiku" by Paul Wiancko and "K'Zohar Harakia" by Judd Greenstein.
Ayane Kozasa is a founding member of the Aizuri Quartet, who were the 2018 quartet-in-residence at the Metropolitan Museum and the grand prize winners of both the Osaka String Quartet Competition and MPrize Chamber Arts Competition. The Aizuri Quartet's debut album, Blueprinting—which features the music of 5 American composers, all commissioned by the quartet—was nominated for a Grammy Award and named one of NPR's top 10 classical albums of 2018. The Aizuri Quartet is devoted to education as well, working with young musicians from around the world and regularly leading student composer workshops at institutions such as the University of Southern California, Princeton University, and New York Youth Symphony. In 2020, the quartet launched AizuriKids, an interactive web series for children that explores relationships between music and themes ranging from astrophysics to cooking.
Ayane is also a member of the duo Ayane & Paul with composer and cellist Paul Wiancko, with whom she performed on Norah Jones' recent album "Pick Me Up Off the Floor." A seasoned orchestral performer as well, Ayane has performed with the Orpheus Chamber Orchestra, A Far Cry, Jupiter Symphony Chamber Players, Philadelphia Orchestra, East Coast Chamber Orchestra, the Saint Paul Chamber Orchestra, as well as the Chamber Orchestra of Philadelphia, where she served as principal violist from 2012 to 2016.
Much of Ayane's current work involves mentoring aspiring young musicians through programs like the Green Lake Chamber Music Camp, Olympic Music Festival and Musikiwest Summer Festival. Ayane is a graduate of the Curtis Institute of Music, Kronberg Academy in Germany, and Cleveland Institute of Music, where she studied viola with Misha Amory, Roberto Diaz, Nobuko Imai, and Kirsten Docter. Aside from music, she enjoys baking, running, camping, and creating animation.
Cellist Gabriel Cabezas is a precise and passionate performer who is fast becoming one of his generation's most sought-after soloists and collaborators. Gabriel imbues the pillar scores of the cello repertoire with the vivacity of newly-written work and performs world premieres with gravitas and command. His neoteric career spans solo appearances, chamber music, work with bands and songwriters, and curation.
Gabriel has appeared with America's finest symphony orchestras, including those of Philadelphia, Chicago, Cleveland, New York, and Los Angeles, and has premiered dozens of new works by some of the most brilliant composers of his time. This season, Gabriel launches the Waypoints series with the Metropolis Ensemble, with whom he is a resident artist. Other season highlights include appearances on the New York Philharmonic's Nightcap series, curated by composers Steve Reich and Bryce Dessner, performances at the Phillips Collection in Washington, DC, the Momentary in Arkansas, and a solo recital at New York's Merkin Concert Hall.
Gabriel is a member of the chamber sextet yMusic, "six contemporary classical polymaths who playfully overstep the boundaries of musical genres" (The New Yorker). Their virtuosic execution and unique configuration (string trio, flute, clarinet, and trumpet) has attracted the attention of high profile collaborators—from Paul Simon to Bill T. Jones to Ben Folds—and inspired original works by some of today's foremost composers, including Nico Muhly, Missy Mazzoli and Andrew Norman. He is also a co-founder of Duende, a new music and contemporary dance collective that focuses on the interaction between musicians and dancers in the realization of new scores.
Gabriel's first full length album, a recording of Benjamin Britten's Cello Suites, was released on PEOPLE, a collaborative streaming platform created by Bon Iver's Justin Vernon and The National's Aaron Dessner. He is currently working on an album of cello music by Gabriella Smith, to be released on the Icelandic record label Bedroom Community. In 2016, Gabriel received the Sphinx Medal of Excellence, a career grant awarded to extraordinary classical Black and Latinx musicians, who, early in their professional career, demonstrate artistic excellence, outstanding work ethic, a spirit of determination, and ongoing commitment to leadership. Gabriel studied at the Curtis Institute of Music under Carter Brey.
Paul Wiancko has led an exceptionally multifaceted musical life as a composer and cellist. As a performer, he has collaborated with Midori, Yo-Yo Ma, Richard Goode, Mitsuko Uchida, Nico Muhly, and members of the Guarneri, Takács, JACK, Parker, Orion, and Juilliard quartets. Chosen as one of Kronos Quartet's "50 for the Future", Paul's own music has been described as "dazzling", "compelling" (Star Tribune) and "vital pieces that avoid the predictable" (Allan Kozinn). His 25-minute quartet LIFT is featured on the Aizuri Quartet's Grammy-nominated album Blueprinting, one of NPR's top 10 classical albums of 2018.
As a college student, Paul was simultaneously winning international cello competitions (which led him, most notably, to Poland to perform the Lutoslawski Cello Concerto with the Polish Radio Symphony Orchestra) and recording strings for local punk bands in his dorm room. That duality is embedded in Paul's artistic DNA, and over the years has resulted in close collaborations with a wide range of artists, from Chick Corea, Etta James, Norah Jones, Jóhann Jóhannsson, and Max Richter, to members of Arcade Fire, The National, Blonde Redhead, Dirty Projectors, Wye Oak, and many others.
An avid chamber musician, Paul's performances with Musicians From Marlboro have been described as "utterly transparent" and "so full of earthy vitality and sheer sensual pleasure that it made you happy to be alive" (Washington Post). In 2009, he joined the award-winning Harlem Quartet, with whom he spent 3 years performing and teaching extensively throughout the US, Europe, South America, and Africa. Paul currently writes and performs as a member of Owls, Ayane & Paul, and the American Contemporary Music Ensemble.
Winner of the S&R Foundation's Washington Award for Composition, Paul has been invited to be composer-in-residence at the Caramoor, Spoleto USA, Angel Fire, Twickenham, Newburyport, Portland, and Methow Valley Festivals. Recent commissions include works for the Aizuri, Parker, St. Lawrence, Kronos, Eybler, and Attacca Quartets, yMusic, Alexi Kenney, Tessa Lark, David Byrd-Marrow, and the Raleigh Civic Symphony. NPR recently wrote, "If Haydn were alive to write a string quartet today, it may sound something like Paul Wiancko's LIFT."