Bridget Kibbey and Alexi Kenney
harp and violin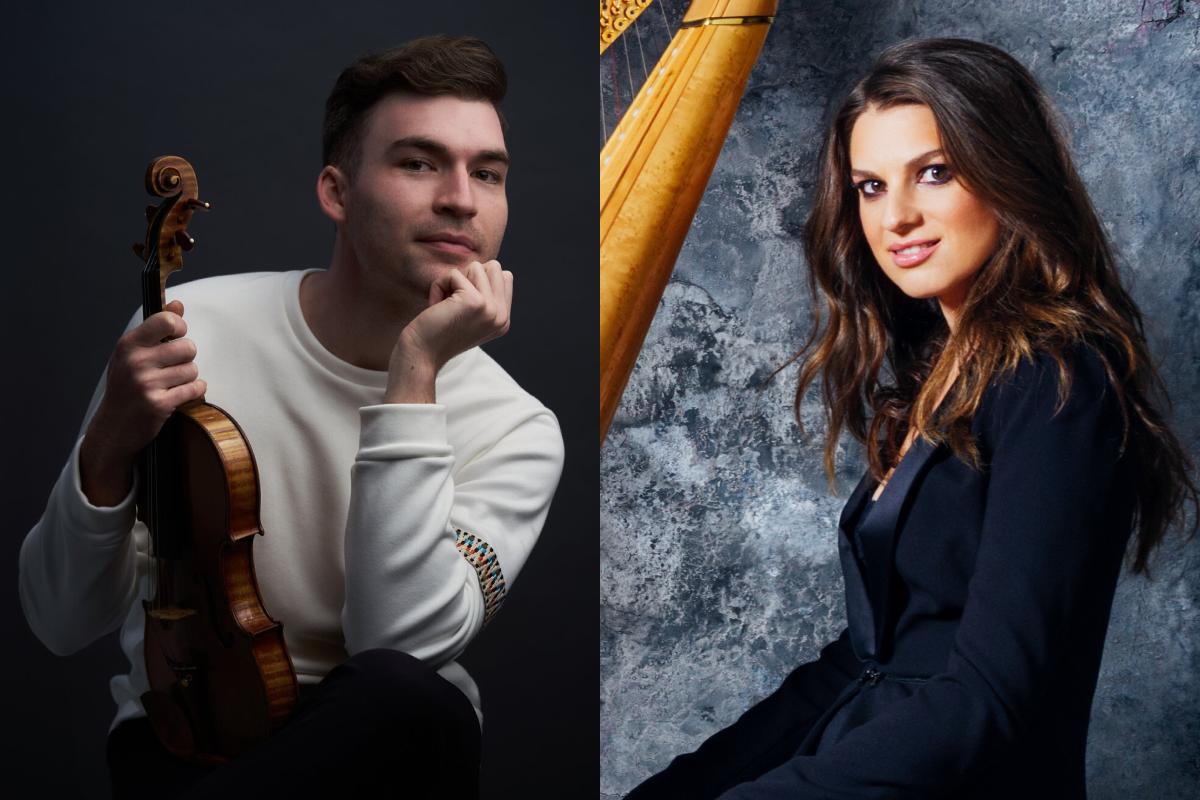 Called the "Yo-Yo Ma of the harp," by Vogue Senior Editor Corey Seymour, Bridget Kibbey is in demand for her innovative, virtuosic performances that expand the expressive range of the harp. As a soloist and collaborator with today's top artists, she crosses genres to emphasize and elevate the harp's role through centuries and cultures of music.
As The New York Times says, "…she made it seem as though her instrument had been waiting all its life to explode with the gorgeous colors and energetic figures she was getting from it."
Kibbey has received a prestigious Avery Fisher Career Grant and a Salon de Virtuosi SONY Recording Grant. She is the winner of the Premiere Prix at the Journées de les Harpes Competition in Arles, France, the Concert Artists Guild competition, and the Juilliard School's Peter Mennin Prize for Artistic Excellence and Leadership. She is a graduate of the Chamber Music Society of Lincoln Center's Bowers Program (formerly CMS Two), and is featured annually with the CMSLC. She made her NPR TinyDesk debut in 2020, her debut album "Love is Come Again," was listed as a top ten debut by TimeOut, NY, and she's been featured as soloist on Front Row Washington, A&E's Breakfast with the Arts, WQXR, WRTI, among others.
With the harp as her muse, Bridget Kibbey is sought after for her keen curatorial ideas through music. She currently tours several projects of her own conception — ranging from French Masterworks of the Belle Époque, to the riches of Baroque Counterpoint, to popular folk music from South America to Sephardic and Persian traditions.
Kibbey's 2021/22 season is a cornucopia of these cross-genre projects, via series and festivals across the United States, including La Jolla, the Savannah Music Festival, and Carnegie Hall's CityWide. She presents concertinos of Debussy, Ravel, Caplet alongside solo works of Debussy and Ravel at the La Jolla and Savannah Music Festivals. She performs her own adaptations of J.S. Bach's keyboard concerti and sonatas re-imagined alongside the Dover Quartet. She tours duo recitals with the Iranian Singer Mahsa Vahdat, exploring the poetry of Rumi, Hafez, and Vahdat; and in a new partnership with violinist Alexi Kenney, the duo explores the most virtuosic to the most intimate, in works of Bach, Dowland, Saint-Saëns, Falla, Currier.
Also during the 2021/22 season, Carnegie Hall will present Kibbey as bandleader/soloist in her Bach to Brazil project via CityWide, their free concert series that celebrates the sounds from around the globe that make New York City so vibrant. Bach to Brazil includes newly-commissioned works that highlight the Nuevo Latino luminaries living in NYC alongside the folk masters that inspired them in a mash-up of maracatú, frevo, chorinho, bossa nova, joropo, tango, and cumbia from Argentina, Brazil, Colombia, Cuba, and Venezuela. Kibbey performs with Latin Grammy-winning percussionist Samuel Torres, and clarinetist Louis Arques.
During this season and next Bridget Kibbey will delve into her passion for Brazilian popular music with a new harp concerto by Brazilian composer João Luiz Rezende, performing with A Far Cry in Boston's Jordan Hall. The concerto for harp, strings, and percussion explores the evolution of the dance forms maracatú and frevo from Pernambuco, Brazil. It has been commissioned by four American Orchestras and premiered with the Orlando Philharmonic and Music Director Eric Jacobsen in fall 2019.
Kibbey has appeared as a soloist and chamber musician in festivals across the globe, including Schloss Elmau, Pelotas Festival, Lincoln Center's Mostly Mozart Festival, International Festival d'Avesnois, Aspen Music Festival, Bravo! Vail Music Festival, Santa Fe Chamber Music Festival, Spoleto Festival, Big Ears Knoxville, Chamber Music Northwest, Bridgehampton Chamber Music Festival, Bay Chamber Concerts, Savannah Music Festival, and Music@Menlo, among others.
The recipient of a 2016 Avery Fisher Career Grant and a 2020 Borletti-Buitoni Trust Award, violinist Alexi Kenney is building a career that defies categorization, following his interests, intuition, and heart. He is equally at home creating experimental programs and commissioning new works, soloing with major orchestras in the USA and abroad, and collaborating with some of the most celebrated musicians of our time.
In the 2021/22 Season, Alexi debuts as soloist with the Pittsburgh Symphony, Orchestra de la Suisse Romande, Virginia Symphony, Reno Philharmonic, Eugene Symphony, and New Haven Symphony, returns to the Indianapolis Symphony, California Symphony, and Santa Fe Symphony, and appears at Wigmore Hall, Princeton University Concerts, Philadelphia Chamber Music Society, and with the Chamber Music Society of Lincoln Center. He also performs duo concerts with harpist Bridget Kibbey, and as a member of Owls, a new quartet collective with violist Ayane Kozasa, cellist Gabe Cabezas, and cellist-composer Paul Wiancko.
In 2021, Alexi released his first recording, Paul Wiancko's X Suite for Solo Violin, accompanied by a visual album that pairs each of the seven movements of X Suite with seven contemporary sculptures, filmed on location at the Donum Estate in Sonoma, California. Alexi commissioned X Suite and premiered it at Wigmore Hall in 2019.
In recent seasons, Alexi has performed as soloist with the Detroit Symphony, St. Paul Chamber Orchestra, Sarasota Orchestra, Orchestre de Chambre de Lausanne, and in a play-conduct role as guest leader of the Mahler Chamber Orchestra. He has played recitals at Wigmore Hall, on Carnegie Hall's 'Distinctive Debuts' series, Lincoln Center's Mostly Mozart Festival, the Philadelphia Chamber Music Society, Phillips Collection, 92nd Street Y, Mecklenberg-Vorpommern Festival, and the Isabella Stewart Gardner Museum. Winner of the 2013 Concert Artists Guild Competition and laureate of the 2012 Menuhin Competition, Alexi has been profiled by Musical America, Strings Magazine, and The New York Times, and has written for The Strad.
Chamber music continues to be a major part of Alexi's life, performing at festivals including Bridgehampton, Caramoor, ChamberFest Cleveland, Chamber Music Northwest, Festival Napa Valley, La Jolla, Ojai, Kronberg, Music@Menlo, Ravinia, and Spoleto, as well as on tour with Musicians from Marlboro and the Chamber Music Society of Lincoln Center.
Born in Palo Alto, California in 1994, Alexi is a graduate of the New England Conservatory in Boston, where he received his Artist Diploma as a student of Miriam Fried and Donald Weilerstein. Previous teachers include Wei He, Jenny Rudin, and Natasha Fong. He plays a violin made in London by Stefan-Peter Greiner in 2009 and a bow by François-Nicolas Voirin.
Outside of music, Alexi enjoys hojicha, modernist design, baking for friends (his specialty is this lumberjack cake), and walking for miles on end in whichever city he finds himself, listening to podcasts and Bach on repeat.