Leading International Composers: A Celebration of the Music of George Walker
chamber ensemble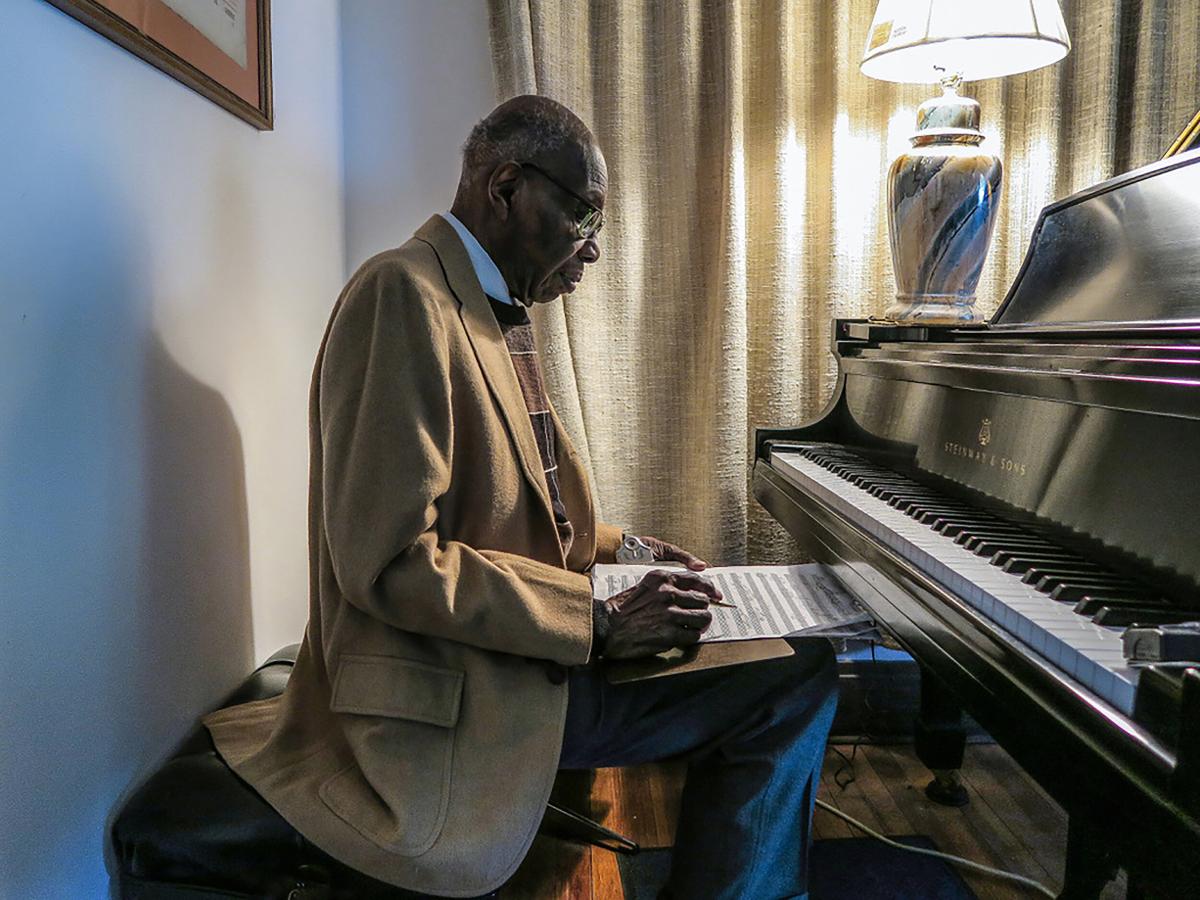 George Theophilus Walker was born in Washington, D.C. June 27, 1922 of West Indian-American parentage. His father emigrated to the United States, where he became a physician after graduating from Temple University Medical School in Philadelphia. George Walker's mother, Rosa King, supervised her son's first piano lessons that began when he was five years of age. His first teacher was Miss Mary L. Henry. Mrs. Lillian Mitchell Allen, who had earned a doctorate in music education, became his second piano teacher.
Before graduating from Dunbar High School at age 14, George Walker was presented in his first public recital at age 14 at Howard University's Andrew Rankin Memorial Chapel. He was admitted to Oberlin College as a scholarship student in 1937 where he studied piano with David Moyer and organ with Arthur Poister. In 1939, he became the organist for the Graduate School of Theology of Oberlin College.
Graduating at 18 from Oberlin College with the highest honors in his Conservatory class, he was admitted to the Curtis Institute of Music to study piano with Rudolf Serkin, chamber music with William Primrose and Gregor Piatigorsky, and composition with Rosario Scalero, teacher of Samuel Barber. He graduated from the Curtis Institute with Artist Diplomas in piano and composition in 1945, becoming the first black graduate of this renown music school.
George Walker was presented in a debut recital in Town Hall, New York by Mr. and Mrs. Efrem Zimbalist. With his "notable" debut, as it was described by the New York Times, he became the first black instrumentalist to perform in that hall. As the winner of the Philadelphia Youth Auditions, he played the 3rd Piano Concerto of Rachmaninoff with the Philadelphia Orchestra with Eugene Ormandy conducting two weeks after his New York debut in November of 1945. He was the first black instrumentalist to appear with this orchestra. The following year, he played the 2nd Piano Concerto of Brahms with the Baltimore Symphony, Reginald Stewart conducting and the 4th Beethoven Concerto with Dean Dixon and his orchestra. In 1946 George Walker composed his String Quartet no. 1. The second movement of this work, entitled, Lyric for Strings, has become the most frequently performed orchestral work by a living American composer. In 1950, George Walker became the first black instrumentalist to be signed by a major management, the National Concert Artists. In 1954, he made an unprecedented tour of seven European countries, playing in Sweden, Denmark, Holland, Germany, Switzerland, Italy and England in the major cities of Stockholm, Copenhagen, The Hague, Amsterdam, Frankfurt a Main, Lausanne, Berne, Milan and London with great acclaim.
Upon returning to the United States, he taught at Dillard University in New Orleans for one year before entering the Doctor of Musical Arts Degree Program at the Eastman School of Music in 1955. In 1956, he became the first black recipient of a doctoral degree from that institution as well as an Artist Diploma in Piano. George Walker was awarded both a Fulbright Fellowship and a John Hay Whitney Fellowship in 1957. He was the first composer to receive the Whitney award. He spent two years in Paris where he had composition lessons with Nadia Boulanger. In 1959, he embarked upon another tour, playing concerts in France, Holland and Italy. After a recital in London in Wigmore Hall in 1963 that was sponsored by Mrs. Efrem Zimbalist, he received an honorary membership in the Frederic Chopin Society there.
George Walker's distinguished career as a teacher continued in 1960 with faculty appointments to the Dalcroze School of Music, The New School for Social Research, where he introduced a course in Aesthetics, Smith College (1961-68) (where he became the first black tenured faculty member), the University of Colorado (1968-69 as Visiting Professor), Rutgers University (1969-92, where he was Chairman of the Music Department), Peabody Institute of Johns Hopkins University (1975-78) and the University of Delaware (1975-76, where he was the recipient of the first Minority Chair established by the University). He has given Master Classes in many institutions including the Curtis Institute of Music, the Oberlin Conservatory of Music, Columbia University, Wayne State University, Wellesley College, Temple University, Washington University (Saint Louis, Mo.), Williams College, Montclair State University and the University of Colorado.
George Walker has composed over 90 works for orchestra, chamber orchestra, piano, strings, voice, organ, clarinet, guitar, brass, woodwinds, and chorus. His works have been performed by virtually every major orchestra in the United States and by many in England and other countries. His awards include the Harvey Gaul Prize, MacDowell Colony, Yaddo and Bennington Composer Conference Fellowships, two Guggenheim Fellowships, two Rockefeller Fellowships, a Fromm Foundation commission, two Koussevitsky Awards, an American Academy of Arts and Letters Award, a Mary Flagler Cary Charitable Trust Award, the Mason Gross Memorial Award, numerous grants from the Research Councils of Smith College, The University of Colorado, Rutgers University, the National Endowment for the Arts, and the New Jersey Council on the Arts. He has received two Alumni Awards from the Eastman School of Music, the University Medal from the University of Rochester (1996), honorary doctorate degrees from Lafayette College (1982), Oberlin College (1983), Montclair State University, Bloomfield College, Curtis Institute of Music (1997) and Spelman College (2001).
George Walker has received important commissions from many ensembles that include the New York Philharmonic (Cello Concerto), the Cleveland Orchestra (Dialogus for Cello and Orchestra), the Boston Symphony (Lilacs for Voice and Orchestra), the Eastman School of Music (An Eastman Overture) , the Kennedy Center for the Performing Arts (Violin and Piano Sonata No. 2), the David Ensemble (Five Fancies for Clarinet and Piano Four Hands), Affiliate Artists and Xerox (Guido's Hand), the Pew Charitable Trust (Piano Sonata No. 4), The Boys Choir of Harlem (Cantata), The Cleveland Chamber Symphony (Orpheus), New Jersey Symphony (Pageant and Proclamation), the Mary Flagler Cary Charitable Trust (Modus), the New Jersey Chamber Music Society (Wind Set), Maryland International Piano Competition (Bauble), Columbus Pro Musica Chamber Orchestra (Tangents), New Jersey Youth Symphony (Icarus In Orbit), and the Network for New Music (Abu). In 2005 George Walker was commissioned by the Las Vegas Philharmonic to compose a work to celebrate the 100th Anniversary of Las Vegas. This work is entitled, Hoopla (A Touch of Glee). Also in 2005., he completed a second commission from the Eastman School of Music with Foils (Homage to Saint George ) for Orchestra. The New York Philharmonic also premiered (In Praise of Folly) (1981) that was televised nationally on the PBS program, "Great Performances". His compositions have been recorded for CBS, Mastersound, Desto, C.R.I., Serenus, Da Camera Magna, BIS, Orion, Mercury, GM and Albany Records. Some of the major conductors who have performed the music of George Walker include Andrey Boreyko, Andrew Davis, Comissiona, DePriest, Eschenbach, Paul Freeman, Jarvi, Levi, Maazel, Mata, Mehta, Muti, Ozawa, Rostropovitch, Robert Shaw, Joseph Silverstein, Skrowaczewski, Slatkin, Tortelier, Hugh Wolf, and Zinman.
In 1996, George Walker became the first black composer to receive the coveted Pulitzer Prize In Music for his work, Lilacs for Voice and Orchestra, premiered by the Boston Symphony, Seiji Ozawa conducting. Prior to that distinction, his Dialogus for Cello and Orchestra nominated by the Cleveland Orchestra for the Pulitzer Prize in 1977 after its premiere, was the only finalist in this competition. In 1997 Marion Barry, Mayor of Washington, DC proclaimed June 17th as George Walker Day in the nation's capitol. In 1998, he received the Composers Award from the Lancaster Symphony and the letter of Distinction from the American Music Center for "his significant contributions to the field of contemporary American Music." In 1999, he was elected to the American Academy of Arts and Letters. In April 2000, George Walker was inducted into the American Classical Music Hall of Fame in a ceremony at the Library of Congress in Washington, DC.
He also received in May the Dorothy Maynor Outstanding Arts Citizen Award for 2000 from the Harlem School School of Arts. In March of 2001, the Detroit Symphony awarded him their first annual Classical Roots Award for a lifetime of achievement in American Music. George Walker has been awarded the annual A.I Dupont Award presented by the Delaware Symphony for 2002. In 2003 he was selected for inclusion in the Washington Music Hall of Fame (Washington, DC). In 2005 George Walker was named Honorary President of Ebb and Flow Arts in Maui, Hawaii. A Proclamation from the Borough President of Brooklyn, NY designated April 6, 2005 as " A Celebration for Dr. George Walker." Albany Records released a 60th Anniversary Retrospective featuring the Liszt Piano Sonata played by George Walker that was hailed "a magnificent performance" by Amazon.com. In January of 2007 George Walker received the annual Legacy Award from the National Opera Association. Also in 2007 the Juilliard Orchestra conducted by James Depreist gave the New York premiere of the Sinfonia No. 3 after its first performance by the Detroit Symphony conducted by Andrey Boreyko. Several years earlier the Juilliard School of Music presented a program entitled, "George Walker: A Musical Perspective". In July 2009, Scarecrow Press released "Reminiscences of an American Composer and Pianist", an autobiography.
In 2009 the Philadelphia Orchestra under Charles Dutoit gave the New York premiere of Lilacs for Voice and Orchestra in Carnegie Hall in the series of concerts promoted by Jessye Norman called " Honor". Also in 2009 the Concerto for Violin and Orchestra received its world premiere in brilliant performances by the soloist, Gregory Walker, the concertmaster of the Boulder Philharmonic. The Philadelphia Orchestra was conducted by Neeme Jarvi. In May of 2010 KUSC FM in Los Angeles presented a five hour program hosted by Jim Svejda of the music of George Walker. In June he was honored by Trilogy, an opera company in Newark, NJ. NPR designated the Albany Recording, Troy 1178, "George Walker: Great American Orchestral Works, Vol. 2", one of the five most outstanding cds of contemporary American Music for 2010. He became the first black composer to be performed at the Cabrillo Festival in 2011 when Foils for Orchestra (Hommage a Saint George) was played. Additional awards in 2011 were received from the National Council of Negro Women and the Newark School for the Arts. The Sinfonia No. 4 commissioned by the New Jersey Symphony received its premiere in the New Jersey Performing Arts Center in March of 2012. It was also performed by the Pittsburgh Symphony, the Cincinnati Symphony and the National Symphony. The Sinfonia No. 4 (Strands) was also played at the Cabrillo Festival in 2013. The National Symphony hosted a series of sixteen concerts entitled "Summon The Heroes" for public school students in Washington, DC. The Lyric for Strings was performed on all of these concerts in November of 2012 and March of 2013. In May of 2012 George Walker delivered the Commencement Address at the Eastman School of Music and received a Doctor of Music Degree. He also received the Aaron Copland Award from ASCAP during this month. Gregory Walker gave the world premiere of "Bleu for Violin Unaccompanied" at the Library of Congress in April of 2013. The work was performed for the first time on a copy of the famous Betts Stradivari from the Stradivari Collection of the Library of Congress. Movements for Cello and Orchestra received its premiere by the Sinfonia da Camera conducted by Ian Hobson at the University of Illinois in November of 2013.
Historical recordings of the Mass by George Walker, his live performances of the Brahms Piano Concerto No. 2 and the Beethoven Emperor Piano Concerto were released in 2014 by Albany Records. A total of seventeen cds, six of which are devoted to performances of works in the standard piano repertoire and six in a series of Great American Works have been issued by Albany Records since 1994.
F rom Tbilisi, Republic of Georgia, pianist Natalia Kazaryan has been hailed by The New York Sun for her "prodigious ability," remarking that she "immediately established an atmosphere of strength and confidence." She is "a marvel among marvels … fascinating, elegant" (Nice-Matin) and "incredible" (All Classical Portland).
Dedicated to giving equal platform to female composers in her public appearances, she notably curated and performed a recital of all women composers at the Smithsonian Portrait Gallery in Washington, D.C., a performance The Washington Post named "one of the best classical concerts of the summer 2019."
A frequent collaborator with members of the National Symphony Orchestra, Ms. Kazaryan often appears at the Kennedy Center's Millennium Stage and in partnership with the orchestra's performances at Howard University. Two notable concerts included celebrating the centennial of the 19th amendment (women's suffrage) and commemorating the lifetime work of George Walker.
She was invited to perform at the National Orchestral Institute, where Marin Alsop is the newly appointed music director. Playing Florence Price's Piano Concerto in One Movement conducted by James Ross, Ms. Kazaryan's acclaimed performance was featured on Front Row Washington (WETA), DC's classical music radio station.
She is co-founder of Washington Arts Ensemble, a nonprofit dedicated to delivering an unforgettable chamber music experience. Having completed its inaugural season, the groundswell of support for this venture has propelled it well into the future as a touchpoint for many artists who want to connect with this highly unique community. DC Metro Theater Arts best summarized the zeitgeist of this organization: "Economists and policymakers rub shoulders with students, connect over drinks and fine hors d'oeuvres, experience live music together, and meet again afterward to engage with the artists themselves."
Recent standout performances include Ms. Kazaryan opening Portland Piano International's return to in-person concerts, which was guest curated by Angela Hewitt; and appearing in a solo recital on the prestigious Chicago series, Dame Myra Hess Memorial Concerts.
Over the pandemic, Ms. Kazaryan released three EPs to Spotify and Apple Music: Lili Boulanger's Trois morceaux pour piano; Bacewicz Piano Sonata No. 2; Ravel's Gaspard de la nuit. All recordings were previously made at her Philadelphia recital debut presented by Astral Artists, which included a special commission by Alexandra Gardner. In 2016, she won Astral's National Auditions.
She has appeared in the U.S. and Europe at key venues such as New York's Merkin Concert Hall, Philadelphia's Kimmel Cultural Campus, Salzburg's Schloss Mirabell, Monaco's Théâtre des Variétés, Madrid's Auditorio Sony, and Paris' Salle Cortot and Musée Carnavalet. She performs regularly at the Palazzo Tornabuoni in Florence, and has participated in the IMS Prussia Cove Master Classes in Cornwall, England.
Ms. Kazaryan began studying piano at the age of six, and performed as soloist with the Tbilisi State Chamber Orchestra just one year later. She studied in the preparatory division of the Tbilisi Music Conservatory with Alla Nakashidze. She now holds both a Bachelor and a Master's degree from The Juilliard School, where she studied under Jerome Lowenthal and Matti Raekallio. She completed doctoral studies at the University of Michigan under Logan Skelton.
The first Juilliard student to participate in the Carla Bruni-Sarkozy exchange with the Paris Conservatoire, Ms. Kazaryan studied piano in Paris with Michel Béroff and chamber music with Valérie Aimard. An active chamber musician, she took part in the Ryoichi Sasakawa Young Leaders Fellowship, dedicated to collaboration between The Juilliard School, the Paris Conservatoire, and the Universität für Musik und darstellende Kunst Wien. She later won both a Fulbright Grant and a Harriett Hale Woolley Scholarship to Paris to continue her studies, with a focus on Olivier Messiaen's Vingt Regards sur l'enfant Jésus.
From 2013-2015, she studied at the Escuela Superior de Música Reina Sofía in Madrid, under Dimitri Bashkirov, and in June 2014 received a "Sobresaliente" Award from the hands of Queen Sofía of Spain for outstanding work and excellence.
Ms. Kazaryan holds an adjunct piano faculty position at Howard University. She is a board member of the International Alliance for Women in Music.
Andrew Rosenblum enjoys a multifaceted career as a pianist and harpsichordist. He has performed with singers and instrumentalists at major venues including Carnegie Hall, Alice Tully Hall, The Kennedy Center, and The Phillips Collection. In the 2022-23 season, Rosenblum will join cellist Seth Parker Woods in recitals at Dumbarton Oaks in Washington, D.C., and The Wallis in Los Angeles, having performed with Woods the year prior at the 92Y in New York, and Strathmore in North Bethesda, MD.
Rosenblum has received critical acclaim for his recordings of the art songs of Lori Laitman: Colin Clarke described his playing on Naxos' 2019 release Living in the Body and Acis' 2022 release The Ocean of Eternity as "beautifully responsive" and "superb" (Fanfare Magazine), while Robert A. Moore, in his review of Acis' 2021 release Are Women People?, described him as "sensitive…wonderfully attentive to the nuances of the pieces" (American Record Guide).
As a harpsichordist, Rosenblum won Second Prize in the 2018 International Bach Competition Leipzig, becoming the only American harpsichordist to win a top prize in the competition's history. In 2017, he won Second Prize at the Prague Spring International Music Competition, along with the Czech Music Fund Foundation Prize for the best performance of Petr Wajsar's Harpsycho, which was commissioned for the competition. He has soloed with Leipziger Barockorchester, Bohuslav Martinů Philharmonic Orchestra, Collegium 1704, and Civic Orchestra of Chicago, and has performed as a member of Music of the Baroque Orchestra, Haymarket Opera Orchestra, and Third Coast Baroque.
A passionate educator, Rosenblum has been on the Piano Faculty of the Heifetz International Music Institute since 2015, has led workshops at Chicago College of the Performing Arts and University of Chicago, and has been a collaborative pianist on the staffs of Northwestern University and Cleveland Institute of Music.
Violinist, composer, and educator Gregory Walker has appeared as soloist with orchestras across the U.S. and abroad including the Philadelphia Orchestra, the Detroit Symphony, Poland's Sinfonia Varsovia and the Filharmonia Sudecka, and the Encuentro Musical de los Americas in Havana, Cuba, as well as the Colorado Symphony. With recordings available on the Newport Classic, CRI, Orion, Albany, and Leonarda record labels, he has been featured at Beijing's Genesis Concert Series, Great Britain's Lake District Music Festival, Norway's Tromsø Cathedral Series, the Centro Mexicano para la Musica y las Artes Sonoras, the NWEAMO Festival in Tokyo, Ireland's Cork Orchestral Society Concert Series, the Chetana International Music Festival in Kerala, India, and at the U.S. Library of Congress.
Now an American Academy of Arts and Letters Fellowship recipient, International Musician cover artist, and subject of the internationally distributed documentary film Song of the Untouchable, Walker's pedagogical specialties include the introduction of cutting-edge technology, alternative styles, contemporary music, and under-represented composers.
Building on interactive presentations he developed for Young Audiences, Inc., Up Close and Musical, and the Chicago Sinfonietta, as well as regular contributions to Teen Strings, Strings, and Chamber Music magazines, his 2021-22 season includes guest lectures at the Curtis Institute of Music, the University of Texas, University of Nebraska, Smith College, the University of Puget Sound, Howard University, Rhodes College, Temple University, Wheaton College, Quinnipiac University, San Diego State University, and the Music Teachers National Association conference in Minneapolis. Dr. Walker currently serves as full professor at the University of Colorado Denver.
Zachary Good is a Chicago-based instrumentalist (clarinets and Baroque recorders), composer, and performer.
Zachary is clarinetist of the sextet Eighth Blackbird, a founding Co-Artistic Director of the performance collective Mocrep, one-third of the clarinet/percussion/cello trio ZRL, and one-fifth of the ensemble Honestly Same. He has frequently performed with International Contemporary Ensemble, Music of the Baroque Chicago, Manual Cinema, and Ensemble Dal Niente. He has been a featured soloist with International Contemporary Ensemble, DePaul University's Ensemble 20+, and the Chicago Symphony Orchestra's All Access Chamber Series. His discography includes releases on American Dreams Records, Carrier Records, No Index, Homeroom, Parlour Tapes+, ears&eyes, and more.
He is currently a middle school band director at the Chicago Waldorf School. Alongside the musicians of Eighth Blackbird, he was Visiting Instructor at the University of Richmond during the 2019–20 academic year. In 2018, Zachary worked closely with cellist YoYo Ma to mentor young musicians at the second annual Youth Music Culture Guangdong Festival in Guangzhou, China. As a Fellow and clarinetist in the Civic Orchestra of Chicago from 2014–2016, he helped conceive and establish the Orchestra's New Music Workshop. He has presented masterclasses on the clarinet, bass clarinet, contrabass clarinet, chamber music, and contemporary performance techniques at institutions across the US, including Oberlin Conservatory, Portland State University, Gettysburg College, University of North Carolina at Greensboro, the Civic Orchestra of Chicago, Northwestern University, University of Oklahoma, and University of Richmond.
Born in Pittsburgh, Zachary is currently a doctoral candidate at Northwestern University's Bienen School of Music. He holds degrees from Oberlin Conservatory of Music and DePaul University's School of Music. He is the recipient of the 2021 Luminarts Classical Winds Fellowship. Zachary has participated in fellowships with the Civic Orchestra of Chicago and the Aspen Contemporary Music program.
As a composer/researcher, Zachary explores the phenomena and functionality of dyad multiphonics on the soprano clarinet.
Recipient of the 2022 Chamber Music America Michael Jaffee Visionary Award and hailed by The Guardian as "a cellist of power and grace" who possesses "mature artistry and willingness to go to the brink," cellist Seth Parker Woods has established a reputation as a versatile artist straddling several genres. In addition to solo performances, he has appeared with the Ictus Ensemble (Brussels, BE), Ensemble L'Arsenale (IT), zone Experimental (CH), Basel Sinfonietta (CH), Ensemble LPR, Orchestra of St. Luke's, and the Atlanta and Seattle Symphony's. A fierce advocate for contemporary arts, Woods has collaborated and worked with a wide range of artists ranging from the likes of Louis Andriessen, Elliott Carter, Heinz Holliger, G. F. Haas, Helmut Lachenmann, Klaus Lang, and Peter Eötvos to Peter Gabriel, Sting, Lou Reed, Dame Shirley Bassey, and Rachael Yamagata to such visual artists as Ron Athey, Vanessa Beecroft, Jack Early, Adam Pendleton, and Aldo Tambellini.
Woods' 2021-22 season will include debuts at the Aspen Music Festival, The Britt Festival, 92nd Street Y, Harbourfront Theatre, Chamber Music Society of Virginia, Ojai Festival, Washington Performing Arts, The Strathmore, The Weisman Art Museum and Harvard. This season of performances will also include concertos by Rebecca Saunders and Tyshawn Sorey, and chamber music with violinist Hilary Hahn and pianist Andreas Haefliger. Woods will serve as Artist in Residence at the University of Miami's Frost School of Music and Northwestern University - Center for New Music.
In recent years, Woods has appeared in concert at the Royal Albert Hall—BBC Proms, Snape Maltings Festival, the Ghent Festival, Musée d'art Moderne et Contemporain, Le Poisson Rouge and the Bohemian National Hall, Cafe OTO, Huddersfield Contemporary Music Festival, Klang Festival-Durham, INTER/ actions Symposium, ICMC-SMS Conference (Athens, GR), NIME-London, Sound and Body Festival, Instalakcje Festival, Virginia Tech, La Salle College (Singapore), and FINDARS (Malaysia), amongst others. Recent awards include a DCASE artist grant, Earle Brown/ Morton Feldman Foundation Grant, McGill University-CIRMMT/IDMIL Visiting Researcher Residency, Centre Intermondes Artist Residency, Francis Chagrin Award, Concours [Re]connaissance-Premiere Prix, and the Paul Sacher Stiftung Research Scholarship.
His debut solo album, asinglewordisnotenough (Confront Recordings-London), has garnered great acclaim since its release in November 2016 and has been profiled in The New York Times, Chicago Tribune, LA Times, The Guardian, 5against4, I Care If You Listen, Musical America, Seattle Times, and Strings Magazine, amongst others.
Woods recently joined the faculty of the Thornton School of Music at The University of Southern California as Assistant Professor of Practice - Cello and Chamber Music. He previously served on the faculties of the University at Buffalo, University of Chicago, Dartmouth College and the Chicago Academy of the Arts. He holds degrees from Brooklyn College, Musik Academie der Stadt Basel, and a PhD from the University of Huddersfield. In the 2020-21 season he was an Artist in Residence with the Kaufman Music Center, and from 2018-2020 he served as Artist in Residence with Seattle Symphony and Creative Consultant for the interactive concert hall, Octave 9: Raisbeck Music Center.