Linda May Han Oh and Fabian Almazan
bass and piano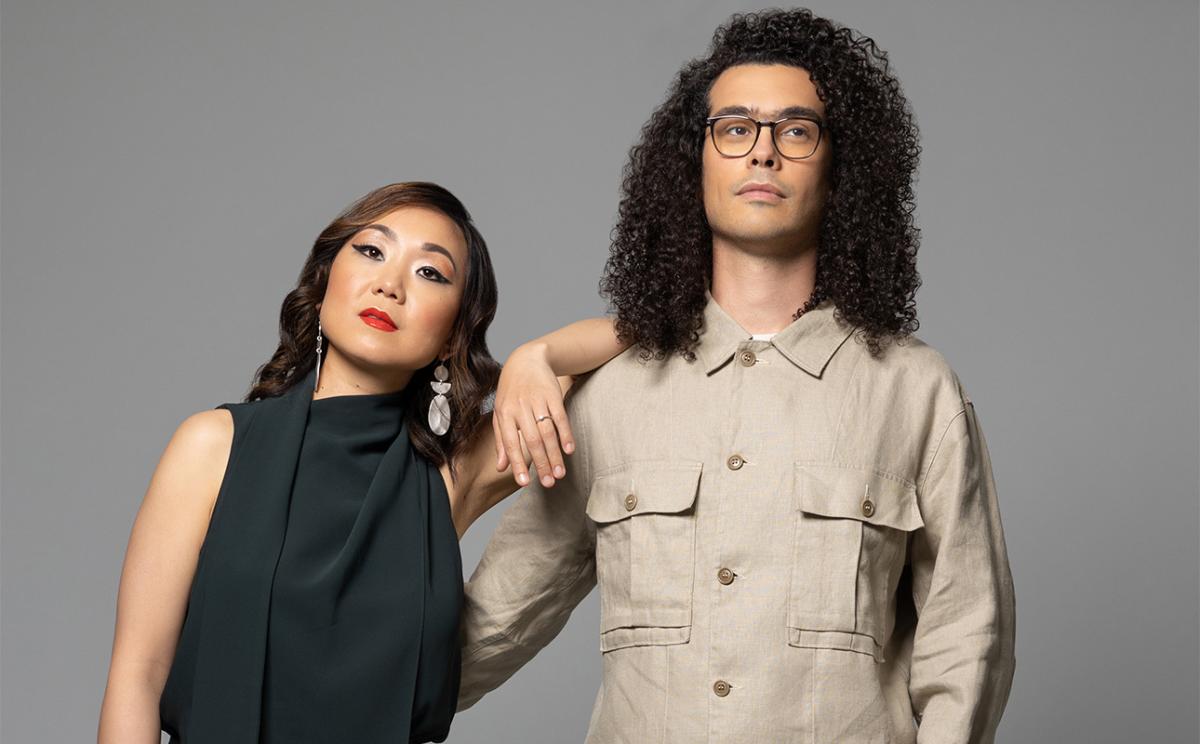 Based in New York City, Linda May Han Oh is a bassist/composer who has performed and recorded with artists such as Pat Metheny, Kenny Barron, Joe Lovano, Dave Douglas, Terri Lyne Carrington, Steve Wilson, Geri Allen and Vijay Iyer.
Originally born in Malaysia and raised in Boorloo (Perth), Western Australia, she has received many awards such as 2nd place at the BASS2010 Competition, a semi-finalist at the BMW Bass competition and an honorary mention at the 2009 Thelonious Monk Bass Competition.
Linda also received the 2010 Bell Award for Young Australian Artist of the Year and was the 2012 Downbeat Critic's Poll "Rising Star" on bass. She was voted the 2018, 2019 and 2020 Bassist of the Year by the Jazz Journalist's Association, as well as 2019 Up-and-coming Artist of the Year. Linda recently received a Jerome Foundation Fellowship, as well as the Chamber Music America New Jazz Works Grant for 2019. She also was voted 2019 Bassist of the Year in Hothouse Magazine and was 2020 recipient of the Margaret Whitton Award.
She has had five releases as a leader which have received critical acclaim. Her most recent release "Aventurine" is a double quartet album, featuring string quartet and vocal group Invenio, winning the Best New Jazz Work for the Australian APRA Art Awards.
Linda has written for large and small ensembles as well as for film, participating in the BMI Film Composers Workshop, Sundance Labs at Skywalker Ranch and Sabrina McCormick's short films, "A Good Egg" and "FracKtured." Linda also composed and produced music for a collaborative film project with non-profit, "Hoperaisers" based in Korogocho, Kenya.
Linda is based in New York City and is currently Associate Professor at the Berklee College of Music and is also part of the Institute for Jazz and Gender Justice. As an active educator she has also created a series of lessons for the BassGuru app for iPad and iPhone.
She was recently featured as the bassist in the Dorothea Williams Quartet in the Pixar movie "Soul" under the musical direction of Jon Batiste (The Late Show with Stephen Colbert) alongside the great drummer Roy Haynes.
"her innovative range and stellar improvisations have made [her] one of the most dynamic rising stars in jazz today." The Wall Street Journal
"A major bass voice arrives" - JazzTimes
"On Walk Against Wind...[Oh] takes a long stride forward as a bandleader and composer. The writing is intricate but flowing, tailored to the articulate grace of her band." - WBGO Take Five
"Linda May Han Oh is a planetary force and these compositions, so brilliantly crafted, are her gravitational waves." - Nextbop
"One of the most fluid and instinctive bass players in New York City." - SomethingElse Reviews
Cuban-American pianist/composer Fabian Almazan found his musical roots as a child in Havana where he first became involved in the classical piano tradition. Most recently, Almazan can be heard in such films as Harriet, Chi-Raq, Red Tails and Miracle at St Anna.
During the completion of his jazz piano bachelor's degree at the Manhattan School of Music, Almazan immersed himself in the realm of orchestral composition studying instrumentation and orchestration with Mr. Giampaolo Bracali.
Almazan is the founder and director of Biophilia Records. Biophilia means "an instinctive bond between human beings and other living systems." In addition to creating meaningful and imaginative music, Biophilia Records artists are united by a common interest in having a positive impact on the environment and our communities. Biophilia artists collaborate with organizations that specialize in conservation, sustainability and outreach initiatives, regularly volunteering hands-on in community events.
As an environmentalist and naturalist, Almazan travelled back to his birthplace where he made field recordings of endemic Cuban birds which were then Incorporated into "This Land Abounds With Life", Almazan's most recent and 5th album as a leader. He is the founder and director of Biophilia Records and has worked diligently towards ensuring a continued dialogue of awareness concerning music and environmental justice.
As a performer, Almazan has developed a personal voice through the electric manipulation of the acoustic piano in live and studio settings. He has toured his music extensively as well as accompanied artists such as Linda May Han Oh, Terence Blanchard, Gretchen Parlato, John Hollenbeck, Mark Guiliana, Dave Douglass, Avishai Cohen and Ambrose Akinmusire among others.
Awards include 2 Grammy nominations, the SWR New Jazz Meeting commission, the Copland Fund, the Jerome Fund for Emerging Composers Award, the Jazz Gallery Residency, Rockerfeller Brothers Residency, Cintas Foundation Award in Composition and the Sundance Composers' Lab.