Conrad Tao and Jay Campbell, piano, midi-keyboard & cello
piano, midi-keyboard & cello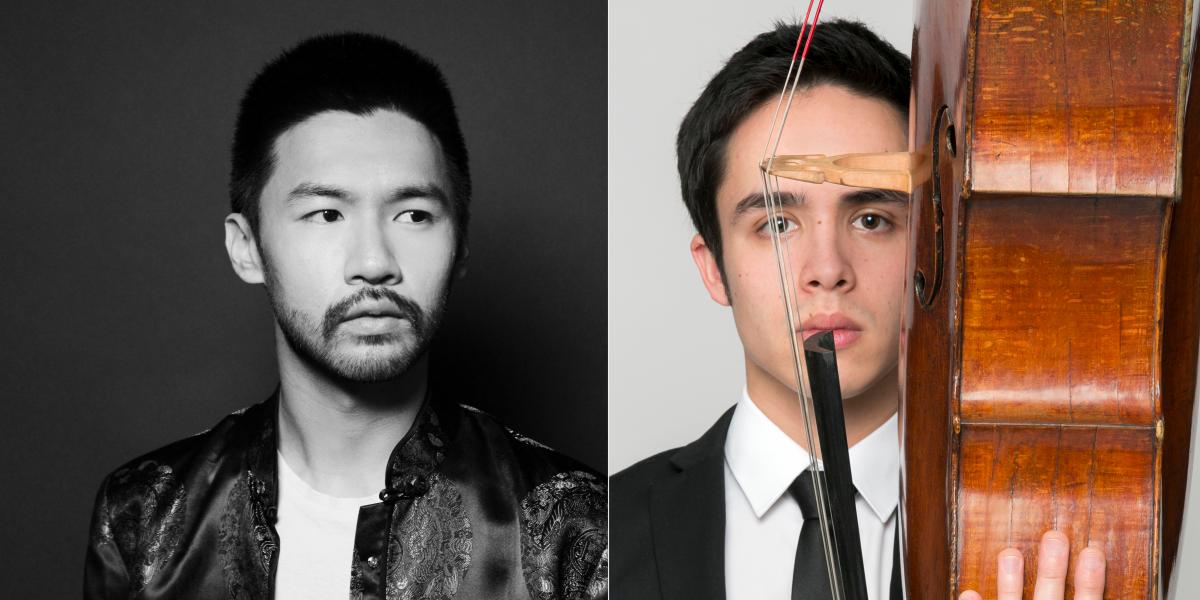 Conrad Tao has appeared worldwide as a pianist and composer, and has been dubbed a musician of "probing intellect and open-hearted vision" by The New York Times. Tao is a recipient of the prestigious Avery Fisher Career Grant, and was named a Gilmore Young Artist—an honor awarded every two years highlighting the most promising American pianists of the new generation.
Tao opened last season with the New York Philharmonic's world premiere of his piece Everything Must Go, and went on to make recent debuts with the Los Angeles Philharmonic, Cleveland Orchestra, New York Philharmonic and Boston Symphony. In the 2019-20 season, following his recital debut at Carnegie Hall, Tao will make his debut in recital at Walt Disney Hall, where the LA Phil will present him in works by Copland and Frederic Rzewski. Following his debut at Blossom, the Cleveland Orchestra will present Tao in Severance Hall in a special program inspired by jazz and Dadaist art film, performed with pianist Aaron Diehl. Concerto highlights in the upcoming season include performances of his own work for piano & orchestra, The Oneiroi in New York, with the Seattle Symphony, as well as performances with the Baltimore, Charlotte, and Pacific Symphonies. He will also perform The Oneiroi alongside Galina Ustvolskaya's Piano Concerto with the Phoenix Symphony.
Highlights from Conrad's 2018-19 season included his inauguration of the New York Philharmonic's Nightcap series with artist Charmaine Lee and dancer Caleb Teicher, with whom he also premiered the new evening-length multidisciplinary work, More Forever, which continues to tour throughout the US. His ongoing electroacoustic collaboration with improviser and vocalist Charmaine Lee also continues with an opening-night performance at the 2019 Resonant Bodies Festival in New York. In February 2019, Conrad made his LA Opera debut in the West Coast premiere of David Lang's new work, the loser.
‍ A Warner Classics recording artist, Tao's will release his third album, entitled American Rage this Fall, featuring works by Julia Wolfe, Frederic Rzewski and Aaron Copland.
Tao was born in Urbana, Illinois, in 1994. He has studied piano with Emilio del Rosario in Chicago and Yoheved Kaplinsky in New York.
Jay Campbell is a cellist actively exploring a wide range of creative music. He has been recognized for approaching both old and new music with the same curiosity and commitment, and his performances have been called "electrifying" by the New York Times and "gentle, poignant, and deeply moving" by the Washington Post.
The only musician ever to receive two Avery Fisher Career Grants — in 2016 as a soloist, and again in 2019 as a member of the JACK Quartet — Jay made his concerto debut with the New York Philharmonic in 2013 and in 2016, he worked with Alan Gilbert as the artistic director for Ligeti Forward, part of the New York Philharmonic Biennale at the Metropolitan Museum of Art. In 2017, he was Artist-in-Residence at the Lucerne Festival along with frequent collaborator violinist Patricia Kopatchinskaja, where he gave the premiere of Luca Francesconi's cello concerto Das Ding Singt. In 2018 he appeared at the Berlin Philharmonie with Deutsches Symphonie-Orchester Berlin. He has recorded the concertos of George Perle and Marc-Andre Dalbavie with the Seattle Symphony, and in 2022/2023 will premiere a new concerto, Reverdecer, by Andreia Pinto-Correia with the Gulbenkian Orchestra in Portugal and in Brazil with the Orquestra Sinfonica do Estado de Sao Paulo. In 2022 he will return to the Los Angeles Philharmonic as curator and cellist for his second Green Umbrella concert, where he will premiere concertos by Wadada Leo Smith and inti figgis-vizueta.
Jay's primary artistic interest is the collaboration with living creative musicians and has worked in this capacity with Catherine Lamb, John Luther Adams, Marcos Balter, Tyshawn Sorey, and many others. His close association with John Zorn resulted in two discs of new works for cello, Hen to Pan (2015) and Azoth (2020). Deeply committed as a chamber musician, he is the cellist of the JACK Quartet as well as the Junction Trio with violinist Stefan Jackiw and pianist Conrad Tao.
Catherine Lamb (b. 1982, Olympia, WA. U.S.) is an active composer exploring the interaction of tone, summations of shapes and shadows, phenomenological expansions, the architecture of the liminal (states in between outside/inside), and the long introduction form. She began her musical life early, later abandoning the conservatory in 2003 to study Hindustani music in Pune, India. She received her BFA in 2006 under James Tenney and Michael Pisaro at CalArts in Los Angeles, where she first developed her research into the interaction of tone and continued to compose, teach, and collaborate with musicians (such as Laura Steenberge and Julia Holter on Singing by Numbers). In 2008 she received a W. A. Gerbode Foundation and W. & F. Hewlett Foundation Emerging Composers initiative for Dilations, premiered at the Other Minds festival in San Francisco. She mentored under the experimental filmmaker/Dhrupad musician Mani Kaul until his death in 2011. In 2012 she received her MFA in music/sound from the Milton Avery School of Fine Arts at Bard College in New York. She toured Shade/Gradient extensively and was awarded the Henry Cowell Research Fellowship to work with Eliane Radigue in Paris. In 2013 Lamb relocated to Berlin, Germany where she lives currently, and has written for ensembles such as Konzert Minimal, Dedalus, Ensemble neoN, the London Contemporary Orchestra, as well as the JACK Quartet; while collaborating regularly with Marc Sabat, Johnny Chang (Viola Torros), Bryan Eubanks, and Rebecca Lane. Her first orchestral work, Portions Transparent/Opaque, was premiered by the BBC Scottish Symphony Orchestra at the 2014 Tectonics Festival in Glasgow and was conducted by Ilan Volkov. She completed a series of nine pieces entitled Prisma Interius(2016-18) in which the infinite opening filter from inner to outer perceptions are deeply explored. In 2019 she co-founded the collectively oriented Harmonic Space Orchestra in Berlin. She is a 2020 recipient of the Ernst von Siemens Composer's prize, a 2018 recipient of the Grants to Artists award from the Foundation for Contemporary Arts, a Staubach Fellow for the 2016 Darmstadt Summer course as well as a 2016-2017 Schloss Solitude Fellow. Her writings/recordings are published in KunstMusik, Open Space Magazine, QO2, NEOS, New World Records, Another Timbre, Other Minds, Winds Measure, Hubro Records, Black Pollen Press, Sound American, and Sacred Realism.