Caroline Shaw and Attacca Quartet with a new commission by inti figgis-vizueta
voice and string quartet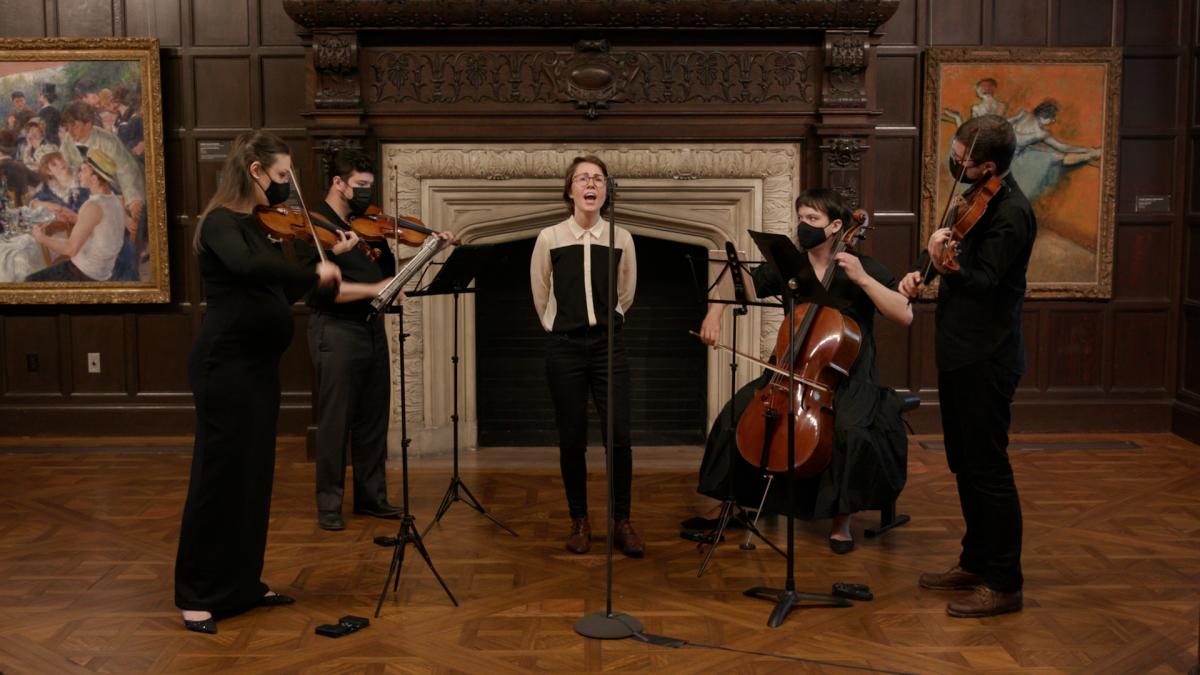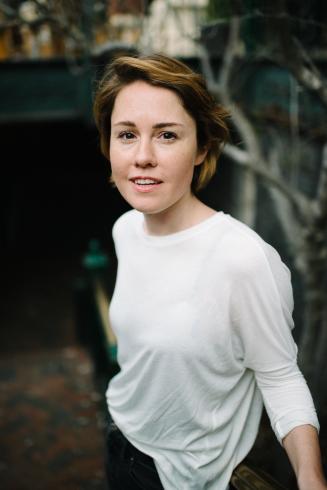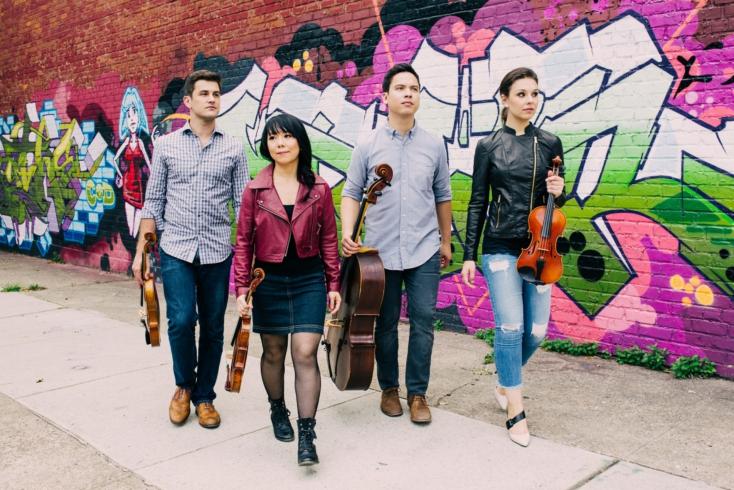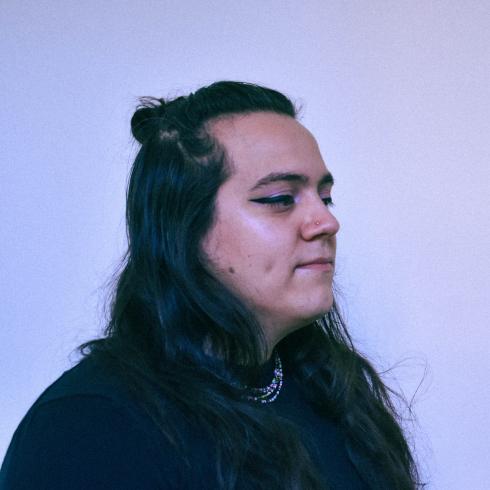 Caroline Shaw is a New York-based musician—vocalist, violinist, composer, and producer—who performs in solo and collaborative projects. She was the youngest recipient of the Pulitzer Prize for Music in 2013 for Partita for 8 Voices, written for the Grammy-winning Roomful of Teeth, of which she is a member. Recent commissions include new works for Renée Fleming with Inon Barnatan, Dawn Upshaw with Sō Percussion and Gil Kalish, Seattle Symphony, Anne Sofie von Otter with Philharmonia Baroque, the LA Philharmonic, Juilliard 415, the Orchestra of St. Luke's with John Lithgow, the Dover Quartet, TENET, The Crossing, the Mendelssohn Club of Philadelphia, the Calidore Quartet, Brooklyn Rider, the Baltimore Symphony, and Roomful of Teeth with A Far Cry. Caroline's film scores include Erica Fae's To Keep the Light and Josephine Decker's Madeline's Madeline as well as the upcoming short 8th Year of the Emergency by Maureen Towey. She has produced for Kanye West (The Life of Pablo; Ye) and Nas (NASIR), and has contributed to records by The National, and by Arcade Fire's Richard Reed Parry. Once she got to sing in three part harmony with Sara Bareilles and Ben Folds at the Kennedy Center, and that was pretty much the bees' knees and elbows. Caroline has studied at Rice, Yale, and Princeton, currently teaches at NYU, and is a Creative Associate at the Juilliard School. She has held residencies at Dumbarton Oaks, the Banff Centre, Music on Main, and the Vail Dance Festival. Caroline loves the color yellow, otters, Beethoven opus 74, Mozart opera, Kinhaven, the smell of rosemary, and the sound of a janky mandolin.
Grammy award-winning Attacca Quartet, as described by The Nation, "lives in the present aesthetically, without rejecting the virtues of the musical past", and it is this dexterity to glide from the music of the 18th through to the 21st century repertoire that place them as one of the most versatile and outstanding ensembles of the moment – a quartet for modern times.
Touring extensively in the United States, recent and upcoming highlights include Carnegie Hall Neighborhood Concerts, New York Philharmonic's Nightcap series, Lincoln Center's White Lights Festival and Miller Theatre, both with Caroline Shaw, Phillips Collection, Chamber Music Austin, Isabella Stewart Gardner Museum in Boston, and Trinity Church at Wall Street where they will perform the complete cycle of the Beethoven String Quartets. Attacca Quartet has also served as Juilliard's Graduate Resident String Quartet, the Quartet in Residence at the Metropolitan Museum of Art, and the Ensemble-in-Residence at the School of Music at Texas State University. Outside of the US, recent performances include Gothenburg Konserthuset, MITO Septembre Festival in Italy, and their debut in London at Kings Place and in Oslo at the Vertravo Haydn Festival. As well as their recent tour in Central and South America, they will return to Europe for a tour of ten concerts around Sweden as well as taking part in the Prague String Festival and September Me Festival in the Netherlands.
Passionate advocates of contemporary repertoire, their latest recording, Orange, features string quartet works by Pulitzer-prize winning composer Caroline Shaw. Greatly received by the critics, Attacca Quartet won the 2020 Grammy award in the category ​"Best Chamber Music/​Small Ensemble Performance" in recognition for their work on this album. Previous recordings include three critically acclaimed albums with Azica Records, including a disc of Michael Ippolito's string quartets, and the complete works for string quartet by John Adams.
"[inti's] music feels sprouted between structures, liberated from certainty and wrought from a language we'd do well to learn" writes the Washington Post.
​
Originally from Washington D.C. and now residing in New York City, inti figgis-vizueta (b. 1993) focuses on close collaborative relationships with a wide range of ensembles and soloists. Her musical practice is physical and visceral, attempting to reconcile historical aesthetics and experimental practices with trans & indigenous futures. The New York Times speaks of her music as "alternatively smooth & serrated", The Washington Post as "raw, scraping yet soaring", and the National Sawdust Log as "all turbulence" and "quietly focused". inti is the 2020 recipient of the ASCAP Foundation Fred Ho Award for "work that defies boundary and genre".

Recent commissions include works for the Attacca Quartet, JACK Quartet, Crash Ensemble, Music from Copland House Ensemble, & Earspace Ensemble, as well as Jennifer Koh, Matt Haimovitz, & Andrew Yee. Her music has been presented in spaces such as Carnegie Hall, Lincoln Center, Chicago Symphony Center, Kennedy Center, Walt Disney Concert Hall, Louise M. Davis Symphony Hall, and the Dublin National Concert Hall. She is currently in residency at So Percussion's Brooklyn studio for the '21-22 season.