Phillips Music
Presenting the best of established artists to promising young musicians and performers from around the world.

Duncan Phillips was always fascinated by the relationship between music and the visual arts. In 1915 he wrote that while music provides people with "spiritual nourishment and exultation … paintings seek to speak to their souls in the same musical way." 
Sunday Concerts
The Sunday Concerts series at The Phillips Collection is one of the longest running music series in Washington, DC. Originally managed by Duncan Phillips's assistant, Elmira Bier, who served as the first Director of Music at The Phillips Collection, the series has run for over 80 years.
Traditional and new music has always lived in balance in programs performed at The Phillips Collection, and Sunday Concerts artists are encouraged to think creatively about their programming. Concerts take place on Sundays and Thursdays (from September to May each season) in the oak-paneled Music Room (by architects Hornblower and Marshall), situated within the original Phillips house built in 1897.
In the spirit of Duncan Phillips's belief that the experience of art and music were closely entwined, recent programming and special new music commissions in 2021 have explored the cross-currents and intersections between musical performance and the visual arts. Curated artwork from the permanent collection in the Music Room often speaks to the lively dialogue between these two complimentary art-forms.
Now a renowned space for international chamber music, the Sunday Concerts series is expanding beyond the four walls of the Music Room to embrace live-streaming, bringing the intimacy and connection of our unique space and its world-class performers into your home.
 
Leading International Composers
THE BEST OF GLOBAL MUSIC
Since 2009, The Phillips Collection has presented Leading International Composers, a unique series which profiles some of the most exciting composers of our time. Presenting an opportunity to delve into a composer's work in-depth through immersive, boundary-breaking performances by ensembles chosen by each composer, Leading International Composers takes the pulse of today's thriving new music scene. 
PREVIOUSLY FEATURED LEADING INTERNATIONAL COMPOSERS
Hans Abrahamsen (Denmark)
Dušan Bavdek (Slovenia)
Avner Dorman (Israel)
José Luis Greco (Spain)
Anders Hillborg (Sweden)
Vijay Iyer (USA) 
Olli Kortekangas (Finland)
Tania Léon (USA) 
George Lewis (USA)
Tristan Murail (France)
Arvo Pärt (Estonia)
Matthias Pintscher (Germany)
Kaija Saariaho (Finland)Fazıl Say (Turkey)
Miroslav Srnka (Czechoslovakia)
Anna Thorvaldsdottir (Iceland)
Erkki-Sven Tüür (Estonia)
Michel van der Aa (The Netherlands)
Pēteris Vasks (Latvia)
Zhou Long (People's Republic of China)
CODA SESSIONS
Concerts are held in The Phillips Collection's 150-seat Music Room, followed by Coda Sessions, giving audience members a chance to ask questions and converse with these important voices in contemporary music.
Selected performances from the 2020/21 season
Watch recent performances and interviews recorded live from galleries at The Phillips Collection.
Imani Winds perform a varied program including a new work commissioned by The Phillips Collection by composer Nathalie Joachim.
"Love in Exile" is a transformative, hour-long musical meditation from composer/pianist Vijay Iyer, vocalist Arooj Aftab, and bassist Shazad Ismaily. Recorded live at The Phillips Collection.
Director of Music Jeremy Ney interviews pianist David Greilsammer infront of Glenn Gould's 1955 US debut program at The Phillips Collection.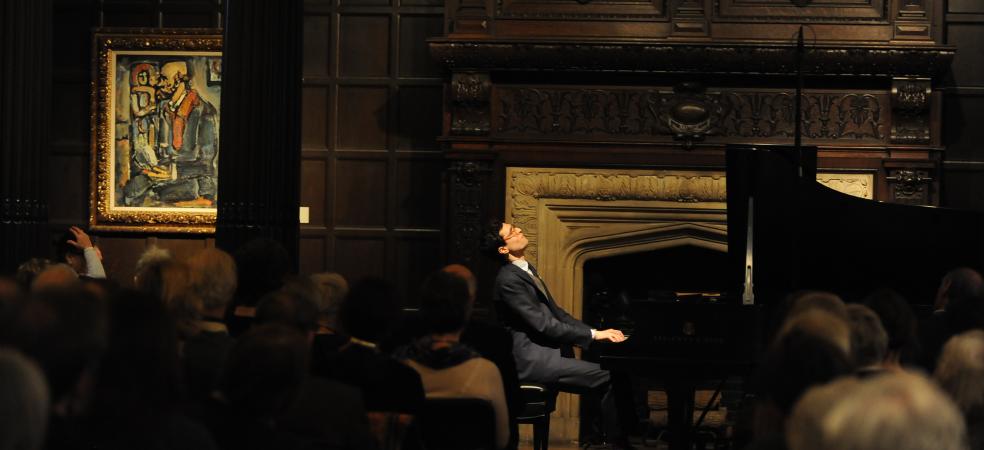 Support Phillips Music
In order to fund our program of live performances and make them available to audiences everywhere online, we rely on the generosity of music enthusiasts near and far.