Stephen Wiltshire to Draw Doha Cityscape at the Phillips Collection
October 18, 2018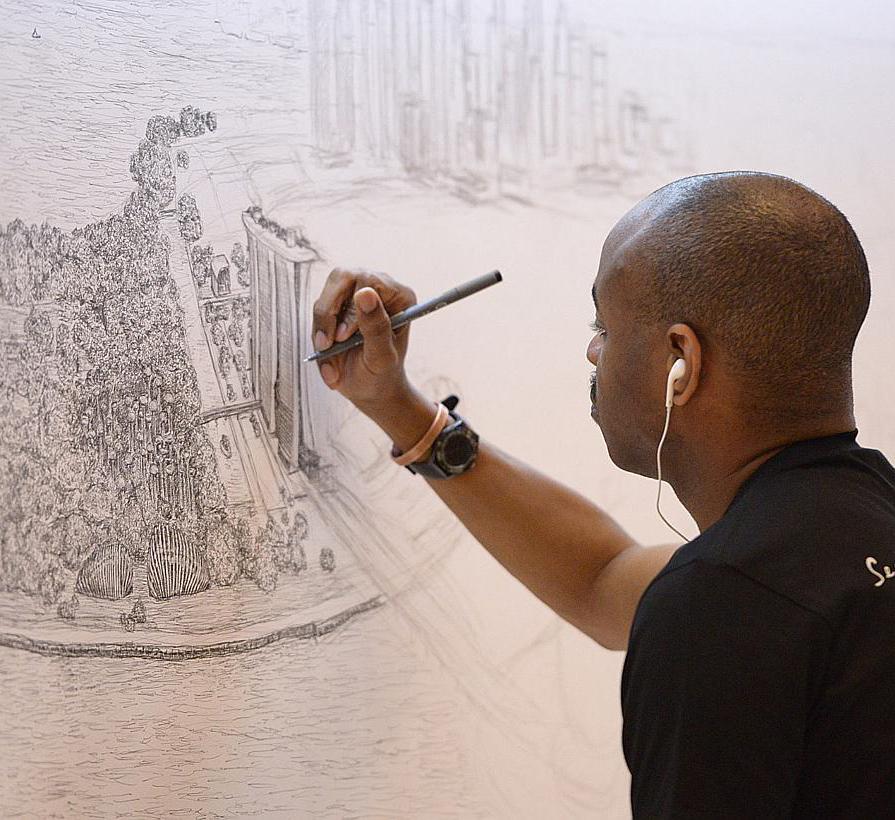 Artist who re-creates images from memory to have week-long residency at the museum
WASHINGTON, DC —The Phillips Collection, in partnership with the Embassy of the State of Qatar in Washington, DC, welcomes artist Stephen Wiltshire as he draws a detailed cityscape of the city of Doha, Qatar, entirely from photographic memory at The Phillips Collection from Tuesday, November 6 through Sunday, November 11. The piece will be finalized at a gala hosted by the Embassy in support of the Autism Society of America on Tuesday, November 13.
Following a trip to Doha that includes a 30 minute helicopter ride for an aerial view of the city, Wiltshire will travel to Washington, DC, where he will set up his studio in a gallery of The Phillips Collection to draw the city from memory. Visitors will be able to view Wiltshire in real time as he sketches a detailed to-scale cityscape of Doha, Qatar. The piece will be completed on November 13 at a gala hosted by the Embassy of the State of Qatar, where it will remain on view.
"We are honored to host Stephen Wiltshire at The Phillips Collection as he creates this masterpiece for our neighbors and long-time partners at the Embassy of Qatar. Creation and inspiration occurs differently for every artist, and Stephen's process is a particularly fascinating and humbling experience that we are thrilled to feature in the galleries," said Vradenburg Director and CEO of The Phillips Collection Dorothy Kosinski.
"For this year's gala, we wanted to empower individuals with autism and highlight the amazing contributions they make to our world. Stephen and his incredible artwork are an example of that, and we are honored to have him come to Washington, DC, and sketch the Doha skyline entirely from memory," said Ambassador of the State of Qatar to the United States Meshal bin Hamad Al-Thani.
Wiltshire (b. 1974) is a renowned artist who draws and paints detailed cityscapes from memory. He creates accurate representations of cities completely to scale after viewing them for a brief time. At the age of three, Wiltshire was diagnosed with autism spectrum disorder (ASD) and began to fill his time with drawing architecture. He was awarded as a Member of the Most Excellent Order of the British Empire (MBE) for services to the art world in 2006 and recently opened the Stephen Wiltshire Gallery in London.