Sanford Biggers's Mosaic—the Phillips's 30th Intersections project—fuses African American identities with Western art historical canon
September 20, 2021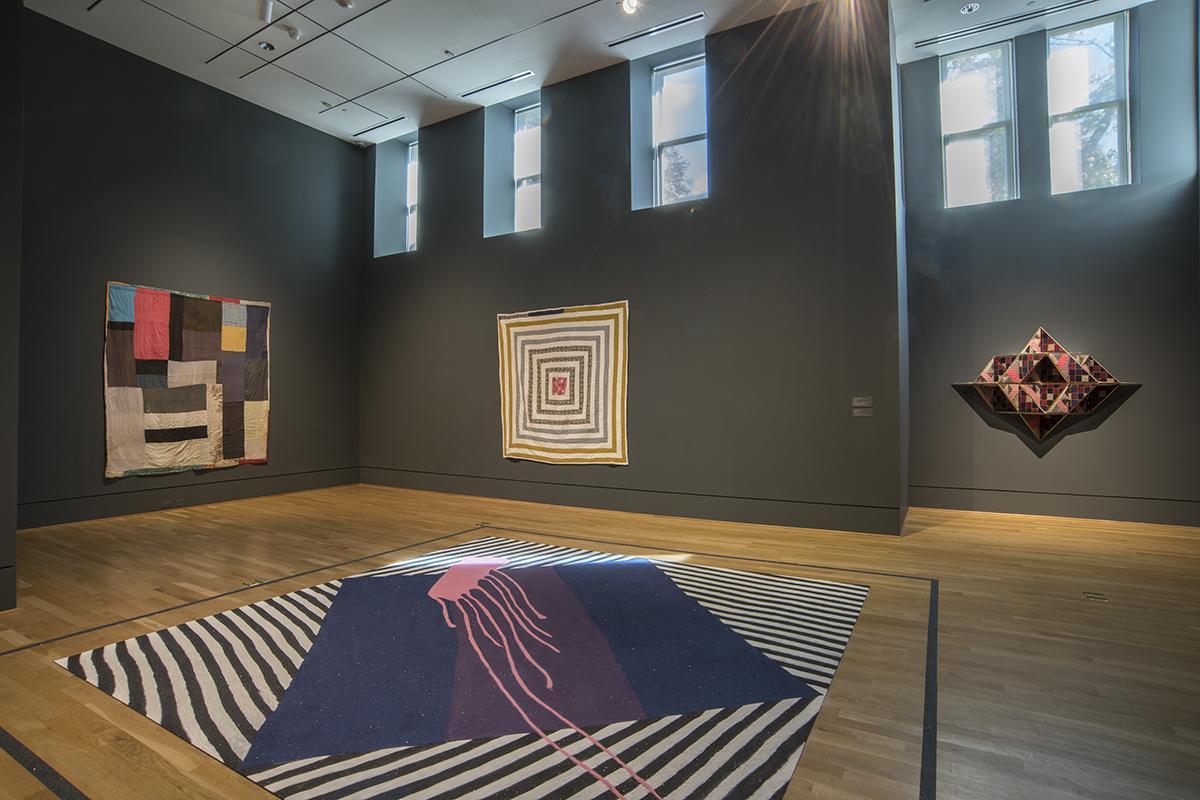 WASHINGTON, DC—As part of its centennial celebrations, The Phillips Collection presents Mosaic by Sanford Biggers, the 30th project of the museum's ongoing Intersections contemporary art series. Drawing from the museum's permanent collection, including Gee's Bend quilts and a number of European modernist sculptures, Biggers will produce a new body of work—a three-dimensional quilt, a marble sculpture, and a floor piece made with sand—bringing together old traditions and current multi-media practices. The installation will be on view from October 16, 2021, to January 2, 2022, and will be accompanied by an audio-visual performance in December.
"Sanford's art communicates and intentionally complicates histories, identities, belief systems, and aesthetics only to reflect the inherent diversity and complexities of humankind and its cultural heritage," notes Vesela Sretenovic, Cross-departmental Director for Contemporary Art, Innovation, and Partnerships. "His work speaks to global art history and to today's socio-political and economic events, enveloping past and present, and the sacred and profane."

In Mosaic, Biggers's primary engagement with the permanent collection will be through five Gee's Bend quilts—created by Mary Lee Bendolph, Aolar Mosley, Arlonzia Pettway, Malissia Pettway, and Lucy T. Pettway—that the Phillips recently acquired. Intrigued by the history of the quilts from the insulated African American community in Alabama, as well as with their rich geometric patterns, colors, and rhythm, Biggers started making his own quilts in 2009. For the Phillips, he will create a three-dimensional sculptural quilt that integrates the patterns and palette of the Phillips's quilts. In addition, he will design a site-specific floor installation made with sand that incorporates the colors of the quilts, generating vibrant visuals where past and present meet.
"The quilts of Gee's Bend are the first quilts to enter our collection. It is wonderful that they have sparked Sanford's imaginative creations that invite another look at the history of African American quilt-making. This kind of cross-cultural dialogue is a key component of The Phillips Collection," says Vradenburg Director and CEO Dorothy Kosinski.
In an adjacent gallery, Biggers will riff on sculptural works from the collection by artists including August Rodin, Pablo Picasso, A. R. Penck, and Markus Lupertz, among others, and create a large hybrid figure in marble that merges the formal and expressionist aspects of European modernism with the narrative elements of African art, bringing another layer of cultural intersectionality.
In addition to Mosaic's rich visuals, the project will feature a performance on the sand floor in January. As such, this project establishes a double intersection of audio and visual aspects of art.
ABOUT THE ARTIST
Sanford Biggers (b. 1970) was raised in Los Angeles and currently lives and works in Harlem. His artistic practice integrates audio-visual installation, sculpture, drawing, video, music, and performance to create diverse artworks that invite synchronicity of different histories, cultures, identities, and religions.
He is the recipient of numerous awards, including a prestigious Guggenheim Fellowship in 2020 and the Rome Prize in Visual Arts in 2017. His most recent presentations include the solo exhibition Codeswitch organized by The Bronx Museum of the Arts (2020–21), as well as his large-scale sculpture Oracle at Rockefeller Center in New York City. Other solo exhibitions include the Contemporary Art Museum St. Louis (2018); the Museum of Contemporary Art Detroit (2016); the Massachusetts Museum of Contemporary Art (2012); and the Brooklyn Museum (2011), among others. His recent group exhibitions include the Metropolitan Museum of Art (2017), the Barnes Foundation (2017), and The Phillips Collection (2020). Biggers's work is held in the permanent collections of the Museum of Modern Art, New York; the Metropolitan Museum of Art, New York; the Whitney Museum of American Art, New York; the Museum of Contemporary Art, Chicago; the Walker Center, Minneapolis; the National Museum of African American History and Culture, Washington, DC.
ABOUT INTERSECTIONS


The Phillips Collection's Intersections is an ongoing series of contemporary art projects in which artists are invited to produce work that engages the museum's architecture and/or permanent collection, exploring the intriguing intersections between old and new traditions, modern and contemporary art practices, and museum spaces and artistic interventions. Inaugurated in 2009 and led by Vesela Sretenović, Intersections has presented 30 projects from the US and abroad. The artists have created diverse projects—both aesthetically and conceptually—and employed various media. Many of the projects also riff on the nontraditional nature of the museum's galleries, sometimes activating spaces that are not typical exhibition areas with art produced specifically for those locations.

EXHIBITION SUPPORT
Mosaic is organized by The Phillips Collection as a part of the ongoing Intersections exhibitions series.
Generous support is provided by the Paula Ballo Dailey Memorial Fund.

Presented with support from Morgan Stanley.


IMAGE GALLERY
IMAGE: Installation photo of Sanford Biggers's Intersections project Mosaic. Photo courtesy of The Phillips Collection. 
Sanford Biggers's body of work for Mosaic is site specific and in the process of being made. High-resolution press images will be available at a later date. Please contact jmitchell@phillipscollection.org.

ABOUT THE PHILLIPS COLLECTION
The Phillips Collection, America's first museum of modern art, was founded in 1921. The museum houses one of the world's most celebrated Impressionist and American modern art collections, and continues to grow its collection with important contemporary voices. Its distinctive building combines extensive new galleries with the former home of its founder, Duncan Phillips. The Phillips's impact spreads nationally and internationally through its diverse and experimental special exhibitions and events, including its award-winning education programs for educators, students, and adults; renowned Phillips Music series; and dynamic art and wellness and Phillips after 5 events. The museum contributes to global dialogues with events like Conversations with Artists and Artists of Conscience. The Phillips Collection values its community partnership with THEARC—the museum's satellite campus in Southeast DC. The Phillips Collection is a private, non-government museum, supported primarily by donations.

                                                                                                                          # # #