Rarely Seen Silkscreen Prints by Jacob Lawrence at the Phillips
January 6, 2017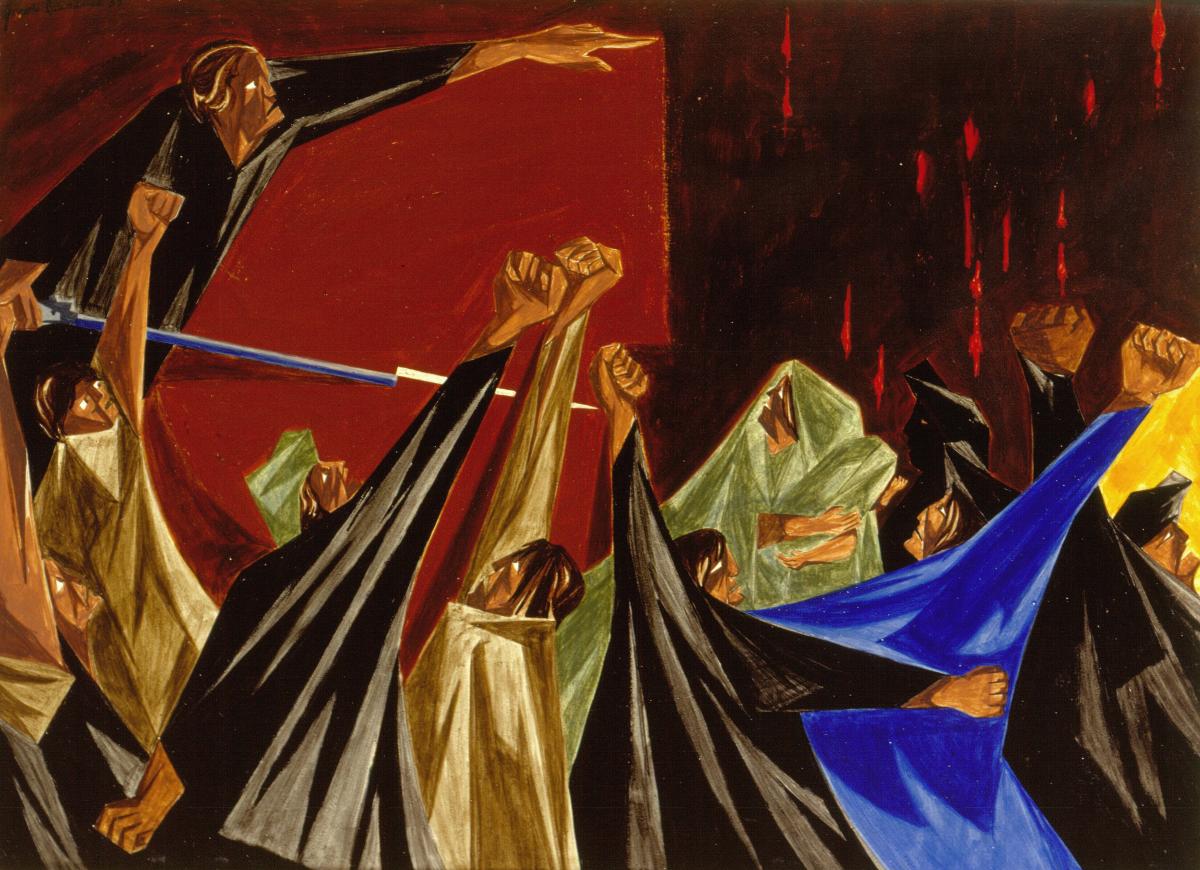 Exhibition Showcases Lawrence's Collaboration with Master Printmaker Lou Stovall
WASHINGTON—Opening on January 7, The Phillips Collection presents an exhibition featuring 15 rarely seen silkscreen prints created by American artist Jacob Lawrence between 1986 and 1997. The series portrays the life of Toussaint L'Ouverture (1743–1803), the former slave turned leader of Haiti's independence movement. L'Ouverture led the fight to liberate Saint-Domingue from French colonial rule and to emancipate the slaves during the 1791 Haitian Revolution, the first successful campaign to abolish slavery in modern history.
Lawrence had explored the same subject more than 40 years earlier in a series of paintings of the same title (now in the Amistad Research Center, New Orleans). The celebrated paintings, which were featured prominently at the Baltimore Museum of Art in 1939,laid the groundwork for Lawrence's lifelong interest in the human quest for freedom and social justice.
While he based these later prints on the earlier paintings, Lawrence distilled the story to 15 works from the original 41 panels and significantly expanded their scale. He worked closely with DC-based master printmaker Lou Stovall to translate the colors and fluid movement of the original tempera paint to each composition.
In the print series, the narrative follows L'Ouverture from his birth to his rise as the commander of the revolutionary army to his eventual capture by Napoleon's men. In the original painted series, Lawrence continued the story through the death of L'Ouverture as a prisoner of war in 1803, just one year before Haiti declared independence with the crowning of Emperor Jean-Jacques Dessalines.
In highlighting the life of the courageous leader Toussaint L'Ouverture, Lawrence invites us to reflect on Haiti's transformation from an enslaved French colony to the first black Western republic. At the same time, the series reminds us of the country's ongoing struggle to overcome poverty and political instability.
Since acquiring 30 panels of Lawrence's epic Migration Series (1940–41) in 1942, the Phillips has been dedicated to celebrating the life and furthering the legacy of the artist. Presenting works by Lawrence on loan from the collection of Di and Lou Stovall, this exhibition is on display while The Migration Series is on loan at the Seattle Art Museum for a reunion celebrating the 100th anniversary of Lawrence's birth. Learn more about The Migration Series at lawrencemigration.phillipscollection.org.
Jacob Lawrence: The Life of Toussaint L'Ouverture is on view January 7 through April 23, 2017.