The Phillips to Present Major Survey of Works by George Condo
February 22, 2017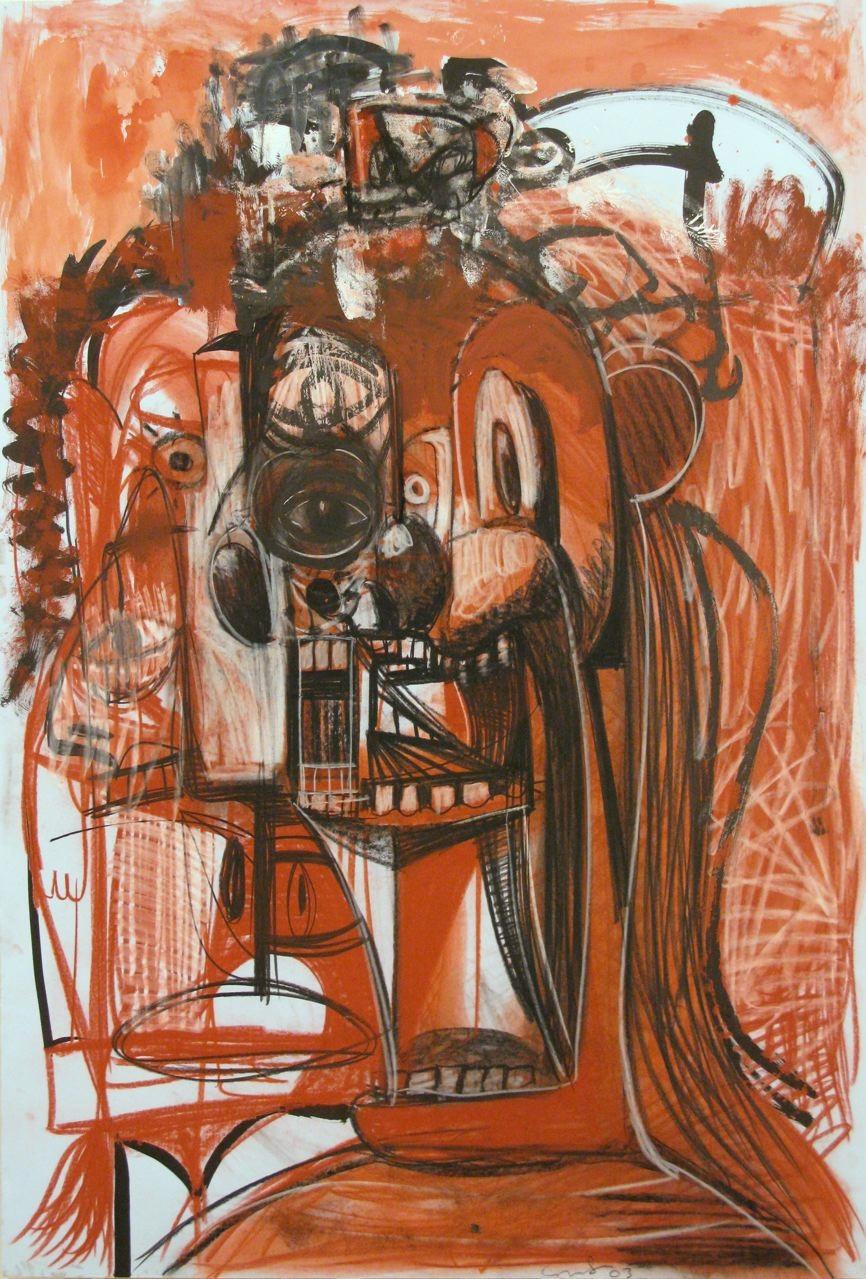 Exhibition Marks Major Survey of George Condo's Drawings, Sketches, and "Drawing Paintings"
WASHINGTON—In an exhibition opening March 11, The Phillips Collection presents a major survey of drawings and "drawing paintings" by George Condo (b. 1957). An extraordinarily prolific painter, Condo is best known for his existential humor and unhinged pictorial inventions. His works synthesize disparate stylistic elements ranging from 17th- century Venetian and Dutch painting through 20th-century Cubism, Surrealism, Abstract Expressionism, and Pop Art into singular works of art. Condo coined the phrases "Artificial Realism" and "Psychological Cubism" to describe this process.
A collaboration with the artist, George Condo: The Way I Think features approximately 200 drawings, sketches, and sketchbooks along with several "drawing paintings," which allow visitors to glean unprecedented insights into the mind and creative process of this highly imaginative contemporary artist. Highlights of this exhibition include Spanish Head Composition (1988) and The Fallen Butler (2009), two major works on loan from The Museum of Modern Art, New York, and both excellent examples of Condo's use of drawing and painting as a way of expressing his unique vision. For the first time, works made between 1962 (when the artist was just five years of age) to his teen and pre-college artworks of the 1970s (which set the stage for his later investigations into figurative abstraction) will be exhibited alongside recent works that demonstrate this progression in his oeuvre.
The Way I Think acknowledges Condo's longtime challenge of the primacy of painting over drawing, which considers painting as the fulfillment of his drawing's promise. Condo's approach to drawing is best exemplified in his "drawing paintings"—an ongoing series started in 2009 that allows him to fully explore the reciprocal relationship between the two media which have been an essential part of his artistic practice. Condo has said that "they are about freedom of line and color and blur the distinction between drawing and painting."
"It is a delight for the Phillips to collaborate with George Condo on such an extraordinary survey of his unique drawings," said Director Dorothy Kosinski. "Condo's work stretches the mind and is certain to inspire visitors to think more deeply about the power of memories."
"I am very pleased for the Phillips to share an installation by an artist whose creative process speaks volumes about thepotential of the human imagination," said Klaus Ottmann, Deputy Director for Curatorial and Academic Affairs at the Phillips. "Over the past three decades, his work has consistently surprised and engaged viewers with grotesque yet classical compositions that straddle abstraction and representation, deconstructing and reassembling archetypes found throughout our cultural map."
"The only way for me to feel the difference between every other artist and me is to use every artist to become me," said George Condo.
George Condo: The Way I Think is on view March 11 through June 25, 2017, at The Phillips Collection. After its inaugural engagement at the Phillips, the exhibition will travel in the fall to the Louisiana Museum of Modern Art in Humlebæk, Denmark.
This survey of Condo's work follows Confrontation curated by Udo Kittelmann at the Berggruen Museum in Berlin, Germany, featuring Condo's drawings, paintings, and sculptures alongside Modern masters Pablo Picasso, Henri Matisse, Paul Cézanne, Paul Klee, and Alberto Giacometti.