The Phillips Collections presents Jacob Lawrence and the Children of Hiroshima
August 9, 2022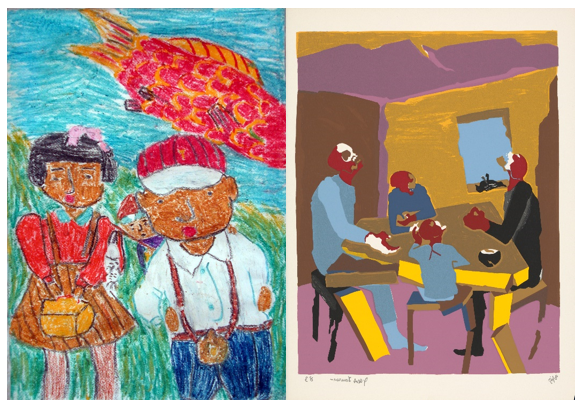 WASHINGTON, DC — The Phillips Collection presents Jacob Lawrence and the Children of Hiroshima. The museum's latest exhibition reexamines the impact of the 1945 bombing of Hiroshima, Japan through a conversation between Jacob Lawrence's Hiroshima prints and selected drawings by the children of Hiroshima's Honkawa Elementary School. Created 35 years apart, the clear call and response in these two powerful bodies of work convey the emotional impact of nuclear warfare and the potential for peace and reconciliation. Jacob Lawrence and the Children of Hiroshima will be on view August 23 to November 27, 2022.
"The Phillips has an enduring and deeply valued relationship with the work of Jacob Lawrence," says Vradenburg Director and CEO Dorothy Kosinski. "We are so pleased to partner with All Souls Church Unitarian on this exciting collaboration. They are an historic DC organization with deep ties and connections in the community."
It was in 1983, when Jacob Lawrence was selected by Limited Editions Club to illustrate one of their titles, he chose John Hersey's book, Hiroshima, a vivid account of six survivors of the atomic bomb.  Lawrence's haunting scenes are cloaked in dissonant shades of pink, red, yellow, and blue. Lawrence intentionally generalized the features of the skull-like heads to make a universal statement about "man's inhumanity to man."
"To present Jacob Lawrence's Hiroshima series for the first time in Phillips's history together with the children's drawings from Honkawa Elementary School demonstrates the powerful conversation between art and significant moments of our time," shares Chief Curator Elsa Smithgall.
In December 1947, All Souls Church Unitarian under the leadership of Reverend A. Powell Davies inspired his congregation to collect and donate school supplies to children affected by the dropping of the atomic bomb at Honkawa Elementary School. In response, the students sent a collection of drawings to the church of happy memories and moments filled with brilliant colors that did not suggest the loss and devastation in their lives. In 2010, the drawings were reunited with the surviving artists in Hiroshima. 
"The Hiroshima Children's Drawings are predicated on the human wisdom of hope…hope for the elimination of nuclear weapons as a part of human relations," says All Souls Church Unitarian Executive Director Traci Hughes-Trotter. "It is a testament that the drawings are paired with Lawrence's Hiroshima series by All Souls Church Unitarian and The Phillips Collection to join in the hopeful cry of "never again."
The Philips Collection has a longstanding relationship with Jacob Lawrence, advancing cross-disciplinary knowledge and understanding of his work in exhibitions and educational initiatives, including the museum's recent centennial exhibition, Jacob Lawrence: The American Struggle as well as through digital resources. Jacob Lawrence (1917-2000) was one of the greatest American artists of the 20th century. Early in his career, he developed his unique multi-panel format and painted historical narratives about the lives of famed African Americans. In 1942, The Phillips Collection acquired half, or thirty odd-numbered panels of his acclaimed Migration Series (1940-41) and the Museum of Modern Art acquired the even-numbered panels. This epic 60-panel series depicting the mass movement of African Americans from the South to the North between the World Wars has remained a cornerstone of The Phillips Collection and is currently on view.
EVENT
Artists of Conscience
October 27, 2022
Phillips Collection's Chief Curator Elsa Smithgall moderates a conversation and musical program exploring the role of art in addressing nuclear weapons abolition. Artist, curator and historian Leslie King-Hammond, nuclear weapons abolition activist Mel Hardy and filmmaker and artist Smriti Keshari are featured panelists.
The Artist of Conscience panel brings together figures from the arts, policy, and scientific communities to discuss how the arts can be an impetus for action. The panel focuses on the power of artists as advocates for change and how policy makers and artists have and can collaborate effectively.  
The exhibition will also be included in Millennium Arts Salon founder and activist Mel Hardy's featured presentation at the United Nations Non-Proliferation Treaty Review Conference on August 17 prior to the exhibition opening. 
ABOUT ALL SOULS CHURCH
For two centuries, All Souls Church, Unitarian, has played a vital role in Washington, DC, and the nation as a whole. Located at the intersection of 16th and Harvard Streets, the church straddles the Mt. Pleasant, Columbia Heights, and Adams Morgan neighborhoods. The building — All Souls' third location — was added to the National Register of Historic Places in 2020. In the words of All Souls' former Senior Minister, Rev. Robert M. Hardies: "Our ancestors dreamed of a special kind of church of the free spirit, unfettered by dogma; a church of the free mind pursuing all truth, a church of the free person, resisting all bonds of oppression. For 200 years, since 1821, All Souls has served as a shelter of those dreams."
This exhibition and program are organized in collaboration with All Soul's Church Unitarian, Washington, DC.
IMAGE GALLERY High-resolution press images are available upon request. Please contact communications@phillipscollection.org.
IMAGE CREDIT LEFT TO RIGHT: Akihisa-Yagi, Boy,age 8, Boy and Girl with Fish, Collection All Soul's Church Unitarian, Washington, DC; Jacob Lawrence, Hiroshima Series: Family, 1983, Color screenprint on Somerset paper, 13 x 10 in., Published by Limited Editions Club, New York, Ed. 19/35, The Phillips Collection, Gift of Nora Lee and Jon Sedma
ABOUT THE PHILLIPS COLLECTION The Phillips Collection, America's first museum of modern art, was founded in 1921. The museum houses one of the world's most celebrated Impressionist and American modern art collections, and continues to grow its collection with important contemporary voices. Its distinctive building combines extensive new galleries with the former home of its founder, Duncan Phillips. The Phillips's impact spreads nationally and internationally through its diverse and experimental special exhibitions and events, including its award-winning education programs for educators, students, and adults; renowned Phillips Music series; and dynamic art and wellness and Phillips after 5 events. The museum contributes to global dialogues with events like Conversations with Artists and Artists of Conscience. The Phillips Collection values its community partnership with THEARC—the museum's satellite campus in Southeast DC. The Phillips Collection is a private, non-government museum, supported primarily by donations.