The Phillips Collection presents works by artists of the greater DC region that reflect resiliency in response to the pandemic and recent social upheaval
June 1, 2021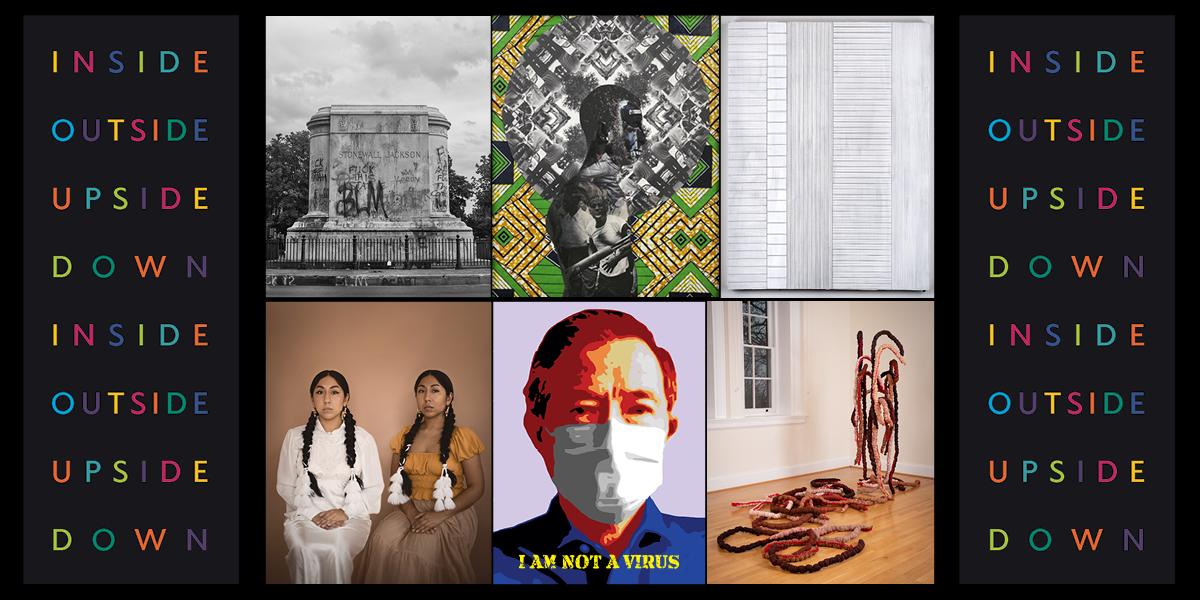 Inside Outside, Upside Down
WASHINGTON, DC—In response to the global COVID-19 pandemic and recent social upheaval, The Phillips Collection presents Inside Outside, Upside Down, a juried invitational on view from July 17 to September 12, 2021. The museum invited artists of the greater Washington area to submit recent artwork that addresses the unprecedented events of the past year. As part of the museum's 100th anniversary celebration, the exhibition continues founder Duncan Phillips's commitment to present, acquire, and promote the work of local artists. 
"We invited all artists of the DC region to submit their work, not just established artists," explains acclaimed DC artist and guest curator Renée Stout. "So emerging and self-taught artists are a part of this exhibition. This is another way that Inside Outside, Upside Down celebrates the strength of our local artist community, which has suffered but come together to make it through these challenging times."
Jurors Elsa Smithgall (Senior Curator, The Phillips Collection), Renée Stout (DC artist and guest curator of the exhibition), Phil Hutinet (publisher of the local news source East City Art), and Abigail McEwan (Associate Professor of Latin American Art at the University of Maryland) reviewed over 1,300 artworks submitted by more than 800 artists, assessing works on their artistry, originality, and thematic relevance. The exhibition, comprising 65 works that span painting, drawing, sculpture, photography, mixed media, and video, will be organized into five themes: Innocence Interrupted, Days of Reckoning and the Right to "Be," Bearing Witness, Introspection and Reflection, and Hope and Healing. The 64 artists are ages 19 to 84, work across styles, and are at varying stages of their careers, including those receiving their first museum exhibition.  
Jurors will be awarding a first and second prize and three honorable mentions, which will be announced in July. Members of the public will also be able to vote for the People's Choice Award on The Phillips Collection website; the winner will be announced in August. In order to support members of our local artistic community during this challenging time, contributors have the opportunity to sell the artworks included in this invitational, and retain all the proceeds. 
"After an extraordinarily difficult year that has shaken the world, we feel it is important to join with our entire region to celebrate human resiliency, and especially the strength of artists and the arts," says Vradenburg Director and CEO Dorothy Kosinski. "Duncan Phillips hosted this type of exhibition annually from 1935 to 1950, and we are proud to continue this tradition to support our talented community."
"Last summer, as plans for our centennial progressed in collaboration with our community advisors, we felt an urgent call to elevate and uplift artist voices in our local artist community," notes Elsa Smithgall, Senior Curator. "Now as we look with hope towards a post-pandemic era, these works are deeply moving affirmations of the hardships endured over the past year."
ARTIST LIST
Cathy Abramson




Simone Agoussoye




Maremi Andreozzi




Carol Antezana




Desmond Beach




Julia Bloom




Michael Booker




Kimberly Brammer




Nikki Brugnoli




Florencio Campello




Carlos Carmonamedina




Sandra Chen Weinstein




Peter Cizmadia




Wesley Clark




Dominick Cocozza




Robin Croft




Sora DeVore




Sarah Dolan




Mike Dowley




Nekisha Durrett




Tae Edell




Bria Edwards




Kate Fleming




Chawky Frenn




Amelia Hankin




Michael Hantman




Leslie Holt




Michael Janis




Jane Kell




Jean Jinho Kim




Katherine Knight




Ara Koh




Kokayi




Gary Kret




Kate Kretz




Catherine Levinson




Kirsty Little




Kim Llerena




Aaron Maier-Carretero




Timothy Makepeace




David Mordini




Barbara Muth




Werllayne Nunes 




Zsudayka Nzinga




Jennifer O'Connell




John Pan




Judith Peck




Shedrick Pelt




Kristina Penhoet




Marta Pérez García




Lydia Peters




Junko Pinkowski




Dominick Rabrun




Mojdeh Rezaeipour




Marie Ringwald




Janathel Shaw




Joseph Shetler




Nicolas F. Shi




Tim Tate




Julio Valdez




Jessica Valoris




Ian White




Richard L. Williams Jr.




Colin Winterbottom
EXHIBITION SUPPORT
Inside Outside, Upside Down is organized by The Phillips Collection.
This juried invitational is part of the museum's centennial exhibition, Seeing Differently: The Phillips Collects for a New Century. As such we recognize the following sponsors.
The exhibition is generously supported by a lead gift from the Henry Luce Foundation.

With significant contributions from the National Endowment for the Humanities, Charles McKittrick, Jr., the DC Commission on the Arts and Humanities, the Ednah Root Foundation, the Frauke de Looper Trust, and the Robert and Arlene Kogod Family Foundation

Made possible by the Carolyn Alper Fund for Contemporary Art and The Phillips Collection's Exhibitions Endowment Fund, which is generously supported by the Sherman Fairchild Foundation, Michelle and Glenn Engelmann, Robert and Debra Drumheller, and The Marion F. Goldin Charitable Fund
Special thanks to our key academic partner, University of Maryland, a global leader in research, entrepreneurship, and innovation


Any views, findings, conclusions, or recommendations expressed in this exhibition do not necessarily represent those of the National Endowment for the Humanities.
In-kind contributions provided by


The wall colors in this exhibition: Cabbage White (No. 269), Down Pipe (No. 26), Inchyra Blue (No. 289), Railings (No. 31)
IMAGE GALLERY
High-resolution press images are available upon request. Please contact jmitchell@phillipscollection.org.
IMAGES CLOCKWISE FROM TOP LEFT:1. Kim Llerena, Stonewall Jackson (dismantled), Monument Avenue, Richmond, Virginia, 2020, Archival pigment print, 20 x 16 in., Courtesy of the artist; 2. Desmond Beach, #SayTheirNames 2, 2021, Fabric and paper, 25 x 21 1/2 in., Courtesy of the artist; 3. Joseph Shetler, Untitled (quiet in the city), 2020, Mixed acrylic ground, graphite powder, marble dust, and silverpoint on panel, 48 x 32 x 2 in., Courtesy of the artist; 4: Kristina Penhoet, How Many More?, 2020, Fiber, dimensions variable, Courtesy of the artist; 5. Nicolas Shi, I Am Not A Virus, 2021, Acrylic on canvas, 40 x 30 x 1 1/2 in., Courtesy of the artist; 6. Carol Antezana, Las Gingas, 2021, Digital photographic print, 20 x 16 in., Courtesy of the artist
ABOUT THE PHILLIPS COLLECTION
The Phillips Collection, America's first museum of modern art, was founded in 1921. The museum houses one of the world's most celebrated Impressionist and American modern art collections, and continues to grow its collection with important contemporary voices. Its distinctive building combines extensive new galleries with the former home of its founder, Duncan Phillips. The Phillips's impact spreads nationally and internationally through its diverse and experimental special exhibitions and events, including its award-winning education programs for educators, students, and adults; renowned Phillips Music series; and dynamic art and wellness and Phillips after 5 events. The museum contributes to global dialogues with events like Conversations with Artists and Artists of Conscience. The Phillips Collection values its community partnerships with the University of Maryland—the museum's nexus for scholarly exchange and interdisciplinary collaborations—and THEARC—the museum's satellite campus in Southeast DC. The Phillips Collection is a private, non-government museum, supported primarily by donations.
# # #