The Phillips Collection Presents Renoir and Friends
July 20, 2017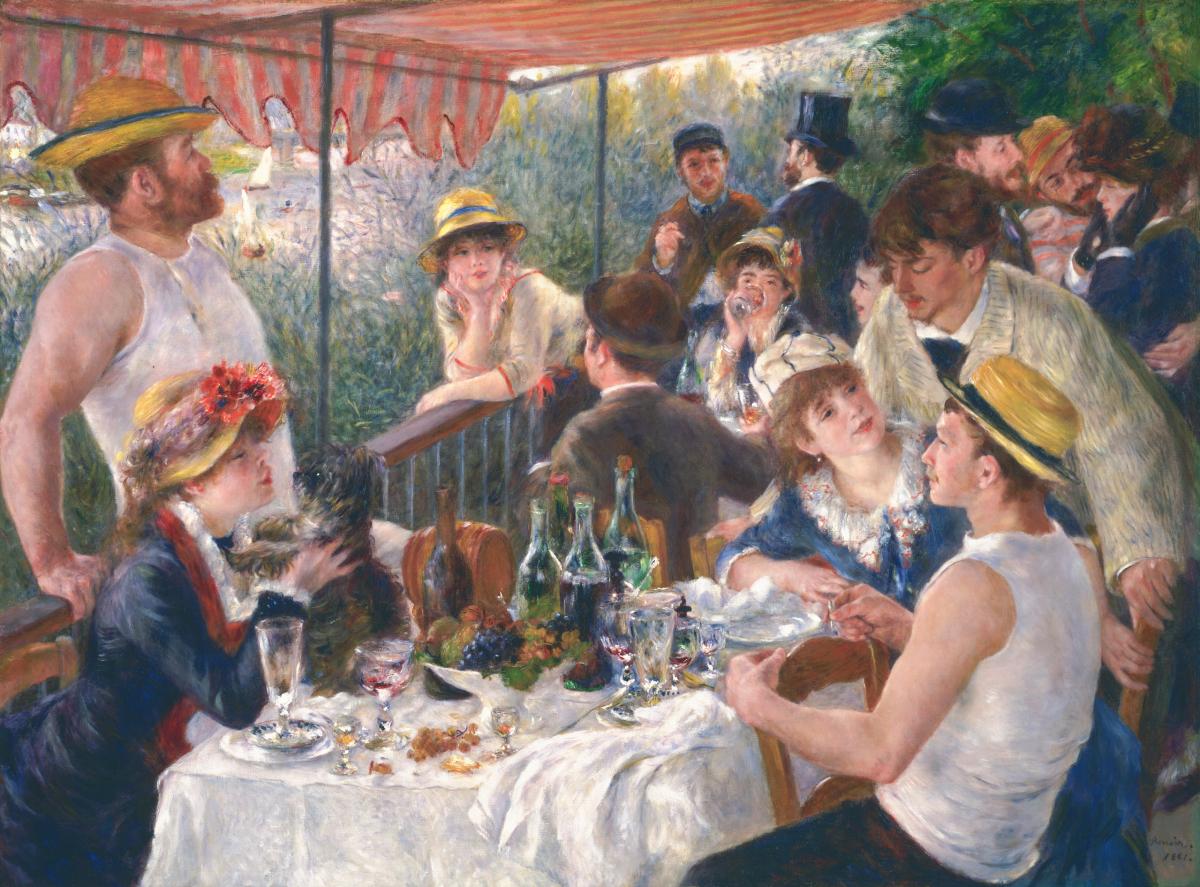 Tickets on Sale Soon for Single-Venue Exhibition Celebrating Renoir's Luncheon of the Boating Party
WASHINGTON—Opening this fall on October 7, The Phillips Collection presents an exceptional exhibition inspired by the museum's celebratedLuncheon of the Boating Party (1880–81) by Pierre-Auguste Renoir. Comprised of more than 40 carefully chosen works from private and public collections around the world, Renoir and Friends: Luncheon of the Boating Party explores the process by which the artist created his masterwork, while also recounting and illustrating stories of the diverse circle of friends who inspired it. The exhibition is Eliza Rathbone's first as Chief Curator Emerita.
"As the Phillips draws closer to our centennial year, it is a very fitting time to shed new light on one of the gems of our permanent collection," said Phillips Director Dorothy Kosinski. "I am delighted that Renoir's masterwork will be displayed alongside numerous other works by the artist and his contemporaries, helping further contextualize this remarkable painting."
Recognized today as one of the greatest achievements of the artist's career, the work is a marvel of plein-air painting on a grand scale. While no known preparatory studies exist for this masterwork, the years before Renoir completed Luncheon of the Boating Party were marked by encounters with riverside locations along the Seine west of Paris and with specific individuals who helped him realize his ambitious undertaking. No other large-scale painting by Renoir—with the exception of the Dance at the Moulin de la Galette (1876)—comprises as many figures as Luncheon of the Boating Party.
"Luncheon of the Boating Party represents so much more than a diverse group of friends having a lovely time," said Phillips Chief Curator Emerita and project director Eliza Rathbone. "Much has been written about Renoir and his work. Our project seeks to separate fact from fiction and to uncover as much specific detail and evidence as possible in order to bring to life the group of journalists, critics, models, collectors, and world travelers who inspired Renoir. By looking closely at these individuals, we find ourselves in a fascinating backstory that sheds light not only on this great enterprise and its models but on the artist himself."
Only on view at The Phillips Collection, this single-venue exhibition opens October 7, 2017, and closes January 7, 2018. Tickets will become available for purchase here on Thursday, July 27.
GETTING TO KNOW THE BOATING PARTY
While never intended as a group portrait, the individuals depicted in the painting appear nonetheless highly individualized and based on specific people in Renoir's life. Figures seen in Luncheon of the Boating Party who were especially influential during Renoir's career include his wife and frequent muse Aline Charigot, artist and boating enthusiast Gustave Caillebotte, and art critic and collector Charles Ephrussi.
Displayed alongside the famed masterpiece will be rare and iconic works by the artist and his contemporaries that offer insight into Renoir's fascinating group of friends. Aline Charigot appears in important works that include Dance in the Country (1883) from the Musée d'Orsay as well as loans from the Rhode Island School of Design Museum; Museum of Fine Arts, Boston;
Philadelphia Museum of Art; among others. A rich spectrum of works by Renoir's close friend Gustave
Caillebotte will also be on view. Highlights include A Man Docking His Skiff (1878) from the Virginia Museum of Fine Arts, The Yellow Boat (1891) from the Norton Simon Museum, and rarely seen loans from private collections. A rare portrait of key supporter Charles Ephrussi will be on view alongside works that were part of his own private collection as well as publications that shed light on his extraordinary life and achievements.
The stories of Renoir's models will also be told through photographs, prints, drawings, and even a small selection of hats, on loan from the Museum of the City of New York, similar to those worn by the individuals depicted.
FINDINGS BENEATH THE SURFACE
Renoir's process for creating Luncheon of the Boating Party has long been something of a mystery. Featuring a room dedicated to research on the masterwork, the exhibition will include an in-gallery interactive that uses fresh findings from x-radiographic and infrared images and paint cross-sections, offering new clues into Renoir's development of the painting.
"Drawing upon a recent technical study on Luncheon of the Boating Party, I am excited to share new discoveries made about the painting," said Phillips Head of Conservation Elizabeth Steele. "Inspection of the surface in raking light compared to the same passages in x-radiographic and infrared images reveal numerous changes that the artist made while completing the painting, and scientific analysis of the paint layers further illuminates these revisions. Through richly illustrated text panels and a groundbreaking in-gallery interactive, visitors will for the first time be able to track Renoir's development of the composition on their own."