The Phillips Collection Presents an Installation in Solidarity with Ukraine
March 23, 2022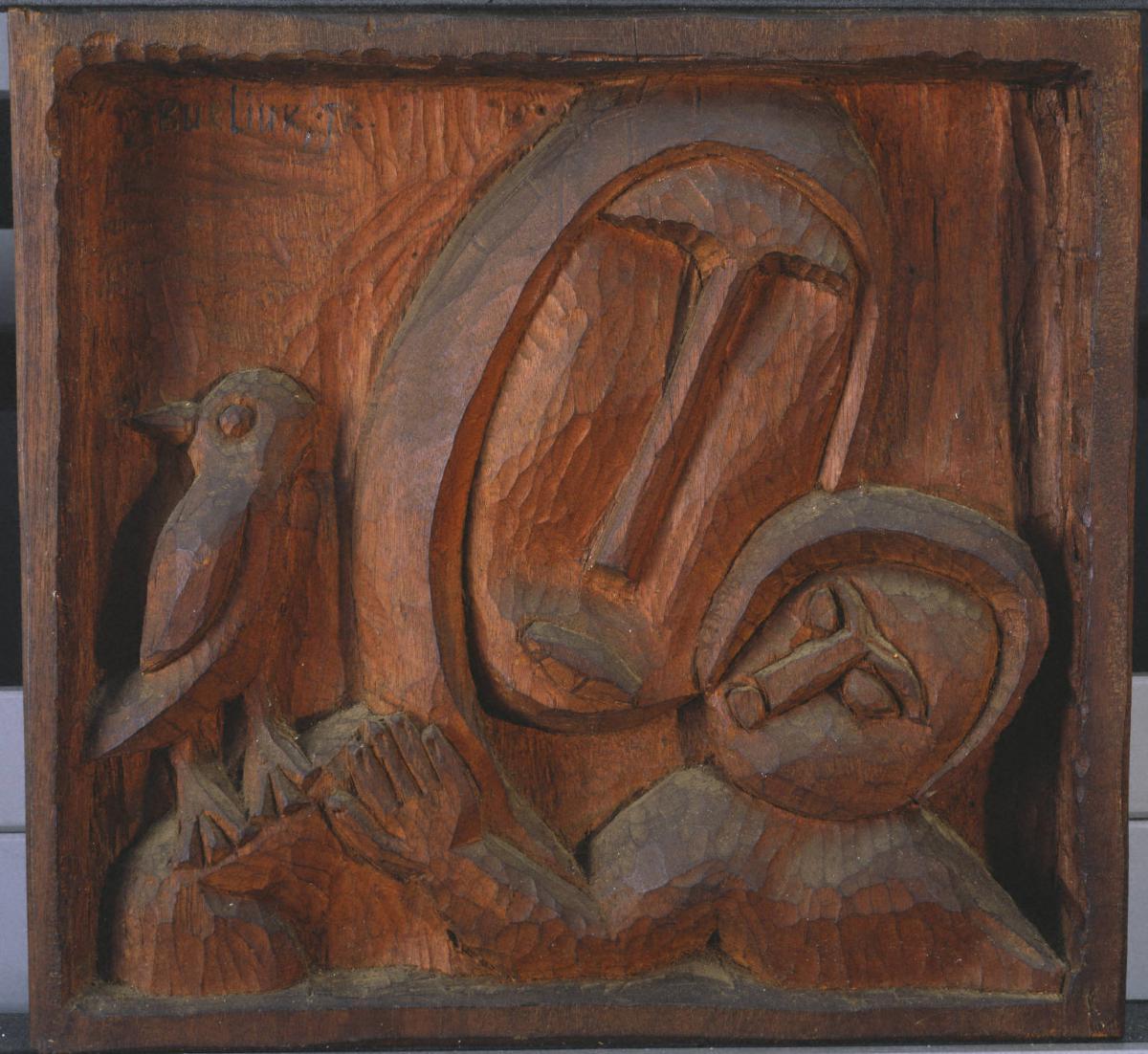 The museum pays tribute to artists of Ukrainian ancestry
WASHINGTON, DC—During this time of violent attacks against Ukraine, the Phillips wishes to express solidarity with Ukraine by paying tribute to influential artists of Ukrainian ancestry in the museum's collection. In the Goh Annex Stairwell are five works by four Ukrainian-born artists: contemporaries Alexander Archipenko (b. Kyiv, 1887), John Graham (b. Kyiv, 1887), and David Burliuk (b. Kharkiv, 1882); and Burliuk's son, David Burliuk, Jr. (b. Tchernianka, near Kherson, 1913).
In the 1920s, Archipenko, Graham, and Burliuk and his family fled Russia after the Russian Revolution and settled in the United States, where they became leaders in international vanguard art circles. Their innovative work came to the attention of collectors, such as Société Anonyme founder Katherine Dreier and Phillips Collection founder Duncan Phillips. The Phillips Collection acquired in-depth holdings of work by Graham and Burliuk, giving each their first solo museum exhibition in 1929 and 1939, respectively. In 1953, Archipenko entered the collection. 
Through their active careers in the United States, Archipenko, Burliuk, and Graham became catalysts in cross-cultural exchanges that fueled the course of 20th-century art.

IMAGE GALLERY
High-resolution press images are available upon request. Please contact jmitchell@phillipscollection.org.
IMAGE: David Burliuk, Jr., Mother and Child with Bird, Not dated, Carved wood, 14 1/4 x 15 1/4 x 2 1/8 in., The Phillips Collection, Acquired c. 1938
 
ABOUT THE PHILLIPS COLLECTION
The Phillips Collection, America's first museum of modern art, was founded in 1921. The museum houses one of the world's most celebrated Impressionist and American modern art collections, and continues to grow its collection with important contemporary voices. Its distinctive building combines extensive new galleries with the former home of its founder, Duncan Phillips. The Phillips's impact spreads nationally and internationally through its diverse and experimental special exhibitions and events, including its award-winning education programs for educators, students, and adults; renowned Phillips Music series; and dynamic art and wellness and Phillips after 5 events. The museum contributes to global dialogues with events like Conversations with Artists and Artists of Conscience. The Phillips Collection values its community partnership with THEARC—the museum's satellite campus in Southeast DC. The Phillips Collection is a private, non-government museum, supported primarily by donations.

THE PHILLIPS AT HOME
Download the free Bloomberg Connects app to learn more about artworks and hear from artists.