The Phillips Collection Presents To Future Women
January 12, 2018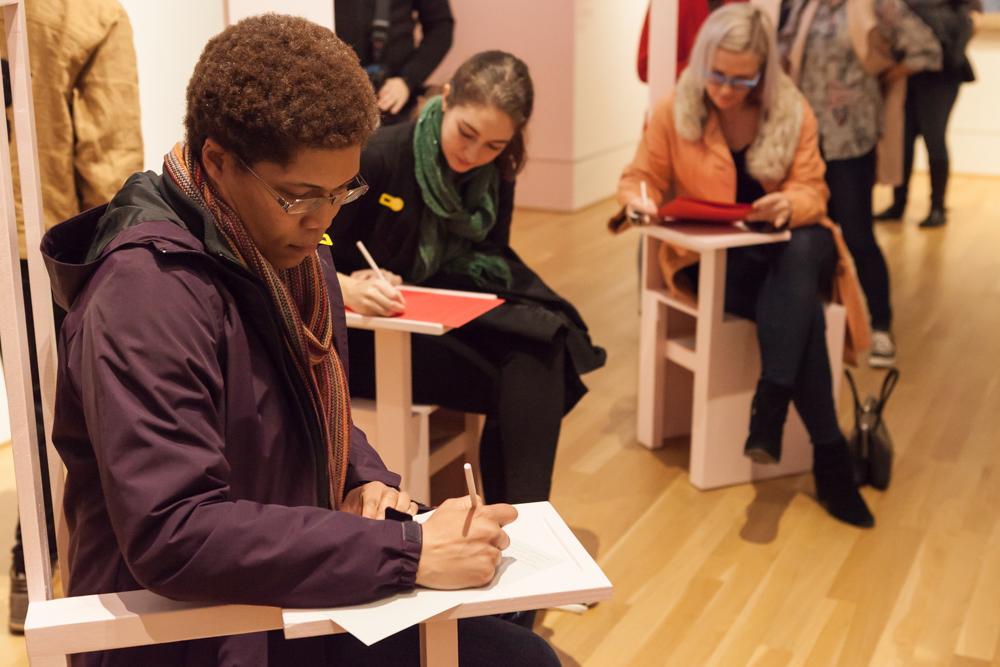 Interactive Artwork by Georgia Saxelby Celebrates the Anniversary of the Women's March
WASHINGTON—The Phillips is proud to presentTo Future Women, a project created by artist Georgia Saxelby that marks the anniversary of the Women's March. The interactive artwork is on view at The Phillips Collection beginning January 21, the one-year anniversary of the Women's March, through February 14.
The installation invites participants to write a letter to women in 20 years. Part art and part
history, these letters will be archived by The Phillips Collection and re-exhibited on January
21, 2037, historicizing one of the largest demonstrations in American history while creating a time capsule for the next generation of women.
"To Future Women is about creating echoes. It is about generating our own histories by passing down our own stories. It is about acknowledging the women who will come after us by acknowledging our collective role in creating their future," said artist Georgia Saxelby.
"The Phillips is honored to host this installation commemorating such a historic event," said Phillips Director Dorothy Kosinski. "The Women's March on Washington occurred locally, but the impact was, and continues to be, felt globally."
To Future Women seeks to reinterpret the current cooperative acts of feminine solidarity and self- expression. The project aims to reactivate and repurpose museum spaces that were used and visited during the Women's March in Washington, DC, while acknowledging the city as the epicenter of a movement that spread worldwide.
The project aims to include participants throughout America and beyond. Those who cannot visit the museum may submit letters via mail. After launching at The Phillips Collection, the work will travel to different cultural institutions and public spaces in Washington, DC, over the following six months. Additionally, the collective trove of letters will be digitized and made available on a virtual platform. They will be accessible to the public for a limited period of time before being replaced by a countdown toward January 21, 2037. Portions of the letters will be periodically made available throughout the next 20 years on dates significant to the history of women. For updates, visit www.tofuturewomen.com.
To Future Women is supported by local DC-based institutions and organizations including The Phillips Collection, Halcyon Arts Lab, IA&A at Hillyer, and Stable.
PUBLIC PROGRAMS
January 21, 4 pm: Opening and Gallery Talk with Georgia Saxelby