The Phillips Collection Announces Updated Exhibition Schedule
May 15, 2020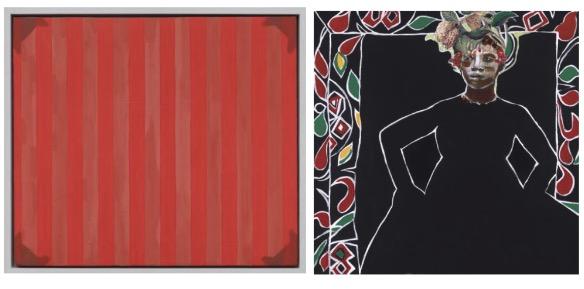 Special exhibitions Moira Dryer and Riffs and Relations extended
WASHINGTON, DC—To accommodate its temporary closure due to the covid-19 pandemic, The Phillips Collection announces the extensions of current special exhibitions, Moira Dryer: Back in Business to December 13, 2020, and Riffs and Relations: African American Artists and the European Modernist Tradition to January 3, 2021.
"We are grateful to our partnering institutions and lenders that have allowed us to extend these two important exhibitions so that they may be enjoyed by the public when it is safe to do so. The Phillips was founded on the principles of the deep connection between art and wellness, and has prided itself as a place of inspiration, contemplation, and community gathering. The museum hopes to open its doors again soon, and welcome all visitors back to continue this tradition, especially throughout the year of 2021 when we will celebrate our Centennial," says Vradenburg Director and CEO of The Phillips Collection Dr. Dorothy Kosinski.
Featuring 22 of her richly textured and color saturated paintings and sculptures, Moira Dryer: Back in Business, is the first comprehensive museum exhibition to consider the early work of Dryer (b. 1957, Toronto, Canada; d. 1992, New York City). From her beginnings in the early 1980s until her death, Dryer pursued a line of work in dialogue with modernist painting and abstraction while in consideration of more contemporary themes. The exhibition, previously scheduled to be on view from February 8–April 19, 2020, will be extended through December 13, 2020.
Riffs and Relations: African American Artists and the European Modernist Tradition presents works by African American artists of the 20th and 21st centuries together with examples by the early 20th century European artists with whom they engaged. Featuring 72 works by a total of 53 artists, this exhibition explores the rich, multifaceted, and sustained connections and frictions around modernism in the work of artists such as Romare Bearden, Robert Colescott, Renee Cox, Wassily Kandinsky, Norman Lewis, Henri Matisse, Pablo Picasso, Faith Ringgold, Hank Willis Thomas, and Carrie Mae Weems, among others. Riffs and Relations is the recipient of the fifth Annual James A. Porter & David C. Driskell Book Award from the David C. Driskell Center for the Study of the Visuals Arts and Culture of African Americans and the African Diaspora at the University of Maryland.
A virtual tour of the exhibition is available via YouTube. Riffs and Relations, previously scheduled to be on view from February 29–May 24, 2020, and will be extended through January 3, 2021.
In response to coronavirus (COVID-19), both locations at 21st Street and Phillips@THEARC are temporarily closed to the public until further notice. We will continue to monitor and reassess future event plans on an ongoing basis as the situation continues to develop and adhere to the guidelines set forth by the Centers for Disease Control (CDC) and the D.C. Department of Health. During this time a number of resources are available through our website and social media channels. Please visitphillipscollection.org/stay-connected to learn more.