The Phillips Collection Announces Spring/Summer 2021 Intersections Project
April 5, 2021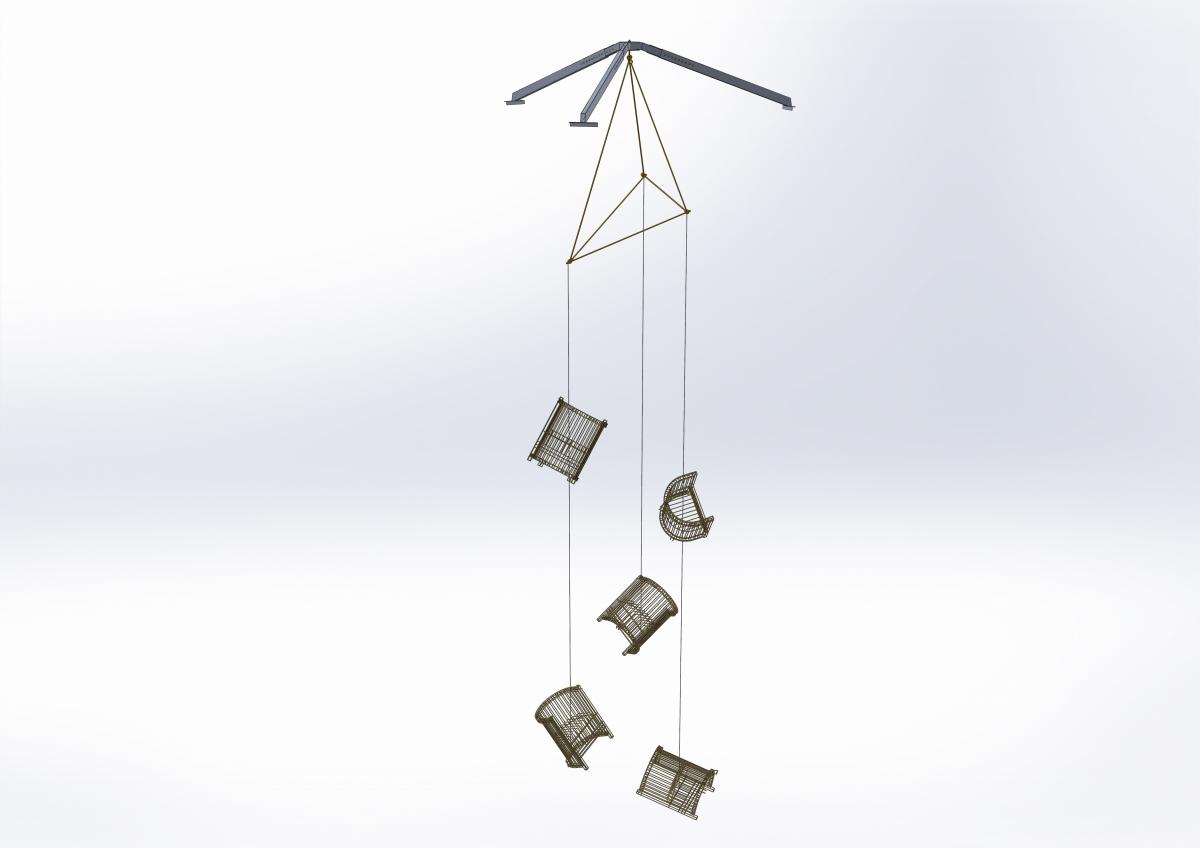 Australian artist Marley Dawson reimagines the history of the museum
WASHINGTON, DC—The Phillips Collection is delighted to announce its 29th Intersections project, Marley Dawson's ghosts. The Australian artist has created a site-specific project in two parts that respond to the Phillips's collection and architecture. Intersections—Marley Dawson: ghosts will be on view from May 20–September 5, 2021. The Embassy of Australia and HEMPHILL Artworks in Washington, DC, are organizing concurrent presentations of the artist's most recent body of work.
"We are thrilled to have the innovative Marley Dawson create these kinetic pieces that engage so whimsically with the museum space and artwork. As part of our centennial celebration this Intersections project continues to forge new connections between then and now, and reimagine the history of the Phillips in the present," says Dr. Vesela Sretenović, Senior Curator of Modern and Contemporary Art.
"The theme of Dawson's work connects to our centennial year, as we reflect on the Phillips's past and plan a new way forward," explains Vradenburg Director and CEO Dorothy Kosinski. "This multifaceted collaboration also suits our dedication to founder Duncan Phillips's values by connecting with our local community and engaging with our globalized world."
Inspired by the dramatic architecture of the Phillips's Goh Annex stairway, Dawson produces two groups of kinetic sculptures that accentuate its spiral configuration. In the first group—comprised of five chairs made in brass and suspended from the dome at different heights and rotating at different axis points—the artist creates a dialogue with both the stairway railing and the Phillips's early Modernist-Arts-and- Crafts-style chairs. While the shape and size of Dawson's chairs mirrors the Phillips chairs, the brass he uses is the same as the brass used for the railing. Whereas the museum's chairs are heavy and sturdy, Dawson's are weightless and almost translucent; they function like ethereal ghosts of actual objects.
Dawson's other piece—a wall mounted sculpture consisting of hundreds of brass rods hung on a machined brass track and assembled to allow movement—converses with Morris Louis's painting Number 182. The sculpture is scaled to two thirds, which is precisely Dawson's height, and the rods are arranged in various patterns to achieve the striped finish of the original painting. A small motor attached to the work oscillates the rods to give them a sway and hum that echo the shimmering radiance of Louis's painting.
Much like with his hanging chairs, Dawson reverses immaterial with material, shifting the liquidy stripes of Louis's painting into a solid sculptural mass. Entitled ghosts, the project reimagines the history of the museum in the present.
ABOUT MARLEY DAWSON
Marley Dawson (b. 1982, Wellington, NSW; lives and works in Australia) uses physics, chemistry, and engineering to construct experimental sculptures and installations that highlight the uncanny or surreal aspects of our everyday life. He often turns gallery space into a hall of wonder populated with sculptural works that look like familiar utilitarian objects—such as furniture, motor vehicles parts, baseball bats, or miniature rockets—but are instead imaginary art constructs. Dawson received a Bachelor and Master of Visual Arts from Sydney College of the Arts, Australia. His work has been exhibited in Australia at Roslyn Oxley9 Gallery, Sydney; Museum of Old and New Art, Hobart; and the Awesome Arts Festival, Perth; Para/Site, Hong Kong; and in Washington, DC at the Embassy of Australia and Hillyer Art Space.
INTERSECTIONS AT THE PHILLIPS
The exhibition is part of Intersections, the Phillips's ongoing series of contemporary art projects in which artists are invited to produce work that engages the museum's architecture and/or permanent collection, exploring the intriguing intersections between past and present. Inaugurated in 2009 and led by Senior Curator of Modern and Contemporary Art Vesela Sretenović, the Phillips's Intersections series has presented 29 projects from the US and abroad. The artists have created diverse projects—both aesthetically and conceptually—and employed various media, from wall-drawing, rubber-painting, and digital photography to video projection and yarn installation.
Intersections is presented by 

ABOUT THE PHILLIPS COLLECTION 
The Phillips Collection, America's first museum of modern art, was founded in 1921. The museum houses one of the world's most distinguished Impressionist and American modern art collections, and continues to grow its collection with important contemporary voices. Its distinctive building combines extensive new galleries with the former home of its founder, Duncan Phillips. The Phillips's impact spreads nationally and internationally through its diverse and experimental special exhibitions and events, including its award-winning education programs for educators, students, and adults; dynamic Phillips Music series; and popular meditation and Phillips after 5 events. The museum contributes to global dialogues with events like Conversations with Artists and Artists of Conscience. The Phillips Collection values its community partnerships with the University of Maryland—the museum's nexus for scholarly exchange and interdisciplinary collaborations—and THEARC—the museum's satellite campus in Southeast DC. The Phillips Collection is a private, non-government museum, supported primarily by donations.
IMAGE 1: Rendering of Marley Dawson's works inspired by the chairs in The Phillips Collection's galleries
###