The Phillips Collection Announces New Academic Partnership with University of Virginia
December 6, 2022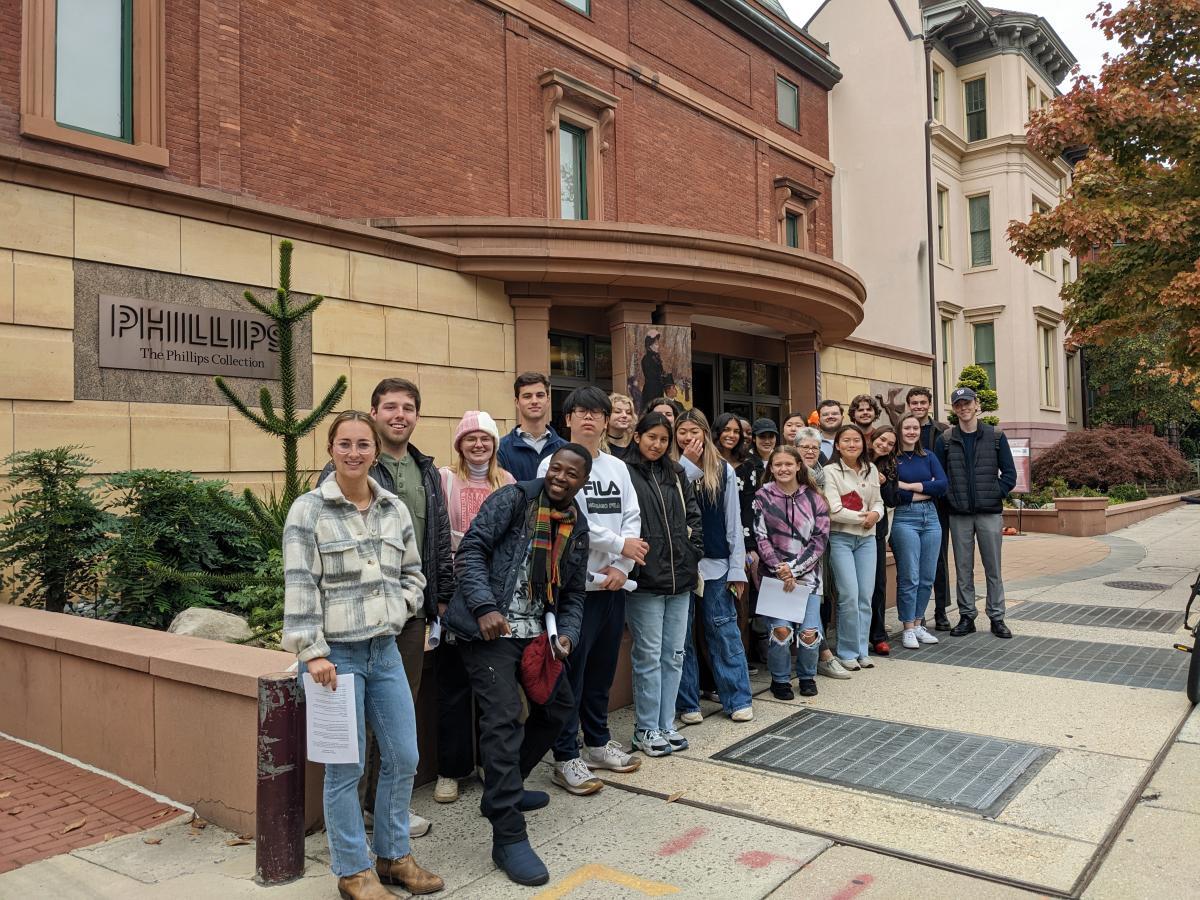 Washington, DC —The Phillips Collection is pleased to announce its new academic partnership with the University Virginia (UVA) in Charlottesville, Virginia. The partnership is slated to begin in fall 2023 and will provide rich and meaningful opportunities in education, innovation and research, interdisciplinary collaboration, and diversity and inclusion initiatives—all hallmarks of each institutions' mission.  
"I am thrilled that the Phillips is able to partner and collaborate with the University of Virginia," shares Vradenburg Director and CEO Dorothy Kosinski. "Both of our institutions have a longstanding commitment to advancing education, diversity, and creating the next generation of thoughtful leaders in the museum and visual arts field. As the museum heads into its next century, we look forward to working with and engaging with UVA and their students."
The collaboration between the museum and university will support two main programs—an annual Predoctoral Fellowship in Modern and Contemporary Art History and a Summer Undergraduate Internship. The fellowship will support graduate-level, interdisciplinary research in American, European, or non-Western art and art history from approximately the 1750s to the present. Proposals will focus on a commitment to social justice and an engagement with postcolonial and diasporic studies.  
"The new relationship between The Phillips Collection and the UVA Art Department provides tremendous opportunities for undergraduate and graduate students here at UVA. In the last few years, the Art Department has added terrific new faculty in the fields of modern art across the world, from Western Africa to the Middle East to the Americas," states University of Virginia Art Department Chair Douglas Fordham. "At the same time, our undergraduate majors and PhD students now come from a wider array of backgrounds and life experiences than ever before. In this dynamic disciplinary moment, a close working relationship with The Phillips Collection will strengthen these developments and enable students from all backgrounds to ask new questions of modern art and its place in a changing world."
"I am thrilled to be able to work closely with colleagues at the University of Virginia Art History Department and move forward this new and important academic partnership, states Phillips Director of Contemporary Art Initiatives and Academic Affairs Vesela Sretenović. "I am impressed by the wide range of the students' scholarly interests and pursuits, as well as their interdisciplinary approaches to American, European, and non-Western art that open the field toward critical issues of the past and present and provide an engagement with postcolonial and diasporic studies."
The Predoctoral Fellows in art history and archeology will perform independent scholarly work that broadens and diversifies their conducted research. They will work at the Phillips, allowing them to benefit fully from museum resources—including the library and archives and the permanent collection—furthering their dissertation research more deeply. Each fellow will present one public lecture, meet with Phillips colleagues, and participate in cross-departmental meetings, programs, and events. The Phillips Collection and UVA will select fellows according to the Phillips's DEAI strategic goals of fostering a professional and scholarly community that reflects the diversity of today's society.
The Summer Undergraduate Internship will run for an eight week-period and will be open to art history students from UVA who are interested in the museum cross-departmental experience, gaining firsthand exposure to arts and nonprofit administration.
IMAGE GALLERY
High-resolution press images are available upon request. Please contact communications@phillipscollection.org
IMAGE: University of Virginia art history students and Art History Professor Elizabeth Hutton Turner at The Phillips Collection
ABOUT THE PHILLIPS COLLECTION
The Phillips Collection, America's first museum of modern art, was founded in 1921. The museum houses one of the world's most celebrated Impressionist and American modern art collections and continues to grow its collection with important contemporary voices. Its distinctive building combines extensive new galleries with the former home of its founder, Duncan Phillips. The Phillips's impact spreads nationally and internationally through its diverse and experimental special exhibitions and events, including its award-winning education programs for educators, students, and adults; renowned Phillips Music series; and dynamic art and wellness and Phillips after 5 events. The museum contributes to global dialogues with events like Conversations with Artists and Artists of Conscience. The Phillips Collection values its community partnership with THEARC—the museum's satellite campus in Southeast DC. The Phillips Collection is a private, non-government museum, supported primarily by donations.
# # #