The Phillips Collection Announces Jonathan P. Binstock as its New Director
November 30, 2022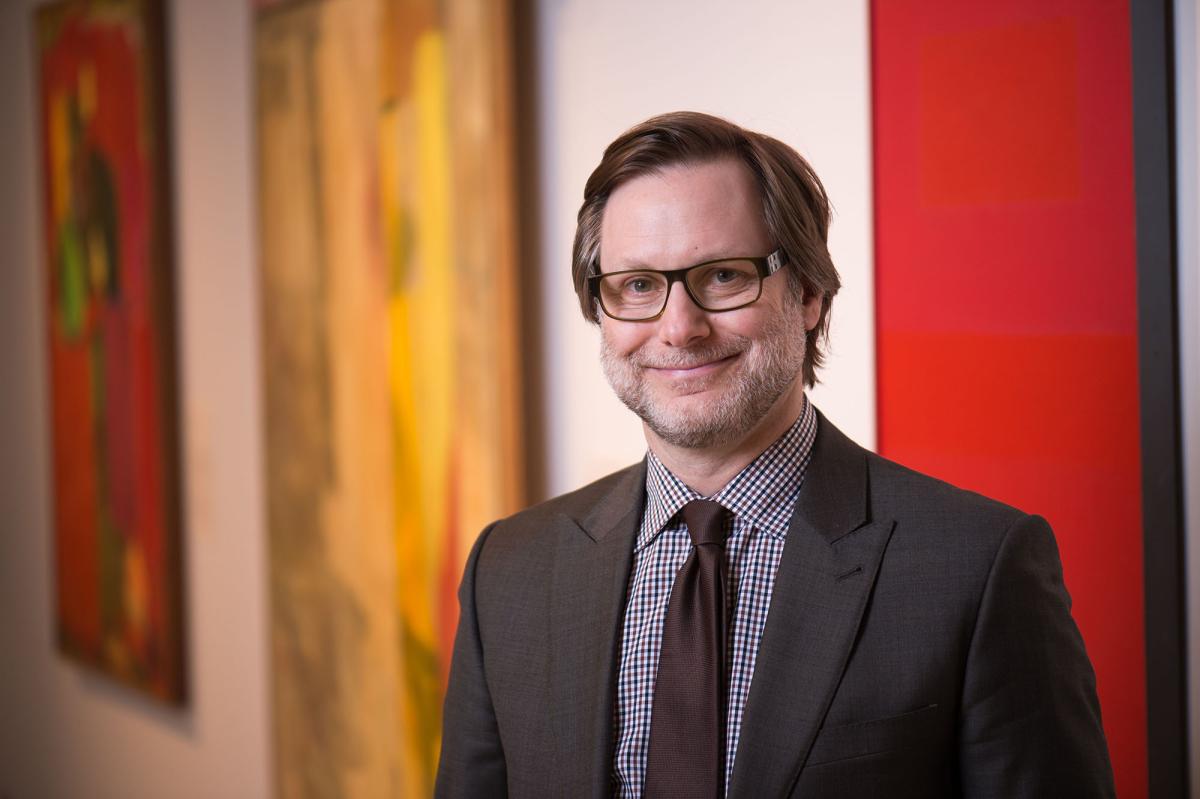 Museum executive, eminent scholar in modern and contemporary art, and leading expert on artist Sam Gilliam chosen to lead the museum into its second century
WASHINGTON, DC—The Phillips Collection is pleased to announce the appointment of Dr. Jonathan P. Binstock as its new Vradenburg Director and CEO. Dr. Binstock will begin his appointment on March 1, 2023, following eight years as the Mary W. and Donald R. Clark Director of the Memorial Art Gallery (MAG) of the University of Rochester in New York. Binstock will succeed Dr. Dorothy Kosinski, who is stepping down after 15 years of distinguished leadership and advancement.
Prior to Memorial Art Gallery, Binstock served as the Senior Vice President for Modern and Contemporary Art in the Art Advisory & Finance group of Citi Private Bank. He was Curator of Contemporary Art at the Corcoran Gallery of Art in Washington, DC, from 2000-07, and Assistant Curator at the Pennsylvania Academy of the Fine Arts in Philadelphia from 1998-2000.
During his tenure in Rochester, Binstock led an expansion and diversification of the museum's permanent collection, special exhibition program, public engagement and outreach efforts, and audience, as well as a significant increase in the museum's annual budget.
"We are delighted with the selection of Jonathan, the result of an exhaustive year-long search," says Phillips Board Chair John Despres. "He brings deep knowledge of the Phillips and the Washington, DC, art community. His track record in building a stellar contemporary art collection, with commissions from internationally important figures including Rashid Johnson and Isaac Julien, promises to catapult our own collection growth to new levels of excellence."
"The Phillips Collection is a museum I have treasured since first moving to Washington in 1994 to research my Ph.D. dissertation on Sam Gilliam," states Binstock. "I am thrilled and deeply honored to serve as the Phillips's new Vradenburg Director and CEO. Art has the potential to change how people see themselves and the world around them; art museums have an essential role to play in civil society. Museums are places where individuals can feel free to look, describe, and share what they perceive and think, and where deep listening brings people together around art. I strive to make a difference locally and, in the world, more broadly through my work as a museum professional. I look forward to leading the Phillips, a museum with deep community ties that makes important contributions to the global conversation on art and culture."
Outgoing director Kosinski states, "I am inspired by Jonathan's appointment. I see an exquisite alignment between his esteemed career, his deeply held values of equity, outreach, and community engagement, and the Phillips's demonstrated commitment to diversity and inclusion in all aspects of our work."
Binstock helped strengthen MAG's culture of equity and inclusion, by making it a priority to diversify the museum's permanent collection, board leadership, and senior team to better reflect the surrounding community, leading to a significant expansion and diversification of its audience.
Binstock also pioneered a multi-year media arts program that has resulted in commissions by Julien and Javier Téllez, as well as acquisitions by Crystal Z. Campbell, Nam June Paik, Sondra Perry, and Bill Viola. Other important acquisitions include works by Nick Cave, George Condo, Beauford Delaney, Norman Lewis, Sol Lewitt, Hung Liu, Wendy Red Star, Mickalene Thomas, and Kara Walker.
Binstock holds a Ph.D. and Master's degree from the University of Michigan, Ann Arbor, where his dissertation focused on African American abstract artist Sam Gilliam. He earned a BA in art history and psychology from Washington University, Saint Louis. His work as an author includes "Alma Thomas: Apolitical Art in a Political World," which was reprinted in the 2016 Studio Museum exhibition catalogue on the artist, and Meleko Mokgosi: Pax Kaffraria for the UCLA Hammer Museum in Los Angeles. 
Binstock joins The Phillips Collection at a pivotal time in its history, having recently celebrated its 100th anniversary with more than 20 exhibitions and centennial commissions. The season commemorated the history and vision of Duncan and Marjorie Phillips and focused on the Phillips as a transformative, innovative, future-oriented forum for "seeing differently." Under Kosinski's leadership, The Phillips Collection has become a dynamic space for the community with cocreated programs and educational initiatives and is a leader in the principles and practice of diversity, equity, accessibility, and inclusion in the museum sphere. Additionally, Kosinski grew the permanent collection to over 6,000 objects, with an emphasis on contemporary art, photography, artists of color, and women. The museum's endowment has grown to close to $100M, supporting the creation of key funds, positions, and capital enhancements. 
As of January 1, 2023, Kosinski will assume the title of Director Emerita.
IMAGE GALLERY
High-resolution press images are available upon request. Please contact communications@phillipscollection.org
IMAGE: Dr. Jonathan P. Binstock. Photo: J. Adam Fenster, University of Rochester
ABOUT THE PHILLIPS COLLECTION
The Phillips Collection, America's first museum of modern art, was founded in 1921. The museum houses one of the world's most celebrated Impressionist and American modern art collections and continues to grow its collection with important contemporary voices. Its distinctive building combines extensive new galleries with the former home of its founder, Duncan Phillips. The Phillips's impact spreads nationally and internationally through its diverse and experimental special exhibitions and events, including its award-winning education programs for educators, students, and adults; renowned Phillips Music series; and dynamic art and wellness and Phillips after 5 events. The museum contributes to global dialogues with events like Conversations with Artists and Artists of Conscience. The Phillips Collection values its community partnership with THEARC—the museum's satellite campus in Southeast DC. The Phillips Collection is a private, non-government museum, supported primarily by donations.
###