The Phillips Collection Announces Concert Season for 2021
December 14, 2020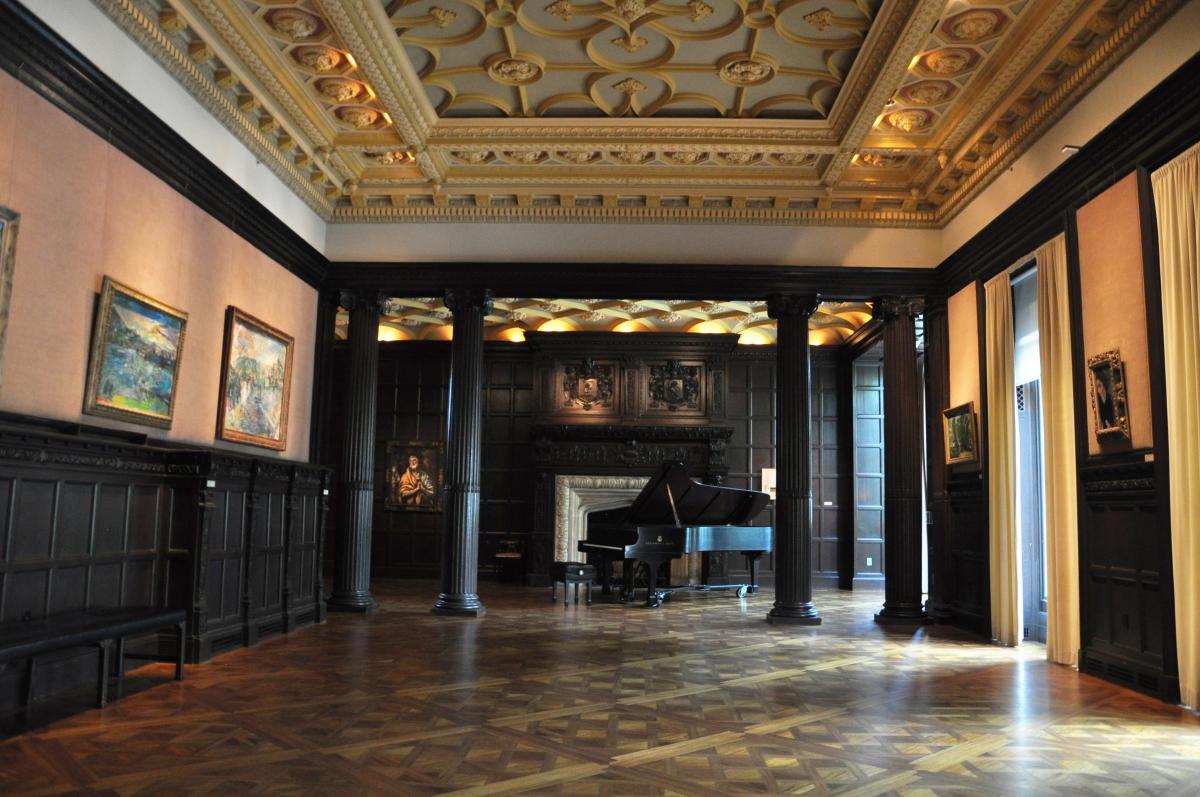 Celebrating the 80th anniversary season
WASHINGTON, DC—Marking the 80th year of the acclaimed concert series, The Phillips Collection announces a series of 20+ free live-streamed performances in 2021 from January to May, introducing debut artists, return performances, and an exciting series of commissions honoring The Phillips Collection's centennial celebration from some of the brightest voices in new music, including Benjamin Attahir, Nathalie Joachim, Outi Tarkiainen, inti-figgis vizueta, and Marcos Balter.
"This past year has encouraged us to embrace new technology and digital platforms to help us build upon the rich tradition of world-class performances at the Phillips," says Director of Music Jeremy Ney. "We are delighted to announce an 80th anniversary season like no other, with a roster of international artists performing live from the Music Room, or recorded from wherever they are in the world. We have tackled the challenges of the last few months—pushing the boundaries of what a concert experience can be—and we look forward to presenting our work digitally for the first time in our long history."
"As we head into the institution's centennial year celebration, we welcome the opportunities presented by digital media to make our dynamic concerts accessible to audiences far beyond our Music Room," says Vradenburg Director and CEO Dorothy Kosinski. "Our music series has developed under the leadership of our Director of Music, Jeremy Ney, to feature not only great chamber music but also interdisciplinary projects that explore the confluence between music and visual art. This is clearest in our ambitious commission plans, which celebrate a roster of composers who have all chosen recent acquisitions from our collection as the inspiration for new musical works. We thank Dr. Sachiko Kuno and the Sachiko Kuno Foundation for their generosity in supporting the Phillips Music Centennial Commission Fund."
PHILLIPS MUSIC
Highlights of the 80th anniversary season include performances from dynamic artists who are leading the way in chamber music today, with debuts from trail-blazing young artists Conrad Tao (piano) and Stefan Jackiw (violin) who open the season on January 3. Notable concerts from the 2019/20 season that were postponed due to the pandemic will find a new platform digitally, including performances by the remarkable American countertenor Anthony Roth Costanzo with pianist Bryan Wagorn (January 10), and the Boston-based Castle of our Skins (January 15). Celebrated pianists Nicolas Angelich (February 7) and David Greilsammer (February 14) also make their debut, along with soprano Leah Hawkins (March 14). In a special performance building upon their digital programming with the Phillips in August 2020, pianist and composer Aaron Diehl returns to our stage with multi-instrumentalist, composer and MacArthur Fellowship award winner Tyshawn Sorey for a genre-defying concert experience that explores the permeable boundaries between notated and improvised music.
NEW MUSIC COMMISSION CELEBRATING THE PHILLIPS COLLECTION'S CENTENNIAL
New commissions are a centerpiece of the 80th anniversary season, with five new works that explore the creative dialogues between music and visual art. Each composer was invited to respond to works in the collection, with a special focus on new acquisitions that will be featured in the major centennial exhibition Seeing Differently: The Phillips Collects for a New Century, on view February 20–September 12, 2021.
January 17, 2021 (world premiere)
French/Lebanese composer Benjamin Attahir has written a new work for oboist Olivier Stankiewicz. The piece, Al Maghrib (Red Run) responds to Joan Miró 1950 painting The Red Sun by weaving together the influence of Arabic harmonic language with stylistic references to the Spanish baroque tradition.
March 7, 2021 (world premiere)
Haitian/American composer Nathalie Joachim has chosen the artwork of Whitfield Lovell as inspiration for a new work for the innovative group Imani Winds. Joachim, whose music explores concepts of memory, place, and the musical traditions of the global African-diaspora, has chosen Lovell's evocative Kin Series for a new work for wind quintet. Each performer is given a solo movement connected to a memento in their own life, echoing Lovell's intensely personal artistic practice.
April 11 2021 (world premiere)
Finnish composer Outi Tarkiainen will explore the 1978 painting Immortal Prints by American artist Richard Pousette-Dart as the inspiration for a new work for solo piano, written for Paavali Jumppanen. Tarkiainen explores concepts of nature and the forces of light and dark, and her creative response to the artwork of Pousette-Dart is combined with the twin influence of Sámi poetry, with a corresponding text by Nils-Aslak Valkeapää.
May 2, 2021 (world premiere)
Up and coming American composer inti figgis-vizueta writes a new work for the trail-blazing Attacca Quartet inspired by the work of two artists in the permanent collection: Alyson Shotz and linn meyers. Drawn to abstract visual vocabularies as the backdrop for musical explorations that draw upon intersectional personal identities, figgis-vizueta's collaborative process breaks down the barrier between composer, performer, and audience, creating communal experiences through intricately woven soundscapes.
May 9, 2021 (world premiere)
We present the world premiere of a new 25-minute work by Brazilian/American composer Marcos Balter, written for countertenor Anthony Roth Costanzo and the Shanghai Quartet and co-commissioned by Chamber Music America and The Phillips Collection. The new work, titled "Therapy," explores concepts of catharsis and the healing potential of creativity, anchored with text from Gertrude Stein's "Tender Buttons" and inspired by Alfonso Ossorio's Recovery Drawings from the permanent collection. Ossorio sketched the 42 Recovery Drawings while in the hospital recovering from heart failure. The evocative set of artworks proves that physical restrictions need not constrain imagination, and that limitations can hold the power to be both generative and transformative.
LEADING INTERNATIONAL COMPOSERS
In collaboration with the University of Maryland School of Music and the Clarice Smith Center for the Performing Arts, we present Vijay Iyer as our Leading International Composer for 2021. Vijay has received numerous awards—including a MacArthur Fellowship—for work that has seen him shine not only in a variety of musical genres but also in collaborations with poets, filmmakers, and choreographers. We present two sides of this eclectic figure of experimental American music across weekends in April and May.
Sunday April 18, 2021 (at The Phillips Collection): Vijay Iyer, Arooj Aftab, Shahzad Ismaily, piano, bass, vocals
On Sunday, April 18, Vijay Iyer presents a new trio, Love in Exile, with vocalist Arooj Aftab and guitarist/bassist Shahzad Ismaily. Love in Exile is a meditative and poignant exploration of the power of music created at the juncture of cross-cultural traditions.
Saturday, May 1, 2021 (at the University of Maryland): Vijay Iyer, Tyshawn Sorey, Linda May Han Oh, piano, bass, percussion Ahead of the release of their new album on ECM records, Vijay Iyer presents new music with long-time collaborators and fellow genre-defying musicians Tyshawn Sorey, percussion, and Linda May Han Oh, bass. This performance will be live-streamed from UMD's Dekelboum Concert Hall and simulcast at The Phillips Collection.
CONCERT INFORMATION AND TICKETING
During the 80th anniversary season, all concerts will be live streamed for free with registration. Performances will be available on demand for 7 days after each broadcast date. Registration will open each month for concerts the following month (registration for performances in January is open now).To view the complete season, visit https://www.phillipscollection.org/music.
CONSIDER SUPPORTING PHILLIPS MUSIC DURING THE 80th ANNIVERSARY YEAR
In order to fund our program of live performances and make them available to audiences online, we rely on the generosity of music enthusiasts near and far. If you are able, please consider joining Phillips Music as either a Phillips Chamber Society member or Season Sponsor. Benefits for this season include behind-the-scenes exclusives, artist and composer interviews, and more. For more information about how you can support Phillips Music during the 80th anniversary season, please contact Major Gifts Officer Chloe Post at cpost@Phillipscollection.org or 504.494.8886.