The Phillips Collection Announces a Captivating 2022/23 Concert Season
August 25, 2022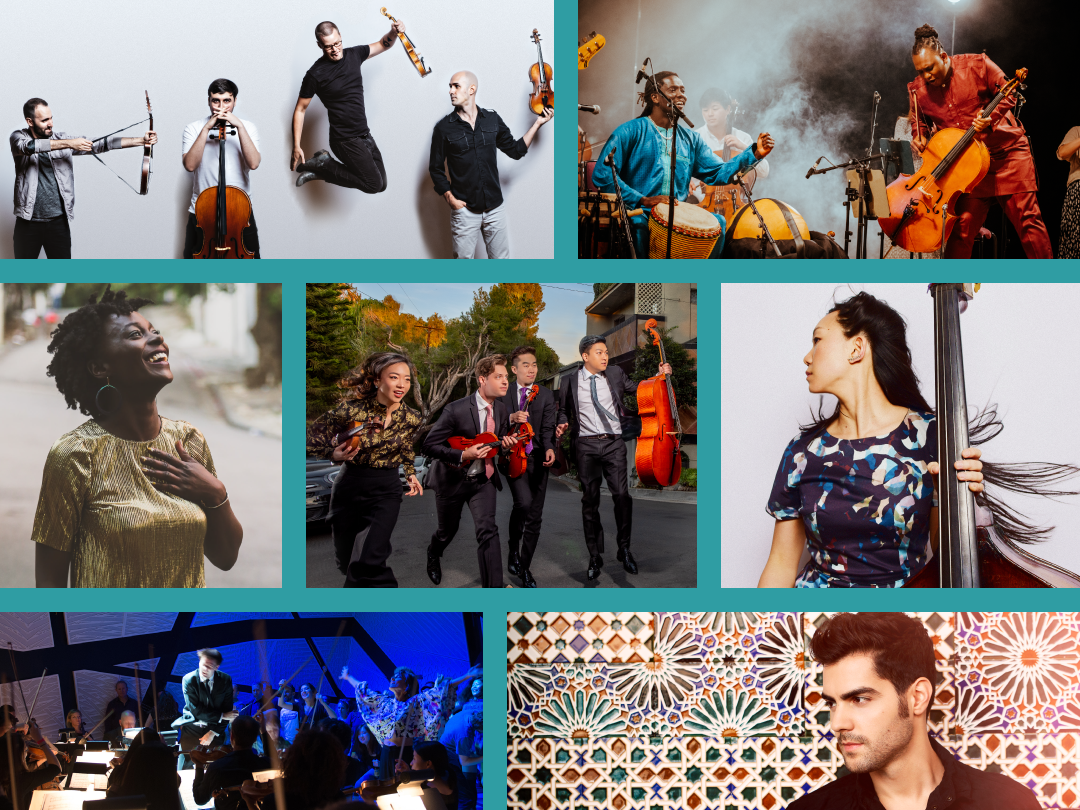 The diverse and multifaceted performance season features
award-winning musicians, new commissions, and partnerships.
Washington, DC—The Phillips Collection celebrates its 82nd year of dynamic music performances with a local, national, and international line-up of critically-acclaimed artists and partnerships with Howard University, the Lithuanian Embassy, and the Queen Elisabeth Music Chapel in Belgium. The Phillips Music series continues to connect audiences and artists from around the world together through a diverse range of musical styles, world premieres and new commissions. The upcoming concert season will be simultaneously livestreamed and begins October 9 with UK-based Manchester Collective and South-African cellist Abel Selacoe. Tickets are available at phillipscollection.org.
"Over the past two years, the Phillips Collection has found new ways to engage audiences beyond the gallery walls and into the digital realm with our music series at the forefront of this endeavor," says Vradenburg Director and CEO Dorothy Kosinski. "This season's rich and diverse performances are a vibrant part of our cultural offerings which can be enjoyed nationally and internationally."
Highlights of the 82nd Season include the dynamic collaboration, Siroco, from UK-based Manchester Collective and South-African cellist Abel Selacoe (October 9). Grammy-nominated pianists Joyce Yang (October 16) and Kirill Gerstein (February 12) make their Phillips debut featuring celebrated music from the 19th and 20th century. Leading jazz artists bassist Linda May Han Oh and pianist Fabian Almazan perform an original program that showcases their decades long musical partnership (October 23). The Phillips continues its long-standing partnership with the Queen Elisabeth Music Chapel with violist Miguel da Silva and the Rolston Quartet (November 13).  Celebrating outstanding young chamber musicians, the Phillips presents the debut performance of the Junction Trio (December 11). Two composers who were commissioned during the Phillips's 2021 centennial year to respond to works in our collection also make their performance debuts, with Nathalie Joachim (November 20), and Gabriel Kahane (January 22). Pianist Michelle Cann champions the work of Florence Price, the first Black woman to have had symphonic works performed by a major orchestra (April 30).
"It has been a joy to assemble a full season of concerts after the past two years," shares Senior Director of Philips Music Jeremy Ney. "This season shines a light on the breadth of musicality demonstrated by the leading artists of our time, proving that 'classical' music is truly a broad church capable of encompassing great music of the past with the best of today. It is an art form thriving because of its diversity. We at the Phillips are proud to provide a stage for our musicians to enthrall us, captivate our attention, and elucidate the many meanings that music holds for us all."
New Music Commissions
Continuing founder Duncan Phillips's exploration of the dialogues between visual art and music, the 82nd season of Phillips Music includes the world premiere of The Additive Arrow composed by Catherine Lamb performed by Conrad Tao and Jay Campbell. These newly commissioned musical works respond to visual art through music and sound. Commissions are generously supported by Dr. Sachiko Kuno and the Sachiko Kuno Foundation.
Leading International Composers – A portrait of George Walker
The 2022/23 season of the Leading International Composer series will feature a concert-profile of composer and pianist George Walker (1922-2018). 2022 marks 100 years since Walker's birth in Washington, DC, a city he called home for much of his childhood. Walker gave his first public recital at Howard University's Andrew Rankin Memorial Chapel. Considered a trailblazer of 20th- and 21st-century American music, he was the first Black performer to appear in performance with the Philadelphia Orchestra and the first Black musician to receive a doctoral degree from Eastman. Walker's many firsts are perhaps best captured by his singular achievement in 1996: the Pulitzer Prize for Lilacs for Voice and Orchestra. Cellist Seth Parker Woods, a longtime advocate of Walker's music, has curated a special performance featuring a stellar ensemble of musicians including George Walker's son, Gregory Walker, Natalia Kazaryan, Andrew Rosenblum, and Zachary Wood.
Concert Schedule
Sunday, October 9: Siroco: Manchester Collective & Abel Selacoe
Sunday, October 16: Joyce Yang, solo piano
Sunday, October 23: Linda May Han Oh, bass & Fabian Almazan, piano|
Sunday, October 30: Miloš Karadaglić, solo guitar
Sunday, November 6: A portrait of George Walker
Sunday, November 13: The Rolston Quartet & Miguel da Silva, viola
Sunday, November 20: Nathalie Joachim, flute & Yvonne Lam, violin
Sunday, November 27: Alexi Kenney, violin & Bridget Kibbey, harp
Sunday, December 4: Andrius Zlabys, solo piano
Sunday, December 11: Junction Trio
Thursday, January 15: Aaron Diehl, piano & Joshua Banbury, vocalist
Sunday, January 22: Gabriel Kahane, solo piano & guitar
Sunday, January 29: Owls, string quartet
Sunday, February 12: Kirill Gerstein, solo piano
Thursday, February 16: Musicians from Marlboro, chamber ensemble
Sunday, February 19: Albion Quartet
Sunday, February 26: Xavier Foley, solo double bass
Sunday, March 5: Alexi Kenney, solo violin
Sunday, March 12: Roman Rabinovich, solo piano
Sunday, March 19: Experiential Orchestra, chamber orchestra
Sunday, March 26: Danbi Um, violin & Amy Yang, piano
Sunday, April 2: Clayton Stephenson, solo piano
Saturday, April 8: Conrad Tao, piano & midi keyboard & Jay Campbell, cello
Thursday, April 13: Musicians from Marlboro, chamber ensemble
Sunday, April 30: Michelle Cann, solo piano
Sunday, May 7: Melissa White, violin & Pallavi Mahidhara, piano
Concert Information and Ticketing
In-person and virtual tickets are on now on sale.
ABOUT PHILLIPS MUSIC
For more than 80 years, Phillips Music has presented exceptional young musicians alongside an international roster of recognized performers in the intimate, art-filled setting of the museum's Music Room. The Sunday Concerts series at The Phillips Collection is one of the longest running music series in Washington, DC, originally managed by Duncan Phillips's assistant, Elmira Bier, who served as the first Director of Music at The Phillips Collection. Now a renowned space for international chamber music, the Sunday Concerts series is expanding beyond the walls of the Music Room to embrace livestreaming, bringing the connection between art and music in its unique space and its world-class performers into your home. Sunday Concerts offer imaginative programming of the classics, while the Leading International Composers series presents the best of new music.

IMAGE GALLERY High-resolution press images are available upon request. Please contact communications@phillipscollection.org.
CREDIT: Jonathan Monaghan, Move the Way you Want (still), 2022,Vertical video (color, sound), media player, projector, 8-minuteseamless loop, Courtesy of bitforms gallery, New York 

ABOUT THE PHILLIPS COLLECTION The Phillips Collection, America's first museum of modern art, was founded in 1921. The museum houses one of the world's most celebrated Impressionist and American modern art collections, and continues to grow its collection with important contemporary voices. Its distinctive building combines extensive new galleries with the former home of its founder, Duncan Phillips. The Phillips's impact spreads nationally and internationally through its diverse and experimental special exhibitions and events, including its award-winning education programs for educators, students, and adults; renowned Phillips Music series; and dynamic art and wellness and Phillips after 5 events. The museum contributes to global dialogues with events like Conversations with Artists and Artists of Conscience. The Phillips Collection values its community partnership with THEARC—the museum's satellite campus in Southeast DC. The Phillips Collection is a private, non-government museum, supported primarily by donations.