The Phillips Collection Announces the 2023/24 Concert Season
August 22, 2023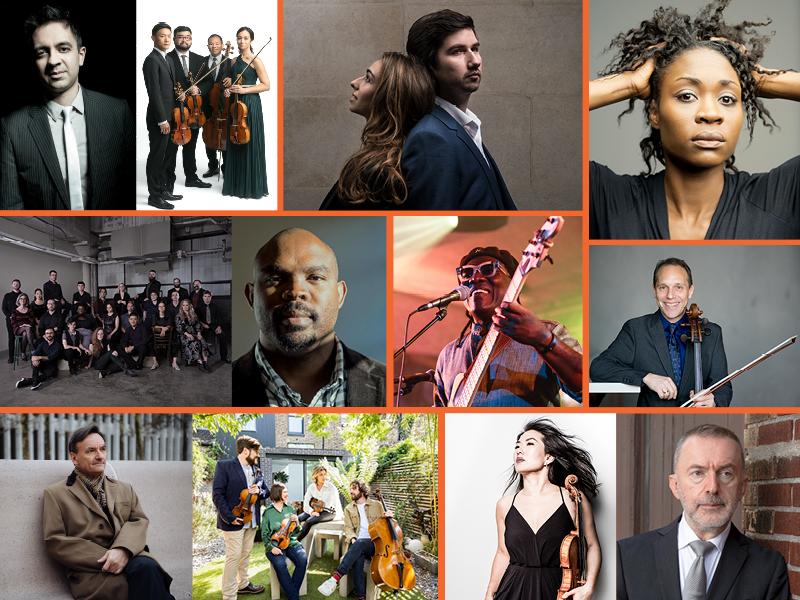 The diverse and multifaceted performance season features
award-winning musicians, new commissions, and continued partnerships.
Washington, DC—The Phillips Collection marks its 83rd Season of celebrated concerts with a line-up of critically-acclaimed artists as well as partnerships with the Queen Elisabeth Music Chapel, Howard University, and the USC Thornton School of Music. A pillar of the museum's cultural offerings, Phillips Music continues to connect audiences with artists celebrated worldwide, presenting a diverse range of styles, world premieres, and new collaborations. The upcoming season will be presented in-person and livestreamed in high-definition video with pristine sound and begins on October 15 with a solo recital by British pianist Isata Kanneh-Mason. Tickets will be released on September 5 at 12 pm ET at phillipscollection.org/music.
"The Phillips Music series is a place where audience members encounter the ideals that underpin the fabric of the Phillips as a whole: tradition and experimentation," says Vradenburg Director and CEO Jonathan P. Binstock. "Much like what guests encounter in our galleries, Jeremy Ney's selection of performances in our Music Room this season makes possible a range of opportunities for intellectual and spiritual nourishment."
Highlights of the season include a collaboration between renowned pianist/composer Vijay Iyer and the Parker Quartet (October 22). Lea Desandre and Thomas Dunford return to the Phillips to perform music for voice and lute highlighting Italian composers of the 16th and 17th century (November 5). The JACK Quartet presents Modern Medieval, a program which explores the connections between European composers of the past and American music today (December 3). Cellist Christopher Costanza of the St. Lawrence Quartet will perform all six of J.S. Bach's Cello Suites over two concerts (January 14). Violist Jordan Bak, flutist Adam Sadberry, and harpist Ashley Jackson perform the world premiere of a new work by Washington, DC, composer Jeffrey Mumford (February 4). Soprano Jeanine De Bique is joined by pianist Warren Jones for a varied recital that includes a selection of songs reflecting De Bique's exploration of the music of her native Trinidad and Tobago (February 25). Closing out the season, Livia Sohn and Pedja Mužijević will perform the world premiere of a new piece by composer Jonathan Berger titled Nach Rechts, Nach Links, inspired by Paul Klee's painting of the same name that serves as the season-wide visual theme. They will be joined by violist Ayane Kozasa and cellist Gabriel Cabezas for Robert Schumann's Piano Quartet in E-flat major, Op. 47 (May 5).
"Our stage is a microcosm of the museum's principles: to rationalize, communicate, and be forward-thinking," shares Senior Director of Phillips Music Jeremy Ney. "This season's concerts and projects continue to advance the programmatic threads that have made Phillips Music unique. It's a privilege to extend the rich and storied tradition of music at The Phillips Collection."
A Thematic Union of African Modernity
This season of Phillips Music explores parallels to the upcoming exhibition African Modernism in America, 1947–67, on view from October 7, 2023, through January 7, 2024. Pianist Rebeca Omordia surveys the multi-faceted and syncretic practices of composers across the African continent, convening traditional forms and Western notation (November 26). Grammy-winning Cameroonian multi-instrumentalist Richard Bona and his new group, Asante Trio, provide a testament to cultural collaboration with a fusion of jazz, Afro-Cuban, and African styles, embodying transatlantic musical affinities (December 14).
Leading International Composers – Andile Khumalo and Ensemble Dal Niente
The 2023/24 season of the Leading International Composer series presents South African composer Andile Khumalo (November 12). Khumalo curates a profile performance of his music with Chicago-based new music collective Ensemble Dal Niente, who return to the Phillips following their 2020 portrait of American composer George Lewis, Khumalo's mentor and teacher. 
Khumalo employs the tools and ideas of spectralism, the focus on acoustic properties of sound as a basis for composition, to mine the vast history of African music, producing works that often challenge the prevalent understanding of African music being driven primarily by rhythmic complexity. This concert is presented in conjunction with African Modernism in America, 1947–67 and in partnership with the Howard University Department of Music with additional support from the Washington Arts Ensemble.
Centennial Concert
The 2023/24 Centennial Concert presents a special season highlight featuring British pianist, composer, and polymath Sir Stephen Hough with the dynamic Castalian Quartet who made their US debut at the Phillips during the 2018/19 season (March 10). The ensemble forms a powerhouse of chamber music excellence, combining the extraordinary musical command and refinement of Hough with their sophistication and spontaneity as a collective. The concert is generously supported by those who endowed the annual Centennial Concert, established in 2022.
New Music Commissions
Acclaimed countertenor Anthony Roth Costanzo returns with the world-renowned Shanghai Quartet to perform the world premiere of a new long-form work by Brazilian-American composer Marcos Balter, co-commissioned by The Phillips Collection and Chamber Music American (April 14). Funding for this commission was generously provided by the Sachiko Kuno Foundation.
CONCERT SCHEDULE
Concerts begin at 4 pm unless otherwise noted 
Sunday, October 15: Isata Kanneh Mason, solo piano
Sunday, October 22: Parker Quartet with Vijay Iyer, piano
Sunday, October 29: Christine Lee, cello and Henry Kramer, piano
Sunday, November 5: Lea Desandre, mezzo-soprano and Thomas Dunford, lute
Sunday, November 12: Leading International Composers: Andile Khumalo and Ensemble Dal Niente
Sunday, November 19: Karim Sulayman, tenor and Sean Shibe, guitar
Sunday, November 26: Rebeca Omordia, solo piano
Sunday, December 3: JACK Quartet
Sunday, December 10: Inon Barnatan, solo piano
Thursday, December 14, 6:30 pm: Richard Bona and Asante Trio
Sunday, January 14, 1 pm and 4 pm: Christopher Costanza, solo cello
Sunday, January 21: Charlotte Saluste-Bridoux, violin and Evren Ozel, piano
Sunday, January 28: Eric Lu, solo piano
Sunday, February 4: Jordan Bak, viola, Adam Sadberry, flute, and Ashley Jackson, harp
Sunday, February 11: Joyce Yang, solo piano
Sunday, February 18: Natalie Clein, cello and Qing Jiang, piano
Sunday, February 25: Jeanine De Bique, soprano and Warren Jones, piano
Sunday, March 3: Trio Zimbalist
Sunday, March 10: Centennial Concert: Sir Stephen Hough, piano and Castalian String Quartet
Sunday, March 17: Khari Joyner, cello and Llewellyn Sánchez-Werner, piano
Sunday, March 24: Isidore Quartet
Sunday, April 7: Gary Hoffman, cello, Karen Su, violin, and Henry Kramer, piano, from the Queen Elisabeth Music Chapel
Sunday, April 14: Anthony Roth Costanzo, countertenor and Shanghai Quartet
Sunday, April 21: USC Thornton Chamber Virtuosi
Sunday, April 28: Dame Imogen Cooper, solo piano
Sunday, May 5: Livia Sohn, violin, Pedja Mužijević, piano with Ayane Kozasa, viola and Gabriel Cabezas, cello
TICKETING
In-person and virtual tickets will be released on September 5 at 12 pm ET at phillipscollection.org/music.
ABOUT PHILLIPS MUSIC
For more than 80 years, Phillips Music has presented exceptional young musicians alongside an international roster of recognized performers in the intimate, art-filled setting of the museum's Music Room. The Sunday Concerts series at The Phillips Collection is one of the longest running music series in Washington, DC, originally managed by Duncan Phillips's assistant, Elmira Bier, who served as the first Director of Music at The Phillips Collection. Now a renowned space for international chamber music, the Sunday Concerts series is expanding beyond the walls of the Music Room to embrace livestreaming, bringing the connection between art and music in its unique space and its world-class performers into your home. Sunday Concerts offer imaginative programming of the classics, while the Leading International Composers series presents the best of new music.

IMAGE GALLERY High-resolution press images are available upon request. Please contact lcantrell@phillipscollection.org.
IMAGES: (Left to right) Vijay Iyer, Photo Credit: Barbara Rigon; Lea Desandre and Thomas Dunford, Photo Credit: Julien Benhamou; Jeanine De Bique, Photo Credit: Marco Borggreve; Ensemble Dal Niente, Photo Credit: Alexander Perrelli; Andile Khumalo; Richard Bona, Photo Credit: Osmany Torres; Christopher Costanza, Photo Credit: Marco Borggreve; Sir Stephen Hough, Photo Credit: Jiyang Chen; Castalian Quartet, Photo Credit: Paul Marc Mitchell; Livia Sohn, Photo Credit: Dario Acosta; Pedja Mužijević, Photo Credit: Jacob Blinkenstaff 

ABOUT THE PHILLIPS COLLECTION The Phillips Collection, America's first museum of modern art, was founded in 1921. The museum houses one of the world's most celebrated Impressionist and American modern art collections, and continues to grow its collection with important contemporary voices. Its distinctive building combines extensive new galleries with the former home of its founder, Duncan Phillips. The Phillips's impact spreads nationally and internationally through its diverse and experimental special exhibitions and events, including its award-winning education programs for educators, students, and adults; renowned Phillips Music series; and dynamic art and wellness and Phillips after 5 events. The museum contributes to global dialogues with events like Conversations with Artists and Artists of Conscience. The Phillips Collection values its community partnership with THEARC—the museum's satellite campus in Southeast DC. The Phillips Collection is a private, non-government museum, supported primarily by donations.