The Phillips Collection Announces 2021 Centennial Year
December 4, 2020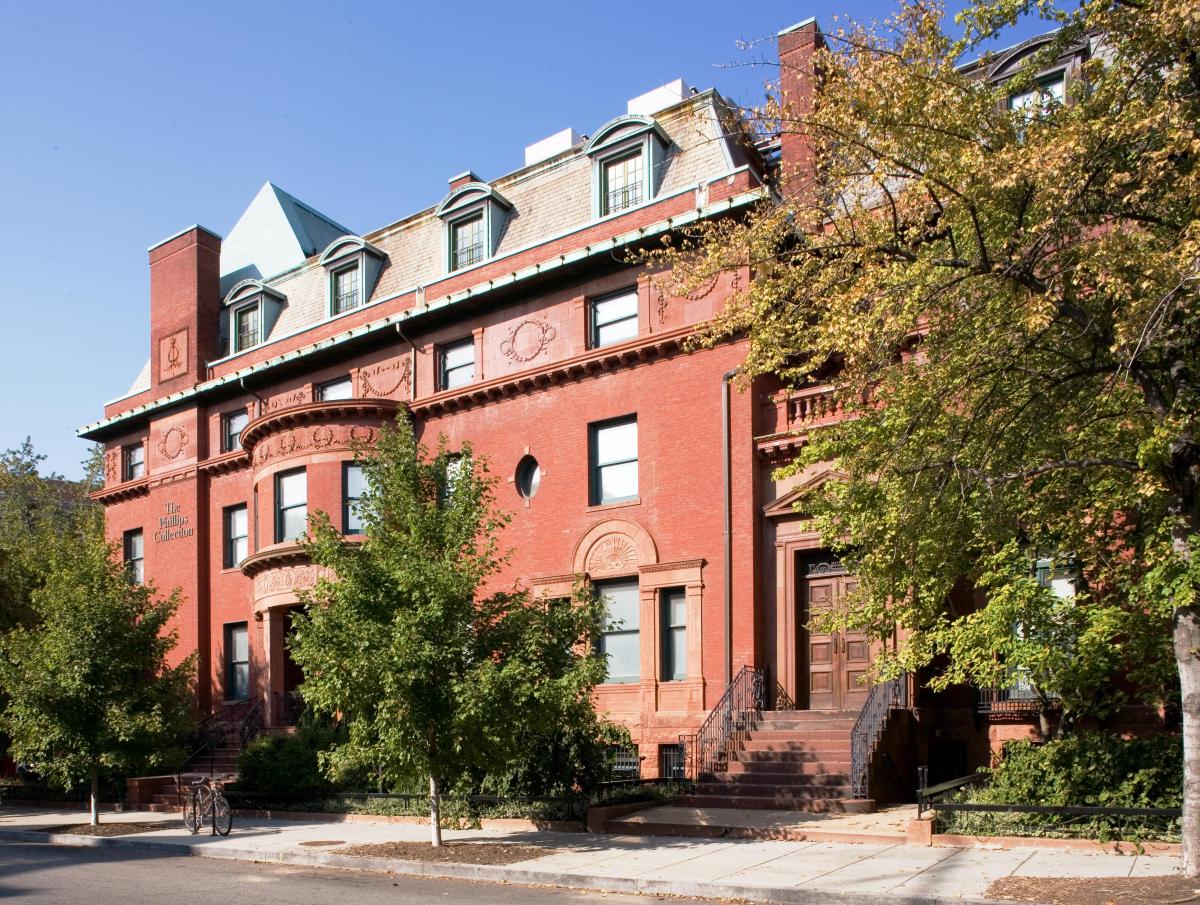 The Phillips celebrates 100 years of experimentation and impact through art
WASHINGTON, DC—The Phillips Collection announces its centennial year celebration in 2021. America's first museum of modern art, founded in 1921, will feature Seeing Differently: The Phillips Collects for a New Century, a special exhibition drawn from its growing permanent collection of 4,700 works, a juried invitational for artists of the DMV, as well as a rich array of exhibitions by renowned artists, including Jacob Lawrence, David Driskell, Alma Thomas, Marley Dawson, and Sanford Biggers. The 100th year celebration will encompass engaging programs and new initiatives in partnership with local artists and the museum's many community partners, including THEARC and the University of Maryland. The centennial year will represent 100 years of the Phillips as a welcoming space for community and dynamic innovation, and invites dedicated patrons and first-timers alike to join the museum for the next 100 years of experimentation and impact through art.
"Over our 100-year history, our museum has transformed from an intimate memorial to Duncan Phillips's father and brother, to a renowned museum on the world stage. As we start the next vibrant chapter of our story, we look forward to expanding our reach and impact by continuing to champion the powerfully diverse artistic expressions of our ever-changing world," says Vradenburg Director and CEO Dorothy Kosinski. "Our hearts are full of gratitude to The Phillips Collection's friends and donors whose generous support has ensured its vitality and made possible the sustained growth of its holdings and active engagement with the DC community and beyond over its hundred-year history."
The museum opened its doors 100 years ago as a memorial to founder Duncan Phillips's father, Duncan Clinch Phillips, and brother, James, who died in the 1918 flu epidemic. Recognizing the healing power of art, Phillips sought to share his "living" collection in a welcoming space and to inspire others to find beauty in the artist's unique way of seeing the world. The centennial celebrations will highlight the museum's commitment to using modern and contemporary art as a catalyst for conversation around urgent issues of our time, building community, and creating empathy.
A 100th anniversary is a major milestone, surely a time for celebration, but most importantly a moment for reflection, critical examination, and charting new directions. Some of our new initiatives include paid internships and fellowships to foster a professional pipeline for diverse young professionals, partnering with a broad range of organizations including THEARC and UMD to expand and enrich our reach, and intensive consultation about upcoming exhibitions and programs with a Community Advisory Board Committee that brings rich insights from  artists from DC and the region, from community activists, cultural leaders, and thought leaders in the areas of diversity and inclusion. The centennial exhibition will reveal the museum's collecting strategy that prioritizes diversifying the collection, and will include recent acquisitions of works by John Akomfrah, Renée Stout, Benny Andrews, Simone Leigh, Nara Park, and Aimé Mpane, among others. During the entire anniversary year the Phillips will highlight voices and perspectives from beyond our walls, helping us to reflect on our past while providing forward-thinking insights, ideas, and strategies.
"The future of the Phillips will emphasize a renewed commitment to community, deepening and expanding the museum's reach outside of its walls, transparently examining and sharing our institutional history, and centering diversity, equity, and inclusion into everything that we do in the museum and with the communities that we serve," says Chief Diversity Officer Makeba Clay.
 
CENTENNIAL EXHIBITIONS
Seeing Differently: The Phillips Collects for a New Century
February 20–September 12, 2021
Duncan Phillips believed in the power of art to inspire others to "see beautifully as true artists see." The centerpiece of the museum's centennial year, Seeing Differently: The Phillips Collects for a New Century provides a multiplicity of fresh perspectives on over 200 major works by artists from the 19th century to the present, including paintings, works on paper, photographs, quilts, sculptures, and film. Activating spaces throughout the entire museum with dynamic juxtapositions of art across time and media, the exhibition invites visitors to explore the complexities of our ever-changing world through our relationships to people, place, history, and the senses and to experience the Phillips's best kept secret—its growing collection.
Inside Outside, Upside Down
June 12–September 12, 2021
The Phillips Collection has a long history of presenting, acquiring, and nurturing our local artistic community. The Phillips will continue this important legacy by presenting a juried exhibition open to all artists of the greater DMV. Drawing on the theme Inside Outside, Upside Down, artists will be invited to submit work that speaks to the struggle and resiliency of the human spirit in the face of the global covid-19 pandemic and recent social upheavals.
Jacob Lawrence: American Struggle
June 26–September 19, 2021
Jacob Lawrence was one of the greatest narrative artists of the 20th century. His revolutionary, yet little-known, 30-panel series Struggle…From the History of the American People, painted between 1954 and 1956, invited a new way of chronicling erased histories about America's founding. For the first time since 1958, the series is reunited together with the latest discovery of panel 16, presenting a timely moment to address these panels' continued resonance in light of current social and political realities.
David Driskell: Icons of Nature and History
October 16, 2021–January 9, 2022
David Driskell: Icons of Nature and History offers the first retrospective of the paintings, prints, and drawings of the late internationally acclaimed American artist, art historian, and educator, who was also a beloved friend of The Phillips Collection and leader of the DC artistic community. Over 50 works highlight Driskell's expressive command of color, line, and symbolic form in his vibrant painting and printmaking practice—one rooted in his spiritual ties to the natural world and to the aesthetic innovations of the African diaspora.
Alma W. Thomas: Everything is Beautiful
October 30, 2021–January 23-2022
Alma W. Thomas: Everything is Beautiful provides a fresh perspective on the artist's dynamic long life and multifaceted career that was defined by constant creativity. Featuring approximately 100 works, including her rarely seen theatrical designs and beloved abstract paintings, this major retrospective, organized around multiple themes, traces Thomas's journey from semi-rural Georgia to Washington, DC, to international acclaim and demonstrates how her artistic practices affected every facet of her life—from community service and teaching to gardening and dressmaking.  
Intersections—Marley Dawson: ghosts
May 20–September 5, 2021
Using unconventional engineering techniques, Dawson creates two groups of kinetic sculptures: one is comprised of five chairs, riffing on the Phillips's early-Modernist-Arts-and-Crafts-style chairs and Goh Annex stairway, and suspended from the Goh Annex dome at different heights and rotating at different axis points; and the other is a wall mounted sculpture consisting of hundreds of rods that allow movement echoing the liquidy stripes of Morris Louis's painting Number 182. Entitled ghosts, the project reimagines the history of the museum in the present.
Intersections—Sanford Biggers: Mosaic
October 16, 2021–January 2, 2022
Biggers's new body of work connects works from the Phillips's collection to his multidisciplinary practice that bridges African American identities, Buddhism, and the Western art canon and raises social issues and critical awareness. One part is a site-specific floor installation made with sand in colors and patterns that reflect those in the Gee's Bend quilts displayed on the walls alongside a number of smaller quilts made by Biggers. The second part features Biggers's large hybrid marble figure that merges the formal and expressionist aspects of the Phillips's European modernist sculpture with the narrative elements and brute force of African art.
CENTENNIAL PROGRAMS & INITIATIVES

Community in Focus
To kick off the Centennial, the Phillips is presenting a community project to capture a unique photographic snapshot of 2020. The public is invited to submit a photograph from October 19–November 30 that captures a piece of this unprecedented year. Community in Focus aims to put together a collective portrait filled with the human emotions that connect us all. Select photographs will be on view at The Phillips Collection and Phillips@THEARC from January 9–February 7, 2021.
Phillips Music
2021 also marks the 80th anniversary of the renowned Sunday Concerts series. During this milestone year, the Phillips has launched an ambitious suite of new music commissions from a diverse and international group of artists, including composers Benjamin Attahir, Marcos Balter, Lembit Beecher, inti figgis-vizueta, Nathalie Joachim, Gabriel Kahane, Outi Tarkianen, and Paul Wiancko. Each new piece of music will engage with works from the collection, exploring the crosscurrents and dialogues between music and visual art, a subject close to The Phillips Collection's history.
New Website + Digital Engagement
The Phillips Collection will be launching a redesigned website that will allow users to better engage with our collection and exhibitions. The new site will include lesson plans for PK-12 educators, robust multimedia offerings, and more, all in a dynamic, user friendly interface. Live streaming of events and additional virtual programming will allow the museum to expand its audiences beyond the walls of the museum.