The Phillips Collection Announces 2019/20 Phillips Music Season
July 1, 2019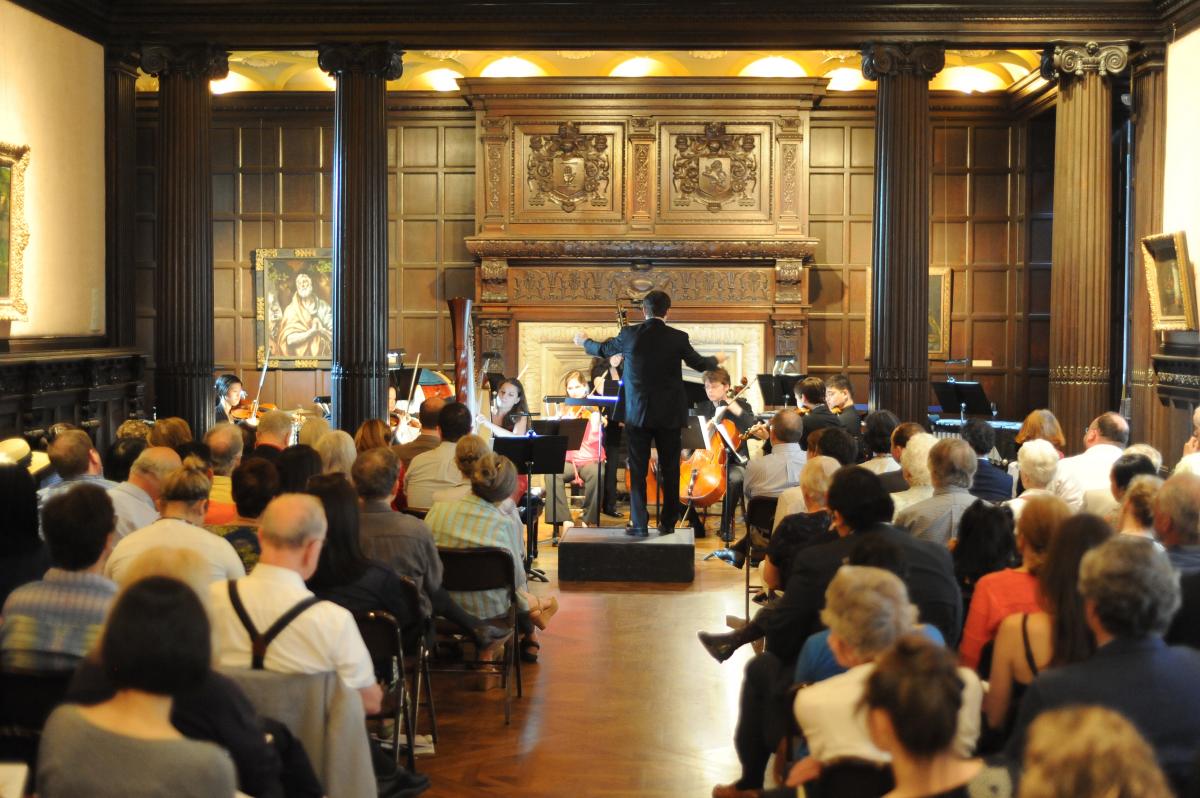 Performances Feature US and Washington, DC, Debuts, Full Schedule Below
WASHINGTON—Today The Phillips Collection announced the 79th concert season for the museum's prestigious music series. Beginning in September, the Phillips Music season includes 30 performances including Sunday Concerts, the Leading International Composers series, pre-season events, as well as summer vocal concerts.
"The sensorial and ineffable nature of music was a constant source of inspiration for artists in our permanent collection. Wassily Kandinsky, Paul Klee, Arthur Dove, and many others found in music a model for abstraction, a means to move toward new forms of visual expression. I am gratified that we will explore the connections between art and music throughout the 2019/20 concert season," said Vradenburg Director & CEO Dorothy Kosinski.
"This season, we build on the strengths of Phillips Music and its reputation as a venue for world class chamber music performed by renowned international artists and emerging talent. Exciting debut performances and Phillips Music firsts will be featured," said Director of Music Jeremy Ney. "As we head toward our centennial in 2021, I am also delighted to announce significant funding from the Sachiko Kuno Foundation to support our ambitious commissioning plans for this milestone year."
CONCERT HIGHLIGHTS
The Phillips Collection's 79th concert season builds on the museum's long-established tradition of thrilling live performances in the intimate space of the Music Room. Throughout this season, we present special concert projects that explore the rich connections between music and the visual arts. Three concerts aligned with the fall 2019 exhibition Bonnard to Vuillard: The Intimate Poetry of Everyday Life—The Nabi Collection of Vicki and Roger Sant will feature repertoire inspired by the symbolist aesthetic of the Nabi (November 10, December 15, January 12). As part of the spring 2020 exhibition Riffs and Relations: African American Artists and the European Modernist Tradition, Phillips Music presents four concerts that examine the vivid exchanges of ideas between African American composers and their European counterparts (February 26, March 1, March 8, April 19).
Cellist Seth Parker Woods (September 12) presents a pre-season event in conjunction with the exhibition The Warmth of Other Suns: Stories of Global Displacement. Parker Woods's program features two Washington, DC, premieres including a new work inspired by Jacob Lawrence's Migration Series by Nathalie Joachim, co-commissioned by The Phillips Collection and The Seattle Symphony.
Acclaimed American pianist and Beethoven interpreter Jonathan Biss performs a mini- cycle of the Piano Sonatas of Ludwig van Beethoven in celebration of the composer's 250 anniversary (November 3, December 1, March 22). The cycle features sonatas from Beethoven's early, middle, and late periods, including Piano Sonata No. 8 in C minor, Op. 13 "Pathetique," Piano Sonata, No. 21, Op. 53 "Waldstein," and thecomposer's monumental triptych: the final three sonatas of Op. 109, Op. 110, and Op. 111.
A remarkable young American countertenor, Anthony Roth Costanzo (March 29) has been making waves in the vocal world as much for his visionary approach to programming as his flawless technique in the core Baroque operatic repertoire. Roth Costanzo presents music from his recent album Glass/Handel, which creates dynamic conversations between the music of composers radically separated by time and style: George Frideric Handel and Philip Glass.
Nelson Freire (April 5), widely respected as one of today's great pianists, was once described by his record label Decca as "the best kept secret in the world of piano." For his Phillips debut, Freire presents an adroit program of music associated with his 60-year career, including music by Sergei Rachmaninoff, Johannes Brahms, Frédéric Chopin, Wolfgang Amadeus Mozart, and Zygmunt Stojowski.
Two dynamic composer-performers known for their hybrid musical styles, Gabriel Kahane and Caroline Shaw join the brilliant Attacca Quartet for a special collaboration (May 3). The ensemble presents music from CarolineShaw's 2019 album Orange (six works for String Quartet written for the Attacca Quartet) and music from Gabriel Kahane's Book of Travelers.
LEADING INTERNATIONAL COMPOSERS
For the 2019/20 season of Leading International Composers, we present a concert profile of the iconoclastic American composer George Lewis (March 1). Awarded the MacArthur "Genius" Fellowship in 2002, Lewis is a multifaceted creative artist recognized for his visionary work in computer music and his accomplishments as a composer, performer, improviser, and scholar. Lewis has maintained a close working relationship with the Chicago-based new music collective Ensemble Dal Niente. The group presents a wide-ranging portrait of Lewis, including a 2018 work written for the Ensemble, Assemblage, and earlier works Mnemosis (2012) and Hexis (2013).
2019/20 CONCERT SEASON
September 12, 2019 Seth Parker Woods, cello, 6:30 pm (Exhibition Concert)
October 13, 2019 Paquito D'Rivera, clarinet, and Harlem Quartet
October 20, 2019 Christian Tetzlaff, violin, and Lars Vogt, piano
October 27, 2019 Z.E.N. Trio
November 3, 2019 Jonathan Biss, solo piano
November 10, 2019 Axelle Fanyo, soprano, Bénédicte Jourdois, piano, and George Fu, piano
(Exhibition Concert)
November 17, 2019 Vision String Quartet
December 1, 2019 Jonathan Biss, solo piano
December 8, 2019 Francisco Fullana, violin, and Tomomi Sato, piano (Exhibition Concert)
December 15, 2019 Claremont Trio
January 12, 2020 Quatuor Hermès, Kerson Leong, violin and Jonathan Fournel, piano
(Exhibition Concert)
January 19, 2020 Roderick Williams, baritone, and Julius Drake, piano
January 26, 2020 St. Lawrence String Quartet
February 2, 2020 Bridget Kibbey, harp, and Alexi Kenney, violin
February 9, 2020 Doric String Quartet
February 16, 2020 New Chamber Ballet and Ensemble: Stray Bird, 1 & 4 pm
February 23, 2020 Aaron Diehl, solo piano (Exhibition Concert)
March 1, 2020 Leading International Composers: Ensemble Dal Niente (Exhibition Concert)
March 8, 2020 Washington National Opera's Domingo-Cafritz Young Artists
(Exhibition Concert)
March 15, 2020 Nadia Sirota, viola, Gabriel Cabezas, cello, and James McVinnie, piano
March 22, 2020 Jonathan Biss, solo piano
March 29, 2020 Anthony Roth Costanzo, countertenor, and Bryan Wagorn, piano
April 5, 2020 Nelson Freire, solo piano
April 19, 2020 Castle of our Skins, string quartet (Exhibition Concert)
April 26, 2020 Miriam Fried, violin, and Musicians from Ravinia's Steans Music Institute
May 3, 2020 Gabriel Kahane, Caroline Shaw and Attacca Quartet
May 10, 2020 Imogen Cooper, solo piano
June 11, 2020 Vocal Colors: Wolf Trap Opera
July 9, 2020 Vocal Colors: Wolf Trap Opera
TICKETING
Reservations are strongly recommended. First tickets (for the September pre-season event) will be released on July 1; please reference ticket schedule table for additional on sale dates. Online reservations are available until 12 hours before each concert. Tickets are $45, $25 for members, $20 students with ID, and $5 for youths 8-18; museum admission for that day is included. All artists and programs are subject to change. Up-to-date concert details, ticket policies, and venue information is available here: www.phillipscollection.org/music.
| | | | | | |
| --- | --- | --- | --- | --- | --- |
|   | CONCERTS |   | | ON SALE DATE |   |
|   | September |   |   | July 1 |   |
|   | October |   | | August 1 |   |
|   | November |   |   | September 1 |   |
|   | December |   | | October 1 |   |
|   | January |   | | November 1 |   |
|   | February |   |   | December 1 |   |
|   | March |   | | January 1 |   |
|   | April |   |   | February 1 |   |
|   | May |   |   | March 1 |   |
|   | June |   |   | April 1 |   |
|   | July |   |   | May 1 |   |