The Phillips Collection and The University of Maryland Present International Forum Weekend in Washington
October 7, 2016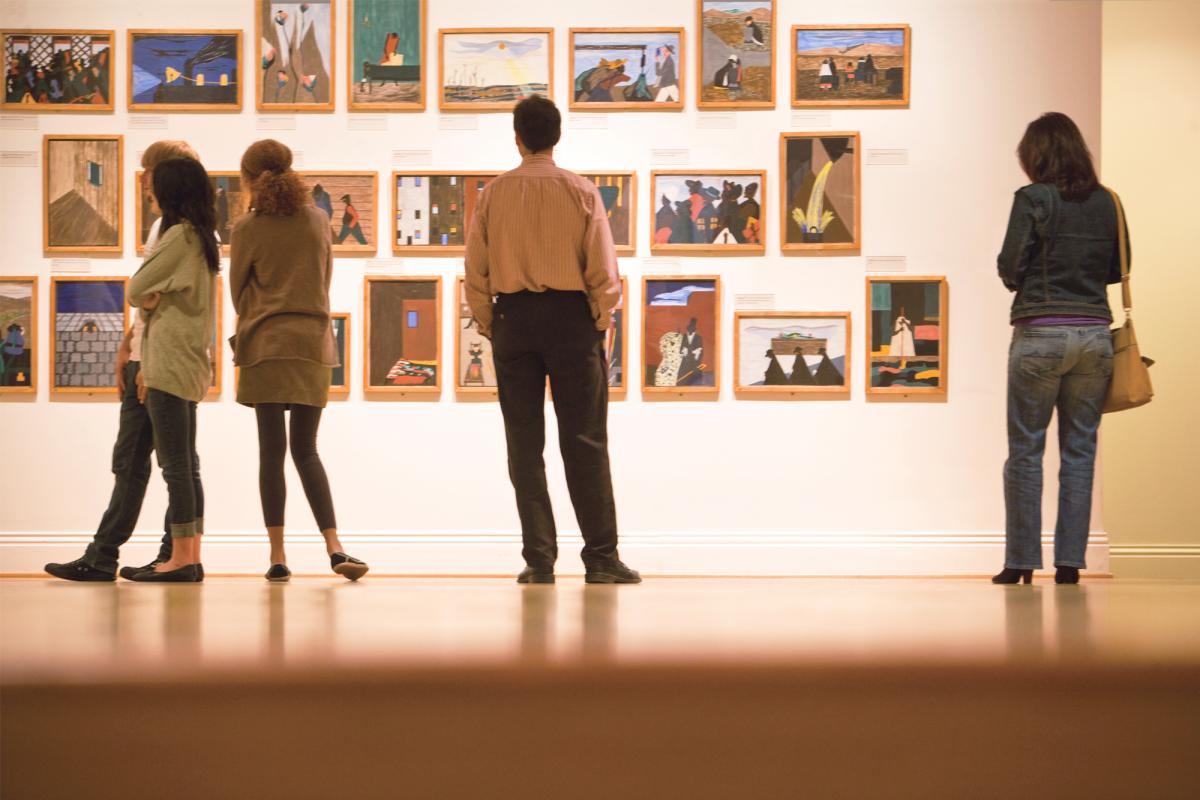 Thought Leaders to Explore Themes of Migration and Immigration in Conjunction with Fall Exhibition During Weekend Dialogue Hosted at The Phillips Collection
WASHINGTON—The Phillips Collection will partner with the University of Maryland to present a weekend program in conjunction with fall exhibition People on the Move: Beauty and Struggle in JacobLawrence's Migration Series. A powerful visual epic, The Migration Series (1940–41) documents the historic movement of millions of African Americans from the rural South to the urban North between World War I and World War II—a departure which forever altered the fabric of American society.
International Forum Weekend in Washington is an annual program hosted by the Phillips, and this year'sprogramming will facilitate discussion on migration and immigration. Using Lawrence's series as a lens for dialogue, thought leaders across disciplines will come together to explore similar patterns and themes that exist in today's political and cultural landscape. Specifically, discussion events will investigate the broader human quest for freedom, equality, and opportunity, which fuels ongoing patterns of migration around the world.
"I am encouraged that this year's International Forum coincides with the reunion of Jacob Lawrence'sseminal masterwork The Migration Series," said Director Dorothy Kosinski. "Especially in light of currentglobal challenges, the themes brought up by Lawrence resonate strongly today. Art remains a powerful tool for prompting reflection and dialogue, and I look forward to the Phillips playing a part in hostingthat important discussion."
SCHEDULE OF EVENTS
The weekend of events will take place at the Phillips on October 22–23, 2016. Members of the Phillips Collectors Forum are invited to register to attend. Events open for public attendance are listed below and are included with museum admission unless otherwise noted. All details are subject to change.
SATURDAY, OCTOBER 22
2 pm: Introduction
Dorothy Kosinski, Director, The Phillips Collection
Mary Ann Rankin, Senior Vice President and Provost, University of Maryland
Page 2—International Forum Weekend in Washington
2:15 pm: Staged Readings
Following introductory remarks by Curator Elsa Smithgall, there will be dramatic readings of two 10- minute plays inspired by The Migration Series written by local playwrights and commissioned by the Phillips. Featured playwrights for the afternoon include Jacqueline E. Lawton and Tearrance Chisholm.
3pm: Panel Discussion
Visual Narratives of Migration/Immigration: Participants will use their artistic and curatorial approaches to consider visual narratives of migration and immigration, including broader discussion of what it means to be human, as well as the civic role of art and art institutions in raising awareness to promote social change.
Moderator: Vesela Sretenovic,́ Senior Curator of Modern and Contemporary Art, The Phillips Collection Participating Panelists:
Allan deSouza, Associate Professor, University of California, Berkeley
Sara Raza, Guggenheim UBS MAP Curator, Middle East and North Africa
Stefan Falke, New York-based German artist whose photographs featuring artists on both sides of the Mexico-America border are currently on view at the DC Goethe Institut
Pedro Lasch, Professor of Art, Theory, Visual Studies, Duke University
Daniel Schwarz, LA-based artist whose digital media works examining the contested US-Mexico border is currently on view at the DC Goethe Institut
4:30 pm: Panel Discussion
Connecting Art, Societal Wellness, and Cultural Diplomacy: Participants will discuss the ethical andaesthetical capacities of Jacob Lawrence's Migration Series to bridge the humanities, public policy, and social sciences and inspire societal change and well-being in the context of the 21st-century immigrant experience.
Moderator: Steve Clemons, Washington Editor-at-Large for The Atlantic and Editor of Atlantic LiveParticipating Panelists:

Rachel Goldberg, Head of K-12 Initiatives, The Phillips Collection
Julie Greene, Professor of History, University of Maryland Center for Global Migration StudiesAmbassador Hamdullah Mohib, Embassy of the Islamic Republic of Afghanistan
Shibley Telhami, Anwar Sadat Professor for Peace and Development, University of Maryland, and Nonresident Senior Fellow, The Brookings Institution
Hoyt Brian Yee, Deputy Assistant Secretary for European and Eurasian Affairs, US Department of State
5 pm: Creative Response by Azar Nafisi
Azar Nafisi is the critically acclaimed author of Reading Lolita in Tehran and a fellow at Johns Hopkins University's School of Advanced International Studies. Her book is a New York Times bestseller and has been published in 32 languages.
Admission is free for the Saturday afternoon of events listed above, but reservations are recommended:
www.phillipscollection.org/events
SUNDAY, OCTOBER 23
4 pm: Sunday Concert featuring Rahim AlHaj
Rahim AlHaj makes his Phillips Music debut in a concert playing the oud, one of the oldest of all string instruments. Born in Baghdad, AlHaj was eventually forced to leave Iraq because of his activism againstSaddam Hussein's regime. Tickets available for purchase here: www.phillipscollection.org/music