The Phillips Announces 2020 Annual Gala to be on September 25, 2020
August 27, 2020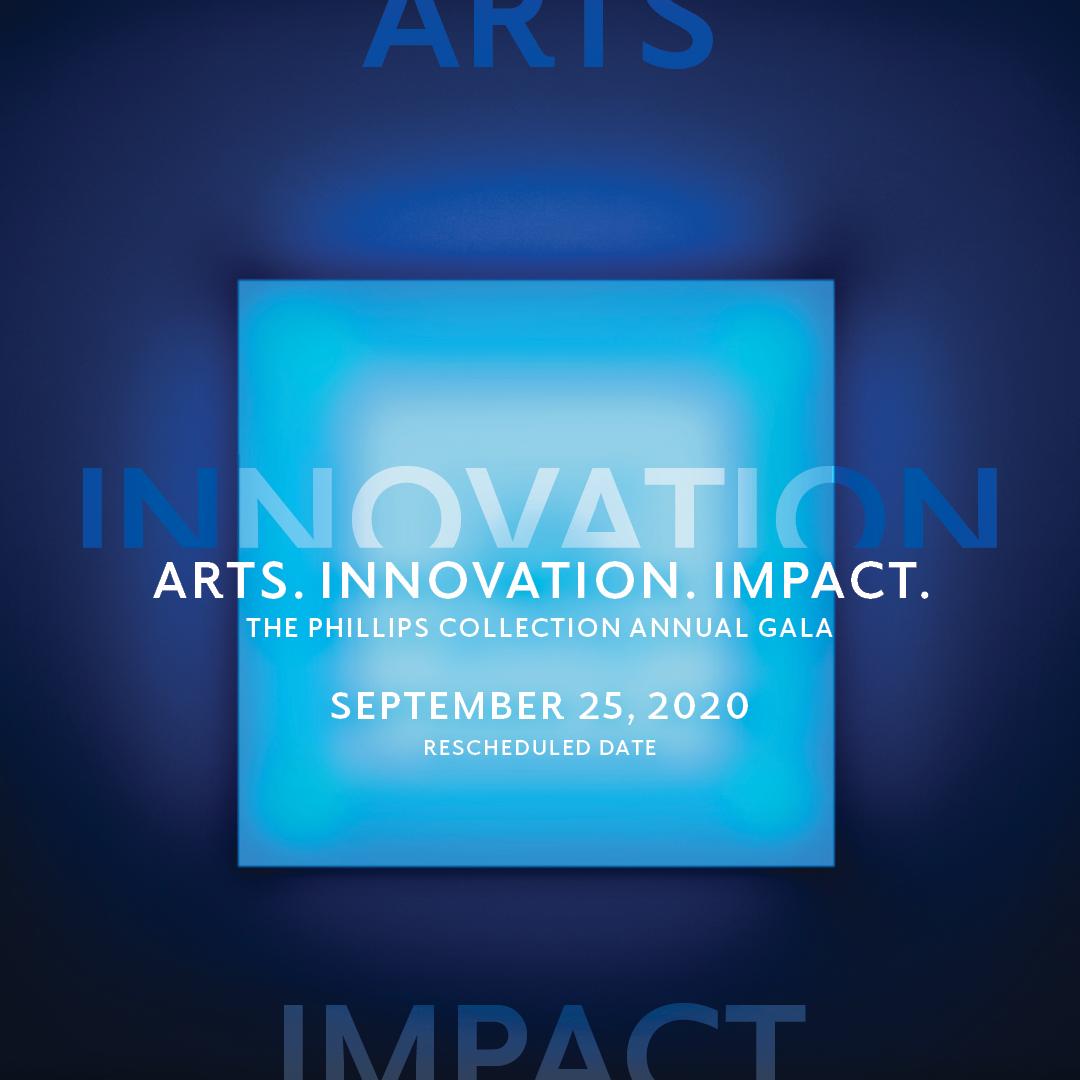 The Phillips Announces 2020 Annual Gala to be on September 25, 2020
ARTS. INNOVATION. IMPACT.
WASHINGTON, DC—Vradenburg Director and CEO Dorothy Kosinski, Chairman of the Board of Trustees Dani Levinas, and Board Member and Gala Chair Julie Garcia are pleased to announce The Phillips Collection's Annual Gala will be held on Friday, September 25May 15, 2020. Serving as 2020 Diplomatic Chair is His Excellency Ashok Mirpuri, Ambassador of Singapore to the United States. The original date of the Annual Gala has been postponed and will take place on September 25, 2020.
The 2020 Annual Gala, ARTS. INNOVATION. IMPACT., celebrates the Phillips's ongoing commitment to education, cultural diplomacy, and exploration of modern and contemporary art around the world. This special event brings together Members of Congress and the Administration, Supreme Court Justices, senior corporate executives, ambassadors, philanthropists, and national media for an unforgettable evening among the museum's masterpieces followed by dancing at the Anderson House. At this year's gala we are honored to join forces with our 2020 diplomatic partner, the Embassy of Singapore. 
SUPPORTING ARTS EDUCATION
The Annual Gala raises critical resources for the museum's award-winning educational programs that advance K-12 education reform, art and wellness, and lifelong learning in the Washington, DC community, across the country, and globally. These initiatives include the development of Prism.K12 to encourage the integration of the arts in K-12 curricula, as well as Phillips@THEARC, the museum's satellite space in the Town Hall Education and Arts Recreation Campus (THEARC) located in Southeast DC.   
ART LINKS TO LIFE: FOSTERING INNOVATION THROUGH ART
As the Phillips approaches the 100th anniversary as America's first museum of modern art, it will build upon its storied history and position the Phillips as a global force for experimentation and a leader in contemporary discourse. By cultivating fresh dialogue on urgent current issues, that uses modern and contemporary art as a point of departure, the Phillips can become a wellspring of innovation, educational outreach, and groundbreaking partnerships.
2020 HONOREES
The Phillips's Annual Gala provides a platform to acknowledge individuals who play critical roles in promoting and supporting the arts. This year, the museum recognizes Agnes Denes, a leading conceptual artist and land art pioneer; Dr. Liu Thai Ker, architect and urban planner of modern Singapore; Dr. Sachiko Kuno, founder of Halcyon, advancing arts and social impact; Diane Rehm, pioneer in broadcast journalism and public media; Margaret Leng Tan, avant-garde musician and creator of innovative concert experiences; and Leo Villareal, an artist breaking new ground with light and technology.
The Phillips will also be recognizing national arts advocate The Honorable Betty McCollum (4th District of Minnesota). 
The Phillips Collection expresses gratitude to all 2020 Annual Gala supporters (as of March 3018 2020):
2020 GALA CO-CHAIR
Bloomberg Philanthropies
University of Maryland
2020 GALA BENEFACTORS
Total Wine & More
George Vradenburg and the Vradenburg Foundation
2020 GALA CHAMPIONS
Accenture
Lisa Barry and Jim Gale
Julie and Jon Garcia
Lisa and Chris Smith
Steve and Andrea Strawn