The Phillips Announces 2018/2019 Music Season
August 1, 2018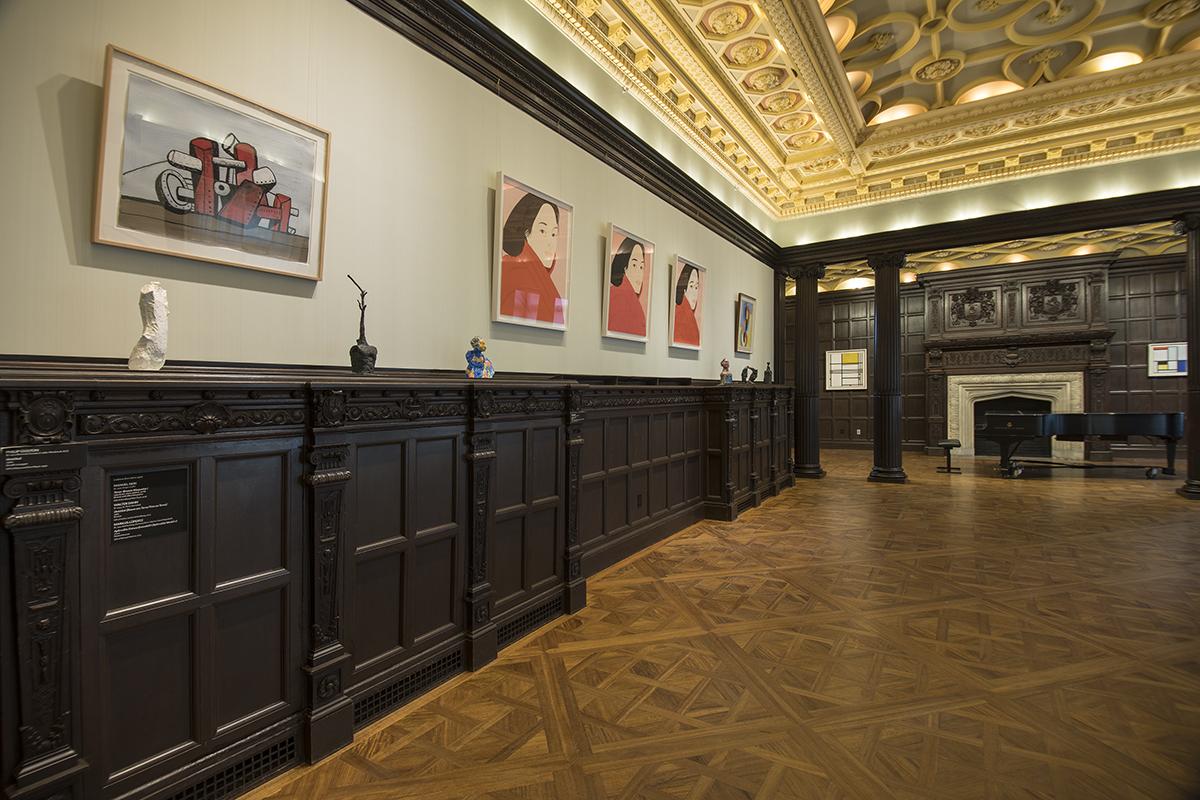 Performances Feature US and Washington, DC Debuts, Full Schedule Below
WASHINGTON—Today The Phillips Collection announced the 78th concert season for the museum's prestigious music series. Beginning in October, the Phillips Music season includes 32 planned performances including Sunday Concerts and the Leading International Composers series.
"Thanks to our dedicated audience and Phillips Music supporters, The Phillips Collection is recognized as an internationally leading music venue," said Vradenburg Director & CEO Dorothy Kosinski. "We are heading into our 78th season as DC's longest standing concert series, a great testament to the quality of our outstanding performers and programming."
Phillips Music underscores The Phillips Collection's commitment to multidisciplinary programming, and its long-standing reputation as a leader in international and community collaboration. The 78th season will present concerts in partnership with European embassies in DC, and continue the Phillips's rich partnership with the University of Maryland through its Leading International Composers series. The Sunday Concerts at the Phillips feature an unparalleled schedule of esteemed international and regional artists.
Phillips Music has continuously presented many of the world's most notable musicians in the US, Washington, DC, and Phillips debuts. The series welcomes world-renowned musicians as well as many rising young artists. Historically, Phillips Music has been the debut site for many artists that have gone on to be well known throughout the world.
"The visceral thrill of live music our audiences experience as individuals is quite extraordinary. Musicians relish the atmosphere in our Music Room; they appreciate its intimacy, the surrounding artworks, and the ease of communicating with those present," said Director of Music Caroline Mousset. "I have found nothing more rewarding as I enter my tenth season."
SUNDAY CONCERTS HIGHLIGHTS
The sell-out Sunday Concert series features an endless repertoire of award-winning performers, Holger Falk has been acclaimed by Opernwelt as "one of the most intellectually and vocally-flexible singers on the German stage." His operatic repertoire ranges from Monteverdi to the present day, including the title roles in Berg's Wozzeck and Britten's Billy Budd as well as world premieres by composers such as Péter Eötvös, Georges Aperghis, and Miroslav Srnka. Pianist Julius Drake has collaborated with many of the greatest singers of our time including Ian Bostridge, Gerard Finley, Thomas Allen, Felicity Lott, and Simon Keenlyside.
Born in Moldova, Patricia Kopatchinskaja first attracted international attention when she won the Henryk Szeryng Competition. She has worked with many of the world's leading conductors and orchestras, including period instrument specialists such as Philippe Herreweghe (with whom she recorded Beethoven'scomplete music for violin and orchestra).
Violinist Tai Murraywas born in Chicago and made her debut with the Chicago Symphony when she was just nine years old. As a soloist, she appears regularly on both sides of the Atlantic, with concerts in Britain and Germany as well as with leading American orchestras. Her acclaimed debut recording for harmonia mundi was of the Six Sonatas for Solo Violin by Eugène Ysaÿe, which was described in Gramophone as "superlative."Her solo violin recital will pay homage to some of the great violinists in history such as Nathan Milstein and Fritz Kreisler.
The Quatuor Danel—comprised of violinists Marc Danel and Gilles Millet, violist Vlad Bogdanas, and cellist Yovan Markovitch—was founded in 1991 and was quickly recognized for the quality and intensity of its performance repertoire ranging from Haydn to the present day, but with a particular focus on contemporary composers including Wolfgang Rihm, Helmut Lachenmann, Sofia Gubaidulina, Pascal Dusapin, and Jörg Widmann. The Quartet was the first ensemble to play the complete Weinberg cycle in live concerts, in Manchester and Utrecht, and they have recorded the complete series for the CPO label. The Phillips Collection is delighted to offer Washington, DC, the rare opportunity to hear the whole cycleof Weinberg's Quartets played in a series of five concerts by the Quatuor Danel.
LEADING INTERNATIONAL COMPOSERS
In 2009, European embassies in Washington, DC, and The Phillips Collection joined forces to create an unprecedented concert series: Leading European Composers. Presenting some of the greatest living composers of our time, this series is unique in that the featured composer designs a program of their works. In 2015, Phillips Music broadened its scope to create Leading International Composers, infusing the series with comprehensive views on the state of new music beyond geographical borders. As part of our exciting partnership with the University of Maryland, this year's Leading International Composer will feature French composer Philippe Manoury along with esteemed faculty and students from the University of Maryland School of Music.
Born in Tulle (Corrèze) in 1952, he is one of the most eminent contemporary French composers. After studies in Paris, he worked at universities in Brazil before returning to France in 1981 when he was invited to work at IRCAM, the forward-looking institute for electro-acoustic music founded by Pierre Boulez. A noted teacher, Manoury was in charge of the education work of the Ensemble Intercontemporain from 1983–87, and taught composition at the Lyon Conservatoire from 1987–97. He has served as Composer-in-Residence for the Orchestre de Paris and at the National Theatre in Orléans. From 2004–12, Manoury taught composition and electronic music at the University of California, San Diego. His catalogue ranges from compositions for solo instruments, works for instrumental and vocal ensemble, major orchestral works (Sound and Fury was written for Boulez's 75th birthday and first performed by him with the Chicago Symphony Orchestra), and four operas including K…, based on Kafka's The Trial, and commissioned by the Paris Opéra where it was first performed in 2001.
SUNDAY CONCERTS 2018/2019
October 7, 2018 Ulf Wallin, violin and Torleif Thedéen, cello, Roland Pöntinen, piano, DC debut
October 14, 2018 Paavali Jumppanen, piano, Phillips debut
October 21, 2018 Pedja Mužijević, piano, Phillips debut
October 28, 2018 Holger Falk, baritone and Julius Drake, piano, DC debut
November 4, 2018 Richard Egarr, harpsichord, Phillips debut
November 11, 2018 Tai Murray, solo violin, DC debut
November 18, 2018 Trio Zadig, DC debut
November 25, 2018 Youlan Ji, piano, DC debut
December 2, 2018 Patricia Kopatchinskaja violin, and Polina Leschenko, piano, DC debut
December 9, 2018 Magnus Holmander clarinet, and Henrik Måwe, piano, US debut
December 16, 2018 Virgil Boutellis-Taft, violin and JuYoung Park, piano, DC debut
January 13, 2019 Calidore String Quartet
January 20, 2019 Benjamin Appl, baritone, and James Baillieu, piano, DC debut
January 27, 2019 Trio Solisti, Phillips debut
February 3, 2019 Jess Gillam, saxophone, US debut
February 10, 2019 Alessio Bax, piano
February 17, 2019 Alban Gerhardt, cello, and Cecile Licad, piano, Phillips debut
February 24, 2019 Ana Vidović, guitar, Phillips debut
March 3, 2019 Chiaroscuro Quartet and Kristian Bezuidenhout, fortepiano, DC debut
March 10, 2019 Amatis Piano Trio, US debut
March 17, 2019 Pavel Haas Quartet, Phillips debut
March 24, 2019 Andreas Staier, fortepiano, Phillips debut
March 31, 2019 Carolin Widmann, violin, and Gloria Chien, piano, DC debut
April 7, 2019 Castalian Quartet, US debut
April 14, 2019 Daniel Hope, violin, and Vanessa Perez, piano, Phillips debut
April 28, 2019, 4 pm Quatuor Danel
     1 pm & 4 pm May 5, 2019
     1 pm & 4pm May 12, 2019
LEADING INTERNATIONAL COMPOSERS
October 25, 2018 Philippe Manoury, France
VENUE INFORMATION
Since May 2017, the original 1897 house of The Phillips Collection has been undergoing renovations designed topreserve and enhance the building's historic character and migrate the house gallery spaces to a fully digitized temperature and humidity control system. Architectural enhancements in the Phillips Music Room includes upgraded wall paneling to improve sound quality, and a fresh display of works by modern and contemporary artists.
TICKETING
Reservations are strongly recommended. First tickets (for October concerts) will be released on August 1; please reference ticket schedule table for additional on sale dates. Online reservations are available until 12 hours before each concert. Tickets are $45, $25 for members, $20 students with ID, and $5 for youths 8-18; museum admission for that day is included. All artists and programs are subject to change. Up-to-date concert details, ticket policies, and venue information is available here: www.phillipscollection.org/music.
| | | | | | |
| --- | --- | --- | --- | --- | --- |
|   | CONCERTS |   | | ON SALE DATE |   |
|   | October |   |   | August 1 |   |
| | November |   |   | September 1 |   |
|   | December |   | | October 1 |   |
| | January |   |   | November 1 |   |
| | February |   |   | December 1 |   |
|   | March |   | | January 1 |   |
|   | April |   | | February 1 |   |
|   | May |   | | February 1 |   |