Phillips 2019 Intersections Project Features Ranjani Shettar
May 1, 2019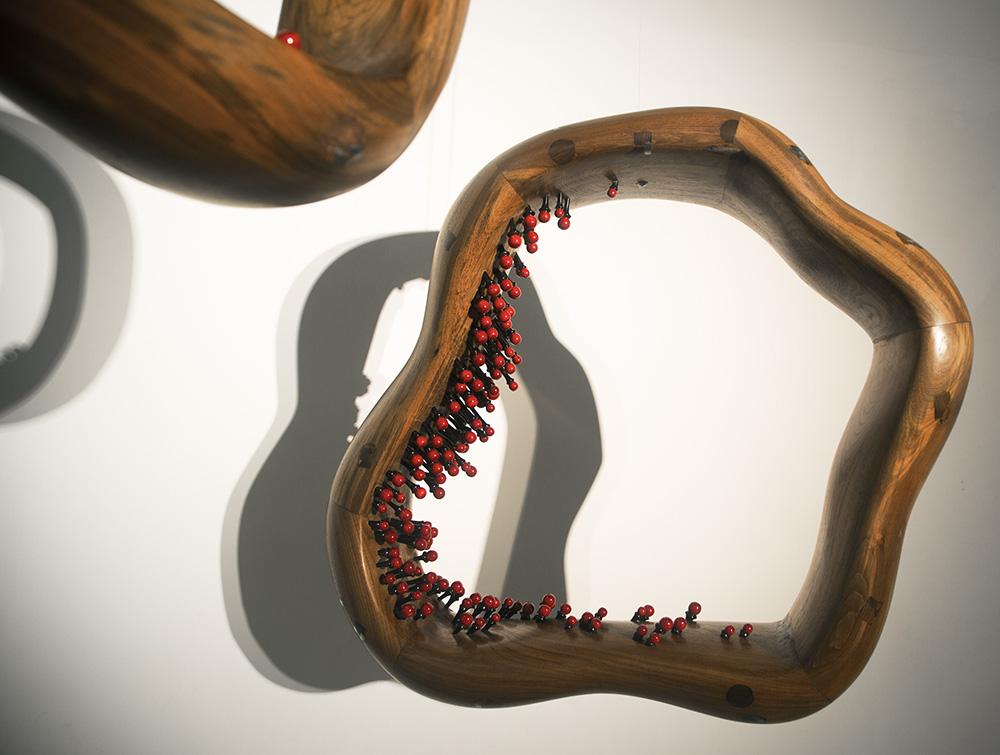 India-based artist Ranjani Shettar creates project in response to Wassily Kandinsky and Paul Klee
WASHINGTON—The Phillips Collection presents its first Intersections project of 2019, Earth Songs for a Night Sky, featuring seven sculptural pieces by Ranjani Shettar (b. 1977, Bangalore, India). Occupying two rooms and the staircase of the original Phillips House, the project is conceived in dialogue with Wassily Kandinsky's1913 book Klänge (Sounds) and a number ofPaul Klee's late paintings from the Phillips'scollection. Drawing from her environment in rural India—with changing skies, monsoon rains, and lush vegetation—and employing traditional materials such as teak wood and indigo pigment, and techniques of carving, dyeing and lacquer,
Shettar has created hand-carved wood sculptures, a multi-part piece that climbs up the gallery walls, and an ethereal installation made of thread and wax. Earth Songs for a Night Sky will be on view May 16–August 25, 2019.
"We are delighted to have Ranjani Shettar create our first Intersections project for 2019. Her ability to engage with Kandinsky's volume of poems and illustrations as well as with Klee's paintings, both of which explore the possibilities of abstraction and expression, echoes Duncan Phillips's vision of bringingartists' spirits together from all corners of the world," said Dr. Dorothy Kosinski, Vradenburg Director and CEO of The Phillips Collection.
Shettar's work responds to Kandinsky's book Klänge (Sounds), which features 56 woodcuts and was published soon after he had his breakthrough into abstraction and had written his seminal text, Über das Geistige in der Kunst (Concerning the Spiritual in Art). Shettar's works also converse with Klee's latepaintings, including Arab Song (1932), Efflorescence (1937), and Figure of the Oriental Theater (1934). The connection among the three artists is metaphysical rather than visual—"I relate to the surreal and abstract qualities of both Kandinsky's poetry and images. In Klee, I find a formal and thematic playfulness that I strive to achieve in my own work," said Shettar.
"Intersections is about exploring new connections and pursuing surprising juxtapositions between old and new artistic themes and practices. Earth Songs for a Night Sky demonstrates that beautifully," said Dr. Vesela Sretenović, Senior Curator of Modern and Contemporary Art at the Phillips. "It also speaks to our continuing mission to showcase women artists from all over the world."
Shettar lives and works in Shimoga district of Karnataka in India. Her artwork has been exhibited and collected by the Metropolitan Museum of Art, Museum of Modern Art, and Guggenheim Museum, New York; San Francisco Museum of Modern Art; and Walker Art Center, Minneapolis; the National Gallery of Victoria, Melbourne; and Kiran Nadar Museum of Art, New Delhi; among others.
INTERSECTIONS AT THE PHILLIPS
The exhibition is part of Intersections, the Phillips's ongoing series of contemporary art projects in which artists are invited to produce work that engages the museum's architecture and/or permanent collection, exploring the intriguing intersections between past and present.

Inaugurated in 2009 and led by Senior Curator of Modern and Contemporary Art Vesela Sretenović, the Phillips's Intersections series has so far presented 26 projects from the US and abroad. The artists have created diverse projects—both aesthetically and conceptually—and employed various media, from wall-drawing, rubber-painting, and digital photography to video projection and yarn installation.                            
Intersections is presented by

IMAGE: Ranjani Shettar, Smoke Rings (2018). Teak wood and lacquered wood, 86 x 52 x 62 in. Courtesy of the artist
# # #