Marta Pérez García's Restos-Traces, the 31st Intersections project at The Phillips Collection, Delves into the Issues of Domestic Violence During the COVID-19 Pandemic
March 3, 2022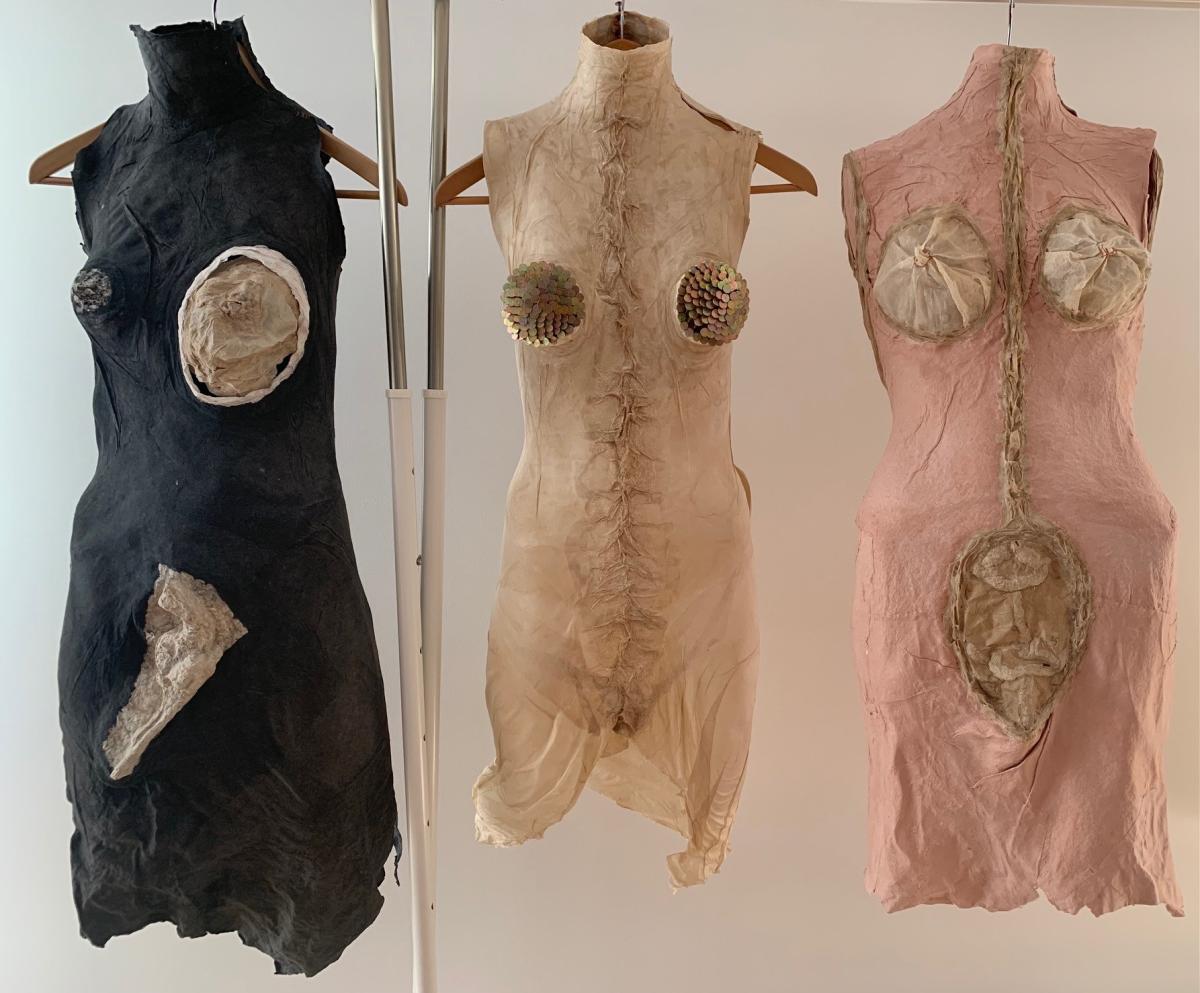 WASHINGTON, DC— Restos-Traces, the 31st project of The Phillips Collection's ongoing Intersections contemporary art series, features Puerto Rican, DC-based artist Marta Pérez García, whose art poetically explores a wide range of human conditions, from fragility and vulnerability to strength and survival. Her recent work, created during the COVID-19 pandemic, addresses the troubling yet rarely discussed increase in domestic violence due to stay-at-home orders, especially toward women and children. Her Intersections project Restos-Traces deepens the conversation. This exhibition will be on view at the Phillips from March 31 to August 28, 2022.
"Marta Peréz García's incredibly poignant works convey the healing power of the arts," says Vradenburg Director and CEO Dorothy Kosinski. "I am reminded of what our museum's founder Duncan Phillips wrote 100 years ago when he started collecting art after the tragic death of his father and brother: 'Sorrow all but overwhelmed me. Then I turned to my love of painting for the will to live.'"
Restos-Traces is comprised of 19 female torsos constructed of handmade paper with added elements such as wire, nails, metal spikes, hair and teeth, and film negative. The Spanish-English title (restos meaning ruins or remaining) alludes to the recollection and preservation of memories through visual storytelling, in this case memories of brutality, abuse, and trauma. Unlike the woodcut prints saturated with vivid colors for which she is best known, Pérez García's headless torsos are muted, with skin tones ranging from light to dark. Modeled after a standard female mannequin, their sizes are similar, but their appearances and expressions differ. Some are dressed and others are more sexualized; some are hurting whereas others are fighting. They are at once eerie and beautiful, fearless, and dignified. What gives them bearing and power are their accentuated spines that become symbols of resistance, tenacity, and continued existence. As Peréz García says, "I try to give, in a way, visibility to the women who are not here anymore, but at the same time for us to see in these bodies our own lives."

In Restos-Traces, the torsos are clustered together and paired with two works from the Phillips's permanent collection: Francis Bacon's Study of a Figure in a Landscape (1952)—an austere painting that emanates loss, anxiety, and frailness—and Annette Messager's Mes petites effigies (My Little Effigies) (1989–90), an installation with stuffed animals holding pictures of body parts with handwritten text expressing emotions such as anger, laughter, and reconciliation. When enclosed in the gallery space, the works of Bacon, Messager, and Peréz García intensify an array of physical and psychological states, from victimization to endurance, humiliation to resistance, and detachment to companionship.
"The Intersections series invites artists to create artistic interventions, many of which engage critical issues of our time. Restos-Traces demonstrates how art can capture highly sensitive subjects that might be hard to articulate with words alone," notes Vesela Sretenović, Cross-departmental Director for Contemporary Art Initiatives and Partnerships.
"The project offers an important opportunity for individuals to bear witness to an issue that is often concealed behind closed doors and replete with victim shaming," explains Horning Chair for Diversity, Equity, Access, and Inclusion Dr. Yuma Tomes, whose background is in multicultural psychology and community outreach.

EVENT
Exhibition Opening and Artist Talk
March 31, 2022, 6:30 pm | Free / In-person / No registration needed
Artist Marta Pérez García and Cross-departmental Director for Contemporary Art Initiatives and Partnerships Vesela Sretenović will discuss Restos-Traces.

ABOUT MARTA PERÉZ GARCÍA
Originally from Arecibo, Puerto Rico, Peréz García was trained as a printmaker at the Tyler School of Art and Architecture at Temple University, Philadelphia, where she received an MFA. Her artworks are in collections such as the Museo de Arte de Puerto Rico, Museo de Arte Contemporáneo de Puerto Rico, and the Library of Congress, Washington, DC, among others. After moving to Washington, DC, in 2008, Peréz García has been a yearly recipient of artist fellowships from the DC Commission on the Arts and Humanities since 2010. She was awarded Public Art Building Communities Grants in 2018 for I'm Gonna Get You, a large mixed-media installation on gender violence exhibited at the Reeves Center, and again in 2020 for an upcoming mural. Recently, Peréz García started to experiment with structural papermaking and was awarded the 2021 Vita Paper Arts Residency at Pyramid Atlantic Art Center in Hyattsville, Maryland.
Pérez García's artwork Your Hand (2020), which was featured in the Phillips's juried invitational Inside Outside, Upside Down in 2021, has recently been acquired by the museum.

The Phillips Collection's Intersections is an ongoing series of contemporary art projects in which artists are invited to produce work that engages the museum's architecture and/or permanent collection, exploring the intriguing intersections between old and new traditions, modern and contemporary art practices, and museum spaces and artistic interventions. Inaugurated in 2009 and led by Vesela Sretenović, Intersections has presented 30 projects from the US and abroad. The artists have created diverse projects—both aesthetically and conceptually—and employed various media. Many of the projects also riff on the nontraditional nature of the museum's galleries, sometimes activating spaces that are not typical exhibition areas with art produced specifically for those locations.

IMAGE GALLERY
High-resolution press images are available upon request. Please contact jmitchell@phillipscollection.org.
IMAGE: Works in progress in Marta Pérez García's studio, 2021

ABOUT THE PHILLIPS COLLECTION
The Phillips Collection, America's first museum of modern art, was founded in 1921. The museum houses one of the world's most celebrated Impressionist and American modern art collections, and continues to grow its collection with important contemporary voices. Its distinctive building combines extensive new galleries with the former home of its founder, Duncan Phillips. The Phillips's impact spreads nationally and internationally through its diverse and experimental special exhibitions and events, including its award-winning education programs for educators, students, and adults; renowned Phillips Music series; and dynamic art and wellness and Phillips after 5 events. The museum contributes to global dialogues with events like Conversations with Artists and Artists of Conscience. The Phillips Collection values its community partnership with THEARC—the museum's satellite campus in Southeast DC. The Phillips Collection is a private, non-government museum, supported primarily by donations.