Intersections Project by Arlene Shechet Opens at the Phillips
October 19, 2016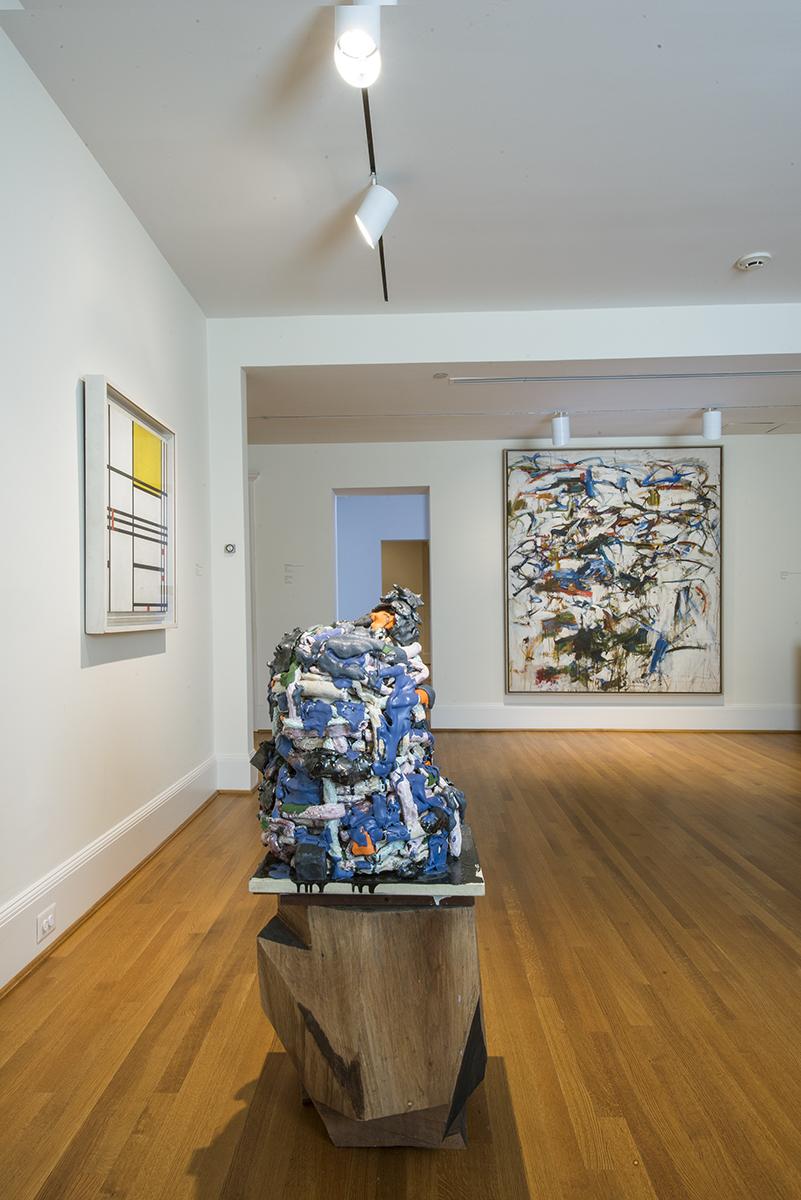 Arlene Shechet's From Here On Now to Bring New Meaning to Permanent Collection
WASHINGTON—Today, The Phillips Collection opened From Here On Now by New York-based sculptor Arlene Shechet. The exhibition is part of the Phillips's ongoing Intersections series that highlights contemporary artists in conversation with the museum's permanent collection, history, and architecture. Shechet is known for glazed ceramic sculptures that are off-kilter yet hang in a balance between stable and unstable, teetering between the restraint of intellect and the insistence of instinct. Her sculptures encourage circumambulation, often drawing upon Buddhist iconography for inspiration.
For this installation at The Phillips Collection, Shechet's sculptures in ceramic, porcelain, and paper are exhibited across five galleries on two different floors, extending from the original house to the annex. The galleries are interspersed with paintings and drawings chosen by Shechet from the museum's permanent collection to interact with her sculptures. By giving special consideration to the hanging of the museum's holdings and her own works, she brings new meaning and understanding to the collection.
"Arlene Shechet's highly original sculptures combine experimental expressiveness with whimsical subversion," said Klaus Ottmann, Deputy Director for Curatorial and Academic Affairs at the Phillips. "She makes sensual objects that playfully straddle abstraction and representation while expanding the medium of drawing and painting into sculpture. Shechet's sculptural installations are at once imaginative and noumenal, in the Kantian sense of hinting at something unknowable by the senses alone."
The exhibition includes six recently conserved paintings by Forrest Bess, received as a gift from Miriam Schapiro Grosof in 2014, and on view at the Phillips for the first time. Other highlights from the permanent collection include works by Henri Matisse, Joan Mitchell, Alfred Stieglitz, Sonia Delaunay, and Man Ray. A room based on portraiture features Paul Cézanne, Auguste Rodin, Chaïm Soutine, Frank Lobdell, and Piet Mondrian, among many others. From Here On Now is both a poetic beckoning and a description of the literal. The exhibition's title also tweaks the familiar phrase "from here on out" to bring attention to the present and as a reminder that the future is an abstraction.
In June 2015, Shechet was the subject of a critically acclaimed 20-year survey, All at Once, at the ICA Boston. Shechet has often described herself as an "installation artist who makes objects." Her sculptures, art historical installations, and museum interventions have been widely shown, including Porcelain, No Simple Matter currently on view at The Frick Collection until April 2017. Shechet's work is also in many distinguished public and private collections, including The Metropolitan Museum of Art, the National Gallery of Art, the Los Angeles County Museum of Art, the Whitney Museum of American Art, the Walker Art Center, the Brooklyn Museum, and the CCS Bard Hessel Museum. Shechet holds a BA from New York University and an MFA from the Rhode Island School of Design. Throughout her career, she has been recognized with numerous awards and honors, including the 2016 CAA Artist Award for Distinguished Body of Work, a Guggenheim Memorial Foundation Fellowship, and the Joan Mitchell Foundation Grant. She was featured in Season 7 of PBS's Art 21 in 2014 and Season 4 of The Met Artist Project in 2016. Shechet splits her time between New York City and the Hudson Valley.
From Here On Now is on view at The Phillips Collection October 20, 2016–May 7, 2017, with a portion of the exhibition concluding in February 2017.

EXHIBITION-RELATED EVENTS
Artist's Perspective (Thursday, November 3 at 6 pm): Arlene Shechet discusses her Intersections exhibition From Here On Now with Deputy Director for Curatorial and Academic Affairs Klaus Ottmann at the University of Maryland Center for Art and Knowledge at The Phillips Collection. Reception to follow. Press interested in attending should email Sarah Corley, scorley@phillipscollection.org.