David Driskell: Icons of Nature & History Celebrates the Founding Father of African American Art History—as an Artist
August 24, 2021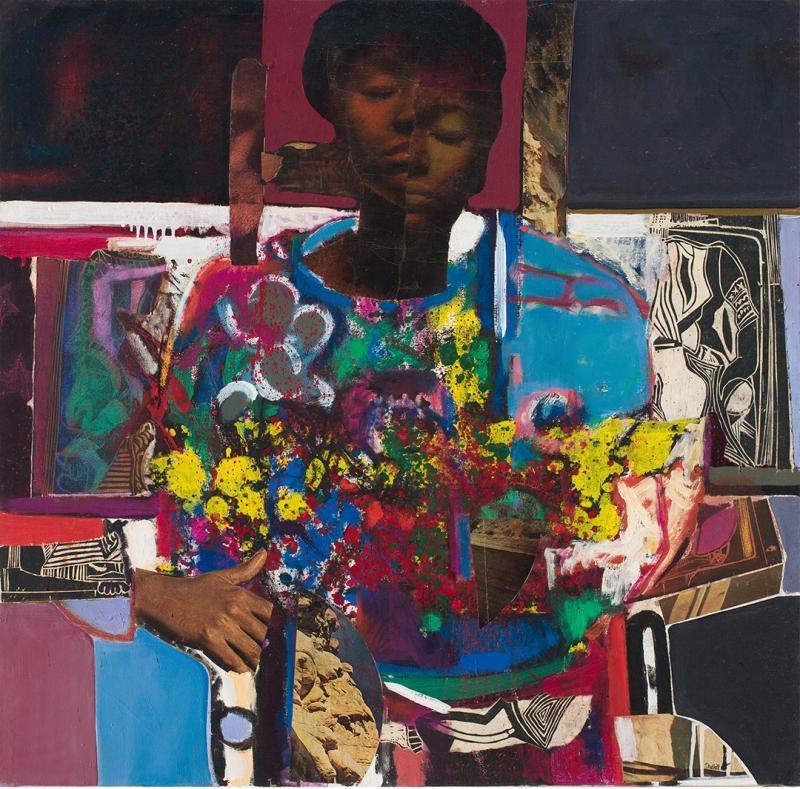 The Phillips Collection presents the first extensive exhibition focused on his painterly practice
WASHINGTON, DC—During its centennial year, The Phillips Collection is showcasing the artwork of the prolific artist David Driskell (1931–2020). Featuring over 50 works, David Driskell: Icons of Nature and History offers the first comprehensive examination of the paintings, collages, prints, and drawings of the celebrated American artist, art historian, and educator. Organized by the High Museum of Art, Atlanta, and the Portland Museum of Art, Maine, this exhibition will be on view at The Phillips Collection from October 16, 2021, to January 9, 2022.
Driskell has long been recognized for his vibrant and versatile artistic practice rooted in his reverence of the beauty and spirituality of the American landscape and his profound connection to the African diaspora. His legacy in the history of American art is unparalleled: through his curatorial work, writing, and teaching, he demonstrated that the art of Black people is essential to the story of American art.
Driskell was a longtime friend and supporter of The Phillips Collection, serving as a trustee of the museum from 2016 to 2019. "It is a privilege for the Phillips to have shared history with David, who accomplished so much in his life and opened the door to so many as a scholar and educator. His dedication to sharing African American art over many decades transformed the art world," says Vradenburg Director and CEO Dorothy Kosinski.
Driskell studied art in Washington, receiving his BFA from Howard University in 1955 and his MFA from the Catholic University of America in 1962. He also studied at the Skowhegan School of Painting and Sculpture in Maine and developed a lifetime connection to that organization. Through works spanning seven decades, the exhibition establishes the evolution of his use of collage as a painterly medium, his innovative figurative abstraction, and his signature incorporation of African forms. Driskell's command of color and line and attentiveness to what he called "the symbolic presence of form" is showcased through his beloved subjects, including the natural world, abstraction, and the Black Christian church. His work, represented in numerous public and private collections, has been featured in exhibitions in the United States, Europe, and Africa.
"In this exhibition, we want to honor Driskell's many dimensions as an artist who for more than seven decades practiced with an elegant hand and soulful spirit. Through an intimate approach to his subjects, and a rich vocabulary of color and pattern, Driskell conjures the magic in the everyday and the humanity in the spiritual. As a longtime mentee, colleague, and friend I am particularly honored to help bring Driskell's expansive body of work to The Phillips Collection's audiences," explains Adjunct Curator Adrienne L. Childs, coordinating curator for the presentation at The Phillips Collection.
Although his first love was painting itself, Driskell largely devoted his professional life to service for others: he taught generations of artists and art historians; mentored emerging artists and young faculty members, primarily at Historically Black Colleges and Universities (HBCUs); researched and wrote extensively about the artistic achievements of Black people throughout American history; and was a founding father of the field of African American art history who was influential in the hiring of African American artists as professors. This exhibition presents a vibrant array of works spanning Driskell's career that reveal how artist and educator synthesized his dedication to the field of African American art with his own artistic journey.  
Driskell said that the first time he visited The Phillips Collection in the 1950s, he felt "a sense of welcome there […] and was just taken by the ambiance of the place."
"David often visited the museum with his mentor and friend Alma Thomas, and The Phillips Collection is proud to exhibit the work of these two important cultural leaders this fall. We want every artist to feel welcomed and inspired by the Phillips the way they did," notes Horning Chair for Diversity, Equity, Access, and Inclusion Makeba Clay.
The Phillips Collection is honored to present this exhibition that celebrates the legacy of David Driskell and dedicates the presentation of this exhibition to his loving memory.

EXHIBITION PARTNERS
This exhibition is co-organized by the High Museum of Art, Atlanta, and the Portland Museum of Art, Maine.
The exhibition is curated by Julie McGee, Guest Curator and Associate Professor, Africana Studies and Art History, University of Delaware; Michael Rooks, Wieland Family Curator of Modern and Contemporary Art, High Museum of Art; and Jessica May, Managing Director, Art and Exhibitions, The Trustees, and Artistic Director, deCordova Sculpture Park and Museum, Lincoln, Massachusetts (formerly Deputy Director and Robert and Elizabeth Nanovic Chief Curator, Portland Museum of Art).
The exhibition is generously supported by a lead gift from Bank of America, National Tour Sponsor.

Special thanks to our key academic partner, University of Maryland, a global leader in research, entrepreneurship, and innovation.

EXHIBITION CATALOGUE
An accompanying catalogue, edited by Jessica May, includes photos of David Driskell; images of his artwork; essays by scholars, curators, artists, and arts administrators; conversations with people who knew the artist; and a timeline of Driskell's life.

IMAGE GALLERY
High-resolution press images are available upon request. Please contact jmitchell@phillipscollection.org.
IMAGE: David Driskell, Woman with Flowers, 1972, Oil and collage on canvas, 37 1/2 x 38 1/2 in.; Art Bridges Foundation, Bentonville, Arkansas

ABOUT THE PHILLIPS COLLECTION
The Phillips Collection, America's first museum of modern art, was founded in 1921. The museum houses one of the world's most celebrated Impressionist and American modern art collections, and continues to grow its collection with important contemporary voices. Its distinctive building combines extensive new galleries with the former home of its founder, Duncan Phillips. The Phillips's impact spreads nationally and internationally through its diverse and experimental special exhibitions and events, including its award-winning education programs for educators, students, and adults; renowned Phillips Music series; and dynamic art and wellness and Phillips after 5 events. The museum contributes to global dialogues with events like Conversations with Artists and Artists of Conscience. The Phillips Collection values its community partnerships with the University of Maryland—the museum's nexus for scholarly exchange and interdisciplinary collaborations—and THEARC—the museum's satellite campus in Southeast DC. The Phillips Collection is a private, non-government museum, supported primarily by donations.
# # #