Bridget Riley Presents Works in Dialogue with Pierre-Auguste Renoir's Luncheon of the Boating Party, a Cornerstone of The Phillips Collection
January 20, 2022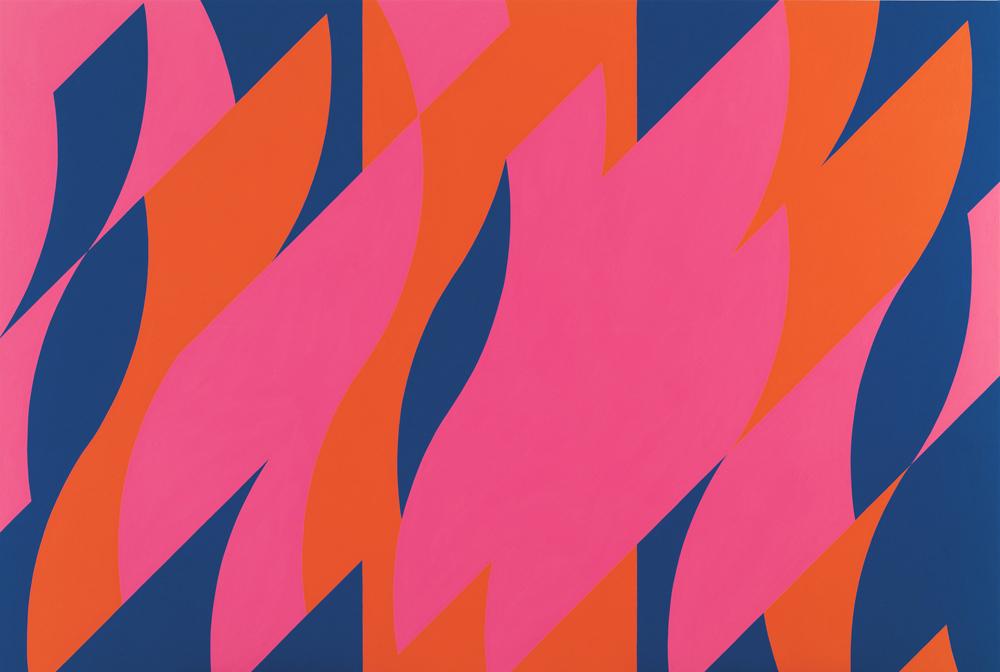 Riley, a contemporary British painter acclaimed for her use of color, selected artworks to respond to Renoir's signature painting in this fifth installment of the Phillips's One-on-One series
WASHINGTON, DC—The Phillips Collection presents Bridget Riley / Pierre-Auguste Renoir, a One-on-One exhibition that focuses on the color red, with an artist who has been honored for her outstanding use of color. The Phillips's One-on-One series engages a contemporary artist to select one or several works by an artist from the museum's permanent collection and juxtapose them with one or several works of their own. The series underscores how America's first museum of modern art continues to experiment while honoring tradition. For this installation, British painter Bridget Riley (b. 1931, London, United Kingdom), known for her singular Op Art paintings and awarded the prestigious Dutch Sikkens Prize for her use of color, selected selected three of her works—two paintings, Red Overture (2012) and Red with Red 1 (2007), and one screenprint, One Small Step (2009)—to be displayed vis-à-vis Luncheon of the Boating Party (1880-81) by Pierre-Auguste Renoir, a prized work also known for its vibrant hues. One-on-One: Bridget Riley / Pierre-Auguste Renoir will be on view at the Phillips from February 10–May 8, 2022.
Bridget Riley developed her signature Op Art style in the 1960s, creating intricate geometric patterns that produce optical sensations of movement and color. Her celebrated abstract compositions have been shown in museums and galleries around the world over many decades. Riley has acknowledged the influence of French Post-Impressionism on her mature style, especially the works of Georges Seurat and Renoir. Riley first saw Luncheon of the Boating Party in 1985 at the Hayward Gallery in London, and said: "Renoir was passionately interested in all matters of color. I was enthralled by his use of red, one of the most difficult colors for a painter, by virtue of its strength. He takes red through every possible modulation and every shade of light and dark, using it as contrast or harmony."
While The Phillips Collection's founder Duncan Phillips was collecting art for the museum (then known as the Phillips Memorial Gallery), Luncheon of the Boating Party was at the top of his wish list. After confirming the acquisition, he wrote: "The Phillips Memorial Gallery is to be the possessor of one of the greatest paintings in the world…It will do more good in arousing interest and support for (the Phillips Memorial Gallery) than all the rest of our collection put together." Today, Luncheon of the Boating Party is undoubtedly among the most visited, commented upon, and memorable paintings in the museum. For many years, the Phillips's Sherman Fairchild Conservation Studio has conducted numerous in-depth technical studies of Renoir's use of color and movement of figures to create the iconic Luncheon of the Boating Party scene.
"Throughout the pandemic, viewing Luncheon of the Boating Party—which depicts a joyous gathering—has been bittersweet," says Vradenburg Director and CEO of The Phillips Collection Dr. Dorothy Kosinski. "Bridget Riley's vibrant response to this important work as part of our centennial celebrations is especially poignant."
This will be the fifth iteration of the Phillips's One-on-One series, which was initiated by Phillips Chief Curator Klaus Ottmann in 2011.
"Luncheon of the Boating Party is a cornerstone of our collection that continues to invoke strong responses from those who view it," says Ottmann. "It is fitting that we showcase this classic artwork alongside the work of a contemporary artist who has similarly spent decades experimenting with color and movement, and who is herself a strong influence on the next generation of artists."
Previous One-on-One installations have paired Peter Doig with Georges Braque, Carol Brown Goldberg with Henri Matisse, Enrique Martínez Celaya with Albert Pinkham Ryder, and Maggie Michael with Arthur Dove.
IMAGE GALLERY
High-resolution press images are available upon request. Please contact jmitchell@phillipscollection.org.
IMAGE: Bridget Riley, Red with Red 1, 2007, Oil on linen, 66 5/8 x 98 7/8 in.

ABOUT THE PHILLIPS COLLECTION
The Phillips Collection, America's first museum of modern art, was founded in 1921. The museum houses one of the world's most celebrated Impressionist and American modern art collections, and continues to grow its collection with important contemporary voices. Its distinctive building combines extensive new galleries with the former home of its founder, Duncan Phillips. The Phillips's impact spreads nationally and internationally through its diverse and experimental special exhibitions and events, including its award-winning education programs for educators, students, and adults; renowned Phillips Music series; and dynamic art and wellness and Phillips after 5 events. The museum contributes to global dialogues with events like Conversations with Artists and Artists of Conscience. The Phillips Collection values its community partnership with THEARC—the museum's satellite campus in Southeast DC. The Phillips Collection is a private, non-government museum, supported primarily by donations.