We asked 12 local artists to reimagine the Phillips's centennial logo in their own style.
Come back each month to see a new logo and hear from the artists!
January: Dominick Rabrun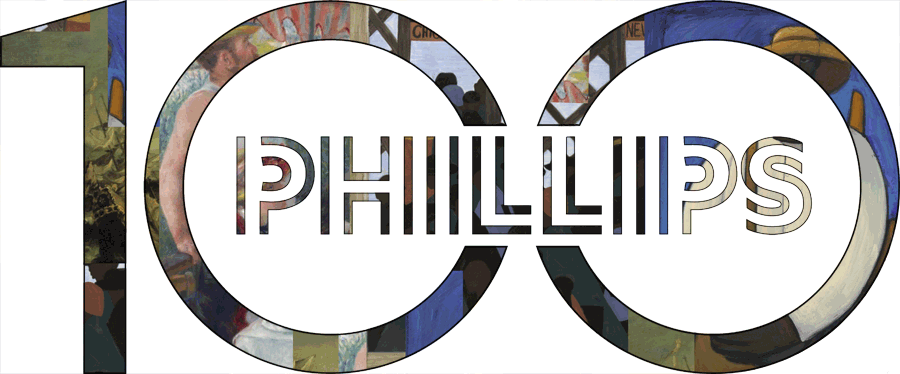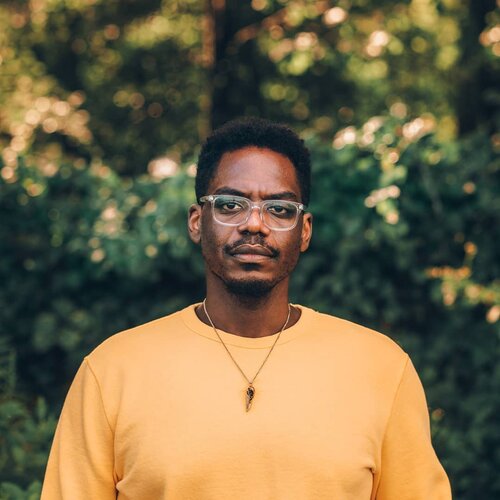 "Sampling and remixing is a critical tool for me—not only in how I approach my work, but how I see the world. I sampled four of The Phillips Collection's paintings and arranged them in chronological order—18th century to the 21st century. The animated component of the logo is a nod to my love of neon signs, electronics, and digital media."
Dominick Rabrun (@domrabrun) is an artist, speaker, writer, producer, director, and general maker of things. He is the host of Dom's Sketch Cast, an experimental art show. Dom has created unique art and content for Genius, Reddit, Annapurna Pictures, VICE, PBS, Mtn Dew, Noisey, and more.
---
Listen to the artist talk about his process

February: Rose Jaffe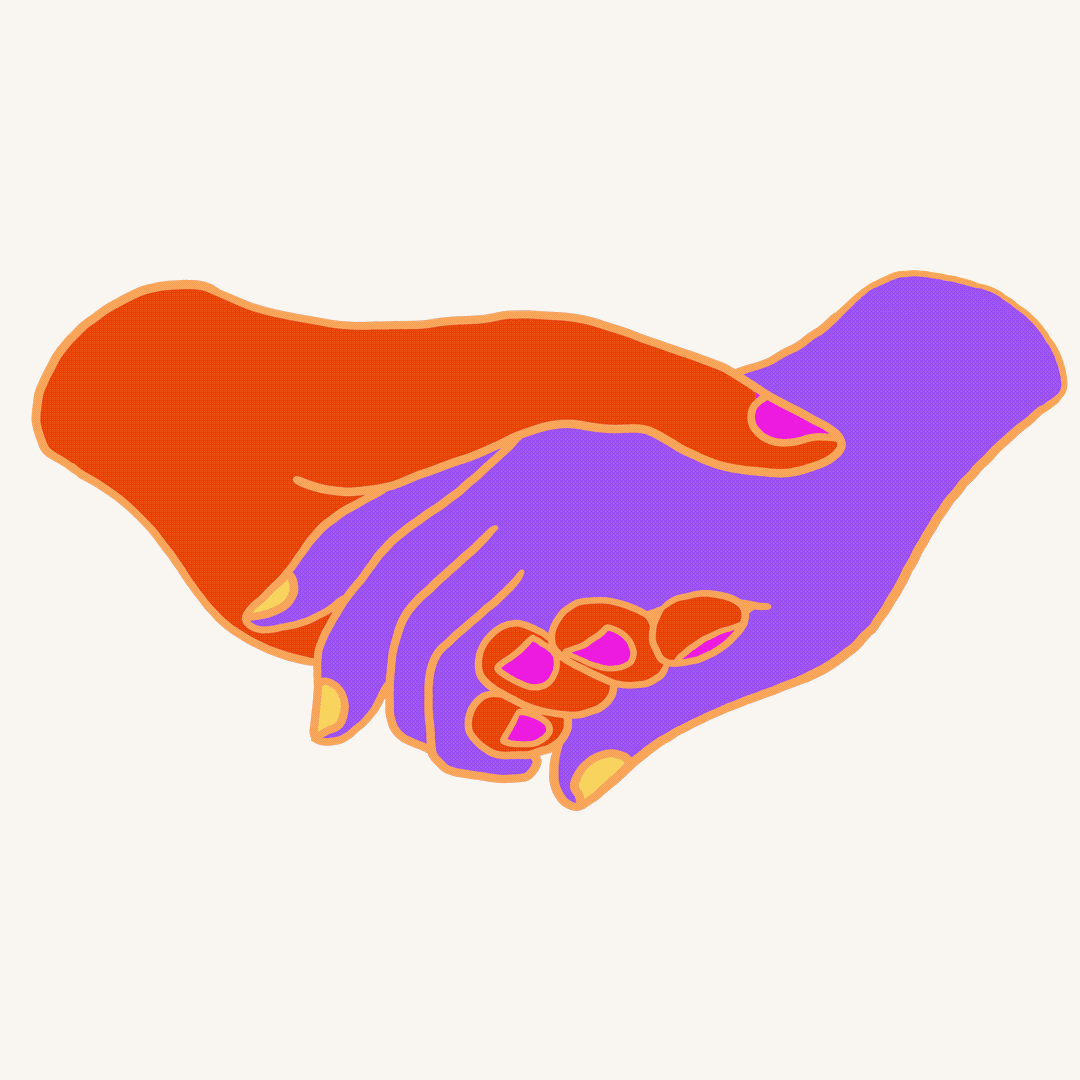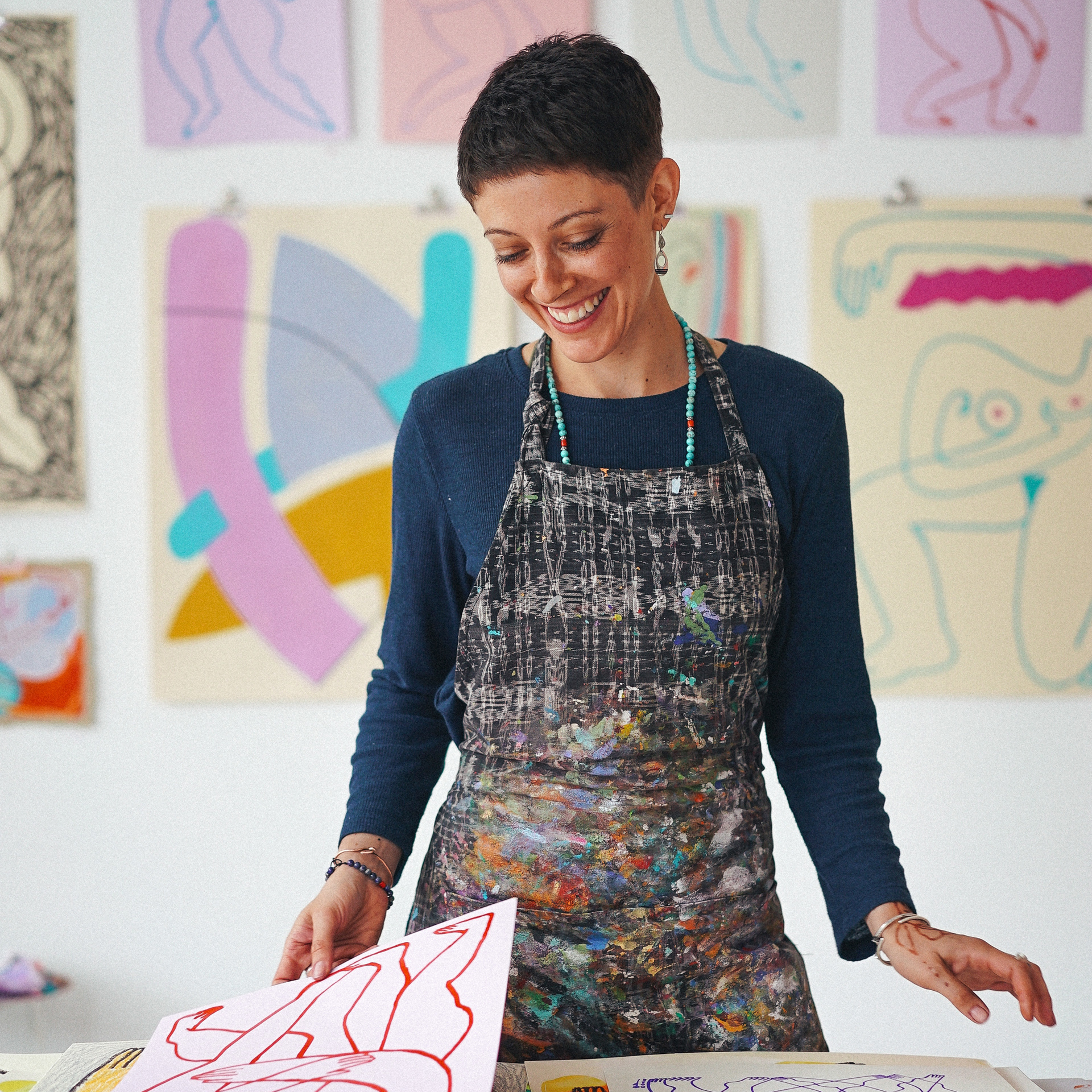 "This redesign of the Phillips Logo is about connection; to each other, and to nature. In a moment of time where many feel a loss of physical connection, it comes alongside a moment where love and support are needed the most. This dichotomy leaves many to search for that connection in new places—virtually, one on one, and/or outside in nature. The hand holding fades to a composition of a bird in its habitat, an ode to the conservation work Lilli Steele does at the Phillips, often looking beneath the surface of a painting to reveal entirely different imagery." 
Rose Jaffe (@roseinks) is a visual artist, with mediums spanning mural painting, ceramics, printmaking, and digital illustration. Born and raised in the nation's capital, Rose loves calling Washington, DC, home.
---
Listen to the artist talk about her process

March: Aniekan Udofia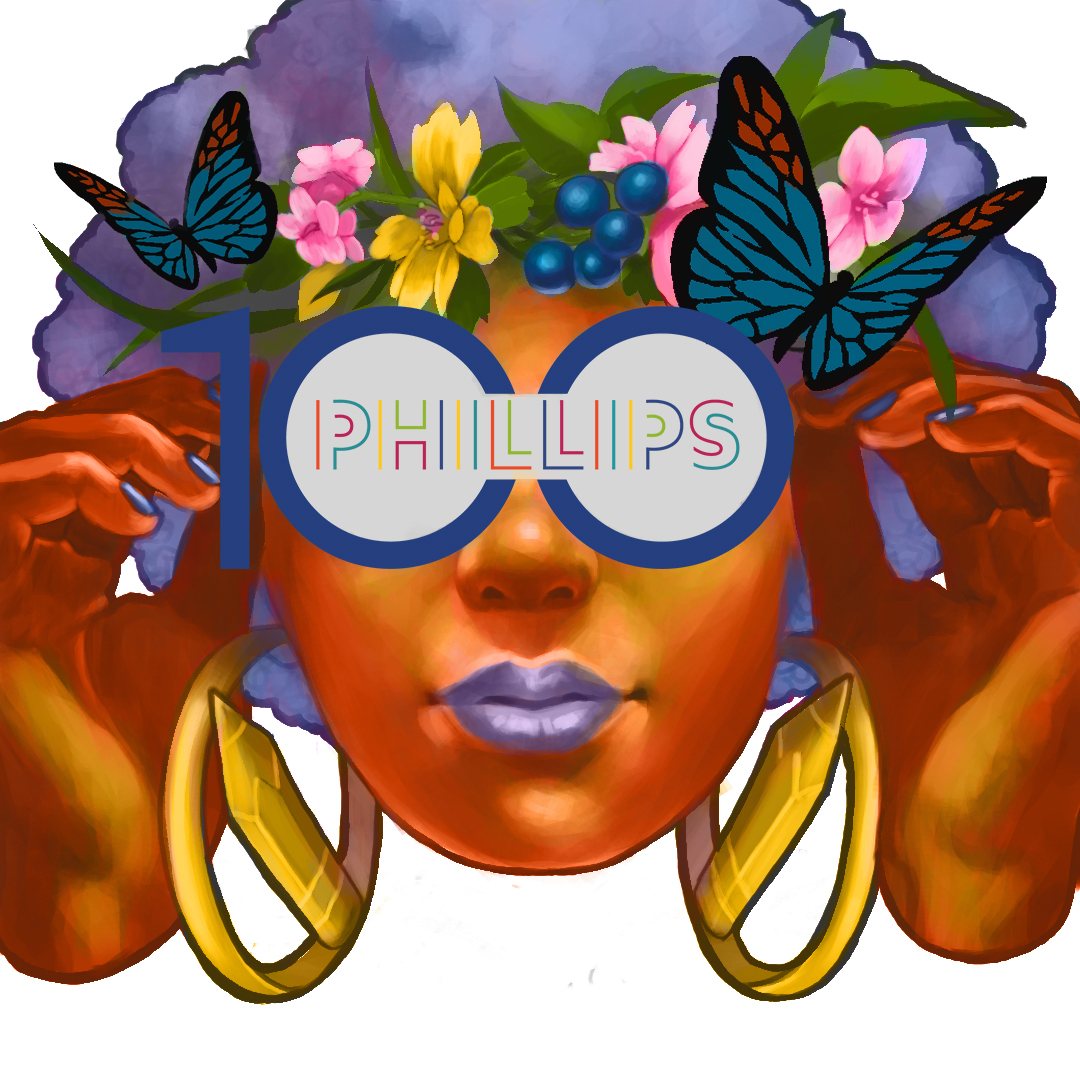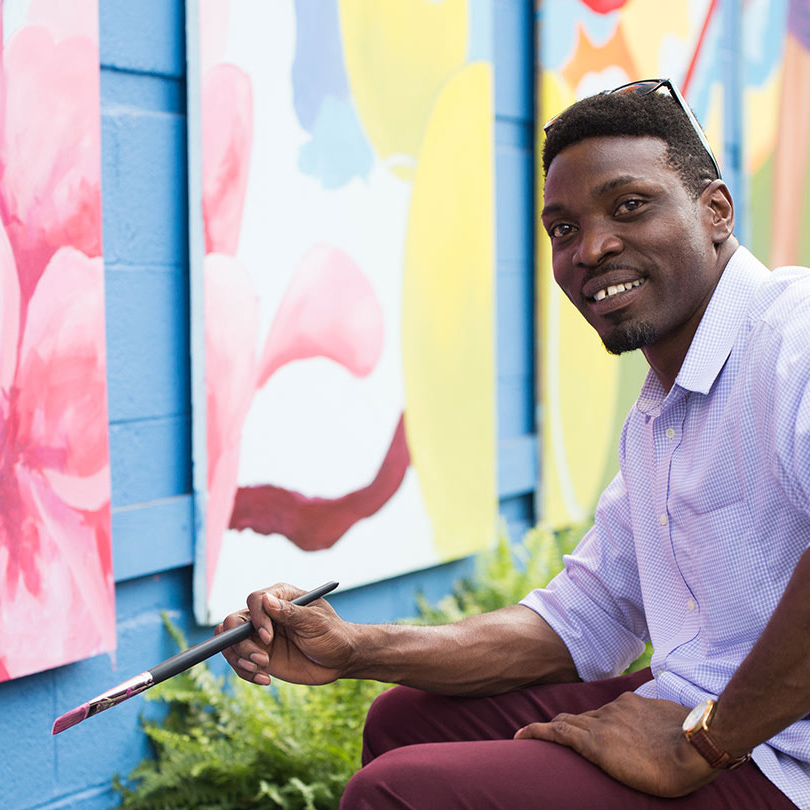 "This piece was inspired by nature and the new life that sprouts during the spring, which happens to be my favorite season of the year."
Aniekan Udofia (@aniekanreloaded) has achieved local notoriety for his towering murals of Duke Ellington, Fredrick Douglass, and George Washington, as well as his solo and group live paintings at Washington events sponsored by the likes of Red Bull, Heineken, Honda, and Adidas. He garnered national attention with his caricatures and photorealistic illustrations for XXL, Vibe, Rime, Frank 151, and The Source. 
---
Listen to the artist talk about his process

April: Kelly Towles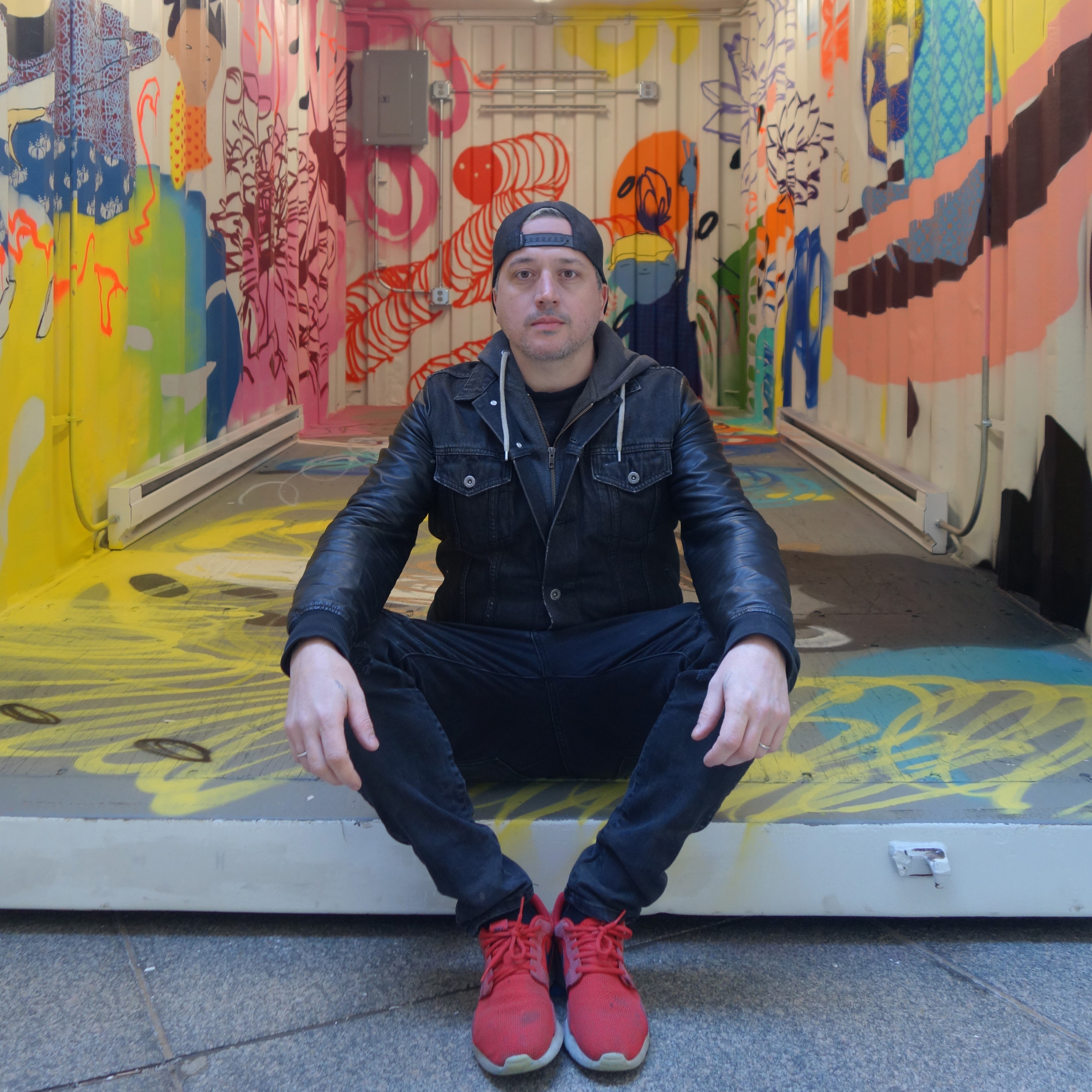 "I wanted to play with the idea of a black book or sketch book and see how I could come up with multiple ideas and to be playful with the interpretation."
Kelly Towles (@kellytowles), a leading Washington, DC, artist, has literally painted the town since moving to the Nation's Capital in the late 1990s. His murals, showcased on area buildings and garage doors, and paintings, displayed in local galleries and businesses, are electrically playful. From partnerships with DC Brau Brewing Company, U St Music Hall, and DC United, to working with the DC Commission on the Arts and Humanities and the Greater Washington Creative Community Initiative, he is focused on sharing his passion for street art while making an impact on the local community. Towles's characters range from the traditional to the fantastical, retaining hints of people, places, and things that positively influence his life.
---
Listen to the artist talk about his process

May: Joel Ulmer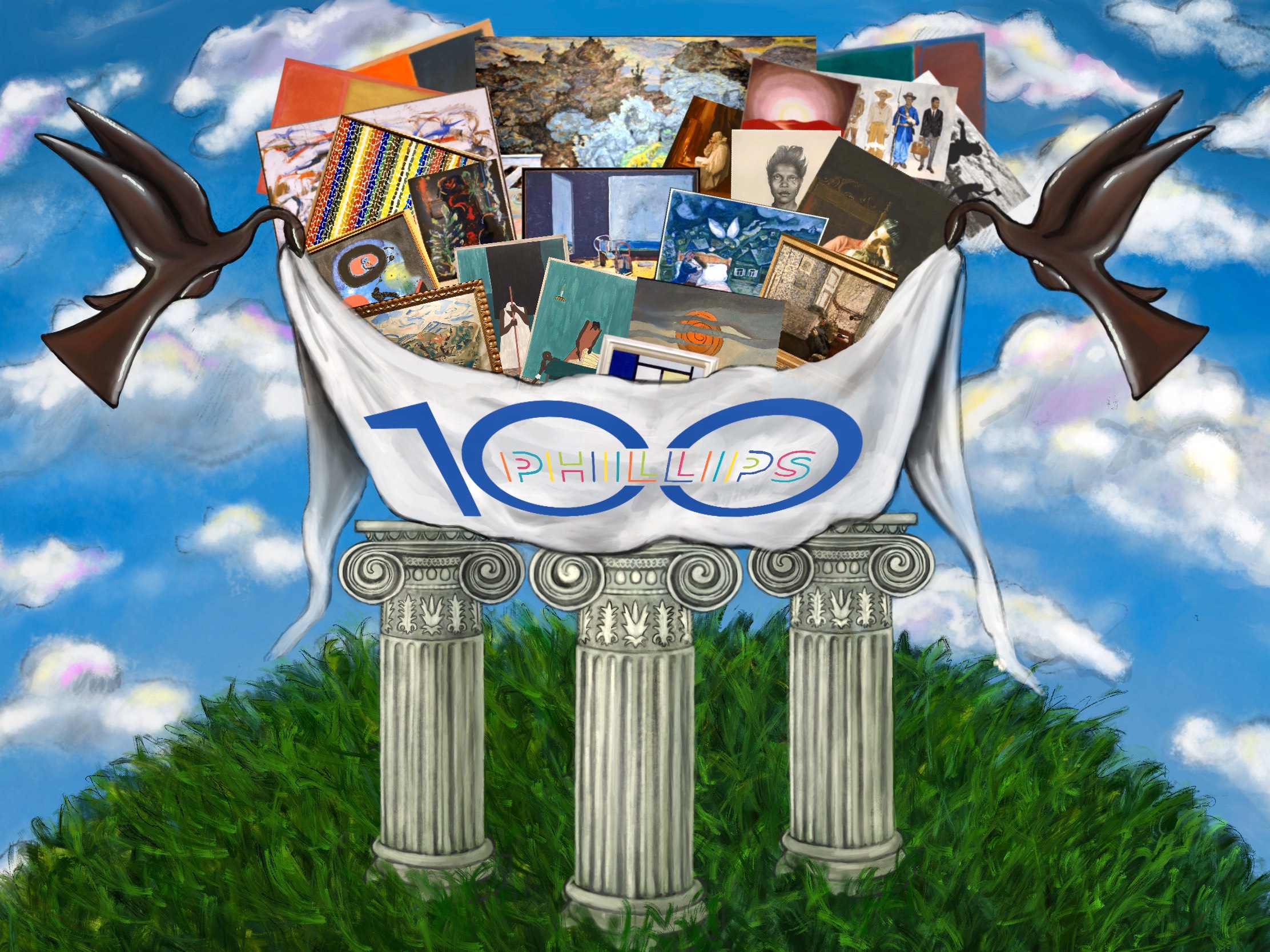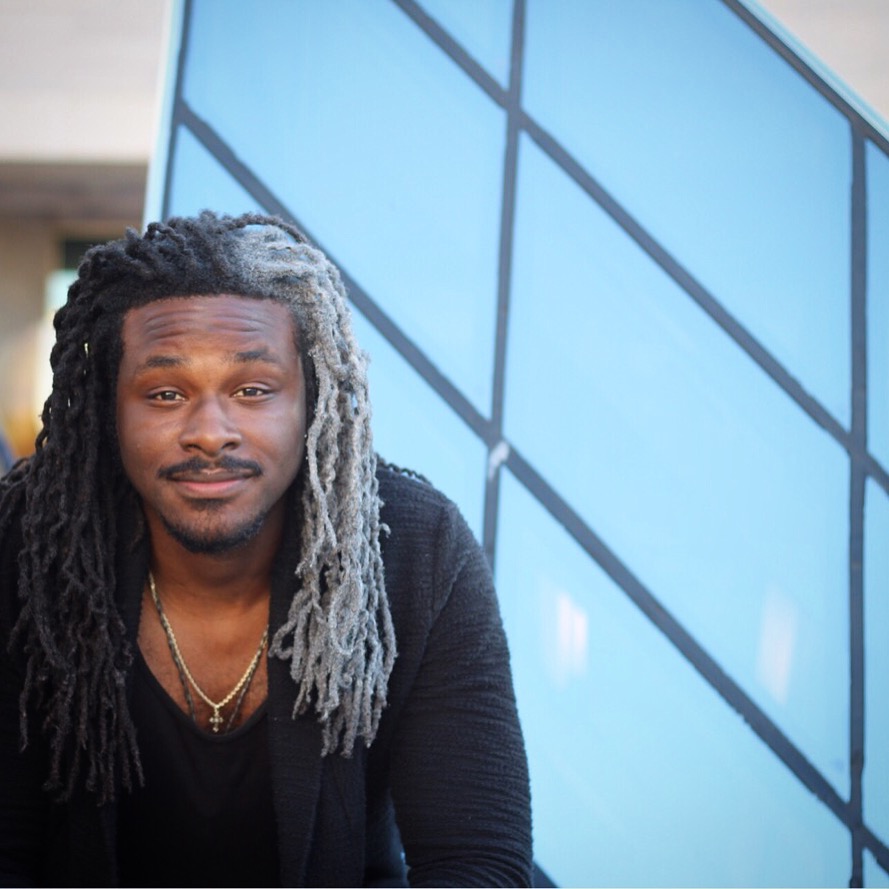 "I worked at the Phillips for 5 years and I thought a lot about the pieces that inspired me while I was there. My aim was to exalt those paintings." 
Joel "Vincii" Ulmer (@joelvincii) was born and raised in Washington, DC. After graduating from Woodrow Wilson High School, he studied studio art at Central State University earning his bachelors. Today he works full time at the National Gallery of Art and is also an active member of The Kennedy Center's Culture Caucus where he works with the social impact team producing a variety of events at the REACH. Joel predominantly works in oil but loves to explore other mediums such as charcoal, sculpture, and digital arts. His work encompasses both a traditional and modern style of painting. He aims to create a social surreal style of work.
---
Listen to the artist talk about his process

June: Trap Bob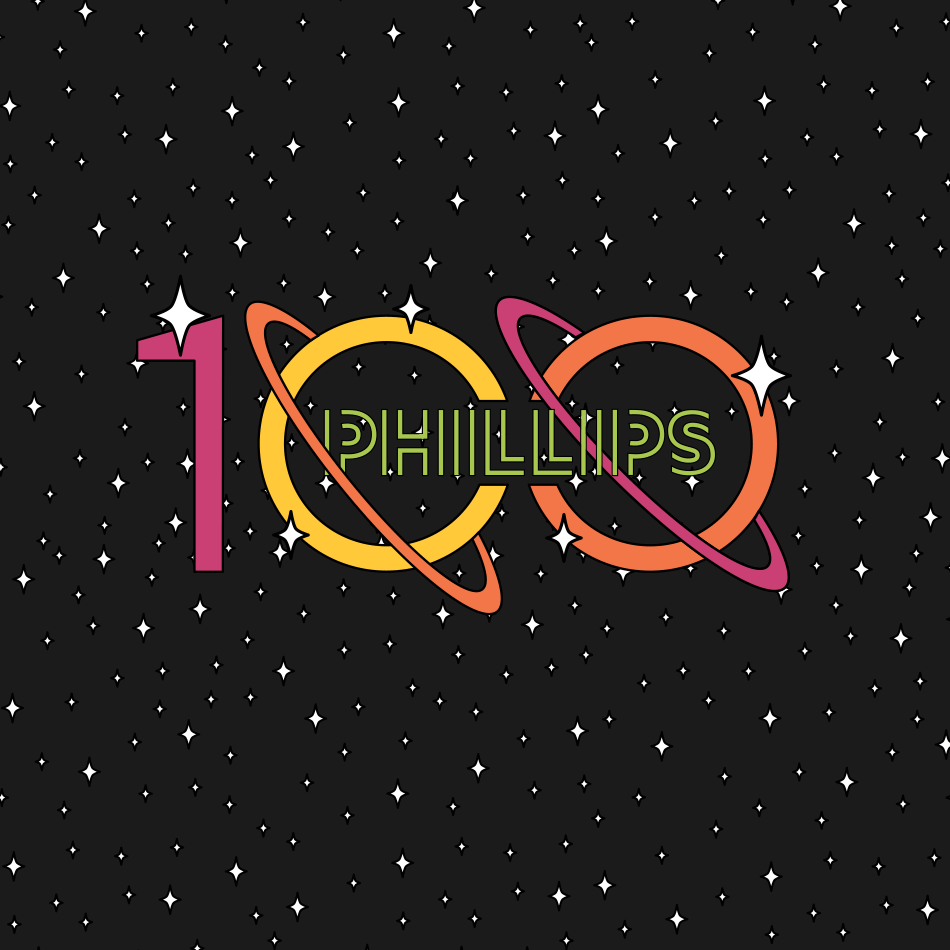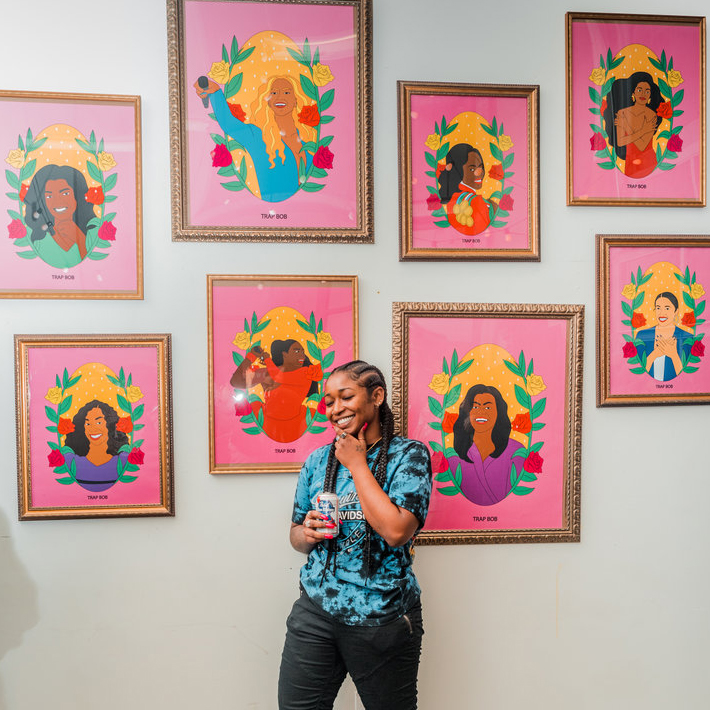 "When I think of a centennial or anniversary, I always think about the future and what's next. For me the future is space - I'm obsessed with the endless possibilities up there, so I loved the idea of creating a spaced out version of the logo. I hope it inspires and excites people for what's to come." 
Tenbeete Solomon AKA Trap Bob (@trapbobworld) is a visual artist, illustrator, and animator based in Washington, DC. She is known for her use of bold colors and gestures to convey both the humor and struggles of everyday life. Her work is socially conscious and frequently inspired by activism and community issues. Her work can be found in both the digital space and within the community. As the founder of Trap Bob World, LLC, Tenbeete has worked with leading corporations, brands, and organizations including: Giphy, Pabst Blue Ribbon, Elizabeth Warren Campaign, BET, and Refinery 29. Tenbeete is the Creative Director of women-centric creative collective GIRLAAA.
---
Listen to the artist talk about her process

July: Halim Flowers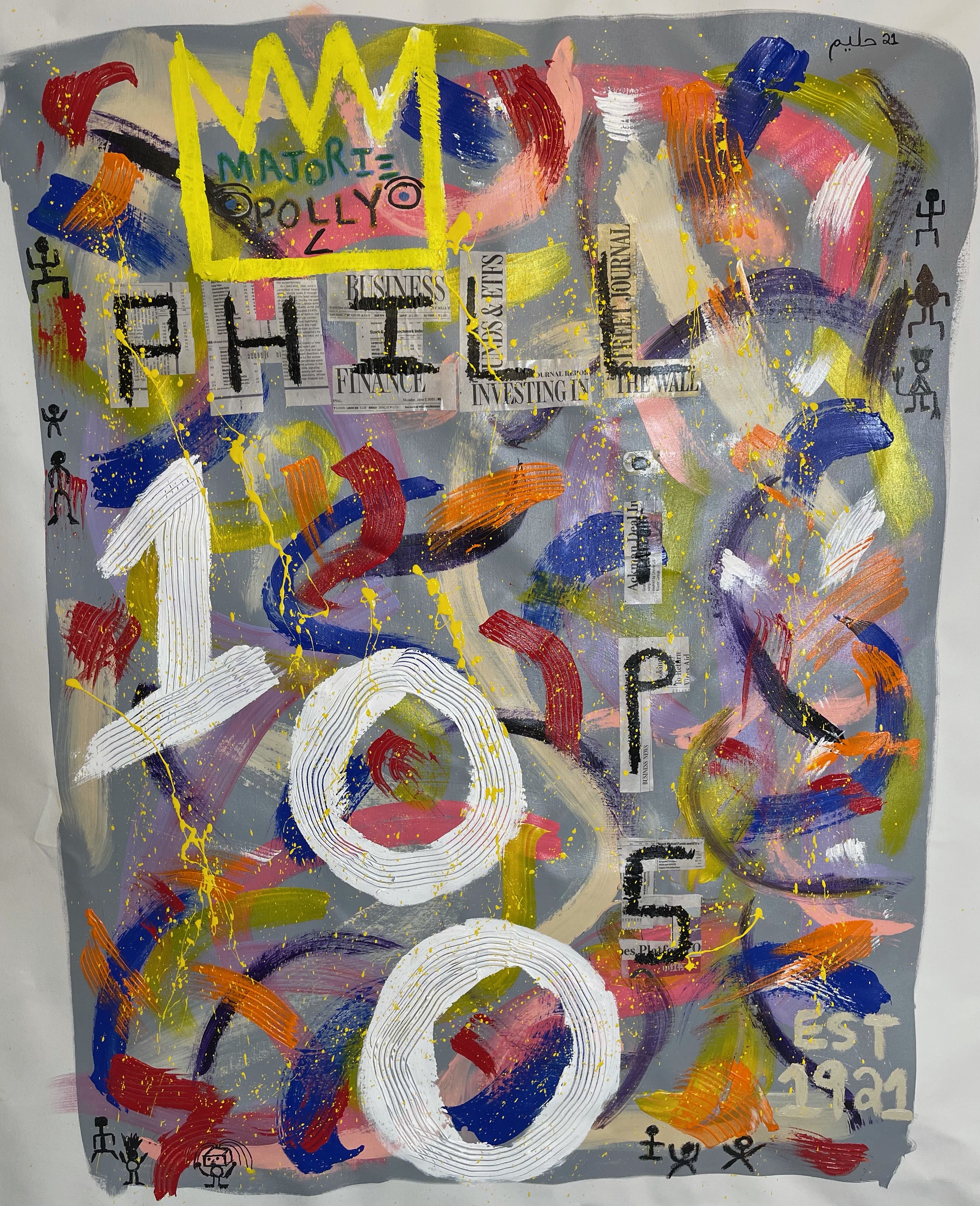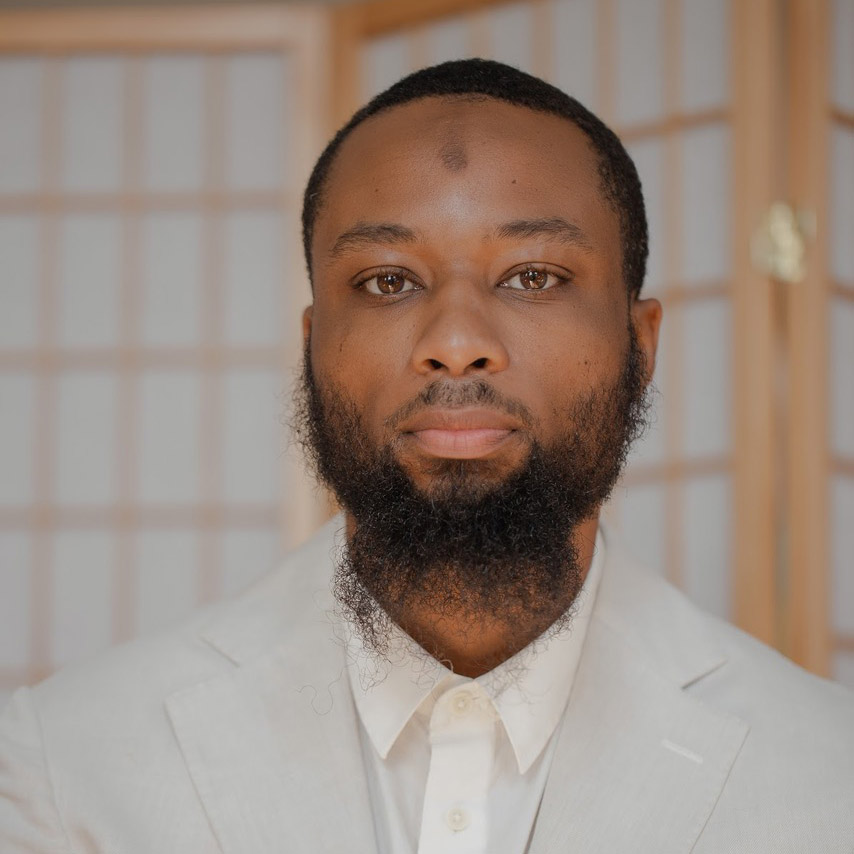 "To commemorate the centennial logo celebration for The Phillips Collection, I wanted to crown the women like Marjorie Acker Phillips and Polly Fritchey that were instrumental in the development of this art institution. The Wall Street Journal was used as a collage for the PHILLIPS text to acknowledge the commercial aspect of art and museums. Lastly, the black figures on the edges of the piece recognizes the reality of Black artists often being kept outside of the fine arts world and confined to the margins of looking inside of museums but rarely being exhibited there."
In the year of 1997, Halim A. Flowers (@halimflowers) was arrested at the age of 16 and sentenced to two life sentences in the District of Columbia. His experiences were filmed in the Emmy award-winning documentary Thug Life In DC. In 2005, he started his own publishing company SATO Communications, through which he published 11 books. In 2019, Halim was released from prison after serving 22 years imprisoned. Upon release, he was awarded theHalcyon Arts Lab and Echoing Green fellowship awards. In 2020, he signed to be represented by Stella Jones and DTR Modern Galleries for his visual art practice.
---
Listen to the artist talk about his process

August: Lisa Marie Thalhammer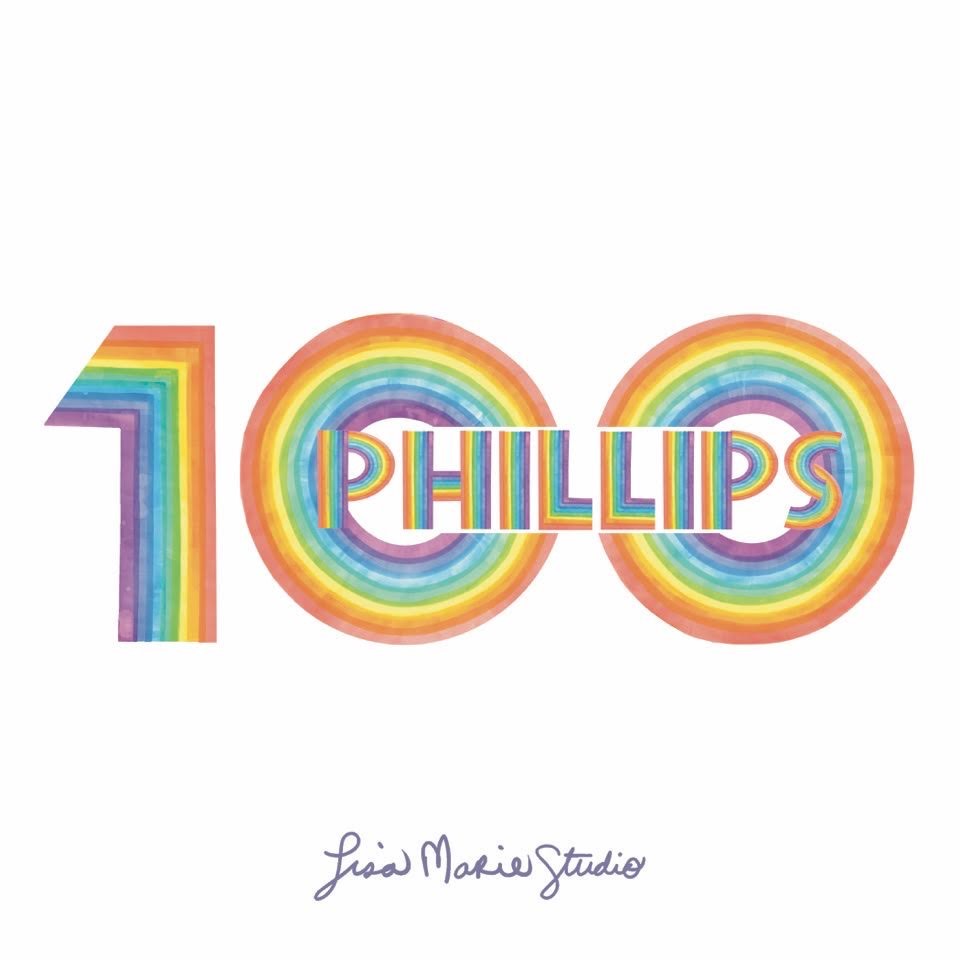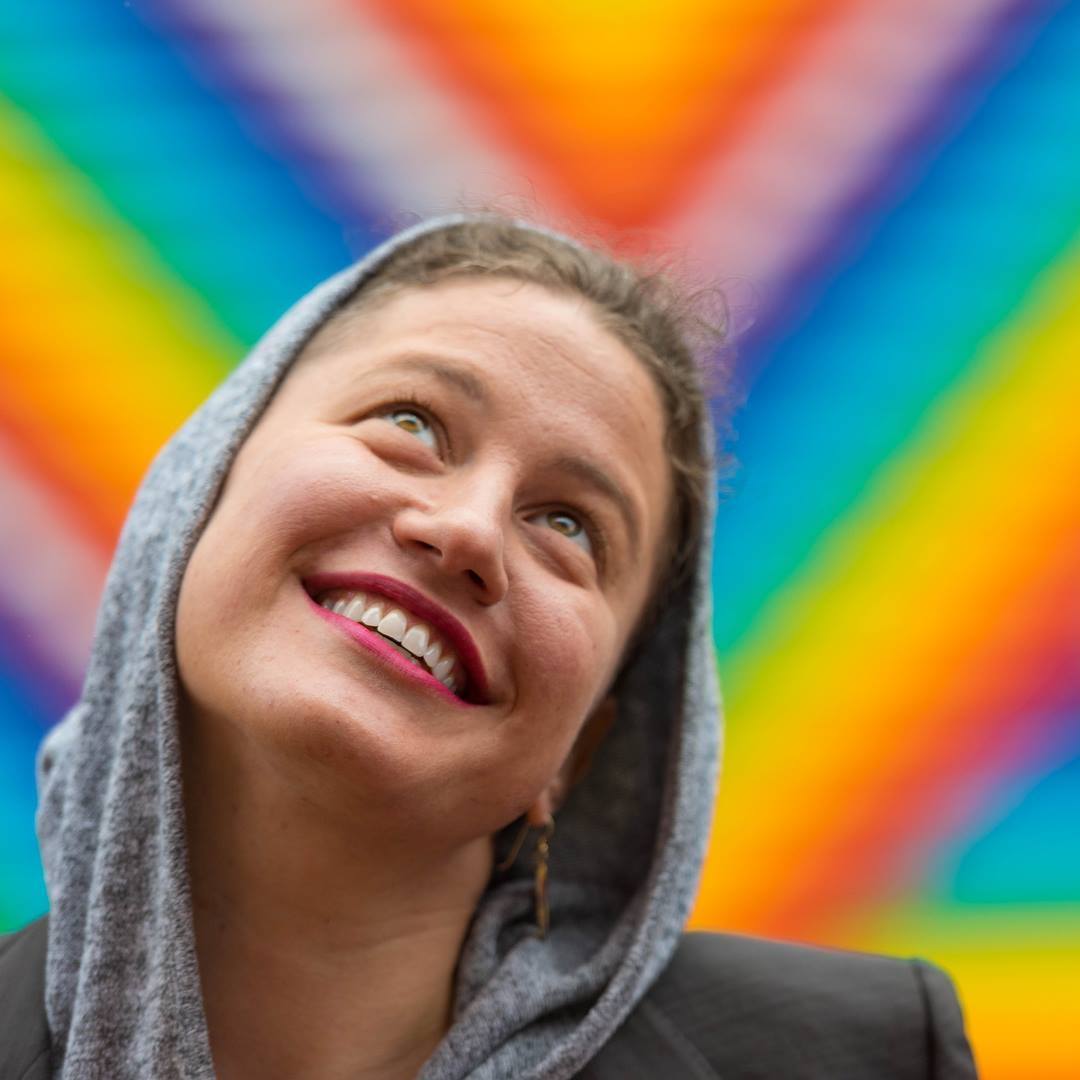 "Representing sacred energy centers with transparent ink and brush, Lisa Marie paints seven colors overlapped to create her signature 13-color rainbow spectrum. Recognized as a feature of her well known LOVE mural and artworks, she digitally collages this pattern into shapes to form her signature version of the Phillips 100 centennial celebration logo. Lisa Marie's color spectrum is meant to create a balancing and harmonious energy as it conceptually also relates to the human body and celestial cycles."
Lisa Mari Thalhammer (@lisamariestudio) is an award winning visual artist, well-known for her iconic 13-color rainbow "LOVE" mural located in Washington's Blagden Alley. Her artistic mission is to create paintings, portraits, and public murals that uplift and empower. As a feminist activist and member of the LGBTQ+ community, Lisa Marie's artworks frequently communicate messages of strength and hope. She has received numerous grants from the DC Commission on the Art and Humanities and in 2018 was named Best Artist by the Washington Blade Readers' Choice Awards.
---
Listen to the artist talk about her process

September: MISS CHELOVE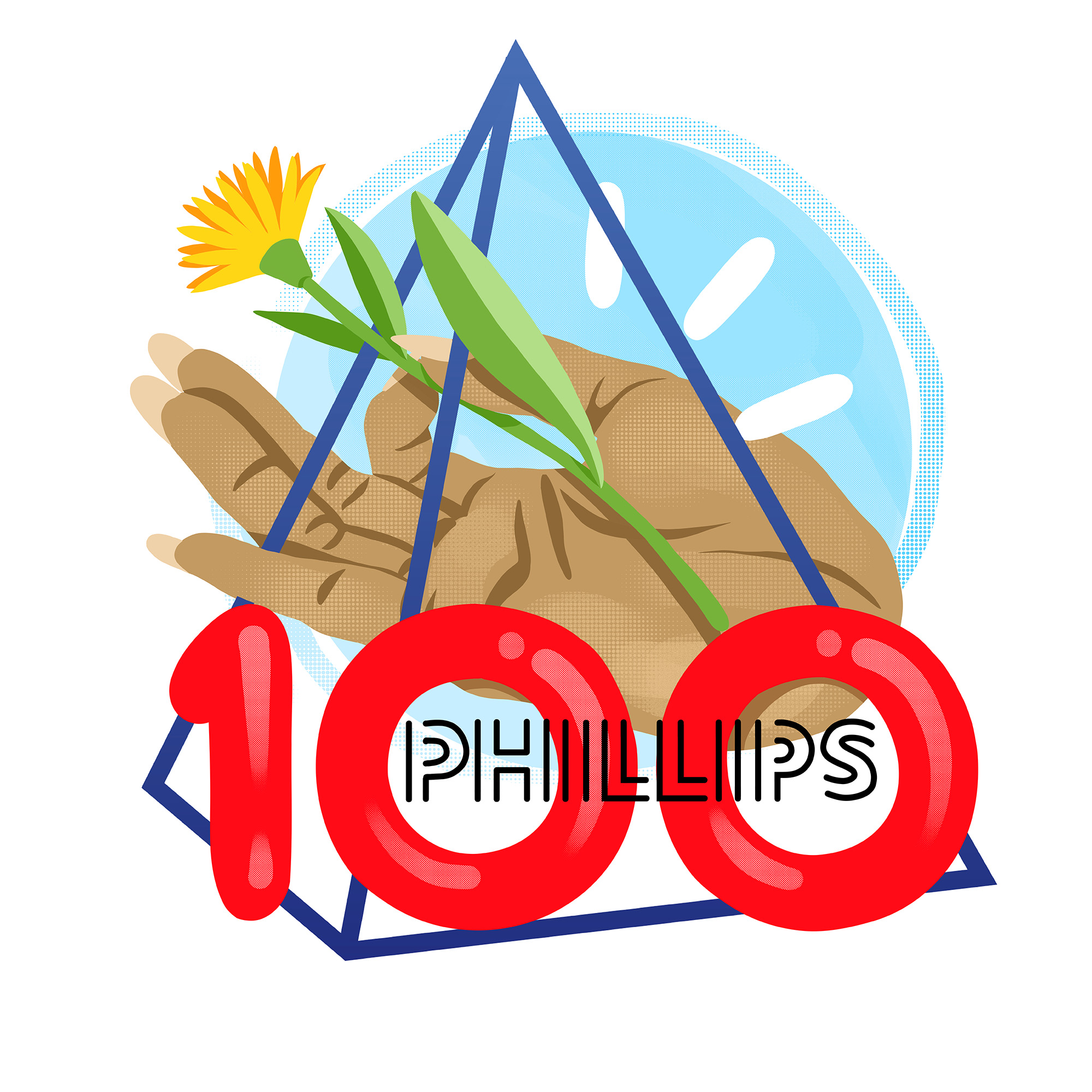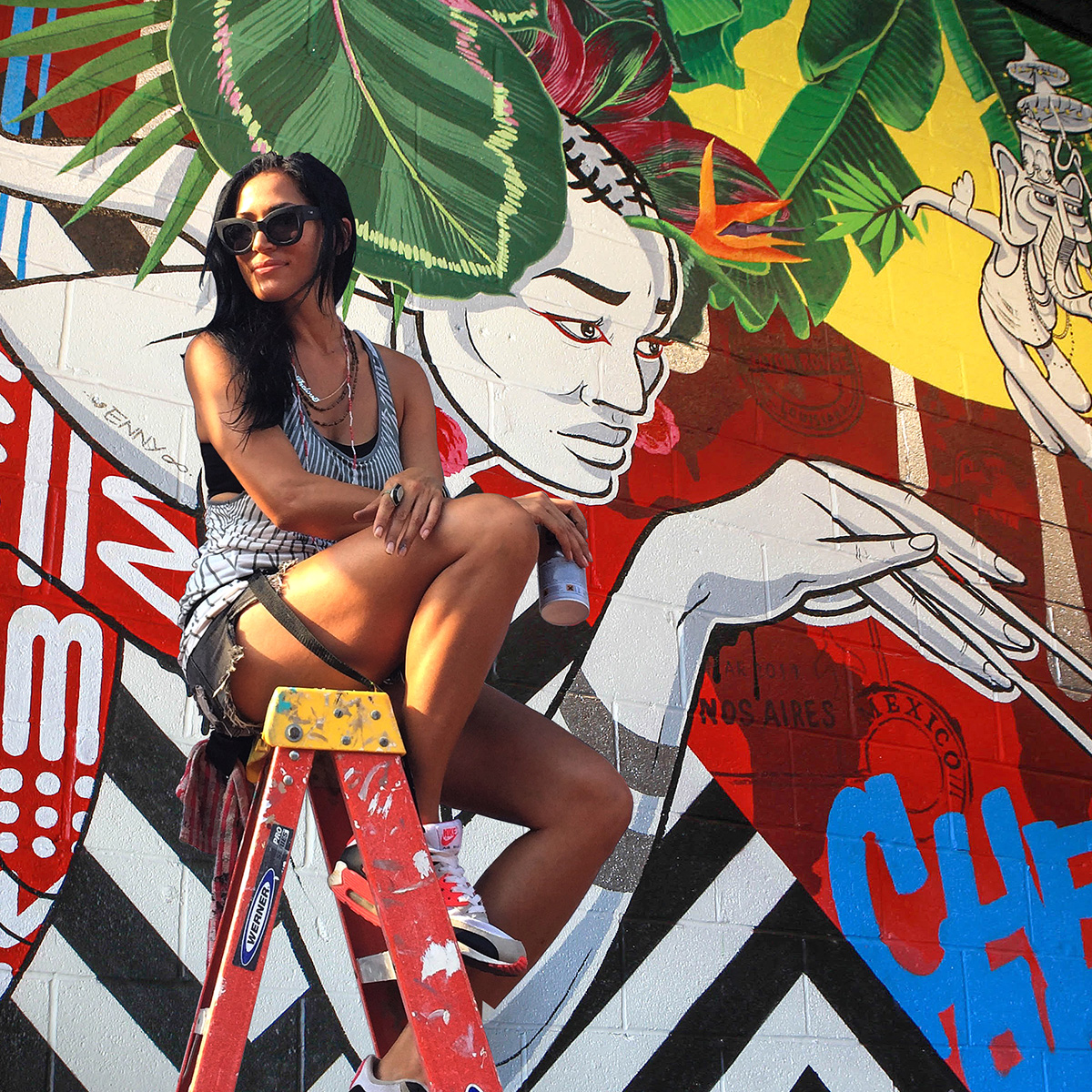 "For the Phillips 100 Logo redesign project I chose to ground my concept in an elegant and powerful representation of a woman—of color specifically—interacting with symbols from nature and sacred geometry. Moving into the next 100 years, I would like to see a return to the respect for Nature and intimate knowledge of her healing power. Also to see women (and trans/non-binary folks) continue to Rise Up and reinforce their standing in the world as equals."
Cita Sadeli, also known as MISS CHELOVE (@misschelove), is a Washington DC-based art director, muralist, designer and illustrator. She is the former Co-Founder of art + interactive agency Protein Media (based in DC & Brooklyn, NY c. 2000-2013). MISS CHELOVE's work reflects her multicultural background rooted in the tropical mysticism of Java, Indonesia and formative years growing up in the punk, go-go, and graffiti-fueled streets of 80s/90s DC. Common themes include: powerful women of color, nature, indigenous cultures, vibrant fashion/music/street subcultures, and issues affecting society and the environment. MISS CHELOVE's practice is currently focused on mural projects throughout the world. When not scaling walls, she collaborates with clients like the Smithsonian Institution, Apple, Afro-Punk, Adobe, Patagonia, &Pizza, and Trillectro.
---
Listen to the artist talk about her process

October: Julia Chon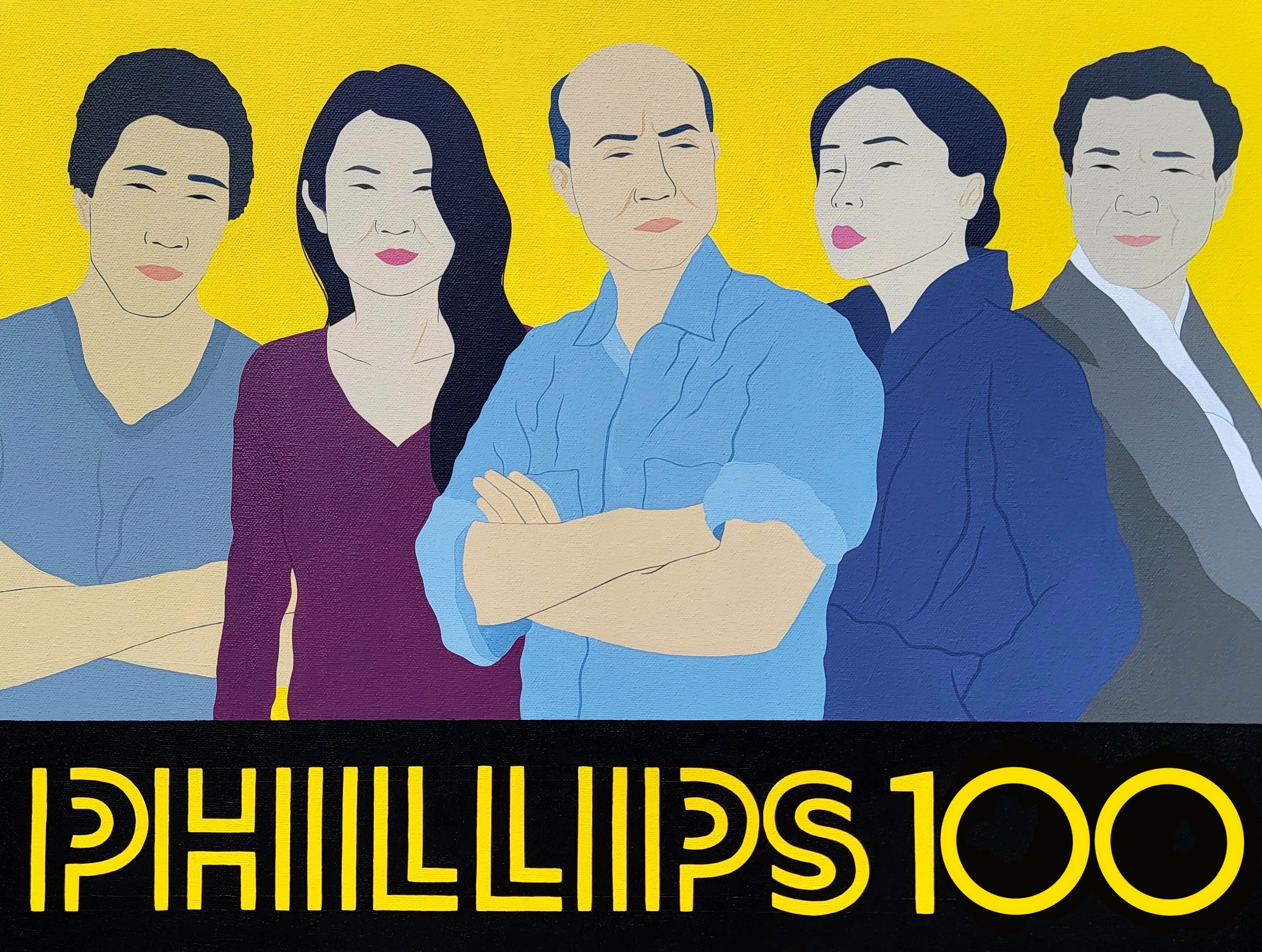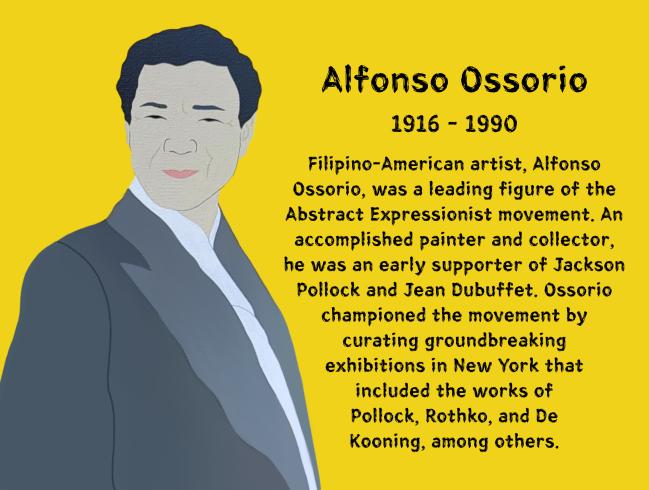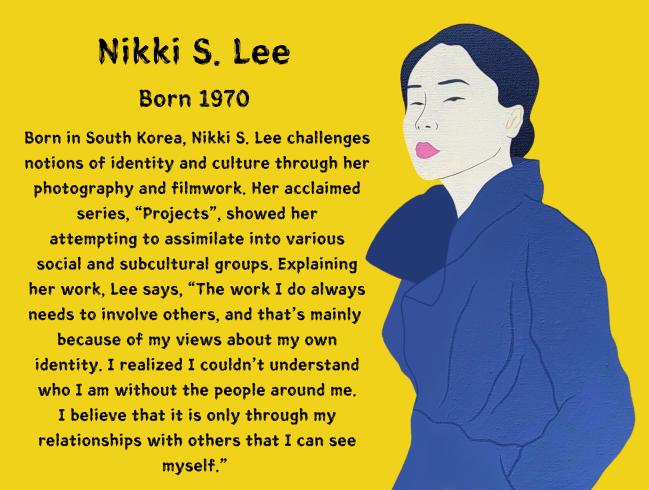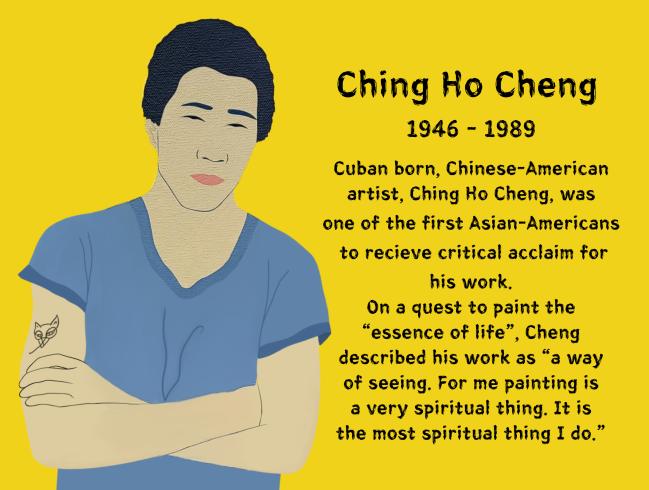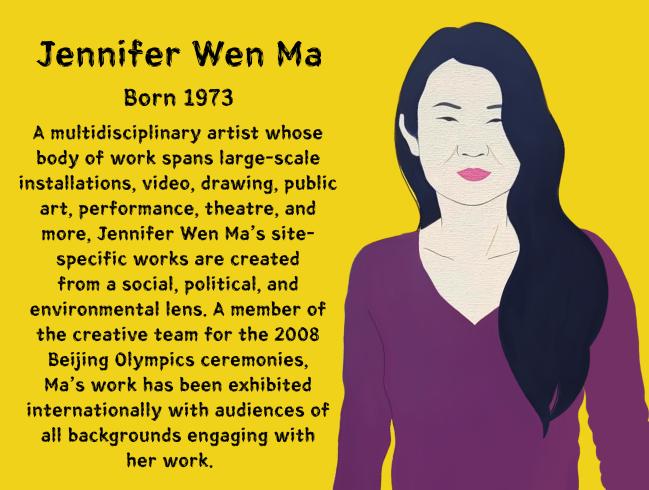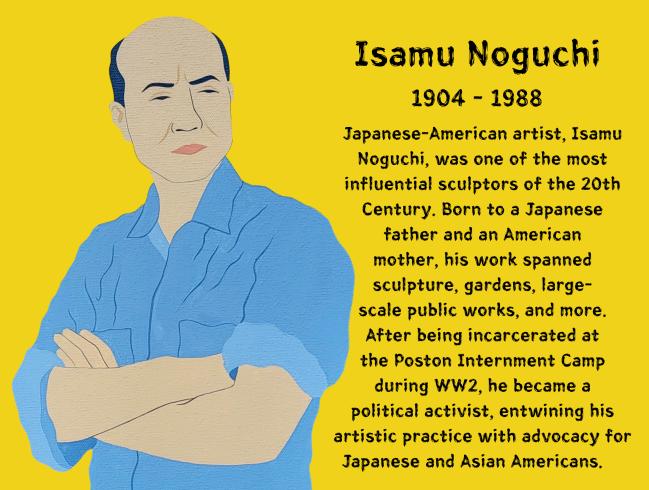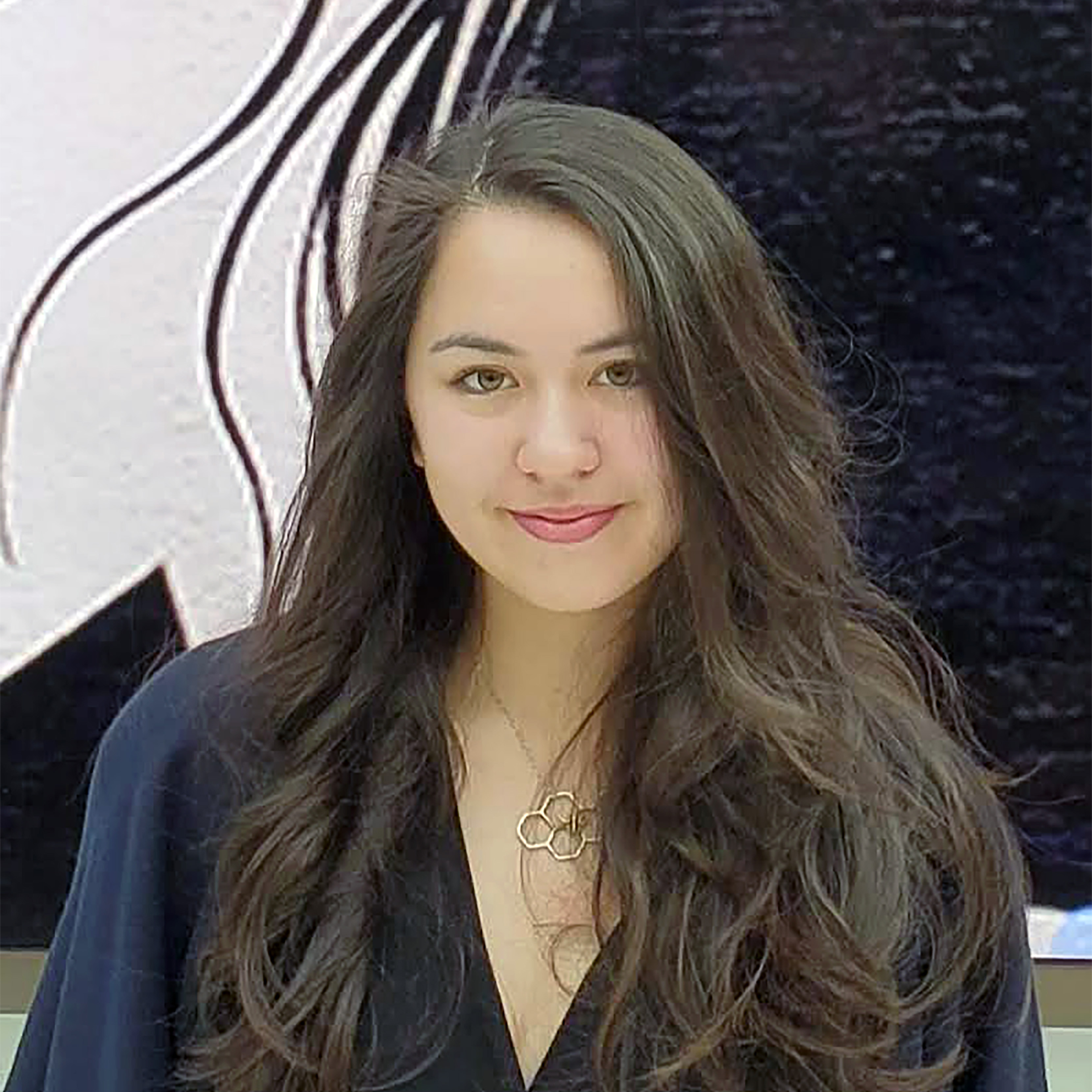 "America's institutions have long been the bastions of cultural discourse, deciding what and who makes history. However, the narrative these institutions dictate has often neglected the artistic and intellectual contributions of artists of color. Asian Americans have long been erased from U.S. history and Asian American artists are no exception. To commemorate the centennial anniversary of The Phillips Collection, I painted the portraits of five Asian and Asian American artists whose work resides in the museum. Isamu Noguchi, Jennifer Wen Ma, Ching Ho Cheng, Nikki S. Lee, and Alfonso Ossorio were and continue to be trailblazers in the art world and their works have left an indelible print on history and the story of Asian America. Reflecting on the past century of The Phillips Collection, I began to envision what the next 100 years would look like for this esteemed museum. With the power to shape history, I hope that the future of the collection is one of diversity, inclusion, and equality. It was an honor to be selected to redesign The logo for the Phillips Collection and I look forward to seeing what the coming century brings."
Julia Chon, better known by her artist's name, Kimchi Juice (@kimchi.juice), is a Washington, DC-based artist and muralist. Chon's work plays off the cultural stereotypes about Asian women in Western culture: meek, subservient, yet sexualized. Depicted in traditional dress, Chon's portraits of these women redefine modern Asian femininity. As Chon's work makes its way from canvases to large scale murals, these intimate portraits take center stage in an urban environment. Her murals can be found internationally and her work has been exhibited in solo and group shows in DC, Los Angeles, and Miami. She has collaborated with the Korean Cultural Center, DC United, '47, Apple, and NASA. In 2017, Instagram recognized her as a teen entrepreneur.
---
Listen to the artist talk about her process

November: Reggie Black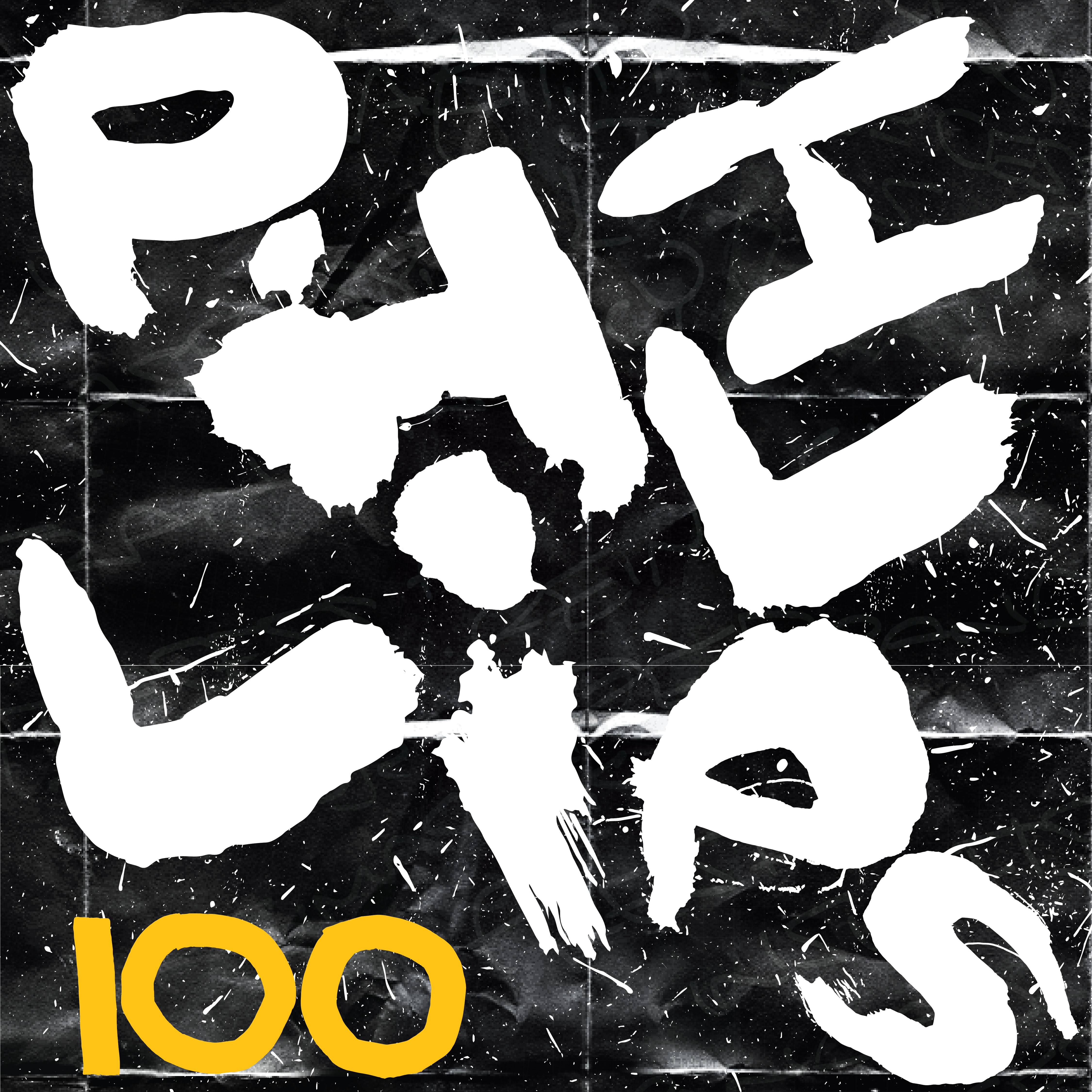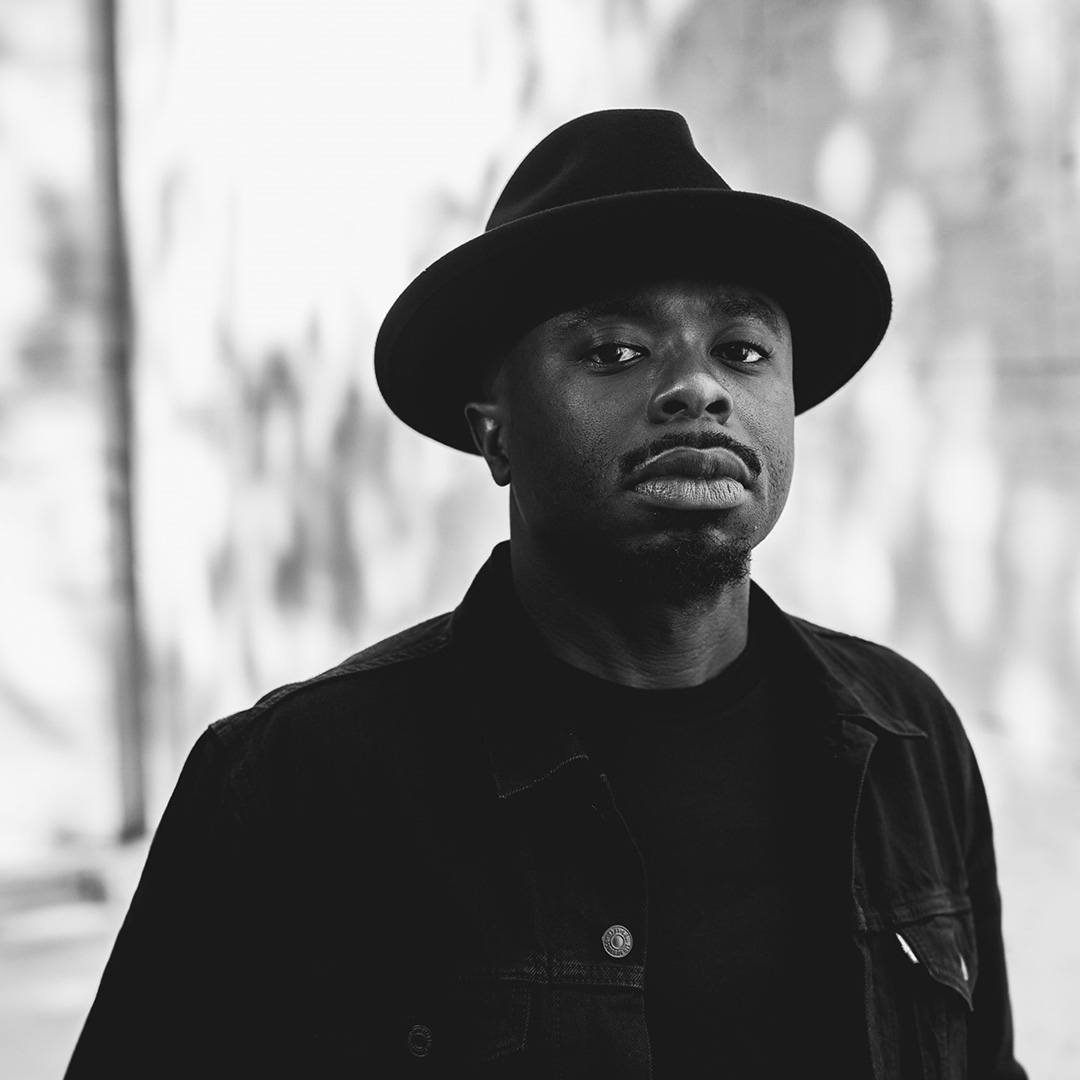 "My redesign of The Phillips Collection logo incorporates not only one of my signature hand types, a medium that expresses vulnerability and nostalgia, but also layers of process behind it that I used to develop this work. The objective in implementing these components is to represent transparency and to view the process as the artwork. Process is also an integral part of celebrating an anniversary—a time to reflect on the journey and the layers that built it."
Reggie Black (@iamreggieblack) is a multimedia artist and designer using text to navigate trauma, hope, and optimism. Intersecting hand type artistry, graphic design, and abstract painting, his work has exhibited internationally in cities including Bangkok, Hong Kong, New York City, Tokyo, and Washington, DC. A self-taught artist who began his practice on pen and paper, Black has since conceived of new processes using both analog and digital techniques to create his signature hand type. Black has presented talks with Apple, Advertising Week, Floyd, TED, and Zound addressing the importance of art, design, technology, mental health, and vulnerability.
---
Listen to the artist talk about his process

December: Halsey Berryman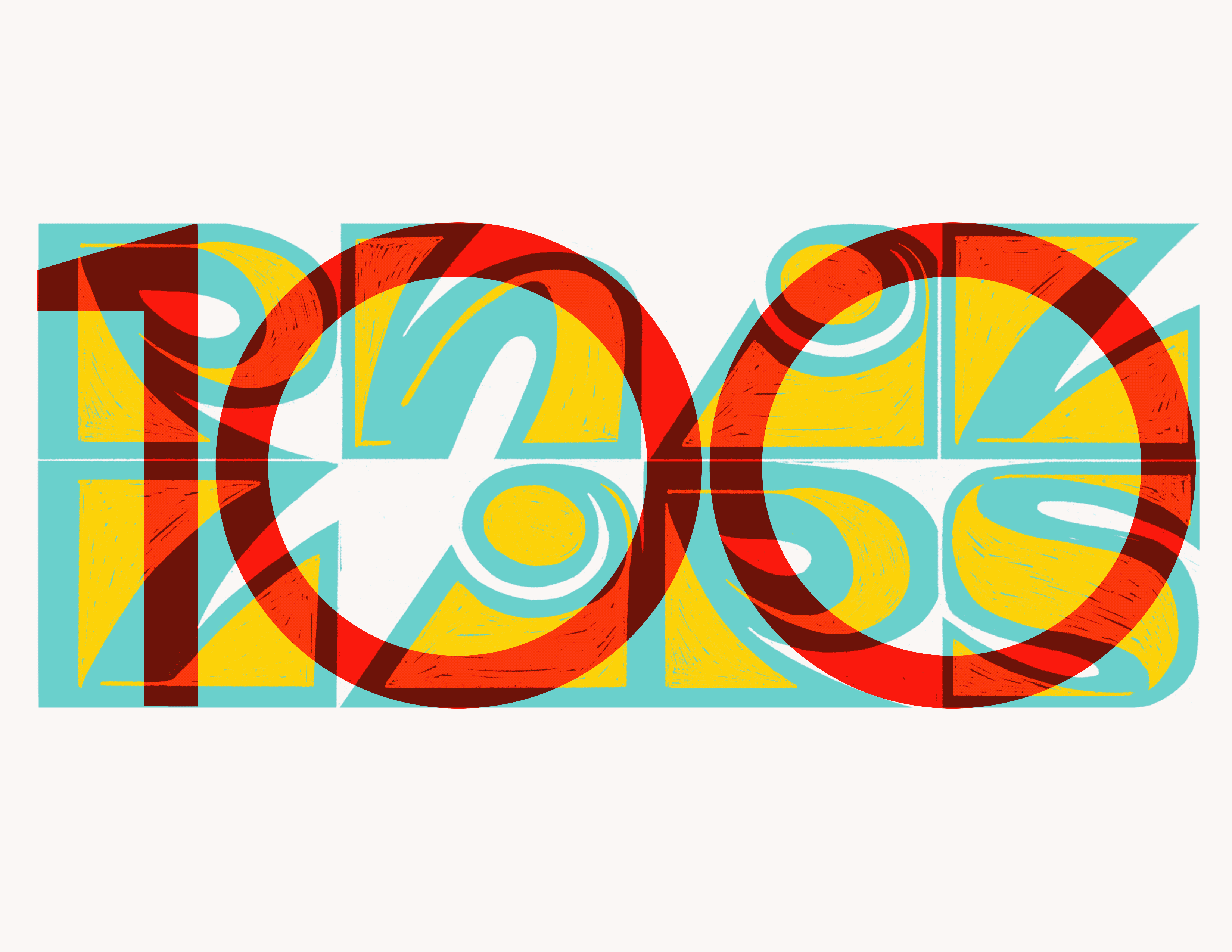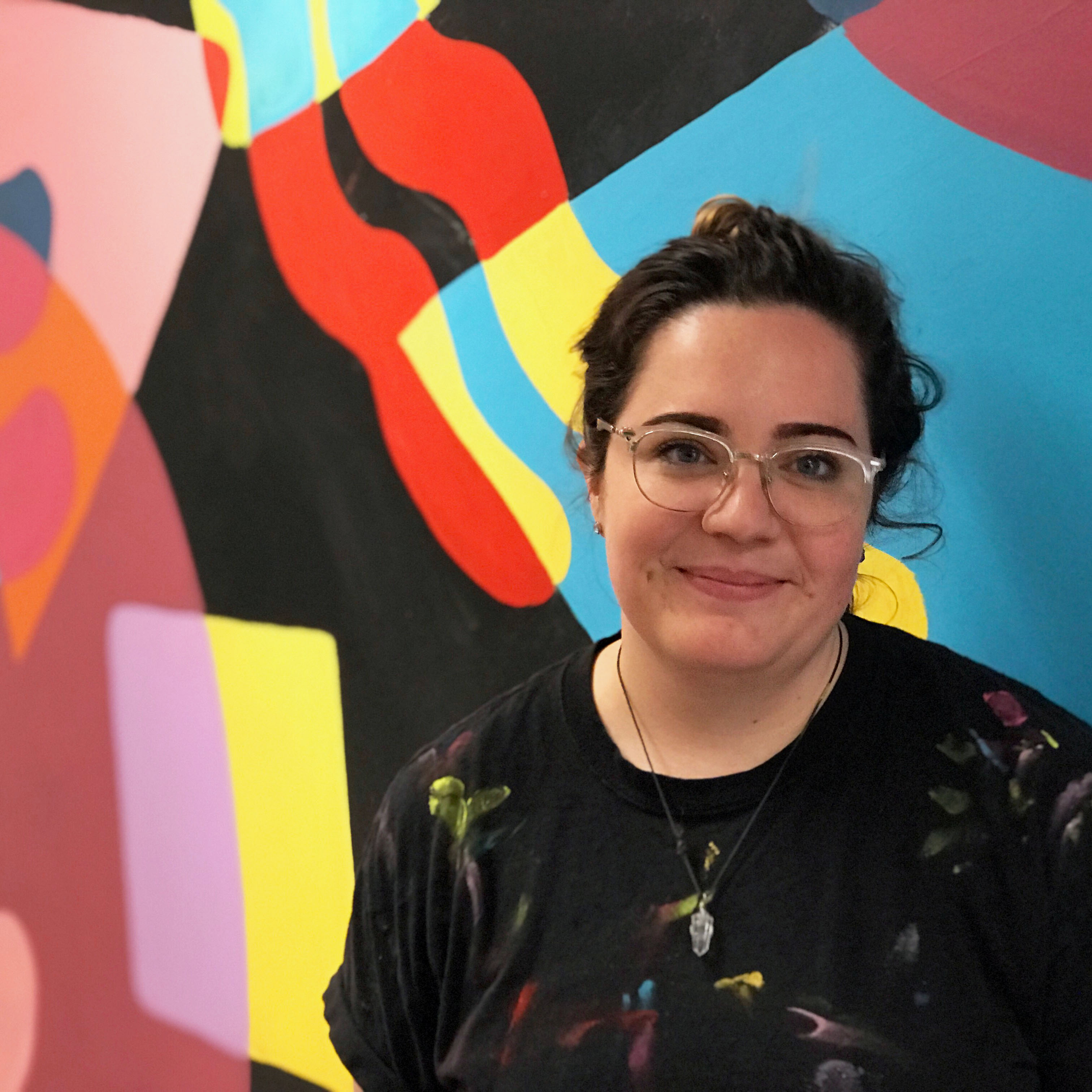 "For me, reimagining this logo was all about typographic expression. I wanted to capture some of the different styles that have been contemporary to all of the Phillips's 100 years, including today. I was intrigued by the challenge of finding multiple design solutions to the logo; I illustrated the passage of time and adaptability of the art world by keeping the 100 relatively static and the text very fluid, all while exploring different lettering styles from different eras or points of view."
Halsey Berryman (@halseyberryman) is a multidisciplinary illustrator and lettering artist from Washington, DC. She received her BFA from the Corcoran College of Art + Design in 2014, where she studied Fine Arts with a concentration in painting. She works across digital and traditional media, including sign painting, murals, digital illustration, and lettering. Freelancing since 2016, she has worked on projects ranging from painting murals at Martha's Table to designing a t-shirt for the AOC campaign. Her personal studio practice explores topics like social justice issues, wry humor, and mental health.
---
Listen to the artist talk about her work
     
Thank you for celebrating our centennial!